Without Bill Parcells and the New York Giants, Bill Belichick may never have become the legendary coach that he is.
As the renowned team moniker invocates: "Once a Giant, always a Giant."
Hate them or love them, Bill Belichick and the New England Patriots continue to have unprecedented success, despite losing to the Philadelphia Eagles in Super Bowl 52. Where does his magic touch and vaunted "Patriot Way," come from?
The answer, as most New York Giants fans would tell you, is from Hall of Fame coach Bill Parcells. The relationship between Belichick and Parcells was at the center of ESPN's latest 30-for-30, "The Two Bills."
As the film details, Belichick, a future Hall-of-Fame coach, clearly got his coaching ethos working under Parcells while wearing Giants' blue. Belichick won the first two of his seven Super Bowl rings as Parcells' defensive coordinator. The two Bills led the Giants to a 1986 victory in Super Bowl 21 against the Denver Broncos and again in 1990 when they beat the heavily favored Buffalo Bills in Super Bowl 25.
Did you miss #TheTwoBills? Or want to watch it again? You can stream it now on the ESPN app! https://t.co/KxK3Trzrj1

— ESPN Films 30 for 30 (@30for30) February 2, 2018
It was at Parcells side that Belichick honed the ability to see the big picture while keeping attention to detail. Along the way, his proclivity for innovation helped bring the Giants two Super Bowl rings. "Bill [Belichick] is quite cerebral;" noted Parcells, "[he] pays close attention to detail all the time. I admire that in [Belichick]."
The pair began working together with the Giants in 1979, but it wasn't until Parcells became the team's head coach in 1983 that Belichick got his chance to show his defensive genius as a coordinator.
It was with Hall of Fame caliber linebackers like Lawrence Taylor and Harry Carson alongside stars like linebacker Carl Banks and defensive lineman Leonard Marshall that both Belichick and Parcells first showed the aptitude for putting players in positions to excel.
Together they implemented the Giants celebrated 3-4 attack, which turned Taylor into an end rusher and one of the game's all-time great sack artists. With unrivaled strategy and talent to match, the Giants soon developed one of the NFL's best defenses.
After losing in the playoffs to the eventual Champion Bears in 1985, the 1986 Giants dominated the league with a 14-2 record and cruised past the Bears, 49ers, and Broncos en route to their first Super Bowl victory. While they were led by Super Bowl MVP Phil Simms' legendary performance—22-of-25 for 268 yards and three touchdowns—it was Belichick's defense that made big plays and turned a close contest into a blowout.
Said Parcells on the winning podium:" The rest of your life nobody could tell you that you couldn't do it, because you did it!"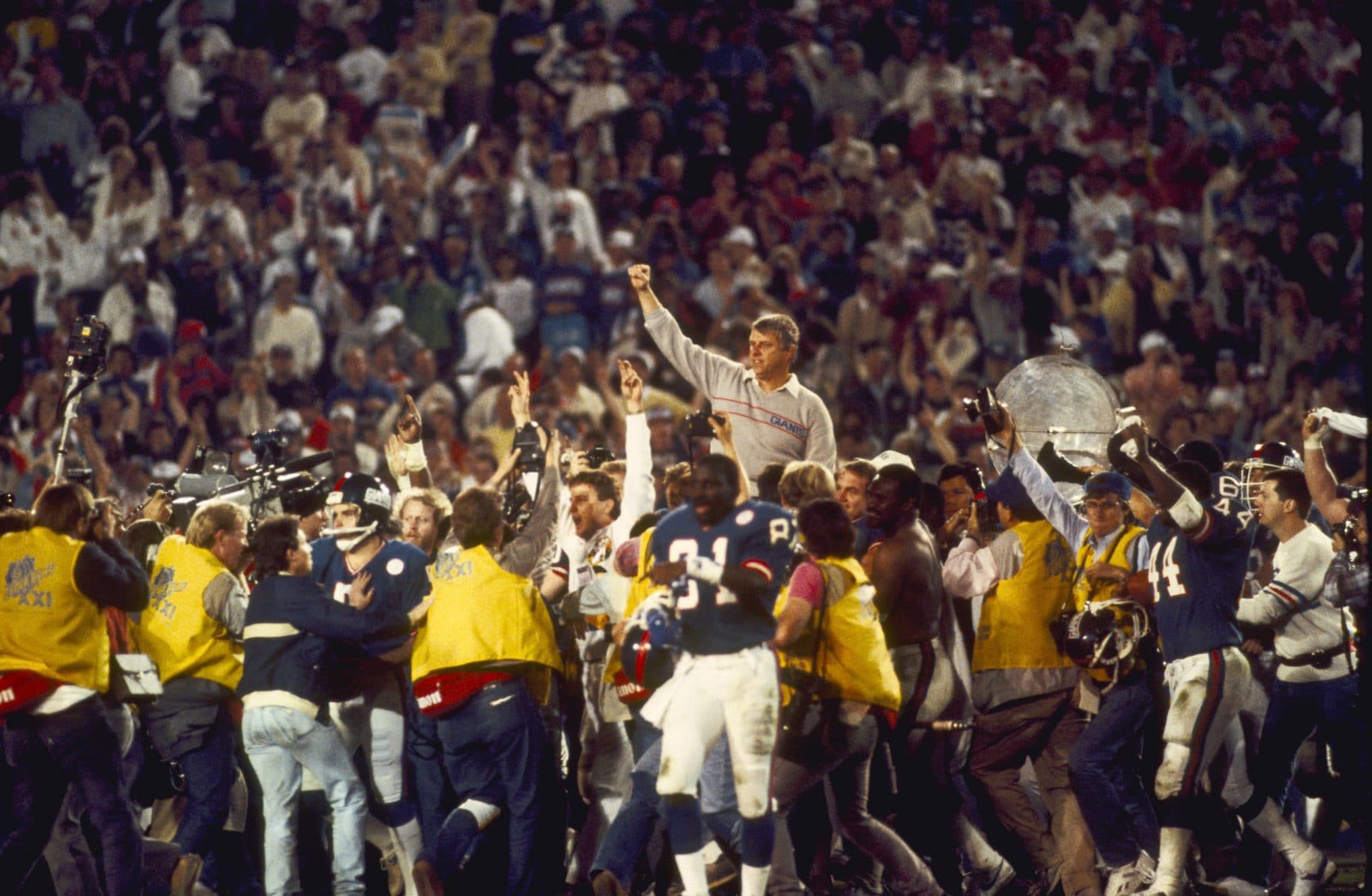 That win gave Belichick his first taste of the unmitigated thrill of victory: "This is the greatest feeling in the world like there is nothing like it. That's the truth, there is nothing like it." Belichick has had an indefatigable drive to chase that feeling at all costs since.
It was in 1990 that Belichick's virtuosity was truly on display. Given an aging but dominant defense, the Giants were 10-0 behind Simms to start when he went down for the season with a broken foot. After finishing the season 3-3 with capable backup Jeff Hostetler under center, uncertainty surrounded the Giants going into the playoffs.
Belichick's defensive innovation was the catalyst which carried Giants to the Super Bowl. As Parcells designed a gameplan that emphasized ball control, Belichick improvised a perfectly designed and executed defensive strategy, implementing an entirely new and different defensive scheme tailored to stop the strengths of each opponent.
"I was a detail person. I think that's one of the things that made of us work so well together," noted Bill [Parcells] saw the big picture with great clarity I could dig in the details for a long time keeping offense off balance after you kind of look like you are in a pattern, break that pattern – – [Parcells] taught me that – hey why don't you give them a cover-5 now, let's mix in a cover-1 or a man call — there were some very timely calls that came."
The Giants utilized a 4-3 defense for the first and only time, which led to a 31-3 drubbing of the Bears, as they held All-Pro RB Neal Anderson to 19 yards on 12 carries. Against the 49ers they used a nickel defense, continually changing looks to stymie Joe Montana, Jerry Rice and the back-to-back champion 'Niners. They dominated the 49ers at the line of scrimmage and stopped their all-around attack in its tracks. In one of the great NFL playoff games of all-time, Leonard Marshall's iconic hit on Joe Montana and Lawrence Taylor's strip of Roger Craig led to Matt Bahr's last-second field goal and a 15-13 win in the NFC Championship.
Belichick's football intellect truly shined through in the Super Bowl against the Bills, who owned league's most feared offensive attack. Despite one of the league's top run defenses, the Giants decided to let Hall-of-Fame RB Thurman Thomas run wild and concentrate on the stopping an equally feared air attack by being physical with their receivers. The strategy caught Buffalo off-guard and worked.
"Man, this guy is a genius," said Taylor of the strategy "The bigger the game the more I think the two Bills would collaborate with a game plan."
The Giants held the ball for a Super Bowl-record 40 minutes, while one of the great offenses of all-time managed just two touchdowns. As Scott Norwood's 47-yard field-goal attempt sailed wide-right, Parcells and Belichick had guided the Giants to a second Super Bowl victory.
Unfortunately, that win would be both Parcells and Belichicks' last moment in Giants' blue.
Never close with general manager George Young, Belichick was hired as head coach of the Cleveland Browns, while Parcells stepped down due to health issues.
Their departure changed the entire culture of the Giants and begs the question as to what could've been if Belichick had succeeded Parcells. Instead, the Giants went with Ray Handley to succeed Parcells, who suffered the same fate as the recently jettisoned Ben McAdoo. Like McAdoo, Handley was an offensive assistant, ill-equipped to succeed a dynamic Hall-of-Fame coach and never gained control of the team. Similarly unprepared for the pressure-cooker of New York, Handley was fired after two subpar seasons which included a quarterback controversy and nary a playoff game.
Belichick, who would reunite with Parcells with the Jets as defensive coordinator and ill-fated coach-for-a-day, has certainly developed a distinct ethos of his own that works, but clearly has borrowed from Parcells' style. "Bill [Parcells] demanded a high standard that's what he should demand," said Belichick, a renowned perfectionist. "It was so important, I so appreciated what you did…" he said to directly to Parcells in the film. "He would say, here's something I wanted to make you aware of that's going on — as defensive coordinator you're not involved in the draft, maybe a player's got a discipline problem or a contract problem, whatever it is you're oblivious to that really as an assistant, but Bill would call me in a say – you know here's something that's going on – I so appreciate those times that you did that, it was really helpful to open my eyes and open horizons as to things I really wasn't paying too much attention to."
Belichick's ability to galvanize different personalities and get players to buy into his system is clearly reminiscent of Parcells. As he and Parcells did with Taylor, Belichick has gotten the most out of players like Randy Moss and Legarrette Blount. Likewise, Belichick has mentored assistants who have gone on to jobs of their own in the league, like Matt Patricia, who was recently hired as head coach of the Lions. Both have lush coaching trees.
"I would explain to him why I was doing things," said Parcells. However, Belichick has taken Parcells' ability to develop a system and foster a culture of winning to another level, sustaining an unprecedented level of success. After going 5-11 in 2000, his first season in New England with QB Drew Bledsoe under center, the erstwhile Patriots quarterback went down with an injury and Belichick inserted a little-known sixth round pick in the second week of 2001. The Patriots haven't had a losing season since, failing to win 10 games just once.
Since Tom Brady has taken over, the Patriots have won five Super Bowls, eight AFC titles and 15 division crowns in 18 seasons while averaging over 13 wins per season. He and Brady remain the two constants, first winning with many of the players the Parcells himself had acquired as Patriots head coach, then evolving to fit ever-changing personnel. The average entirety of an NFL career is less than five seasons. Belichick and Brady have been together for 17. Players have come and gone, strategies have changed, but the Patriots win-at-all-costs culture has remained the one constant, much to the chagrin of many an opposing team and fan.
"You're the heat of the battle. you don't have time for a conversation give an order accept an order do it," said Belichick about being an assistant under Parcells.
That same no-nonsense style has emblazoned Belichick's stamp on the Patriots, who discard players that aren't buying in without remorse and bring in those willing to encapsulate a team mentality. The style of play has changed, the league has changed but the Patriots have remained constant due to their ability to adapt. This harkens back to Belichick's penchant to change patterns and never remain stagnant.
Noted Parcells: "The big game I always felt we were at peace in those games we were on point a bit more."
It's that thirst for victory that continues to drive the mercurial Belichick, who never seems satisfied with the status quo. Like his Giants' defenses, the Patriots often seem a step or two ahead of their opponent, barometric pressure aside. That attention to detail and unbridled enthusiasm for the ultimate prize has continued to define Belichick's coaching philosophy. All coaches want to win – he just seems to do it better.
For all his success, however, Belichick seems reticent to give away a yard. Winning remains the thing, the only thing that drives his unwavering work ethic and thirst for perfection. Perfection, however, is the one thing that has eluded Belichick, thanks to his former club.
Before Super Bowl 52, Tom Coughlin's Giants were the only team to beat Belichick's Patriots in the Super Bowl, preventing them from a perfect season in 2007 and again beating them in 2011. Coughlin, like Belichick, was an assistant under Parcells with the 1990 Champion Giants.
"It's satisfying as hell," exclaimed an uncharacteristically jubilant Belichick after he captured that first ring in 1986. The uniqueness and permanence of a Super Bowl stuck with Belichick as he continues to chase that high of standing on the podium and raising the trophy named for Vince Lombardi, another Giants Defensive Coordinator whose addiction to winning and singular personality made an indelible mark on NFL history.
All quotes were taken from "The Two Bills," directed by Ken Rodgers.