New York Islanders immortal Denis Potvin joins Schwartz on Sports to the NHL and the thrilling emotions of heading back home to Long Island. 
O
n Feb. 1, 1992,
Denis Potvin
became the first player in
New York Islanders
history to have his number retired when the banner "Potvin 5" was raised to the rafters at the Nassau Coliseum. But after the 2014-15 season, Potvin's banner along with the other retired numbers and Stanley Cup Championship banners were taken down and moved to the Islanders new home at Barclays Center in Brooklyn.
But now the Islanders are going to return to the renovated barn now known as "NYCB Live, home of the Nassau Veterans Memorial Coliseum," to play 60 games over the next three seasons leading up to the opening of their new arena at Belmont Park. So with the Islanders temporarily splitting time between the Coliseum and Barclays Center, will the banners also be making cameo appearances in Uniondale?
"That's a very good question," said Potvin. "Is there going to be a number five in the rafters?"
I'm sure they'll figure it out.
Potvin, now the television analyst for the Florida Panthers, sat down with me before Tuesday night's game in Brooklyn for the latest edition of my Schwartz On Sports Podcast. The Islanders' part-time and temporary return to Nassau Coliseum was one of a number of topics that Potvin and I discussed. "The Barn" was Potvin's playground for 15 seasons and he captained the Islanders to four straight Stanley Cups from 1980 to 1983.
He's hoping that one of those 12 Islanders home games at the Coliseum next season will involve the Panthers.
"My heart has always been with the Islanders," said Potvin. "I am thrilled that they're going back to the Coliseum. I can't wait to go back and call a game there again. It will just bring back a lot of memories."
The old Nassau Coliseum didn't have the modern amenities that new arenas have but it was home sweet home for the Islanders. There were many fans and players from other teams that hated going there and called the building "a dump," "antiquated," and the "mausoleum."
Maybe they were jealous of what the Islanders enjoyed there and perhaps opponents didn't like it because it wasn't an enjoyable experience for them.
"Those people didn't like losing," said Potvin. "It was called Fort Neverlose. So they can take those words just shove them. It was obviously my home for 15 years. We won a lot there. It was part of our tapestry. I just think of it as a shrine."
It was appropriate that Potvin was in the building on Tuesday because there were a few his teammates on hand as well like Bob Nystrom, Clark Gillies and John Tonelli, a fan-favorite that scored so many clutch goals during the dynasty era. There had been a fractured relationship between Tonelli and the Islanders, but the fences appear to have been mended.
Tonelli, wearing a blue Islanders jersey with his No. 27 on it, dropped the ceremonial first puck before the game.
"John was a special player, a special human being and one of the many heroes that we had," said Potvin. "He was a tremendous guy to play with. I'm glad to have him sort of celebrated tonight because he had a great career with us."
John Tonelli was the Islanders' original JT and now the current JT is in the final year of his contract. Islanders captain John Tavares will be a free agent after this season and his future with the team is still up in the air. While he has said all the right things and most people believe he'll re-sign, the Islanders and their fans continue to keep their fingers crossed that he'll be back.
Potvin is also hoping that the current day JT stays put.
"I love him," said Potvin. "I hope he stays. I don't see him going anywhere else. His legacy has already been set with the Islanders. Both the franchise and he deserve to be together."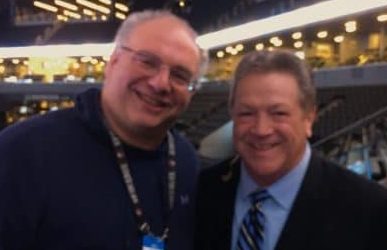 One thing is for sure, Tavares share's Potvin's feelings about how special the Nassau Coliseum is so perhaps that limited and temporary return to the Islanders' former home will play a role in his decision.
It was great catching up with Denis Potvin for this edition of Schwartz On Sports. It's funny because Potvin was the first professional athlete that I ever interviewed. It was September of 1986 when the I was a student at Buffalo State College. My college radio station had credentials for the Buffalo Sabres so when the Islanders were in town for a preseason game, I was hoping to be able to talk to a few of the players.
I had to go to the Sabres' locker room first because that was my responsibility so by the time I got the Islanders' locker room, the security guard had told me that most of the team was already on their bus.
"There's one guy still in there … I don't know who it is," said the security guard.
It was Denis Potvin, who provided a 19-year-old Islanders majoring in broadcasting the thrill of a lifetime with a few minutes of his time. Thirty-one-years later, "The Captain" did it again.