A Bill Simmons style comparison between New York Mets legends Mike Piazza and David Wright. Who do you think holds the edge?
They say imitation is the sincerest form of flattery. Back in December, I penned a column based on how my life would change if the Mets won the World Series. The piece drew heavily from a column written by Bill Simmons in his first book, Now I Can Die in Peace: How The Sports Guy Found Salvation Thanks to the World Champion Red Sox.
Earlier this week, I read another Simmons column from the same book that I felt I had to adapt for ESNY, one called the "second most important mailbag question in Sports Guy History," the Ringer's founder and CEO took on the task of comparing David Ortiz to Larry Bird. This was of course in 2006, when Big Papi was still in the process of cementing his status as a Boston legend.
There have been two true franchise players in my time as a New York Mets fan (unless they reach Kershaw-ian excellence, it's hard to consider a starter as a franchise player). So in the style of Simmons, I decided to draw up a comparison of Mike Piazza and David Wright using most of the categories from Big Papi vs. Larry Legend column from 2006.
Nickname
You could make the argument that Piazza has an advantage because his nickname was coined by the legendary Chris Berman. Other than that, it doesn't have much going for it. Mike "Pepperoni" Piazza is a big cliche and flat off the tongue. Although, it does remain my favorite ESPN Sports Scene It question.
Wright, on the other hand, became "Captain America" during the 2013 World Baseball Classic. In his second tour of duty with Team USA, the Mets' captain notched a .438 batting average, two doubles, a home run, and 10 RBIs. Back in 2009, with the stars and stripes on his chest, Wright knocked in a walk-off two-run single that eliminated Puerto Rico from the tournament. An injury prevented Wright from finishing the tournament in 2013, but nevertheless, the name stuck with him.
Edge: David Wright
Awards
Simmons' original category called for a comparison of MVP Awards. Piazza didn't grab any during his 16-year MLB Career and it doesn't look like Wright will either. To even give Wright a chance at competing in this category, we're going to have to pretend for a moment that Mike Piazza is not in the Hall of Fame.
In addition to being named the 1993 NL Rookie of the Year, Piazza was selected to 12 All-Star teams, was named MVP of the 1996 All-Star game, earned ten Silver Slugger Awards, and finished second in MVP voting twice.
Compared to those accolades, all Wright has going for him is the two Gold Gloves he nabbed in 2007 and 2008. His seven All-Star appearances and two Silver Sluggers doesn't do enough to edge Piazza.
Edge: Mike Piazza
Rings
Unfortunately, this category is irrelevant on both sides. Neither Piazza nor Wright has climbed the mountain to win baseball's most coveted prize. They go punch for punch in that they both won a National League pennant and played in the World Series, making it a draw.
Edge: Even
Defining Video Game
It was very cool to see David Wright on the cover of MLB 07: The Show, but it takes a whole other level of stardom to have a video game named after you. Mike Piazza's Strike Zone may not have been the best baseball game on the market during its initial run, but the fact that it bore his name gives him the slight edge over Wright.
Slight Edge: Mike Piazza
Best YouTube Clip
Mike Piazza's post 9/11 home run is the clear winner here, but I'm going to discount it for this category because it's going to come back later. Whether you pull his Hall of Fame induction speech or his jersey retirement at Citi Field, Piazza maintains YouTube supremacy.
Edge: Mike Piazza
Breakthrough Performance
Once again, we are left with a category that Wright simply cannot compete it. Mike Piazza was a 62nd round draft pick, who leaped from obscurity into the 1993 NL Rookie of the Year Award. Wright had an admirable breakout season in 2005 with a .306 batting average, 27 home runs, and 102 RBIs, but Piazza one-upped him in every category with 35 home runs, 112 RBIs, and a .318 average.
Edge: Mike Piazza
Sidekick
For every Batman, there is a Robin. For every Flash, there is a Kid Flash. For every Green Arrow, there is a Speedy. No franchise player is as prominent without their sidekick. For Mike Piazza, I see his long-time battery-mate, Al Leiter, as the best candidate. When Piazza and Leiter came together in Flushing from 1998-2004, the left-hander enjoyed the best years of his career. The two of them remained friends even after their baseball lives came to an end. They shared a touching moment when Piazza shouted him out during his Hall of Fame speech and Leiter also participated in the retirement of number 31 at Citi Field, catching the ceremonial first pitch from Piazza.
However, you would be hard-pressed to find a better sidekick than Jose Reyes. Wright and Reyes combined to form one of the most elite defensive infields during their prime. They were some of the deadliest offensive players in the league and shared three All-Star selections together. You just loved to see these two succeed together and the photo of them after the Mets clinched the NL East in 2006 remains iconic.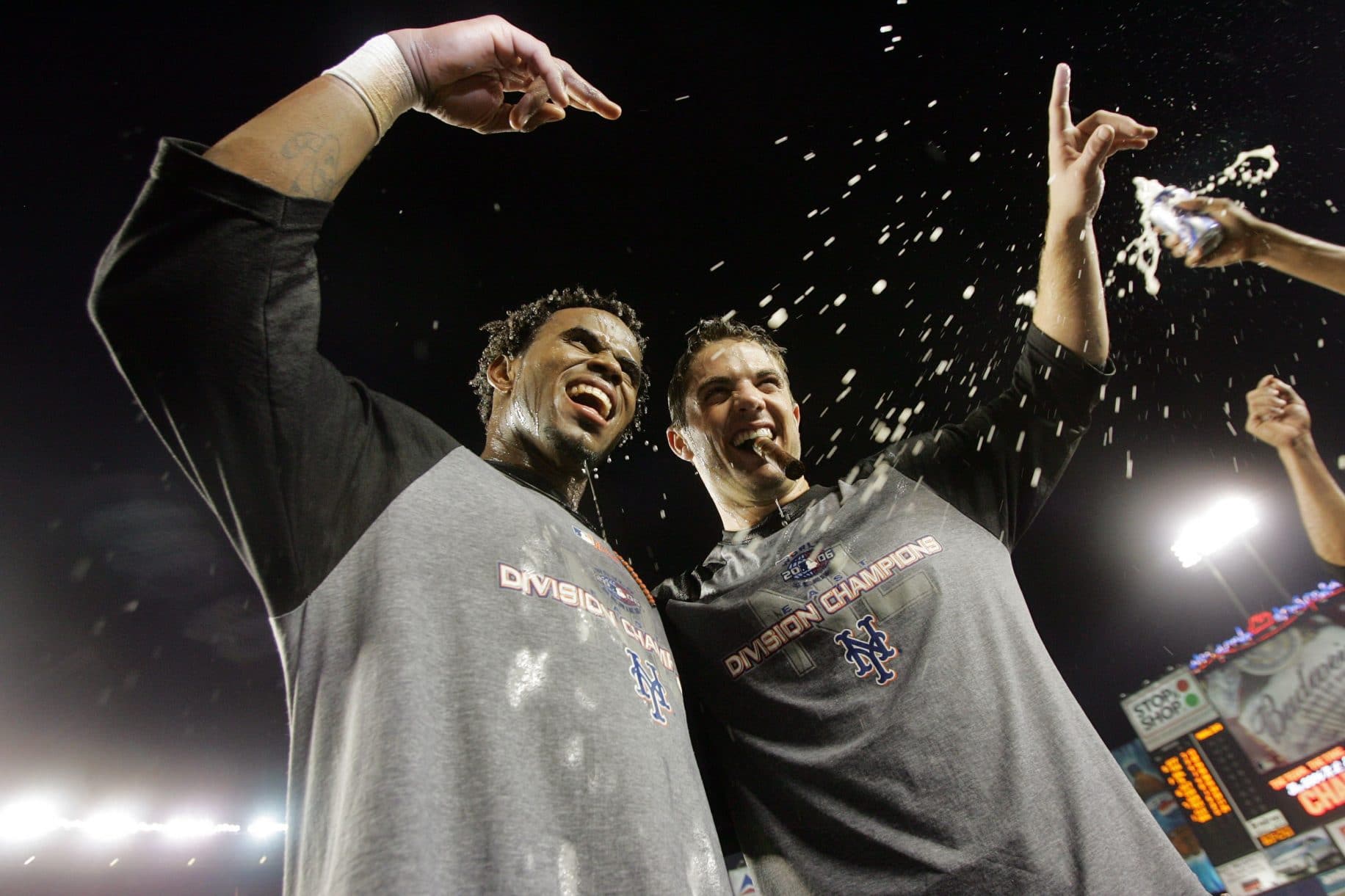 Edge: David Wright
Best Three-Year Value
The originally category Simmons used here was the best 12-month statistical stretch. We've come a long way since 2006 and since we're comparing two baseball players as opposed to a basketball player and a major leaguer, I've amended this category to highlight their most valuable three-year stretch as a Met.
Mike Piazza was worth a WAR of 14.8 from 1998-2000. What's crazy is that he accumulated his highest WAR total as a Met in only 109 games after coming over from the Marlins. Piazza did also have a 7.0 and 8.7 WAR seasons in Los Angeles, but that doesn't hold much water in this context.
From 2006-2008 Wright was simply just a more valuable baseball player. With a total WAR of 19.2, Wright anchored the Mets highlighted by his 8.3 total in 2007. Wright finished top-ten in MVP voting in all three of these years, landed two Gold Gloves, two Silver Slugger Awards, and three All-Star Appearances.
Rivals
From a team standpoint, the biggest thorn in Piazza's side was the Atlanta Braves. While the Yankees were winning championships across town, the Braves were beating up on the Mets within their division. Every season of Mike Piazza's time with the Mets was marred by an Atlanta division title. It didn't help that the Braves also defeated the Amazins' in six games in the 1999 NLCS.
But Piazza's real rival came in the form of Roger Clemens. Who could possibly forget Clemens throwing the broken bat back at Piazza in Game Two of the 2000 World Series and the consequential brouhaha that came as a result?
In Wright's corner, the biggest backbreaker of his career came in the form of the Philadelphia Phillies. After 2006, it was a foregone conclusion that the Mets would own that division for the next decade. 2007 came around and after the Mets fell victim to their infamous September collapse, Philly rattled off five consecutive division titles, two National League pennants, and a World Series victory. Ryan Howard, Jimmy Rollins, and Chase Utley feasted on the Mets during that stretch. I used to take a trip down to Philadelphia every summer to see the Mets and at least four of those five contests ended with the Mets blowing a lead and Ryan Howard blasting a walk-off home run.
Our collective hate for Chase Utley continues to grow by the day, especially after the stunt he pulled in the 2015 NLDS. To this day, I still don't understand how he was called safe after he mauled Ruben Tejada, but at least the Mets stuck it to him by winning the series. It may be recency bias, but I give Wright the edge in this category for watching the Phillies snatch away his prime years and Chase Utley breaking Ruben Tejada's leg.
Edge: David Wright
Defensive Shortcomings
Despite the stigma he's always faced, Mike Piazza was relatively underrated on defense. He never received enough credit for his arm and how well he minimized his flaws during his prime. But the fact of the matter is that David Wright won two Gold Gloves. In the early part of his career, Wright was an elite defender. It's a shame that spinal stenosis took that away from him, but even still, advantage Wright.
Edge: David Wright
Defining Quote
Don't get me wrong. I love David Wright's quote about how much pride he takes in being a New York Met.
"I love being a Met. It was my favorite team growing up, so to be a Met to me is very special."
It just simply cannot compete with any of the great moments from Piazza's Hall of Fame induction. Piazza's Hall of Fame speech is littered with great lines, but I am partial to this one in particular.
"It is a testament to our great country and game that dreams can come true. You just need to be willing to pay the price."
Warning: It may get a little dusty if you watch the whole thing.
Major Edge: Mike Piazza
Value as a Teammate
The margin is slight in this category because neither player was ever a detriment within their clubhouse. Piazza was a true star but could be guarded at times. Wright has always and will always be the Captain of this team. He's been a tremendous clubhouse guy through the ups and downs of the rollercoaster ride that is his career. If there was a Hall of Fame for great teammates, you would definitely find Wright in there.
Slight Edge: David Wright
Success of Goofy Facial Hair
David Wright has been primarily clean-shaven for most of his career. The most we have ever gotten is some stubble. Between his mustaches and goatees, Piazza is the clear winner of this category.
Major Edge: Mike Piazza
Defining Moment
David Wright has had his fair share of iconic moments. The barehanded catch in foul territory. The celebration after clinching the National League East in 2006. Blasting his first career walk-off home run against the Padres (in the final season at Shea Stadium). Launching the first home run by a Met in Citi Field history. His moonshot home run in his first at-bat back after being diagnosed with spinal stenosis.
Between all of those, Wright has had an amazing career as a New York Met, but for one game, Mike Piazza lifted an entire city. Excerpted from an article I wrote two years ago for Last Word on Baseball:
"Behind on an 0­-1 count, Piazza belted a two ­run home run over the centerfield fence to give the Mets the lead. The crowd erupted. Thousands of American flags flew into the air. The fans chanted, "USA! USA! USA!", and for a moment, everyone was distracted from their pain and sorrow. For one brief moment, Mike Piazza of the New York Mets was a hero, a source of inspiration, and New York embraced it. It truly was a proud moment to be a New Yorker, let alone an American. There are many great moments in professional sports, let alone MLB. However, this undeniably transcends sports and will always be a great reminder that even the little things, like baseball, can inspire and provide hope."
Mike Piazza's post 9/11 home runs is one of the all-time great moments in the history of sports. A moment that transcended the game and was bigger than baseball itself.
Major Edge: Mike Piazza
Reliance on Performance Enhancing Drugs
Mike Piazza was a slugger who played in the era of PEDs, so naturally, plenty of rumors and accusations were afloat. Piazza has never failed a drug test and was not named in the Mitchell Report. However, the wrinkle in all of this is that Piazza did admit to taking androstenedione. While androstenedione is a PED, Piazza did so at a time where it was available over the counter and not on the MLB's list of banned substances.
Wright has a completely clean record. Even during his slugging days, it was hard to find a rumor connecting the captain to PEDs.
Edge: David Wright
This is by far my favorite category and here is the definition excerpted from Simmons' book:
"Remember the Seinfeld episode when Keith debated whether to make a move on Elaine and talked himself into it by saying, 'I'm Keith Hernandez! I won the MVP in 1979?" I renamed this the Hernandez Zone to describe any athlete who developed supernatural confidence, loved being the hero and didn't care about the repercussions of any in-game decision. Best-case scenario: Bird or MJ at their peaks. Worst-case scenario: Brett Favre from 2001-06. Most underrated: Sam Cassell, who even created the 'I HAVE GIGANTIC TESTICLES!' dance to cement every big shot."
Now David Wright has always been a respectful, professional player who you would never label as cocky. Wright has come up to the plate in many situations and I have had a fair level of confidence in him coming through, or at least psyching himself into coming through. The fact of the matter was that Piazza was on a whole other level when it came to irrational confidence. He absolutely knew how good he was and stepped to the plate believing he could own any pitcher. For that Piazza takes the category.
Edge: Mike Piazza
Final Verdict
Coming into this discussion, David Wright already found himself as the heavy underdog. Mike Piazza not only carries one of the most, if not the most, defining moment in Mets history but entered Cooperstown wearing a Mets cap. Barring the return of a healthy and productive David Wright, Piazza remains the superior franchise player of the two.