We spend all year praying for it, but have you ever actually wondered how your life would change if the New York Mets won the World Series?
Over the past month, I've been tearing through the first book Bill Simmons wrote, Now I Can Die in Peace: How The Sports Guy Found Salvation Thanks to the World Champion Red Sox. If you're not familiar with the book (or Bill Simmons for that matter), it's a collection of columns about the Boston Red Sox from the late nineties all the way to their World Series victory in 2004.
In October of 2004, right before the Red Sox did the unthinkable, Simmons authored a column entitled The Brink of the Group Hug. The very first line kicked things off with a question posed to him by his wife, "How will your life change if the Red Sox win the World Series?"
To paraphrase my good friend Bill once more (we're not friends obviously, but I'm going to keep calling him Bill), just glancing at this question sent me down one of the dopiest rabbit holes of my young sportswriting career. Living as a New York Mets fan has been such an emotional roller coaster that I have literally never entertained the thought of what would be different after watching 25-30 strangers pile atop each other in the middle of a baseball field and douse each other with champagne. Some may call me out on this, I mean the Mets were in the World Series only two years ago, but after Yoenis Cespedes egregiously opted not to make a routine play in center field to open game one, I knew in my heart that this was not their year.
It took about two days of pondering before I actually sat down and read Bill's column. Much to my expectation, it resonated pretty strongly with me and finally helped me formulate the answer to the question that all sports fans have to ask themselves at one point or another. How will your life change if your team wins it all?
Before I dive in, I want to point out that you are likely to encounter skeptics along the way. There are plenty who don't understand how a rational human being could dedicate six months to following a group of millionaire strangers around. In some cases, it's even year round with the way media and player access has evolved. Nevertheless, the goal of their skepticism is to get you to admit one thing: that a championship would change your life if no way, shape or form. It's the same way Sonny shattered Calogero's idolization of Mickey Mantle and the Yankees when he told him that Mickey Mantle doesn't care about him (if you didn't get this reference, you should probably stop reading here).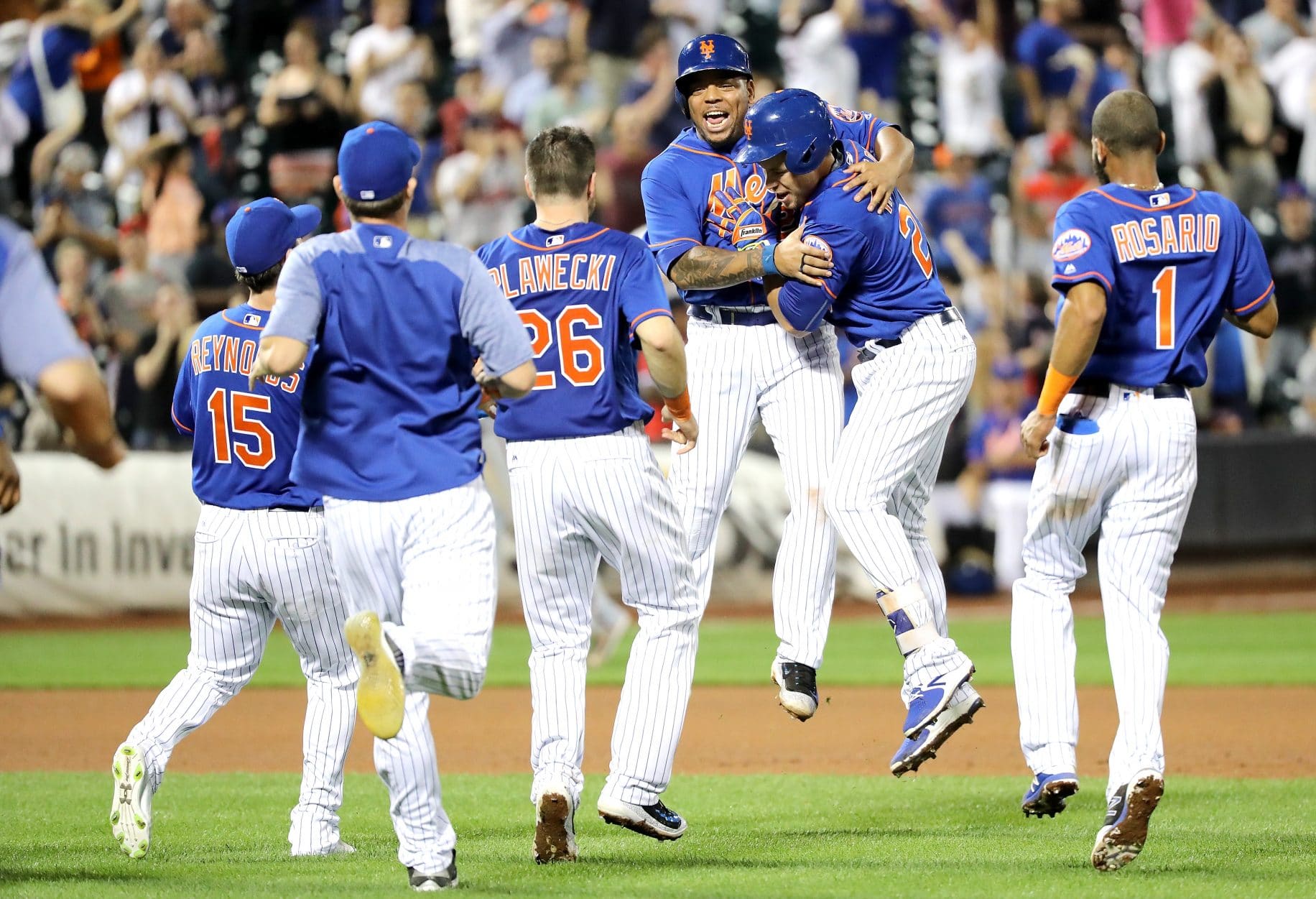 A Massive Emotional Payoff
Loyalty to the Mets has been in my family for generations. Inherited from my father and both grandfathers, sometimes it feels like a blessing and other times a curse. Despite coming from very different backgrounds, both of my grandfathers had one thing in common. When the Dodgers up and left for the West Coast and the Giants followed suit, both refused to jump ship and root for the Evil Empire.
They were committed to National League baseball in New York and fortunately for them it only took five years before they had a team to call their own again. The New York Metropolitans came into existence for the 1962 season thanks to the efforts of William Shea and the rest is history.
I first set foot in Shea Stadium sometime during the 1996 season. There was a unique ambiance about Shea Stadium that's hard to understand if you never took in a ball game there. It was a beautiful place and even in its old age, it put Citi Field to shame. I was sad to see them tear it down, but the assortment of food choices at Citi Field softens the blow considerably. But I digress.
From 1996 onward, I was committed to this team for better or for worse. When the late-nineties rolled around, I was still a bit young to understand the significance of those teams, let alone the significance of a Subway Series World Series. 2005 is the year I really began to follow the Mets on a day-to-day basis. It was no coincidence considering that prior to that season the Mets had signed Pedro Martinez and Carlos Beltran, tremendously raising the profile of the team.
Granted I was a kid, so it's fair to keep me out of bandwagon fan territory, but in actuality, I credit my newfound obsession with baseball to a video game. The release of MVP Baseball 2005, a masterpiece in its own right, was not the first baseball video game I owned, but the first one I really dove into and got to know the league. It was serendipitous considering the season the Mets would have a year later.
So for the last twelve years or so, I've been complaining about our bullpen, questioning managerial decisions, criticizing the penny counting front office, and every other thing us tortured Mets fans do. But this team has provided me with some pretty significant memories over the years. In the early 2000s, I got to go on the field during batting practice and hang out with some of the players. I even snapped a photo with Rey Ordonez and Bobby Valentine. Of course, I was completely distraught that I couldn't find a way to get Mike Piazza's attention. For my 12th birthday, a friend of my father's enabled the opportunity for me to spend the game in the Doctor's Box, beforehand having the opportunity to stand in the same room as two World Series championship trophies.
I could go on about the good times I've had with the Amazins', but the point I'm trying to make is simple. It's human nature for us to become emotionally invested in a variety of things. I'm hard-pressed to guess that not many people have things they've spent 20 or more years dedicated to something in one way or another. Fans don't receive championship rings, but the right to see our team on top, to see the Mets on top, is an emotional payout that I couldn't even imagine.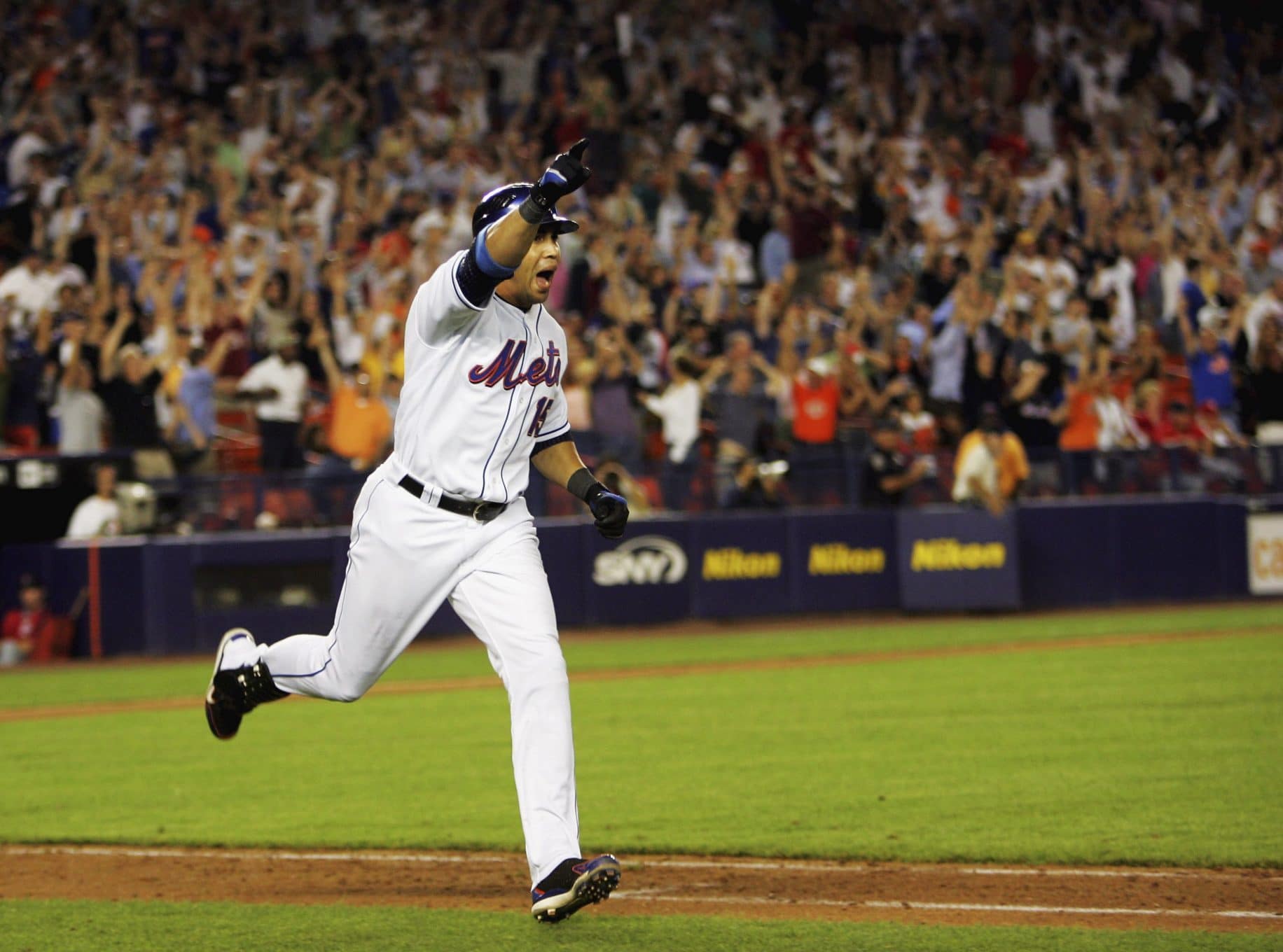 Shedding the Baggage That Comes With All of This
In my lifetime, I've seen two pretty impossible things happen. The 2004 season saw the Red Sox snap an 86-year World Series drought, ridding themselves of the nagging, media-driven Curse of the Bambino (If anything Babe Ruth should send the Sox a thank you card. They shipped him off to play for the most successful franchise in MLB history. I find it hard to believe that he would spend the afterlife haunting this team. And yes, this is another sentiment that my good friend Bill echoed in his book). The 2016 season saw the Chicago Cubs break through an even more impressive title drought of 108-years. Curse of the Billy Goat or not, that is a hell of a long time.
Boy am I thankful that Red Sox or Cubs fandom was never thrust upon me. The idea of going an entire lifetime without seeing your team win a championship is terrifying to me. Being that I'm only 25, I have yet to see the Mets climb the mountain, but I figure I have about three more decades before I become cynical enough to believe it's never going to happen.
Nevertheless, I may not be a Red Sox or Cubs fan, but being a Mets fan has one major downside and it's something that every member of Red Sox Nation can relate to. We have to deal with the New York Yankees. The Mets may not play the Bronx Bombers 18 times a year, but we have to share a city with them. Under normal circumstances, that wouldn't be so bad. As a Knicks fan, we share this market with the Nets and there never seems to be an issue. But the Nets aren't the most successful sports franchise in history. The Nets haven't won 27 championships compared to our paltry two. And most importantly, the Nets don't have obnoxious fans who choose to ridicule you and whenever you strike back they hide behind their past successes.
Looking back on my childhood, Yankees fans tormented me. It wasn't my fault that dysfunction followed my favorite franchise like a bad cold. It wasn't my fault they were embarrassed in five games in the 2000 series. I think 2007 and 2008 were probably the worst two years, still being in high school and all while the Mets collapsed in consecutive seasons.
When the Mets easily had the best team in baseball during the 2006 season, I prayed and prayed for that World Series title. Every potential remark made by a Yankees supporter could have been washed away with a title in 2006. It would have enabled a grace period where even if someone threw the 26 championships (at the time) comeback at me, all I would simply have to say is "but who's the champion this year."
I wish dealing with Yankees fans was the only way we accumulated baggage as Mets fans, but that wouldn't be true. Some dark moments that come to mind are Carlos Beltran's called strike three in Game Seven of the NLCS, the collapse of 2007, the collapse of 2008 which was followed by an intolerably depressing closing of Shea Stadium ceremony, the implosion of David Wright's body, a solid 7-8 years of being non-competitive, Matt Harvey exploding onto the scene and then needing Tommy John surgery, when Yoenis Cespedes egregiously dropped the ball on the opening play of the 2015 World Series, Ray Ramirez's tenure as our own personal Dr. Kevorkian, and lastly the absolutely devastating injury plague that ruined the 2017 season filled with high expectations.
The bad news: these are all constant forces pushing us towards cynicism when it comes to the Mets. The good news: a World Series title erases all of this, even if it's only for a little while. All I know is that I never want to be at a point where the Mets reach a drought that has me doubting whether or not a championship is going to happen in my lifetime.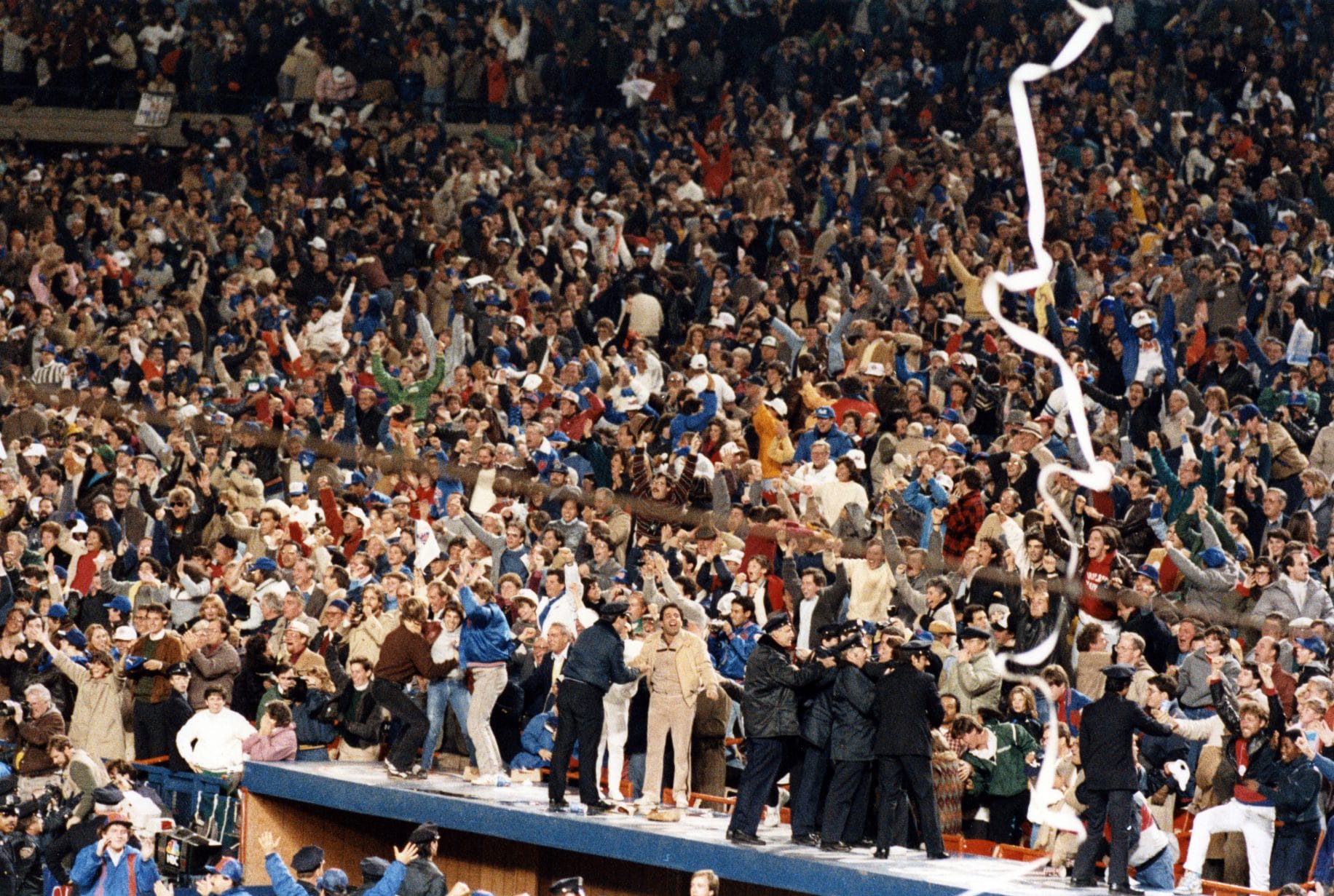 It's Important To Be Part of Something Bigger
This section overlaps with what I wrote about emotional investment, but the desire to be a part of something bigger than our own lives is a major motivating factor for many. Life is tough and can be mundane at times and simply put, people need a distraction at times.
For lack of a better term, the first job I took out of college sucked. I worked on Wall Street and couldn't have hated it more. Working 70-80 hours a week, while commuting up to four hours a day was unbelievably draining and soul-sucking. But you know what got me through that time in my life? Those New York Mets.
The Mets were my distraction when the majority of my days were spent in an environment where the pressure to perform successfully could be unnerving at times. Probably the coolest moment of the whole experience was a lunch I had with one of the partners of my firm. A fellow Mets fan, he suggested we dip out to the nearest sports bar for lunch to watch Matt Harvey's return to the mound after rehabbing from Tommy John surgery. Harvey was electric that day against the Nationals, performing better than anyone could have expected. But more importantly, in that moment I wasn't focused on the pile of work I had waiting for me back at the office, I was focused on The Dark Knight's pitch count, how often he was going to throw his breaking ball, and whether Terry Collins would let him get up to 100 pitches.
Later that year, I had left that job but was in dire straights when I was dealing with a severe illness that is still biting back at me today. It may not have ended the way I wanted, but I am forever grateful to the 2015 Mets for the run they went on. I dove headfirst into that team. Somehow, the excruciating pain I was dealing with on a daily basis didn't matter when Travis d'Arnaud jumped into Jeurys Familia's arms after they clinched the division, or when two stellar Jacob deGrom starts powered the Mets past the Dodgers in the NLDS, or even when the Amazins' cruised by a loaded Cubs team en route to a sweep and a National League pennant.
It hasn't happened and maybe it never well, but there is one thing I can tell you. The New York Mets winning the World Series will change my life. It will be a chance to experience arguably one of the biggest emotional payoffs in my life while simultaneously shedding years of baggage.