Ever since the New York Knicks called up Trey Burke from the G-League, he's been a productive product, much like Langston Galloway back in 2015.
Roughly two weeks ago, the New York Knicks called up point guard Trey Burke from the G-League. In his time with the Knicks, Burke has emerged as a viable source of offense off the bench and has played well overall. In fact, his play is reminiscent of Langston Galloway when the guard was called up from the D-League in 2015.
Back in January of the 2014-15 NBA season, the Knicks were an utter trainwreck. Owning just five wins in early January, they appeared destined to be playing for a top five pick in the NBA lottery. As a result of the team's failures, management opted to make a huge trade, which indicated that they were essentially tanking.
Trading shooting guards J.R. Smith and Iman Shumpert to the Cleveland Cavaliers in a three-team deal and waiving center Samuel Dalembert, the Knicks blew it up. One transaction that was made in response to the trade was promoting rookie guard Langston Galloway from the D-League.
Undrafted out of Saint Joseph's University, the Knicks signed Galloway to play for their D-League affiliate. After the Smith/Shumpert trade, the Knicks inked him on a 10-day contract. With starting point guard Jose Calderon in and out of the lineup due to injury and the Knicks being slim in the backcourt, there were minutes to be had and Galloway ate up a decent chunk of them.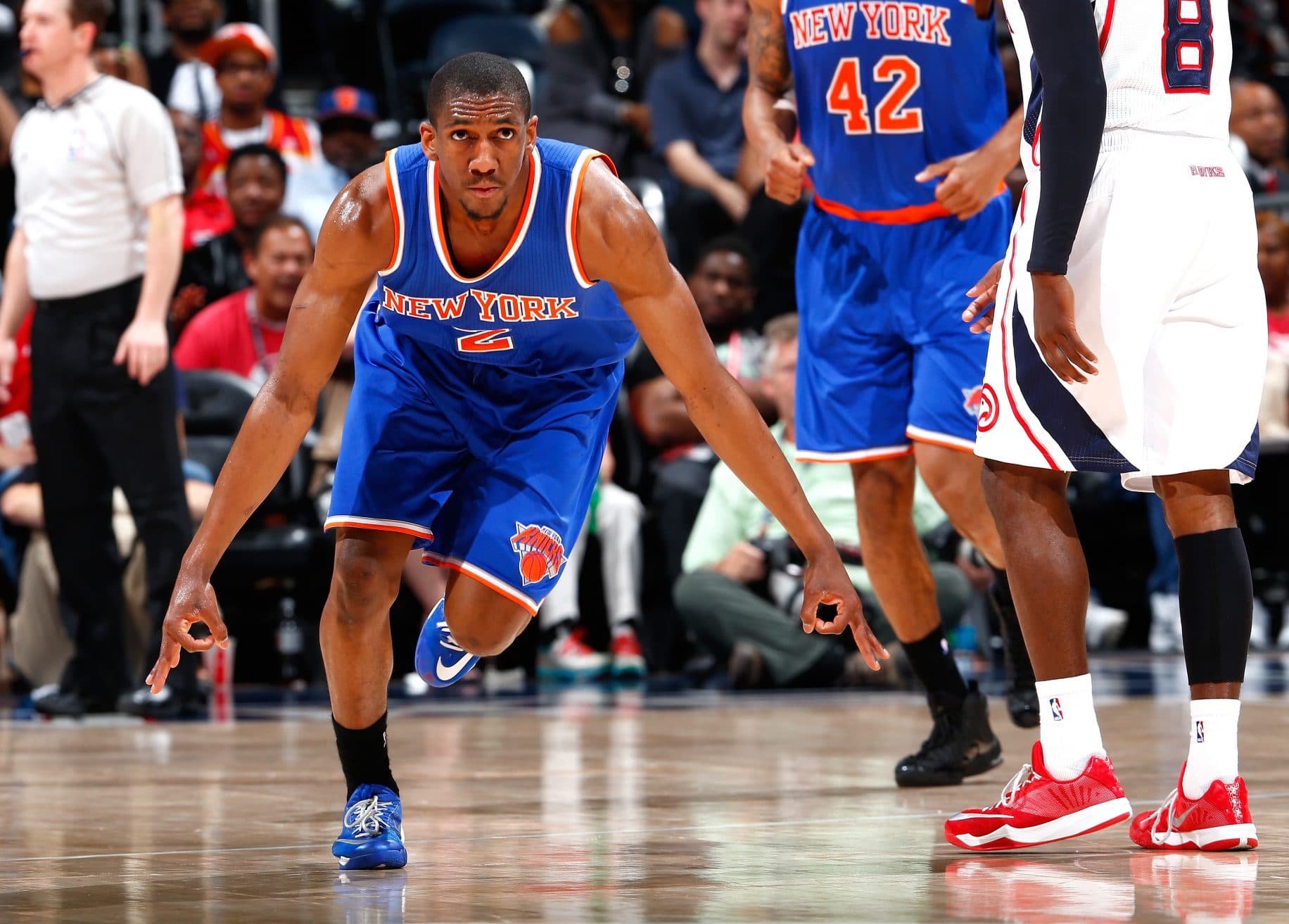 Averaging 32.4 minutes a night and starting 41 games, he was given the golden opportunity to prove himself and he did as such. Averaging 11.8 points, 3.3 assists, 4.2 rebounds and 1.2 steals per game, Galloway was a productive product. He provided the Knicks with a youthful spark plug who was also competitive on the defensive end. Diving on the floor for loose balls, generating ball movement and playing with an attacking mentality, he was a two-way presence for head coach Derek Fisher. In the midst of a 17-win season, he was one of the very few bright spots for the Knicks.
Galloway's play earned him a spot on the Knicks' roster for the remainder of the season and he was able to stick around for the ensuing year too.
Three years later, the Knicks have themselves in a similar situation with Burke.
Nearly two weeks ago, the Knicks called up the former number nine overall pick in Burke to add depth at point guard, being that they're looking for scoring and backcourt production; so far, Burke has answered the call.
While five games is not a great sample size, Burke has showcased what he's capable of doing…when he's been provided the minutes. Averaging 7.6 points and four assists per contest in just 12.2 minutes a game going into Friday night, Burke has been an efficient product. Thursday night in Denver, Burke put forth his best performance of the season.
Finishing with 18 points and 11 assists in 29 minutes, Burke turned some heads in Mile High against the Denver Nuggets. Shooting an efficient 8-of-12 from the field and finding the open man, he played at a high level and showcased his worth to head coach Jeff Hornacek and the Knicks. With Jarrett Jack fading and Frank Ntilikina playing with inconsistency, there's no reason why Burke cannot play himself into the starting gig or, at the very least, a prominent reserve role.
Burke has endured an up-and-down career. He was in and out of the Jazz' starting lineup throughout his first two seasons in the league and backed up John Wall in the Nation's capital last season, but through the good times and bad, Burke has always been able to score.
While not much of an outside shooter (Burke is a career 33.6 percent shooter from beyond the arc), Burke is capable of playing in isolation, creating his own shot and getting to the rim. He's averaged 10-plus points per game three times over the duration of his five-year career and, most recently, showcased a willingness to find the open man.
Burke has been the Knicks' 2018 version of Galloway. He's a January call-up in the midst of a losing season and has produced. With shaky point guard play, as of late, and a potential fire sale on the horizon as the NBA trade deadline nears (which would result in players being traded and minutes opening up), Burke could prove to be a keeper for the Knicks.