Tim Hardaway Jr. and Joakim Noah have fared much differently than one another in a New York Knicks' uniform, despite their strikingly similar contracts.
The New York Knicks are historically adept at dishing out the big bucks in free agency. Want proof? Just look at the significant signings they've made over the last two seasons. Granting shooting guard Tim Hardaway Jr. a four-year, $71 million deal last summer and center Joakim Noah a four-year, $72 million deal the year prior, they've shown no fear when it comes to spending the green.
At the same time, not every free agent signing can work in a team's favor. And when it comes to Hardaway vs. Noah, it's a tale of two different deals, in terms of production for the Knicks.
Tim Hardaway Jr.
Back in July, the Knicks inked Hardaway on a $71 million deal that had many questioning their motives. Based on him being traded away from the team two years earlier and the organization attempting to rebuild, it was viewed as an unnecessary overpay. Ever since that doubt developed, Hardaway has shined and silenced his critics.
Averaging a career-high 18.4 points per game, he's been a focal point of the Knicks' offensive attack alongside Kristaps Porzingis. Whether it be playing in isolation, hitting the mid-range jumper, or finishing off fastbreaks, Hardaway has been a productive product for head coach Jeff Hornacek. He takes pressure off Porzingis and is the one player on their roster that can score in a multitude of ways.
Hardaway has also held his own defensively, averaging a career-high 1.1 steals per game.
This season, Hardaway has been a pleasant surprise and a key component to the well-being of the Knicks' offense. While they may have given him a bigger deal than they had to, Hardaway is playing himself into his contract and in a big way.
On the other hand, the same cannot be said for Noah.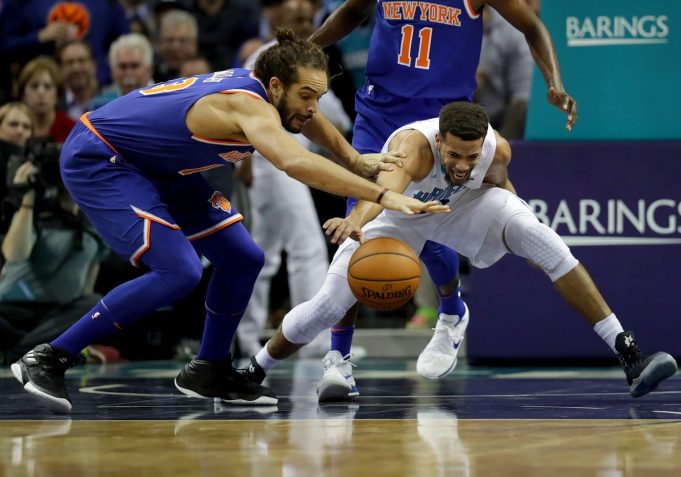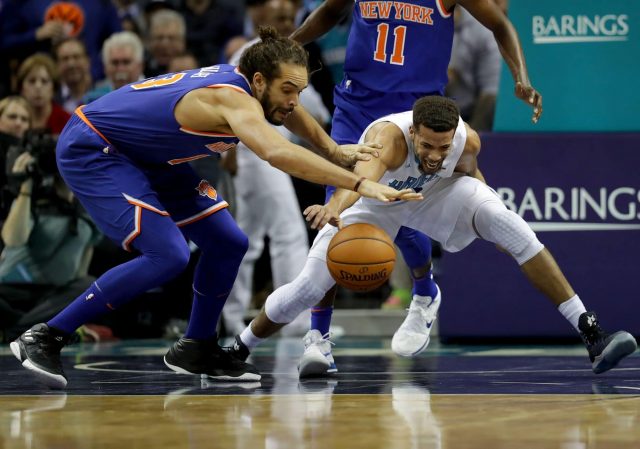 Joakim Noah
In the summer of 2016, the Knicks opted to give Noah a $72 million deal. The idea on management's end of things was that the center would provide them with a defensive surge in the middle. Unfortunately for the Knicks, they have yet to get much production out of him, instead receiving a ton of baggage and concern.
While he did reel in 8.8 rebounds per game, Noah was an underwhelming presence defensively. The former Defensive Player of the Year hasn't been the overpowering presence in the paint the Knicks envisioned and is consistently outworked in the post. Missing time due to injury and a banned substance, he was limited to just 46 games — only furthering his disastrous season. Hoping to get back on his feet and play with something to prove this season, Noah has been unable to make an impact on the Knicks.
With Hornacek granting him little to no playing time, Noah has been a high-priced backup. Averaging just 1.7 points and 2.2 rebounds per game in only six minutes per game, it's become clear that the head coach doesn't view Noah as a rotation player — which speaks volumes.
Whether he deserves to play or not, having the center on the bench makes the Knicks look really bad. They essentially signed a $72 million role player, at best. Signing Noah started off as a good idea, but is increasingly looking like an immense mistake.
A big reasoning for the drastic difference in Hardaway and Noah's production has been Hornacek's trust in the two and the situation the team finds itself in.
With Enes Kanter, Kyle O'Quinn, Porzingis, Michael Beasley and even Willy Hernangomez present, Noah has been put at the backend of Hornacek's rotation. And with the Knicks being a team without an identity, in the midst of a rebuild, they are best suited going with their youth instead of veterans like Noah.
Hardaway is arguably the Knicks' second most valuable player. Porzingis is not the same player without him and the Knicks dropped eight of 10 games over a stretch of time in his absence.
A $71 million purchase (Hardaway) has provided the Knicks with an offensive focal point, while a $72 million one (Noah) has put them in a murky and regrettable situation.