Kristaps Porzingis may be the crown jewel, but he needs Tim Hardaway Jr. in order to succeed. He is crucial to the well-being of the New York Knicks' offense.
Tim Hardaway Jr. is enduring a successful season, but is still regarded by many as an overpaid second-tier player who can score, when, in fact, he just so happens to be the New York Knicks' most prominent figure on the offensive end.
Yes, the thought of saying that Hardaway is more important than Kristaps Porzingis offensively sounds ludicrous at first thought, but it's important to look at the big man's skill set, as well as what the shooting guard brings to the table.
It's no secret that Porzingis is playing at an All-Star level this season and he has shown that he can be relied on to contribute a great amount to the Knicks' offensive attack. Averaging 23.5 points per game going into Sunday afternoon, he's been the focal point of Jeff Hornacek's offense. At the same time, Porzingis has limitations.
Whether it be struggling to get position in the post and creating his own shot, or not consistently playing with an attacking mindset, Porzingis is not a flawless product. And while Hardaway isn't perfect himself, his arsenal is crucial to the well-being of the team's offense.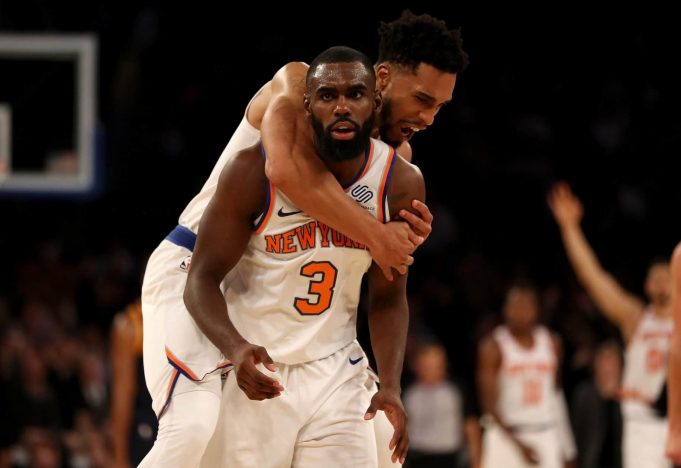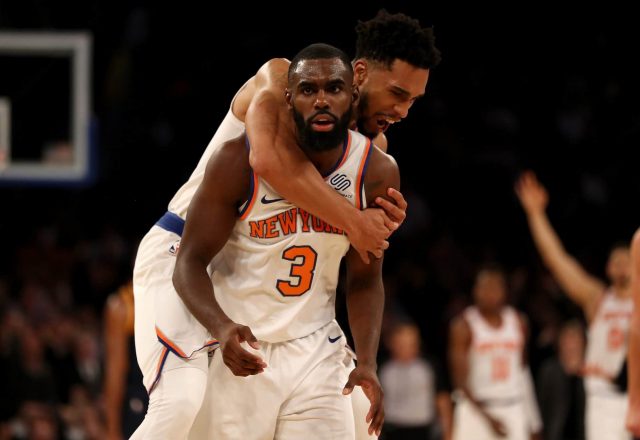 Ranging from his ability to play in isolation and attack the rack to even taking the big shot late in games, Hardaway has come into his own as a reliable source of offense. Not many thought this would transpire when the Knicks inked him to a $71 million deal in the offseason.
Hardaway is averaging a career-high in points (18.4), assists (3) and rebounds (4.2) per game. In what's been, undoubtedly, the best season of his five-year career, Hardaway has also been productive on the defensive end.
While not classified as a lockdown defender, Hardaway has defended the perimeter well and played competitive on-ball defense; he was also averaging a career-high 1.2 steals per game going into Sunday afternoon.
Back in late November, the Knicks lost Hardaway for nearly six weeks due to a leg injury and his absence severely affected Porzingis. Based on the load he was carrying alongside Porzingis offensively, teams began fortifying their efforts towards solely shutting down the Zinger — which proved to be a major challenge for him.
While he owned a respectable post game in the early stages of the season, the luster has worn off for Porzingis. He's struggling to get position and, as a result, has been forced to pass the ball out of the post often. Plus, his overall production, in terms of scoring, dropped in Hardaway's absence, averaging just 21.1 points per game. Porzingis is averaging 23.3 points per game on 43.6 percent shooting this season going into Sunday afternoon.
Whether it be now or in the long run, the Knicks want Porzingis to grow into their franchise player and go-to man — and rightfully so. If he can resolve, or offset his weaknesses, there's no telling the player Porzingis can become. For the meantime, he's not the type of player who can be relied on to carry the scoring load on his own, which Hardaway's absence proved.
Hardaway is the motor that keeps the Knicks' offense running. Just look at what he did Friday night versus the Utah Jazz as a model for that notion. In his first start since coming back from injury, Hardaway finished with a game-high 31 points on 64.7 percent shooting, leading the Knicks to a 117-115 victory in Salt Lake City.
In the four games Hardaway has played since returning from injury (he came off the bench for the first three), he's picked up right where he left things off, averaging 22 points per game and lighting a spark underneath the Knicks' offense. Given that he hasn't played in six weeks and is getting back into the swing of things, executing at that high of a level on the road is rather impressive.
Hardaway takes the pressure and attention off Porzingis offensively. He's not afraid to take the big shot and is the more well-rounded scorer.
Now is Hardaway the better overall player than Porzingis? No, Porzingis' two-way play (perimeter play, high-flying dunks, shot-blocking prowess) makes him the team's most valuable asset and a potential superstar down the road. Without him, the organization would be deprived of a potential franchise cornerstone. Simultaneously, while he may not be the more well-rounded player, Hardaway is just as important to the Knicks' success, as a whole, as Porzingis.
Having reliable number two and three scorers is just as crucial as having the go-to guy and Hardaway has answered the call. Without him, the Knicks were forced to heavily rely on Porzingis and they endured a skid of eight losses in 10 games in the process.
Without their most prominent figure, Hardaway, their offense is simply not the same.