Pat Shurmur is the new head coach of the New York Giants. But Steve Spagnuolo, whose New York tenure may be over for real this time, deserves credit for what he did in December.
E
xactly 10 years ago, Steve Spagnuolo was tasked with finding a way to stop the likes of Tony Romo and Terrell Owens, then a group showcased by Brett Favre and Greg Jennings. Once he got through those groups, he had to find a way to stop arguably the most potent unit in NFL history, the offense of the undefeated New England Patriots, one headlined by Randy Moss, Wes Welker, and, of course,
Tom Brady
. He had to perform the latter task with a good number of the globe watching.
The assignment bestowed unto him this past December, however, might've been harder.
Spagnuolo, likely at the end of his second tenure as New York Giants defensive coordinator, was called upon to be the interim head coach, the overseer of the final quarter of what will likely go down as the most disappointing season in Giants history. Previously a head coach with the artists formerly known as the St. Louis Rams, Spagnuolo, taking over a group that was long eliminated from playoff contention, was in a no-win situation. Win, and the fanbase detests you for ruining the team's high draft pick. Lose, and you add to your fans' suffering and jeopardize further employment in the league.
But with Spagnuolo at the helm, there was a sense of hope, a sense of purpose in the New York locker room, a sense that completely vanished once things truly soured in the Ben McAdoo era.
At no point did Spagnuolo blame his predecessor for the situation when he was assigned the spot on Dec. 4. In fact, in what felt like a swift departure from the previous regime, Spagnuolo asked fans and media to point the finger at him, feeling at least partially responsible for the firing of Ben McAdoo.
"I feel, personally, I'm one of the guys that let him down. We failed as a team, but part of that failure was me," a remorseful Spagnuolo said. "So, it's really hard, it's hard for me to stand here in the position I'm in right now and I want to publicly thank Ben for two years ago sticking with me as the defensive coordinator here. I greatly appreciated that. He's a great man. He's a great coach."
The permeating negatives didn't truly vanish, as the Giants endured the last stages of Eli Apple's silly sophomore season and suffered a 23-0 defeat in Arizona on Christmas Eve. But the beleaguered Giants, especially the ones who knew Spagnuolo as a coordinator, bought into the temporary director's philosophies.
"I know he's a fantastic coach and definitely as a defensive coordinator," safety Landon Collins remarked. "If something's not right, he makes us all redo it right then and there and he will definitely come back to it. It's a little faster out there now and what else? Just a more competitive feel out there. He tries to get us to be more competitive now."
"He rallied his troops up and everybody is listening to him," defensive end Jason Pierre-Paul said after Spagnuolo's promotion. "We're behind him 100 percent and we're ready to go play for him."
Save for the coal in the stocking on Christmas Eve, the buy-in was present on the field.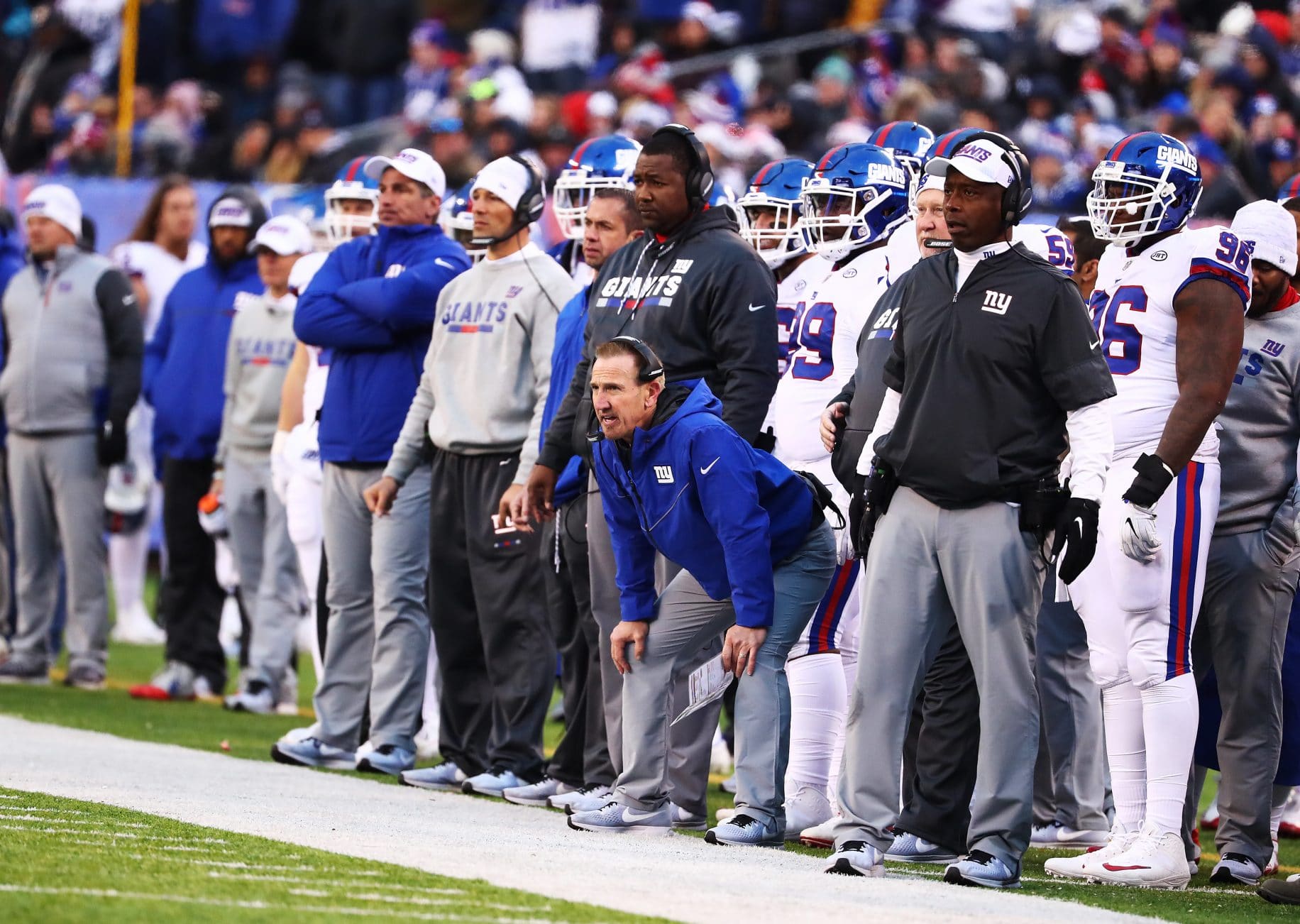 In a trio of games against divisional foes, one of which will represent the National Football Conference in Super Bowl 52 in two weeks, the Giants displayed heart and poise. A 30-10 loss to the playoff-contending Dallas Cowboys was close until the final stages, and one week later, a game against the future NFC champion Philadelphia Eagles was six yards away from becoming a New York victory.
Spagnuolo noted the effort in the losses against playoff contending teams in his departing remarks.
"I go back to 10-10 in the Cowboys game with seven minutes left. That says a lot and after coming off of a really hard week," Spagnuolo said. "That wasn't easy on them, yet they picked it up, we acted like pros. The coaching staff did a great job. The people in the building did a great job. We were able to function in a game. We were swinging at the end and then kind of lost a little bit. Philadelphia game was impressive. Wish we had played better defensively, but we're right there at the end of the game. With one play, we could win it."
The efforts culminated in an 18-10 win over the Washington Redskins in the season's final week, one that ended a brutal season on a high note. Spagnuolo, in what became his final postgame press conference, soaked it all in, reveling in the joyous finale, and praising his staff and players.
"Needless to say, (I'm) really happy for our football team, the organization and the way we played today," Spagnuolo said after the game. "We've been chasing the feeling of being in a locker room on a Sunday or an NFL winning locker room. It feels special, all the work you put into it and it's a week by week thing. But, the work you put in during the week is demanding. Our players, our coaches, they go through a lot. Our football staff. And, it's rewarding. Prior to that, hadn't been great, but this feels good and I think the organization can carry this into the next season."
Unknowingly concluding his tenure, Spagnuolo made the unusual but warm move of thanking his wife Maria personally before departing. Married at The Vatican in 2005, Maria was constantly referred to by Spagnuolo throughout his tenure, and not just for the banana pudding coveted by Collins. A man of family and faith, Spagnuolo thanked the woman by his side in the midst of the chaos.
"Can I do this?" Spagnuolo said unexpectedly. "Maria doesn't watch these things or anything, but I want to thank her personally for her support."
When time ran out to signal the merciful end of the 2017 Giants season, there was one thing Spagnuolo wanted: a photo with Eli Manning.
While Spagnuolo worked his defensive mastery in the epic New England victory 10 years prior, it was Manning who went down in the history books, his final drive featuring the famous escape-and-fling to David Tyree, who pressed the ball against his helmet to keep the miracle alive. Several plays later, Manning's lob to Plaxico Burress sealed the third Super Bowl title, a team effort that still goes down as one of the most exciting championships in all of sports.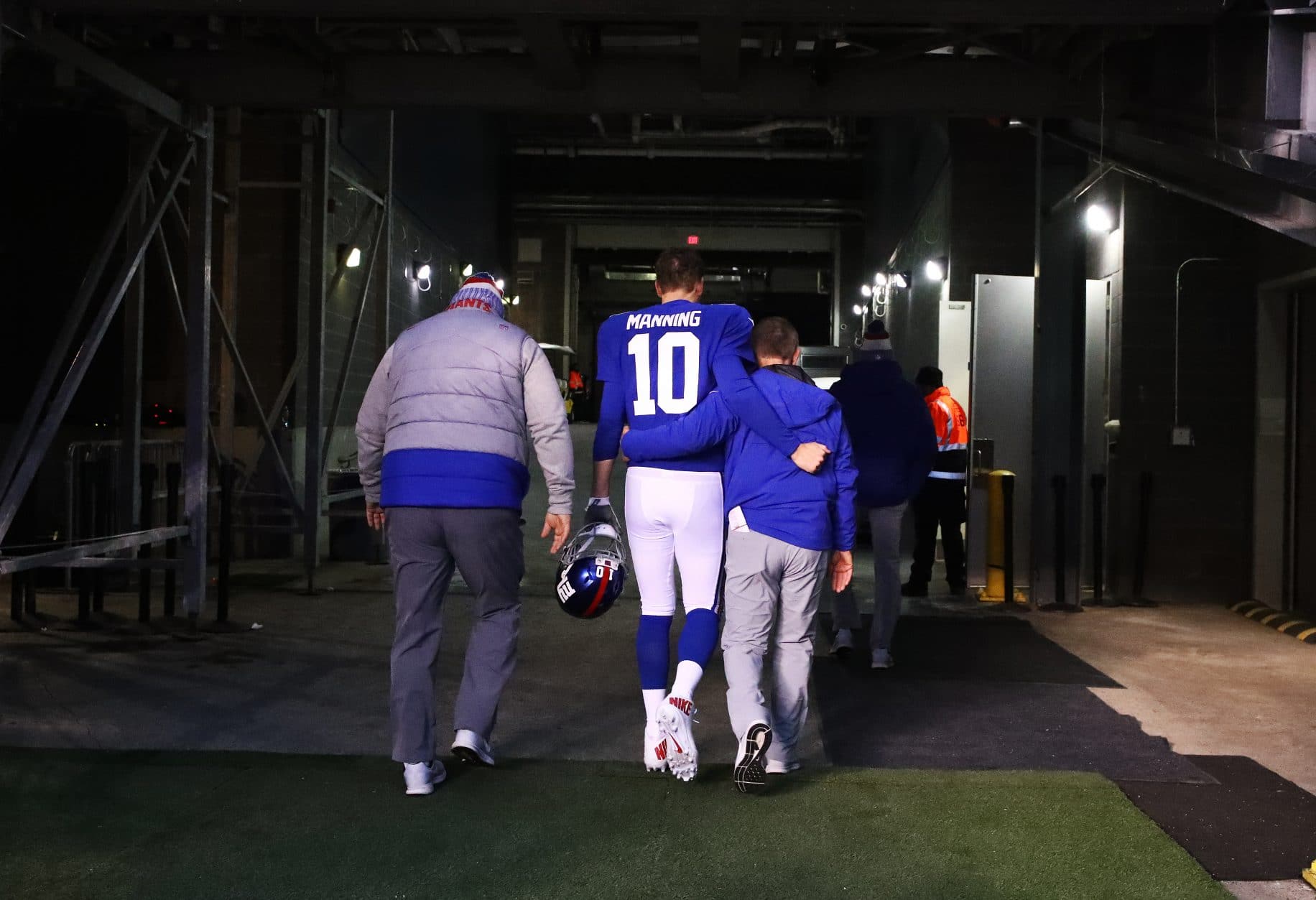 "We've both been through a lot and none more than him with this season, but he never changed," Spagnuolo said of he and Manning's 2016 season. "I value that in people that can stay that balanced through ups and downs. He's had the highest of highs and this was certainly very, very low, but he's a tremendous competitor and I appreciate him greatly."
The defensive mastermind indeed earned an interview for the vacant head coaching position, since filled by ex-Minnesota Vikings offensive coordinator Pat Shurmur. Some saw it as a mere formality, a sign of respect for Spagnuolo's impressive blue resume.
Again sticking to form, however, he didn't address his future when the team packed their bags, leaving it to his faith.
"I leave (the future) in God's hands," Spagnuolo said. "I'll be where He wants me to be and right now He wants me to be here for this (season) and that's how I'll function. And that's as honest as I can get."
Spagnuolo and Shurmur have a history, as the two each began their NFL coaching careers in, of all places, Philadelphia, where Spagnuolo served as a defensive assistant, and Shurmur as a tight ends coach, beginning in 1999. When Spagnuolo's Super performance earned him the Rams' top job in 2009, he brought Shurmur, still employed with the Eagles as their quarterbacks coach, with him, serving as the offensive coordinator. Thanks to overseeing Sam Bradford's strong rookie season in 2010, Shurmur earned a head coach job of his own, that of the Cleveland Browns. So there is a possibility that Spagnuolo's days in blue may not be over just yet.
However, if this is the end of the Steve Spagnuolo era, for real this time, he deserves his due, deserves his respect. Responsible for one of the best wins in Giants history 10 years ago, Spagnuolo began what's sure to be one of the arduous and important rebuilds in Giants history. Spagnuolo was the spark to ignite Shurmur's fire.
To think, though, that's not even the most impressive of Spagnuolo's New York achievements.
A Whitinsville, Massachusetts native, he did the impossible: he became a New Englander forever remembered fondly in the hearts of the New York City area. And, for that, all Giants fans should be grateful.
Geoff Magliocchetti is on Twitter @GeoffMags5490