The Vikings' Sunday disaster of epic proportions, one that brought nightmares of Giants fans to life, has Big Blue fans second-guessing the Pat Shurmur hire. But one bad game shouldn't the accomplishments that brought him to East Rutherford.
S
unday night very well could've been a sign of Sundays to come, a night that no doubt featured distraught
New York Giants
fans cursing
Pat Shurmur
as the Philadelphia Eagles rolled to victory.
Shumur, the new head coach of the Giants, was the losing offensive coordinator of the Minnesota Vikings in Sunday night's NFC Championship Game, on the wrong end of a 38-7 shellacking at Lincoln Financial Field.
After a brilliant first drive, a 75-yard march that cut through the Philadelphia defense like butter, Shurmur's unit failed to generate anything more. The rushers tallied only 70 yards, quarterback Case Keenum was forced into three turnovers, and no more points were added after that first possession, which concluded with Kyle Rudolph's 25-yard score.
As Giants fans' biggest nightmare, a Super Bowl starring the Philadelphia Eagles, slowly came to life, the tide naturally turned against Shurmur. Those who educated themselves in the previous exploits of Shurmur, those that drooled at the possibility of the supposed quarterback guru overseeing the twilight years of Eli Manning, quickly turned on him, as panic set in over the hire. The loss ignited yet another social media firestorm, the likes of which have become all too common in recent times for the Giants faithful.
But if Giants fans should've learned one thing from the Manning era, it's that one tough game shouldn't render previous triumphs null.
For one thing, nothing short of the 1985 Chicago Bears was stropping Eagles quarterback Nick Foles, who somehow managed to top, in terms of greatness, his seven-touchdown performance from 2013. A former disciple of Shurmur during the coach's second Philadelphia tenure, the new Giants boss could only watch as a stout Minnesota defense disappeared in a sea of green, torched for 352 yards and a trio of scores.
It can be indeed universally agreed upon that Sunday night was not the best not for Shurmur to go out on, a Minnesota demise more graphic than the infamous woodchipper scene from the film version of Fargo. But it wasn't the responsibility of, say, Keenum or Stefon Diggs to cover Zach Ertz. Latavius Murray didn't let Alshon Jeffery score twice. In today's era of fantasy football showcases and individual glory, we forget that football is a team sport. That's exactly how Minnesota lost: as a team. No one individual can be blamed for the Vikings' loss. All 53 Vikings who dressed for Sunday are at fault, as are the whole coaching staff led by Mike Zimmer. Just as Minnesota mustered so many team wins throughout the season, the final being the miracle victory over New Orleans in the divisional round, the last loss was a team effort … or lack thereof.
Having said that, Shurmur's contributions to one of the most memorable teams in Vikings history should not be instantly forgotten simply because of the way it ended.
Entering the fall, no one knew what to do with the Vikings, save for the agreement that they'd be behind the mighty Packers as a runner-up or worse. The defense remained strong, as George Edwards's third-ranked unit from 2016 leaped to the top of the league this year, but question marks peppered the offense. Who would step up at quarterback, with both Teddy Bridgewater and Sam Bradford dealing with injuries? Rookie Dalvin Cook galvanized an Adrian Peterson-free run game, but how would Latavius Murray and Jerick McKinnon respond to increased duties? And with first-round pick Laquon Treadwell not producing as desired, who would rise up in the receiving department?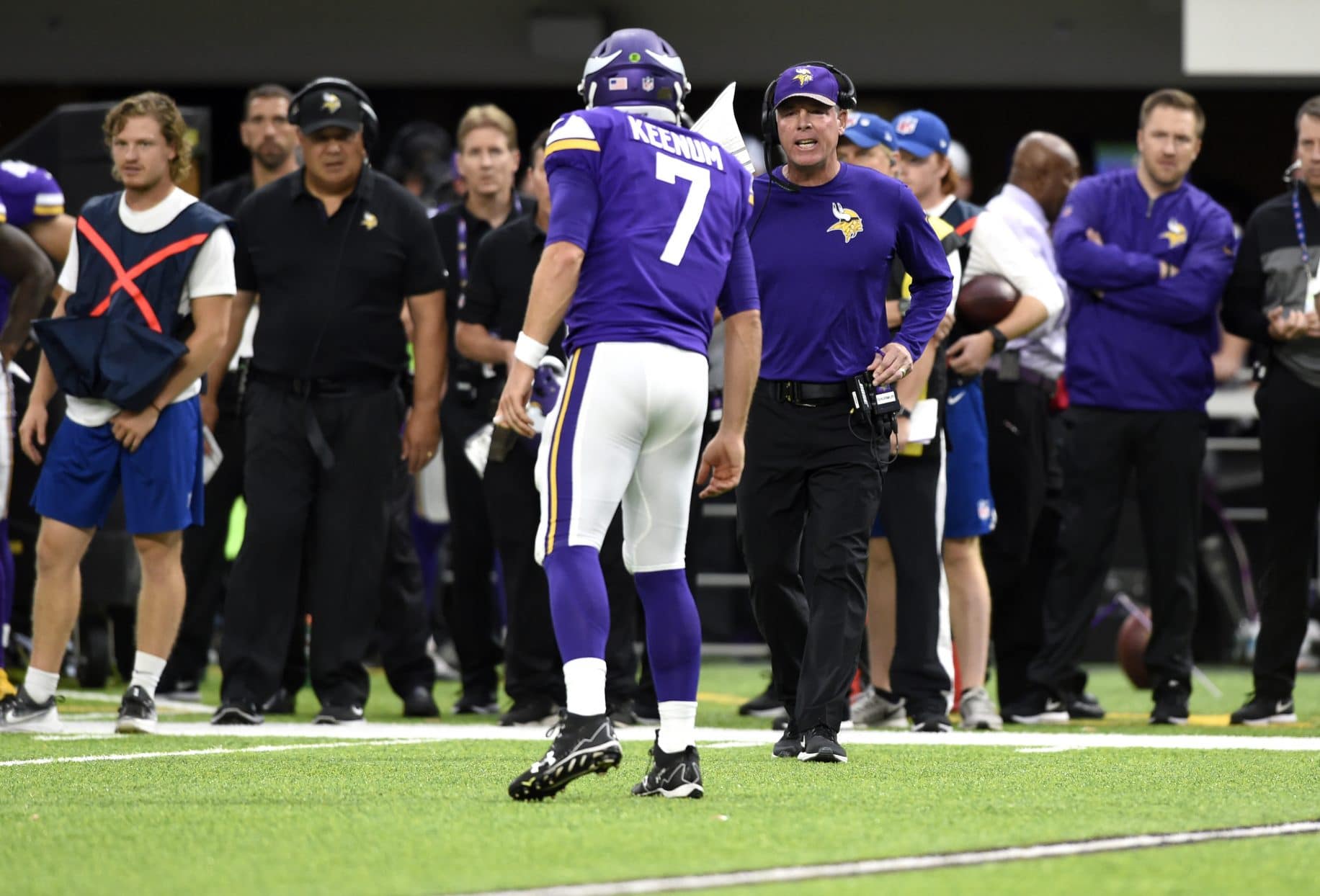 Shurmur answered those questions, and then some.
Keenum, cast aside by the Rams, posted his best career numbers, tossing 22 touchdowns and for 3,547 yards while going 11-3 as a starter. Murray continued his strong development, going for 842 yards, while McKinnon likewise earned career bests, 570 yards and three scores. Finally, Adam Thielen completed his transformation from awe-inducing local story to elite target, as the Detroit Lakes, MN native and Minnesota State alum finished fifth in the league in receiving yards (1,276).
Overall, Minnesota's offense, the main culprit behind a 5-0 start becoming an 8-8 disappointment, went from 28th in the league to 11th. With Peterson gone, the run game still finished seventh in terms of yards. a delight to the eyes of Giants fans seeking a consistent run game.
The prowess of Shurmur has been on display long before Minnesota's finalist run. He got the best out of several quarterbacks, as well as Bradford and Colt McCoy, lost to mediocrity otherwise, posted their best numbers under his guidance. Two Super Bowl quarterbacks from Philadelphia received their first lessons from Shurmur, with Foles leading the squad against the Patriots in two weeks, 13 years after Donovan McNabb did the same in Super Bowl XXXIX. Prior to that memorable game, Shurmur led McNabb to the best season of his storied career, and it was he who played witness, as an offensive coordinator, to that seven-score game from Foles in Oakland.
Perhaps most impressively, he got the Cleveland Browns nine wins in two years as a head coach.
So give the man a chance.
Geoff Magliocchetti is on Twitter @GeoffMags5490