Is it possible that Pat Shurmur, the man many believe was the team's third-or-fourth choice to become the next head coach of the New York Giants, was the best fit the whole time?
Pat Shurmur will reportedly be the new head coach for the New York Giants when the 2018 season comes around. New York was interested in other names, including New England's Matt Patricia and Josh McDaniels, but they reportedly have decided to go elsewhere. Shurmur seemed to be the Giants third choice. However, he should have been their number one choice the whole time. The Giants should be drafting a quarterback with the second-overall pick in the 2018 NFL Draft, and there's no better man in the NFL than Shurmur to groom a young QB.
For Pat Shurmur is the QB whisperer.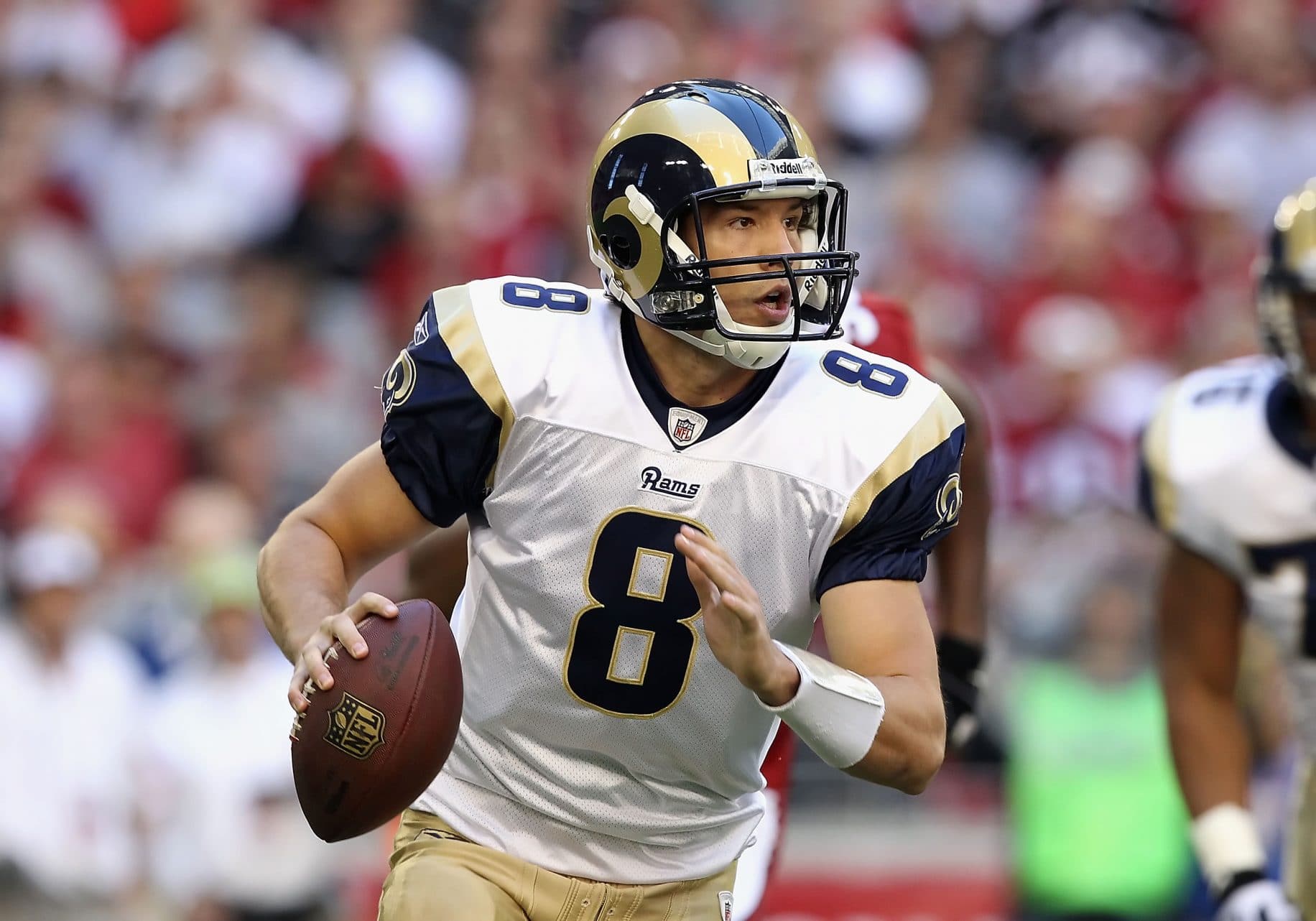 After a dreadful 2009 season in which the Rams finished 1-15, they drafted Sam Bradford in the 2010 NFL Draft. At the time, Shurmur was the Rams' offensive coordinator and boy, did he help Bradford turn in a tremendous rookie season. Bradford threw for 3,512 yards, 18 touchdowns, completed 60 percent of his passes, and won nine games en route to being named the AP Offensive Rookie of the Year.
Shurmur left after Bradford's rookie year to be the head coach of the Browns. How did Bradford do in his first year without his OC? Horrific. In 10 games, Bradford threw for just 2,164 yards, six touchdowns, completed 54 percent of his passes and recorded one win. Coincidence? I think not.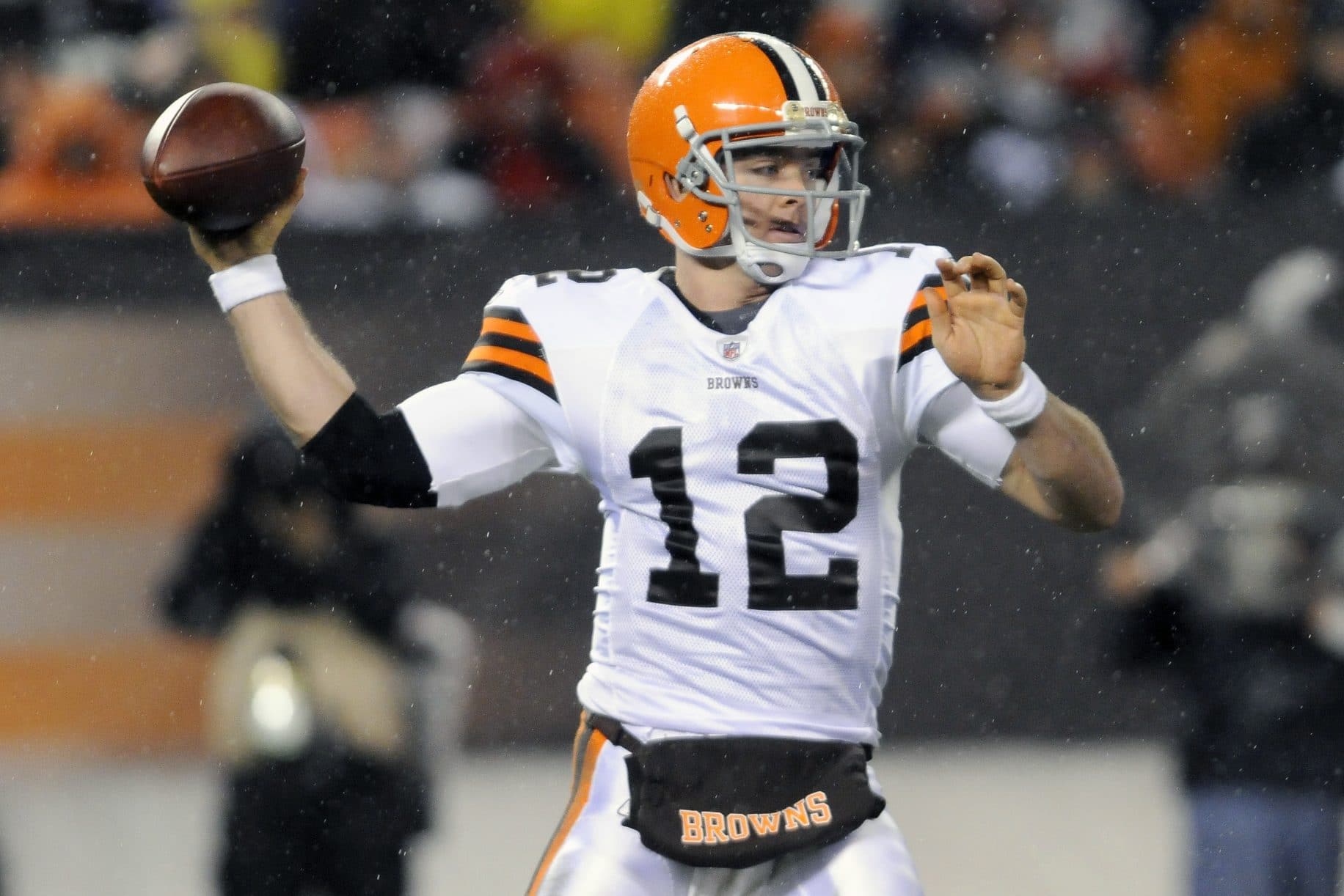 Colt McCoy, Cleveland Browns, 2011
Cleveland's third-round pick in the 2010 NFL Draft, Colt McCoy, never lived up to expectations. But under Shurmur's tutelage, McCoy had a career year in 2011. In 13 games, he recorded career-highs in wins (four), passing yards (2,733), touchdowns (14), and rushing yards (212). McCoy did so with almost no offensive weapons—his leading receivers were Greg Little and Josh Cribbs.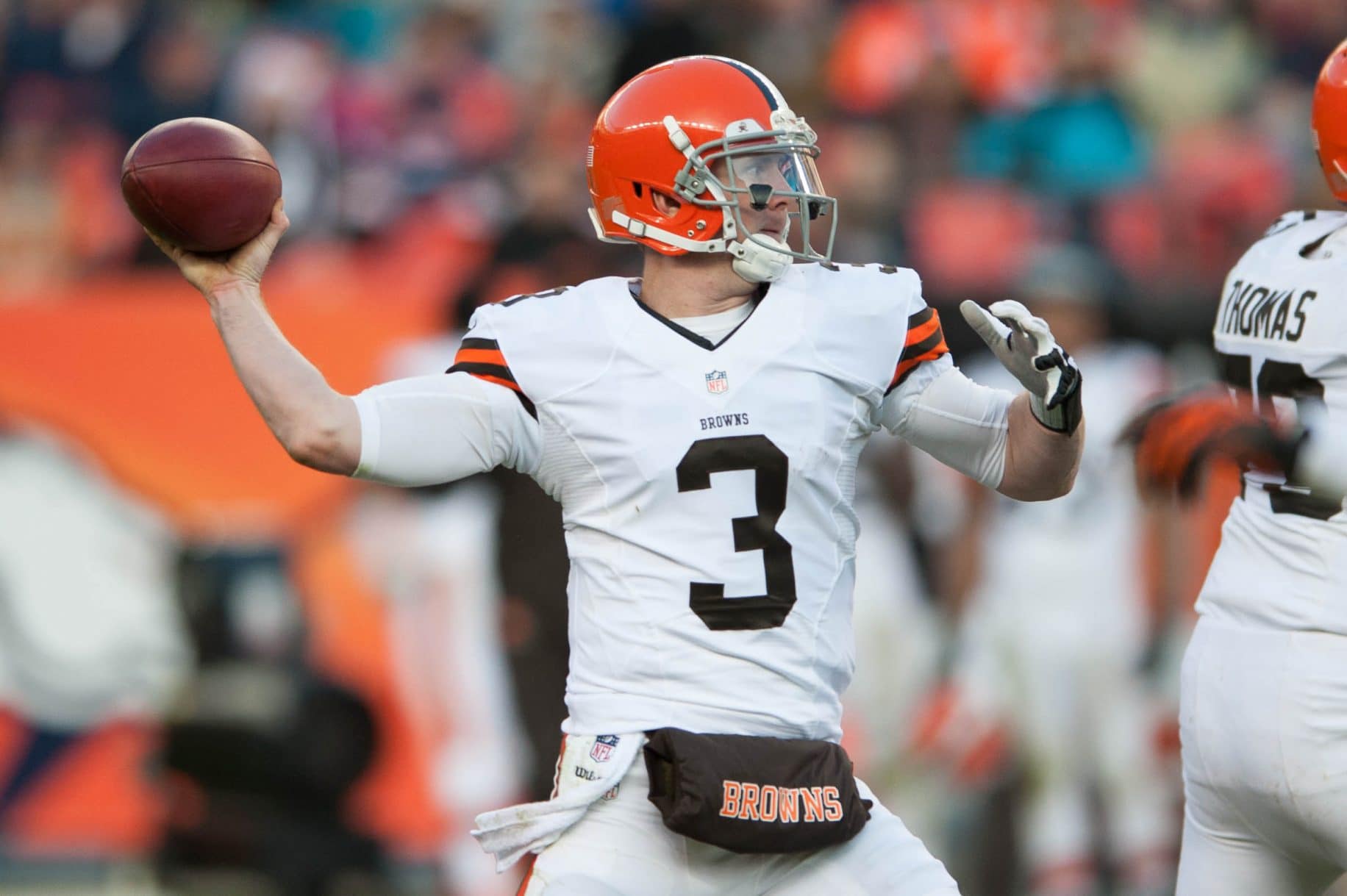 The Browns selected yet another QB in the 2012 NFL Draft. This time it was with their first-round pick (22nd overall) and they used it to select 29-year-old Brandon Weeden. The pick was extremely questionable due to Weeden's age, but Shurmur made the most of it. Yet again, he led another QB to a career year.
In the 2012 season, Weeden recorded career-highs in wins (five), passing yards (3,385), touchdowns (14), passing yards per game (225.7), and rushing yards (111). It was the only time in Weeden's career that he passed for double-digit touchdowns and 2,000-plus yards in a single season.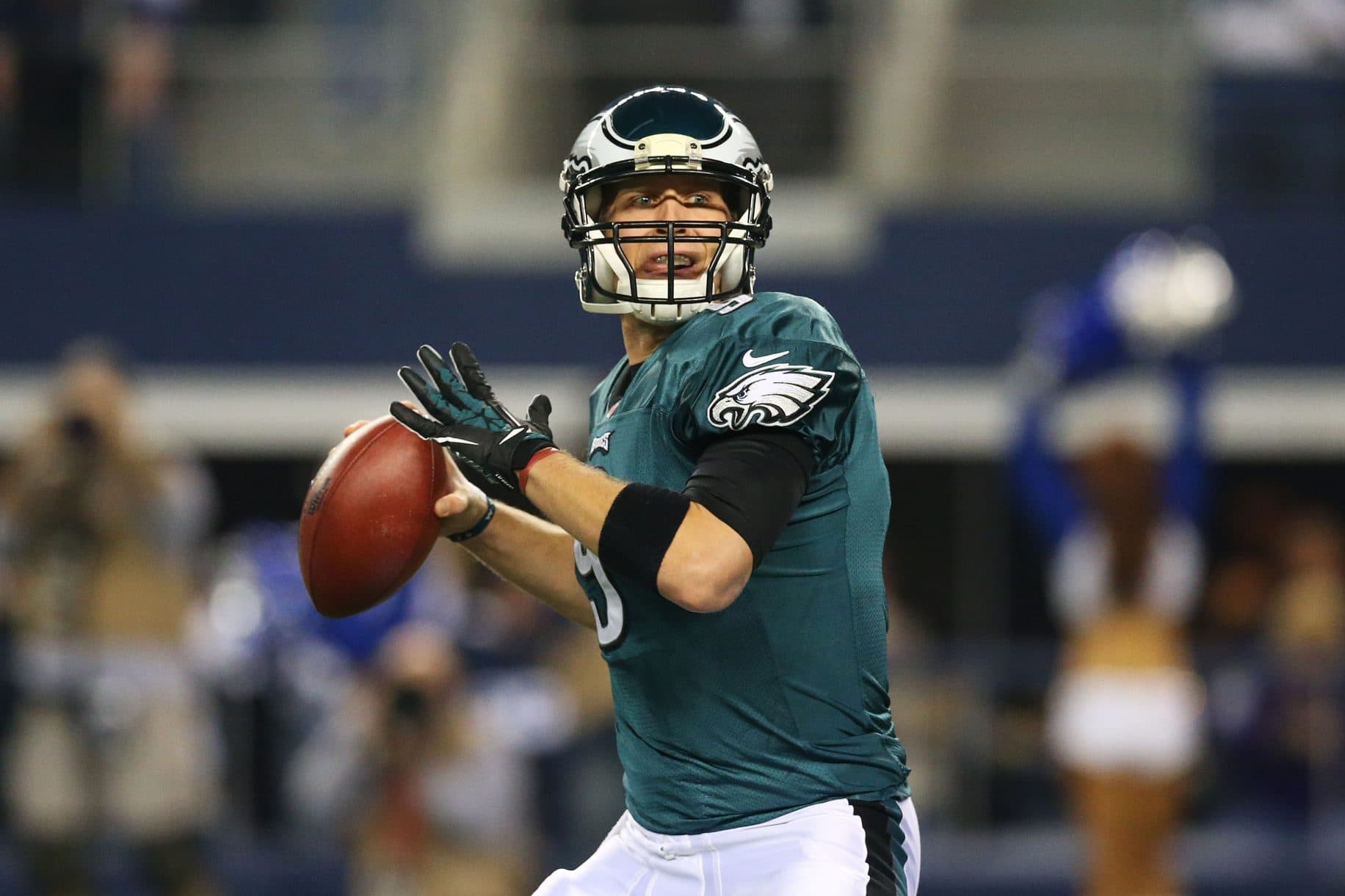 Nick Foles, 2013, Philadelphia Eagles
In 2012, Foles played in seven games and passed for 1,699 yards, six touchdowns, and completed 61 percent of his passes while only winning one game. Well, he was a completely different man in 2013 when Shurmur came to Philadelphia as the Eagles' offensive coordinator.
In just 10 starts with Shurmur calling plays, Foles threw for a career-high 2,891 yards and 27 touchdowns while completing 64 percent of his passes. Even more impressive: He threw just two interceptions. On top of that, Foles led the NFL in yards gained per pass attempt (9.1), yards per completion (14.2), and quarterback rating (119.2). It's no surprise that, under Shurmur's eye, Foles made his first and only Pro Bowl appearance.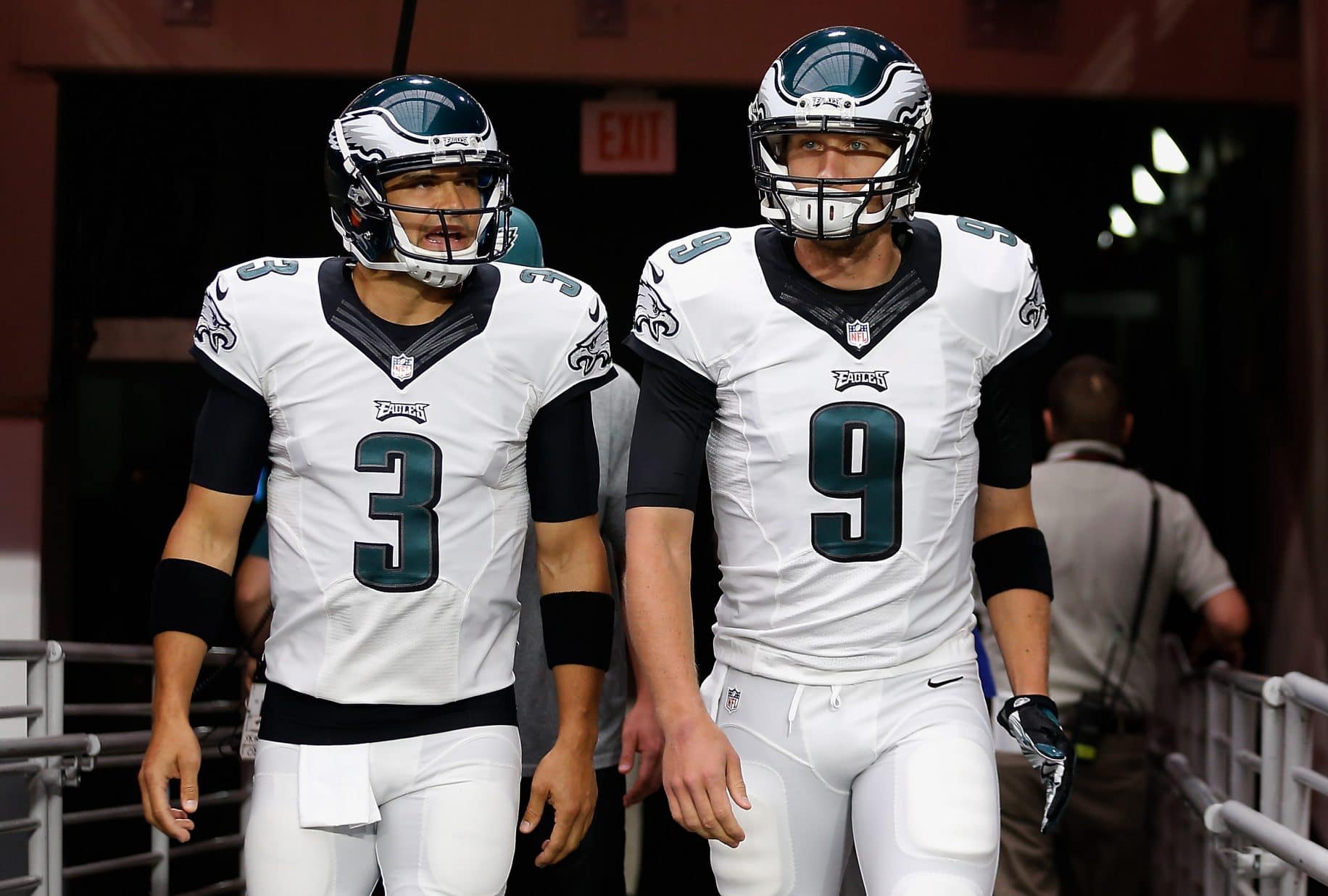 Foles and Mark Sanchez, 2014, Philadelphia Eagles
Foles was only able to play in eight games in 2014 due to a broken collarbone that ended his season early. Mark Sanchez took over when Foles went down and he didn't skip a beat. The two Eagles' QBs combined for 4,581 yards, 27 touchdowns, and completed 62 percent of their passes while leading the team to a 10-6 record.
Foles was on pace to record a career-high in passing yards before he went injured as he was only about 700 yards short of it with eight games to play. Sanchez sat out the 2013 season due to a preseason injury in the preseason but came back strong under Shurmur in 2014. Over just eight games, he threw for 2,418 yards, 14 touchdowns, and a career-high 64-percent completion percentage.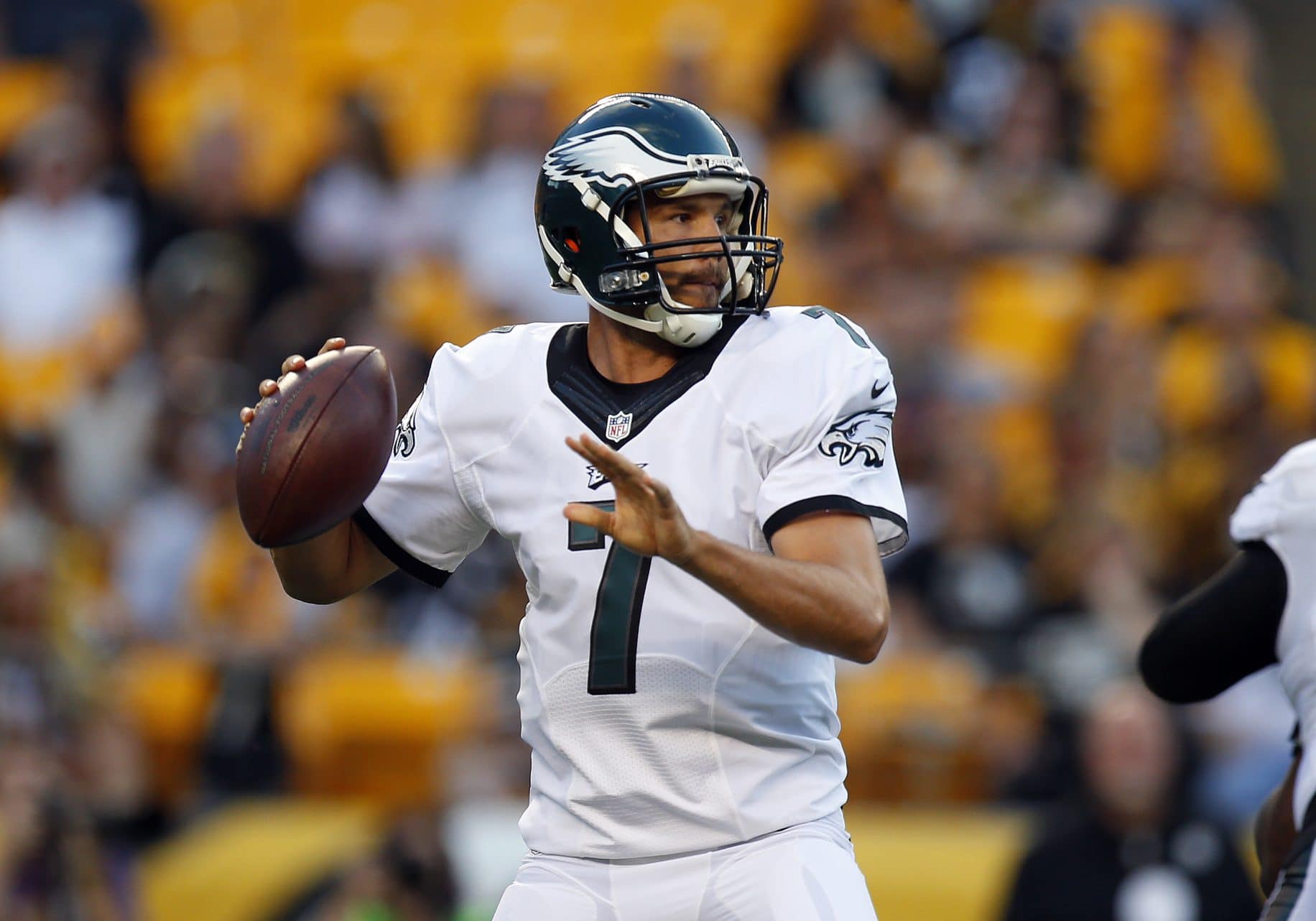 Bradford, 2015, Philadelphia Eagles
Bradford and Shurmur hooked up for the second time in 2015, but this time it was in Philadelphia, not St. Louis. After struggling a bit with the Rams after Shurmur left—he only recorded 2,500 yards, threw 15 touchdowns, and completed at least 60 percent of his passes once in three years—the magic was back.
Bradford once again thrived under Shurmur, as the five-year vet recorded career-highs in passing yards (3,725) and completion percentage (65 percent) in 14 games with the Eagles. Bradford also threw for 19 touchdowns, which was the second-most of his career in a single season at the time.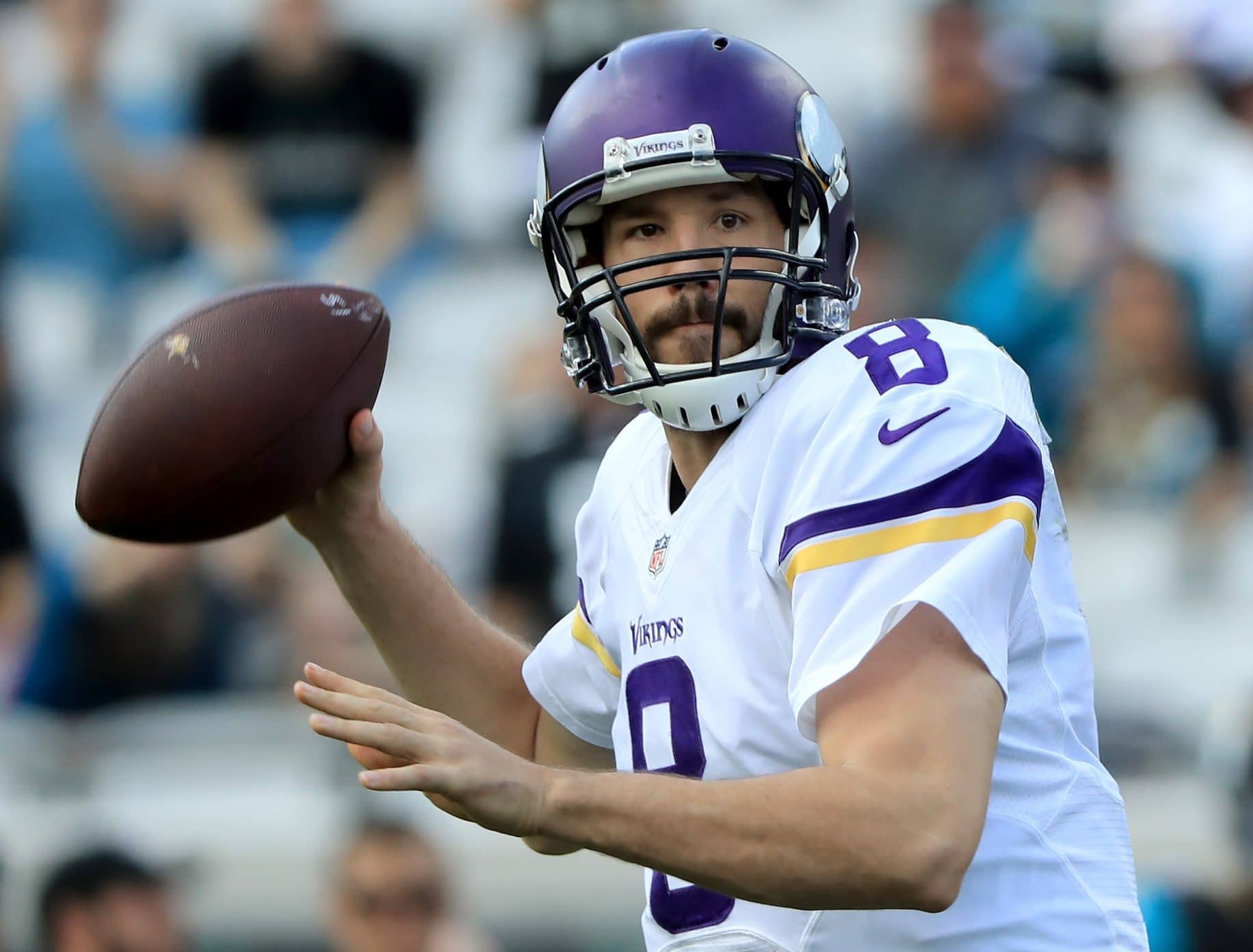 Bradford, 2016, Minnesota Vikings
Shurmur and Bradford met again in 2016, for the third time with their third team  This time they are wearing the purple and gold in Minnesota. And wouldn't you know it, Bradford beat the career-year he had under Shurmur in 2015.
In 2016, he recorded a completion percentage of 71.6 percent. Why am I bringing this up? It was a single-season NFL record! A player who never had a completion percentage higher than 65 percent in a season breaks the NFL's single-season completion percentage record. Oh, not to mention he threw for 3,877 yards (a career-high) and 20 touchdowns (second-highest of career). It's safe to say Bradford enjoys playing under Shurmur.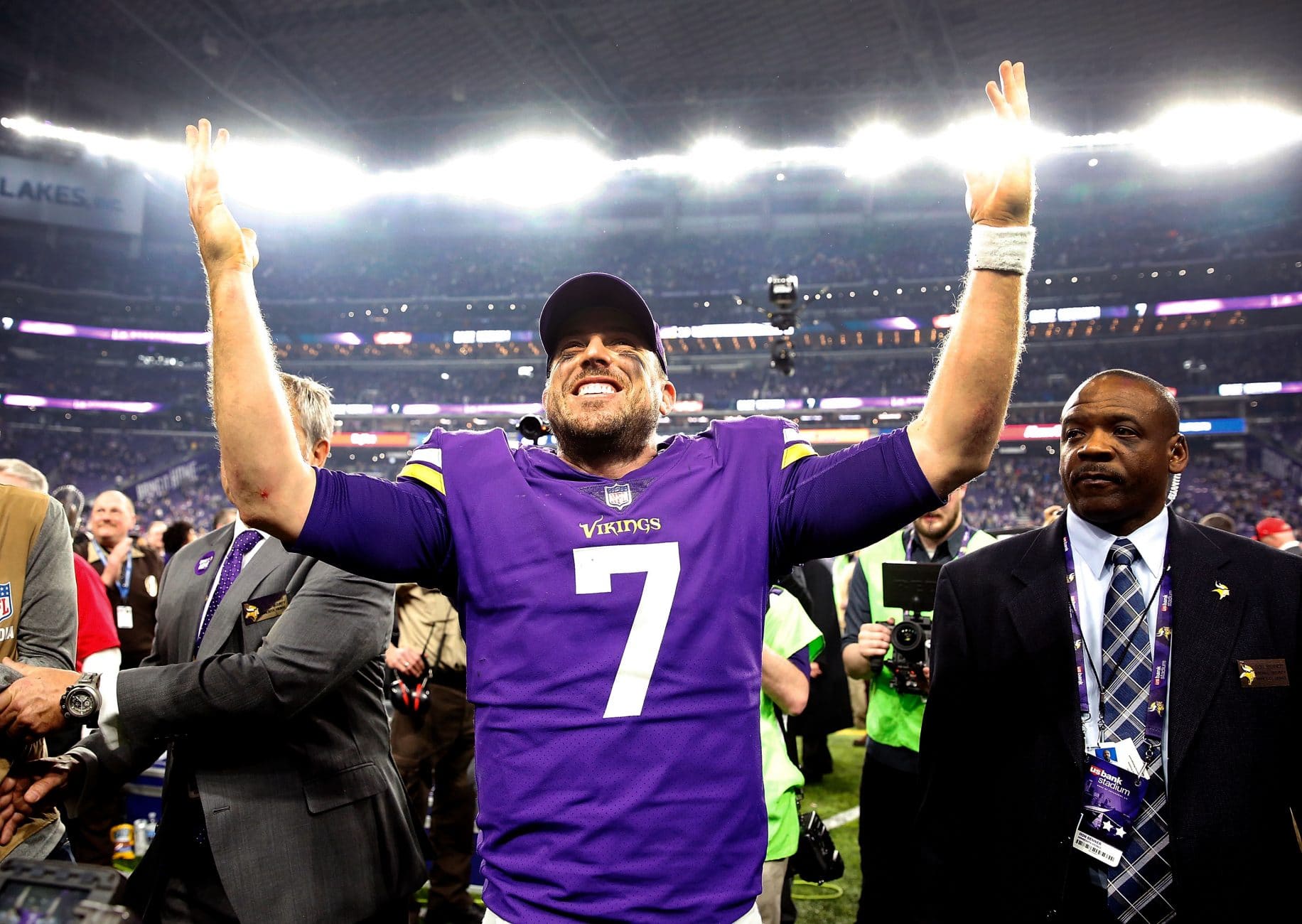 Case Keenum, 2017, Minnesota Vikings
"Is Case Keenum really this good?" That's the question everyone, myself included, has been asking about a guy who has been a backup quarterback for most of his career, starting just 23 games in five years before the 2017 season. But injuries to Teddy Bridgewater and Sam Bradford forced the Vikings to start Keenum for 14 games. To say he's thrived would be an understatement.
Before the 2017 season, Keenum had never won more than five games, passed for more than 2,300 yards, thrown for double-digit touchdowns, or had a QBR higher than 53. This year – his first year under Shurmur – Keenum looked like a possible MVP candidate and I say that without chuckling. Keenum threw for 3,547 yards, 22 touchdowns, completed 67.6 percent of his passes, recorded a 71.3 QBR, and led the Vikings to 11 wins.
Oh, and he led the Vikings to their first playoff win since 2009 with a miraculous TD to Stefon Diggs at the end of their NFC Divisional Round game against the Saints. Keenum has the chance to lead the Vikings to their first Super Bowl appearance since 1976 and their first Super Bowl win in franchise history.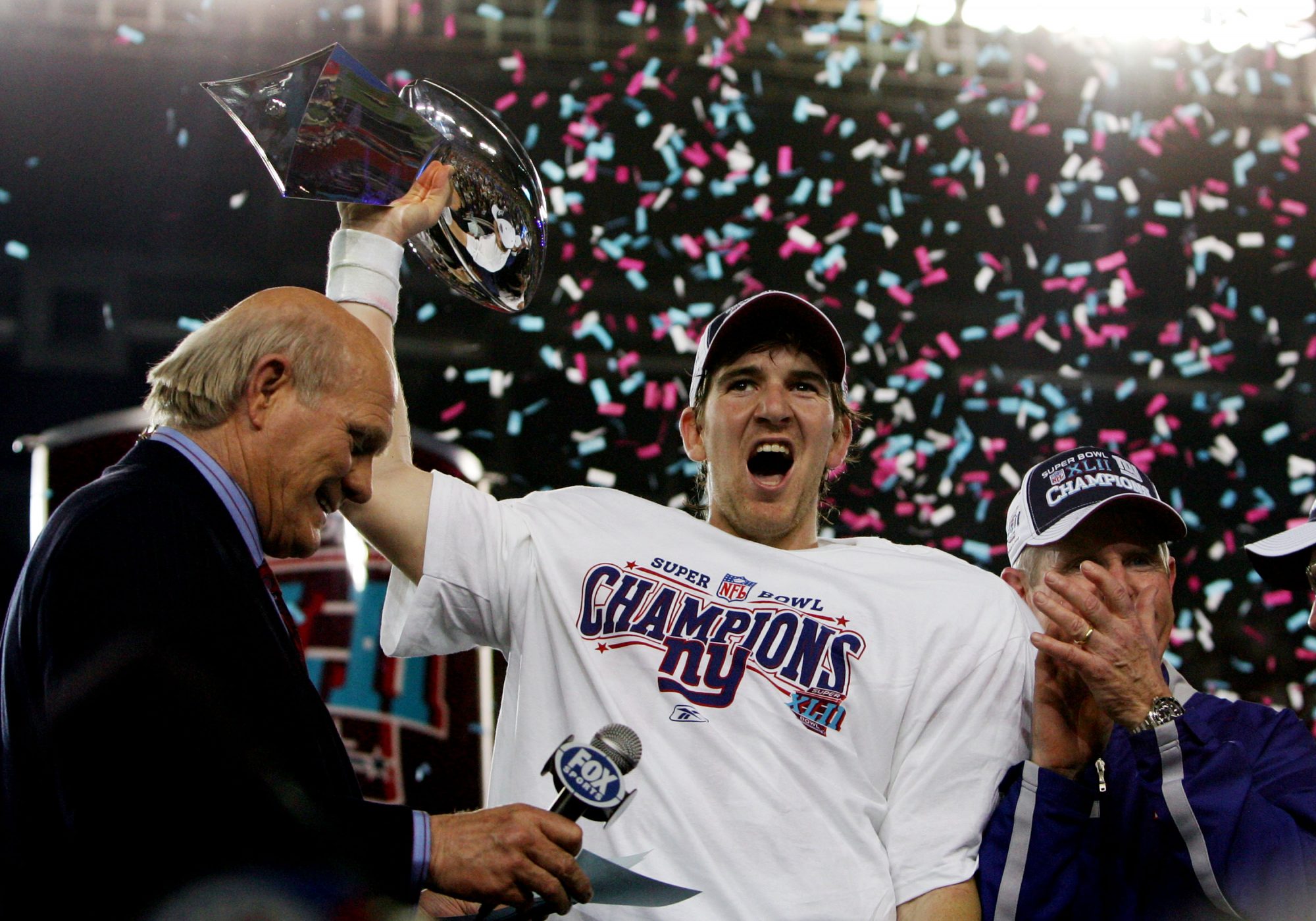 The Perfect Fit
As you can see, Pat Shurmur is a QB guru. There's no denying it. Will Shurmur be a great head coach? I'm not certain about that, but he will get the best QB play possible and that is usually a recipe for success on any team. Eli Manning might be at the backend of his career, but Shurmur has as good a chance as anyone to get the most out of Eli over the few seasons he's got left.
The most important aspect of Shurmur becoming a head coach is the possibility of him grooming a young franchise QB. Either Josh Rosen, Josh Allen, Baker Mayfield or Sam Darnold are likely to be a Giant next year.
There's no better choice to groom and develop whoever the pick is as Eli's successor than Shurmur.
If he can do what he's done with the guys listed above, just imagine what he can do with a real franchise talent. It's hard not to get giddy at the possibilities if you're a Giants fan.