It's been two months since D'Angelo Russell appeared for the Brooklyn Nets, and as he prepares a return, his team is on the clock.
After two seasons with the Los Angeles Lakers, point guard D'Angelo Russell was traded to the Brooklyn Nets for a late first round pick and big man Brook Lopez.
According to Ira Winderman of the South Florida Sun-Sentinel, D-Russell is likely to make his long-awaited return this Friday against the Miami Heat.
Nets' D'Angelo Russell (knee surgery) is listed as probable to make his return Friday vs. Heat.

— Ira Winderman (@IraHeatBeat) January 18, 2018
With the Nets, Russell put on a campaign for an Eastern Conference All-Star nod in just 12 games. He immediately hushed the criticisms of many, leading them to a 5-7 record.
Russell posted averages of 20.9 points, 5.7 assists, 4.7 rebounds, and 1.0 steals per game.
However, Brooklyn's new franchise face would be pulled from the court all too soon as he underwent successful knee surgery on Nov. 18.
Since Russell hit the shelf, the Nets have gone 14-22 and are on track to miss their third consecutive postseason. Lucky for Brooklyn, who face a big decision ahead of the NBA's February 8th trade deadline, he'll be due back on Friday.
A couple of players have shined in Russell's absence including backup point guard Spencer Dinwiddie.
Since the starting point guard's surgery, Dinwiddie has worked towards averages of 13.1 points, 6.5 assists, and 3.3 rebounds per game.
He's become a household name in the NBA, and will likely be wanted by teams in need of point guard depth ahead of the playoffs—which leaves the Brooklyn Nets in kind of a grey space with multiple options at hand.
Do they trade the grossly underpaid guard who helped spearhead the hot start in order to acquire future assets?
---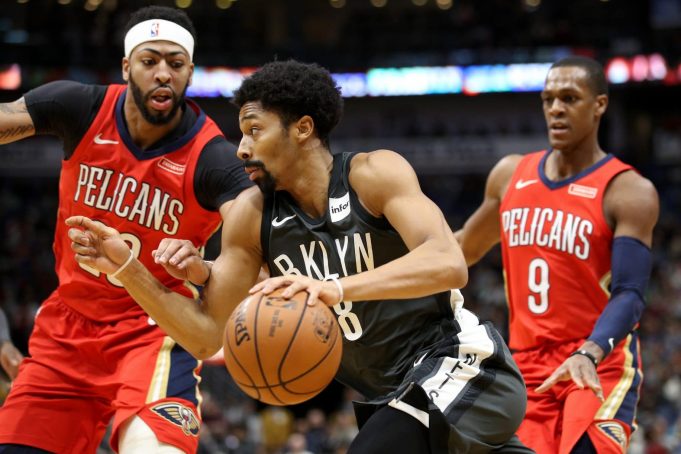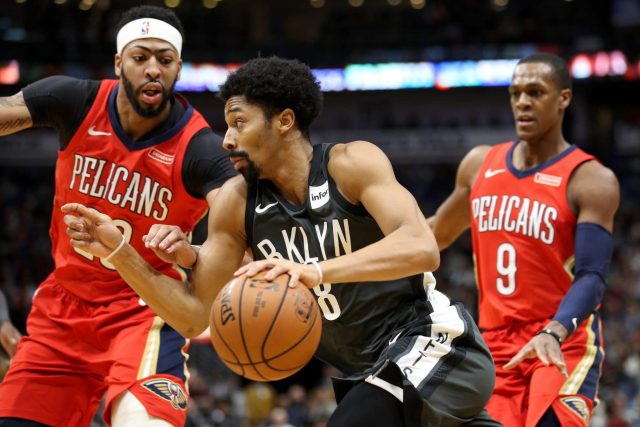 ---
Or, do they cash in DeMarre Carroll, who's having just as equally impressive a breakout season?
The forward's averaging 12.7 points and 6.8 rebounds per game and reportedly attracting interest.
Vince Ellis of the Detroit Free Press pegged the Detroit Pistons as potential suitors for the veteran defender.
"The Toronto Raptors outbid the Pistons for Brooklyn Nets small forward DeMarre Carroll in the 2015 offseason. Later traded to the Nets, Carroll could be a name to watch."
The New Orleans Pelicans could also take interest in Carroll, per Adrian Wojnarowski of ESPN.
"The Pelicans are optimistic that they can get starting small forward Solomon Hill back from a hamstring tear before March, but they've remained active. Teams are targeting the availability of Brooklyn's DeMarre Carroll, Utah's Alec Burks, Orlando's Evan Fournierand Atlanta's Kent Bazemore, among others."
There's no doubt an offer will find it's way to the Nets front office. Russell's return could play a big part in their decision making.
---
Beyond the trade deadline, the point guard's return will be even more beneficial for one of the team's newer players, Jahlil Okafor.
The former 76ers big man has shown signs of promise in his nine games with the Nets.
However, it's all the more likely Okafor really breaks out of his shell behind the guidance of natural facilitator D'Angelo Russell.
His future could also be affected by the point guard's return, as the Nets will want to get as much time playing the two together ahead of Okafor's free agency this summer.
A number of things, aside from the team's overall success, will be watched closely as Russell returns.
Head coach Kenny Atkinson told Tom Dowd of NBA.com that everything was looking up for the fourth-year guard.
"It's trending in the right direction. I think we're getting close."
So, as Brooklyn prepares for it's most important stretch of the season yet, pay attention to team dynamics.
The Nets host the Miami Heat Friday night at Barclays Center. Tip-off is at 7:30 pm est.