While Kristaps Porzingis has embraced being the focal point of the New York Knicks' offense, the big man continues to immensely struggle in certain facets of his game.
Kristaps Porzingis has taken on the challenge as acting New York Knicks' go-to man and most important body on both ends. At the same time, while he has answered the call and played well, the big man continues to strengthen his strengths, while worsening his flaws.
When the Knicks moved on from Carmelo Anthony, via trade, the key to the Mercedes was given to Porzingis and he's handled that responsibly well.
Averaging 24.6 points per game, Porzingis has been the driving force behind the Knicks' offense. Whether it be playing out on the perimeter, above the rim or finishing off fastbreaks, he's been their number one source of offense.
In addition to his offensive skill set, Porzingis has continued to pose a shot-blocking threat. Averaging 2.1 denials per game, the Latvian sensation has been a rim protector and a player not fazed by contact in the paint–defensively. Simultaneously, his struggles continue to bleed on and have arguably gotten worse.
At 7-foot-3, Porzingis has an advantage over anyone defending him. Given his stature, he can shoot over anybody, and even when contested, can draw fouls with his long arms. The problem is that while that presence can be an asset, Porzingis has yet to truly take advantage of his height in the post.
In the first half of the season, Porzingis was beginning to develop a consistent post game, despite it not being a strong suit of his; he was backing down smaller defenders and holding his own against towering big men. More recently, the opposite has proven to be the norm.
Now even versus guards or wing players, Porzingis struggles to overpower his matchup and it's becoming a major issue in crunch time. Based on how he gravitates towards playing out on the perimeter, teams are beginning to play tight on Porzingis which is preventing him from getting good, open looks. And given his recent inability to operate in the post or repeat a move in the paint, Porzingis finds himself being a jump shooter late in games.
Playing in the post has always been a flaw in Porzingis' game, but it's now becoming a major issue–one that isn't getting any better. Another reoccurring weakness in Porzingis' game has been his rebounding.
Averaging a career-low 6.7 rebounds in 31.9 minutes per game, the big man has not been a force to be reckoned with on the glass. The reality is that at 7-foot-3 and being the team's franchise player, Porzingis should be able to reel in a reasonable amount of rebounds and ultimately be amongst the league's best. Over the course of his career, that's not been the case, but this year has been unexplainably worse.
While center Enes Kanter has always hit the boards on both ends–averaging 6.6 defensive rebounds and 3.9 offensive rebounds this season–the 6-foot-11 center shouldn't be hitting the boards at an overwhelmingly higher rate than Porzingis. Currently posting a career-low on the boards without Anthony–who was adept at hitting the boards–and as the team's focal point is puzzling.
Porzingis is one of the most fascinating players in the NBA and New York sports. He plays out on the perimeter, despite his towering stature, executes high-flying dunks and rejects shots at ease; he possesses a unique skill set for a big man.
And this season, he's improved on those strengths, helping make him one of the better scoring big men in the NBA. At the same time, his flaws are getting noticeably worse and he's shooting a lower percentage from the field than he did last season (Porzingis is shooting 44.8 percent from the field this year, while he shot 45.0 percent last season).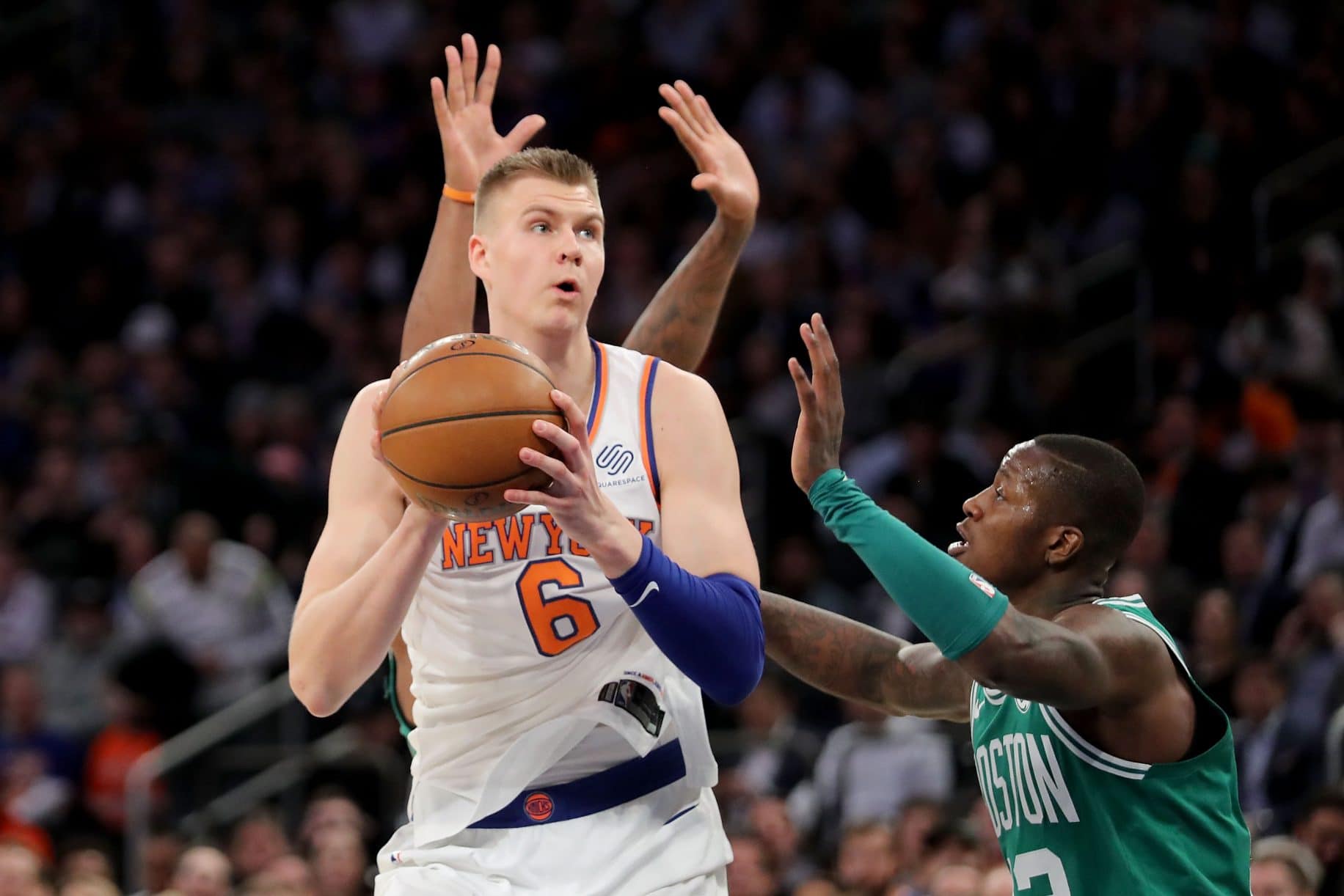 Porzingis is not playing well in the post, or, at the very least, operating in the paint every now and then. And not hitting the boards at a high or respectable level is disturbing for Jeff Hornacek and the Knicks.
The sky is the limit for Porzingis. At 22-years-old and in his third season in the NBA, Porzingis can propel his game and become one of the most unstoppable players the league has ever seen. For the meantime, while he's an intriguing and exciting player to watch, Porzingis' flaws are beginning to severely affect his game and the Knicks as a whole.
The Knicks need to be able to rely on Porzingis to get them a bucket when they're in dire need; forcing jumpers from the outside and not operating in the post won't help their needs and desires.
Every star player is different in their own unique way. For Porzingis, it's his outside game at 7-foot-3, but unlike other go-to scoring options in the association, he's not able to consistently score in more ways than one.
Look at some of the best big men in the association. Stars such as Karl Anthony-Towns, Anthony Davis, DeMarcus Cousins and Marc Gasol can all dominate in the low-post, while also being able to shoot from the outside when they have to. When it's the other way around and the outside game is being heavily relied on — which is the scenario Porzingis finds himself in–it's a liability.
All teams have to do is force Porzingis to put up a contested jumper and he'll struggle late in games.
Porzingis' game is astonishing, but his weaknesses are slowly beginning to offset his heroics.