The 2017 season was an utter disappointment for the New York Giants A few wise moves in the draft and free agency can help the G-Men return to the playoffs in 2018.
T
he 2018 NFL playoffs have been fantastic so far. The Titans coming back over the Chiefs in Kansas City. Jacksonville sticking it to the Steelers. The Vikings and Saints game. It's been absolutely crazy and we're only halfway through! But the playoffs are missing something—the New York Giants.
The Giants are much better than they showed in 2017. Injuries and horrible coaching decisions led to an abysmal 3-13 record. But everyone looks to be on track for a healthy 2018, while Dave Gettleman seems to be on the right track in terms of finding the Giants next head coach.
While Big Blue only has about $22 million to spend in free agency, that terrible record gifted the Giants with the second-overall pick in the 2018 NFL Draft. Gettleman will have a chance to add some high-end talent to the roster.
Taking the draft and free agency into account, here's a look at the New York Giants 2018 realistic dream roster.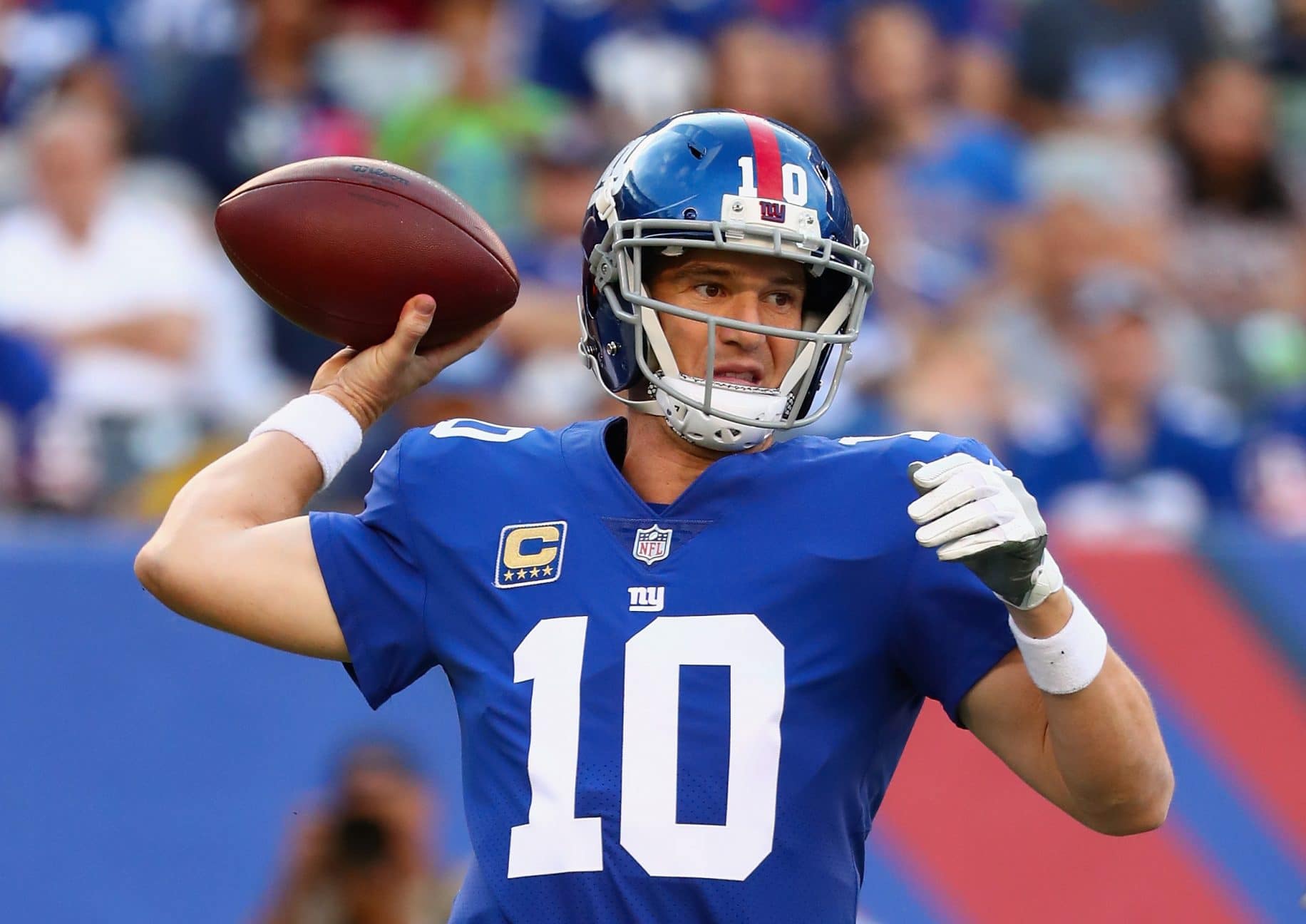 Quarterbacks
Sam Darnold (Round 1, Out of USC)
Fans, take a deep breath. Eli Manning still has a good year or two left in the tank. But that doesn't mean that the Giants shouldn't plan for the future. New York should look to draft a QB with their first pick and groom him behind Eli.
Cleveland should be taking a QB with the first overall pick in the 2018 NFL Draft and I expect them to take Josh Rosen out of UCLA. The next best QB in the upcoming draft— in my opinion—is Sam Darnold. In two years at USC, Darnold has thrown for 7,229 yards and 57 touchdowns, throwing just 22 interceptions while completing 64.9 percent of his passes. Those are some damn good numbers if you ask me.
Second-year QB Davis Webb rounds out the quarterback position for the Giants.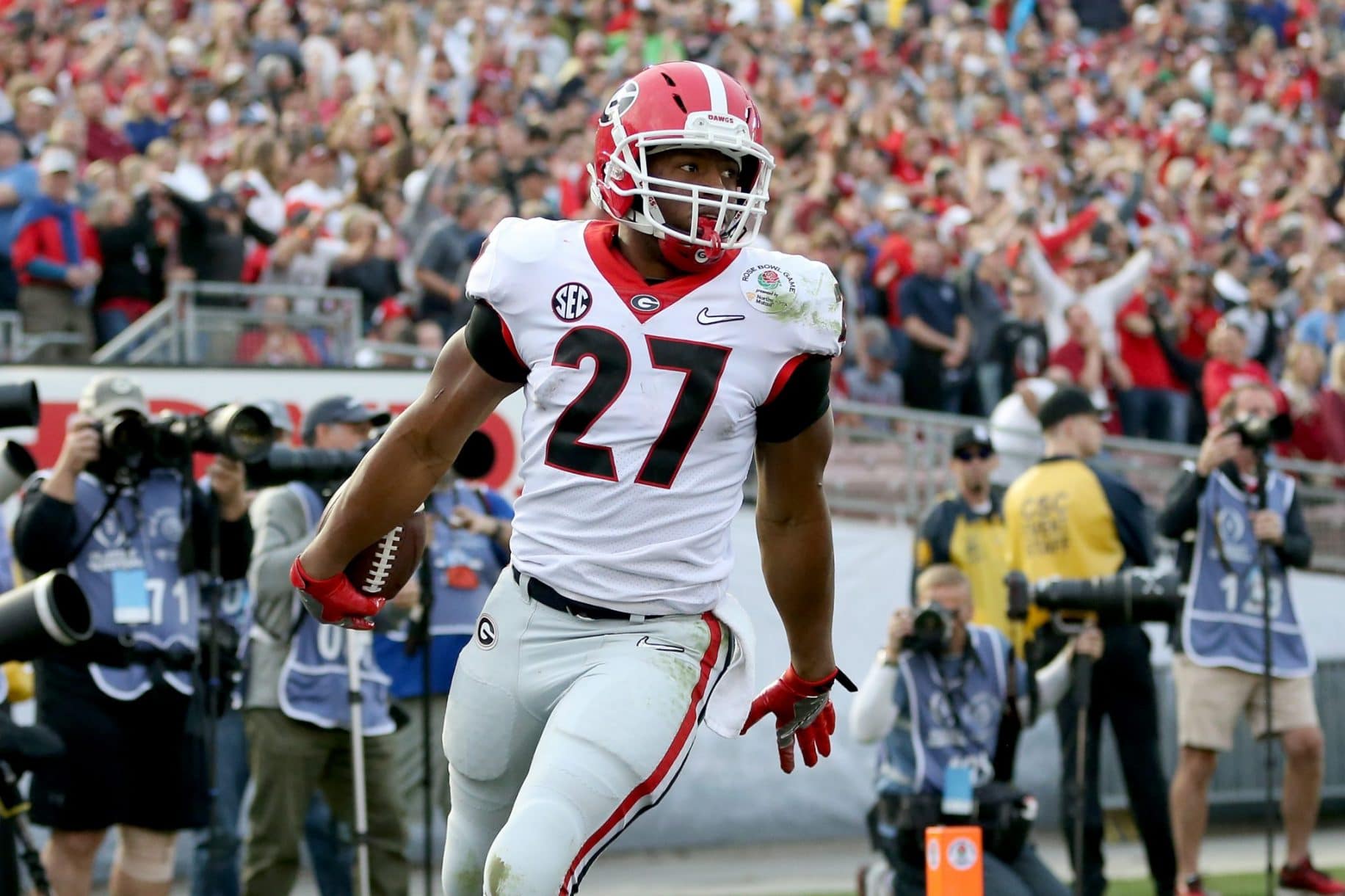 Running Backs
Nick Chubb (Round 3 out of Georgia)
Orleans Darkwa (Re-signing, $750K Annual)
Shane Smith (FB)
Nick Chubb! Many experts have Chubb falling to the third round due to a loaded running back class in the upcoming draft. If he is indeed there in the third round, the Giants would be wise to select him.
When Todd Gurley went down with an injury in 2014 at Georgia, it was Chubb who stepped up and made a name for himself. In 13 games in 2014, Chubb rushed for 1,547 yards and 14 touchdowns while averaging 7.1 yards per carry. Chubb was only able to play in six games in 2015 due to a knee injury. However, he has bounced back nicely since then. Over his college career, Chubb has accumulated 4,769 yards and 44 touchdowns in 45 games played.
The Giants should also re-sign Orleans Darkwa, as he had a career year for the G-Men. Behind an improved offensive line, Chubb, Darkwa, and Gallman can be a force to be reckoned with.
Paul Perkins has failed to impress, but the Giants should be sticking with him as their fourth RB. It will be interesting to see how the new head coach will use Shane Smith, but for now, he's on the roster as the only fullback.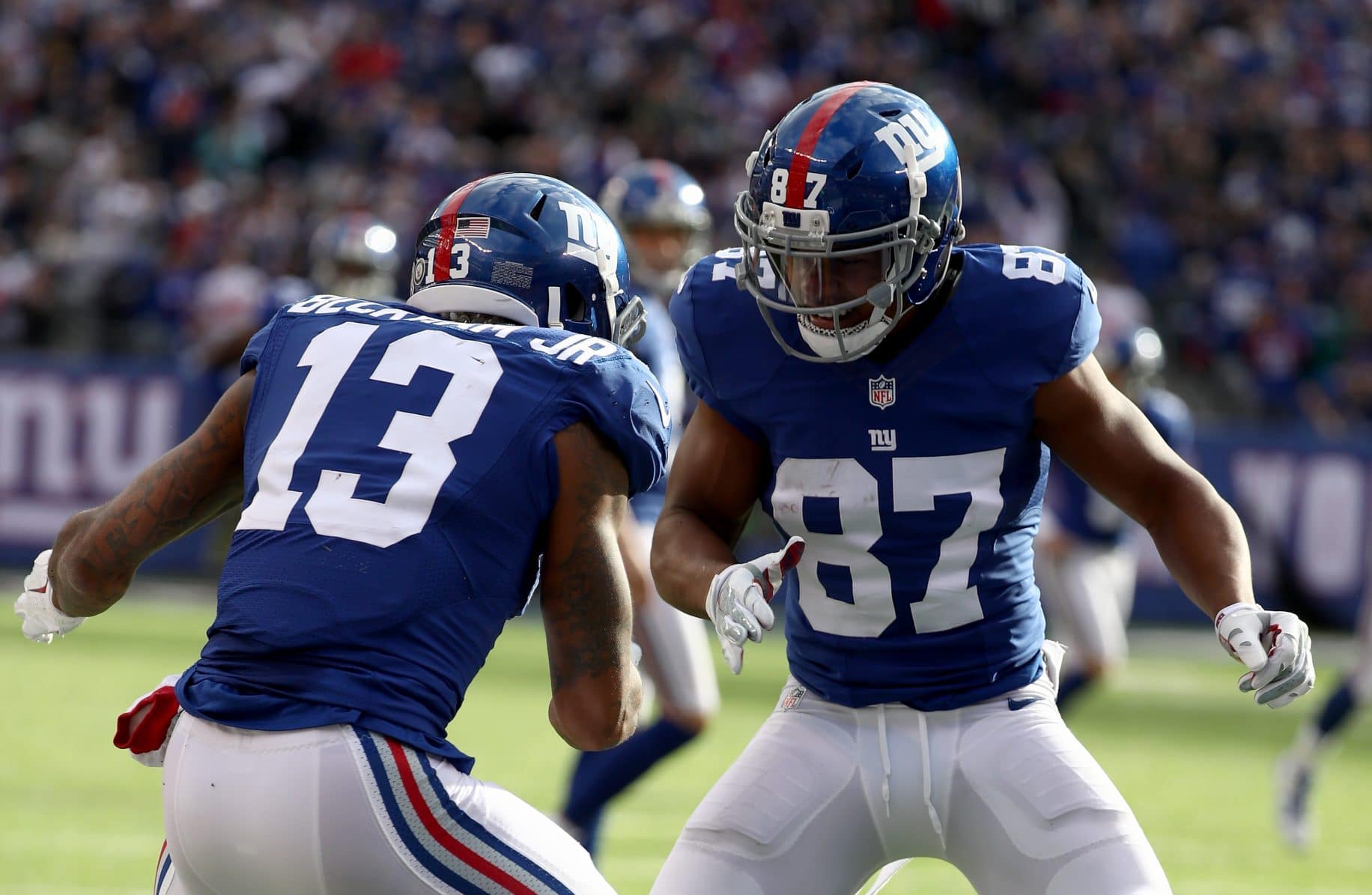 Wide Receivers
Injuries absolutely destroyed the Giants wide receiving unit in 2017. Odell Beckham Jr., Brandon Marshall and Dwayne Harris were all lost for the year while Sterling Shepard missed time as well. At one point in the season, the starters were Roger Lewis, Tavarres King, and Travis Rudolph. That's ugly.
The Giants do not need to do much work in this unit. King is the only name they will lose to free agency and there is no need to re-sign him. New York has plenty of depth at WR when everyone is healthy.
If they all stay healthy—a big if, as you can't control injuries—and cut down on the drops, OBJ, Marshall, and Shepard can be the best trio of wide receivers in the NFL.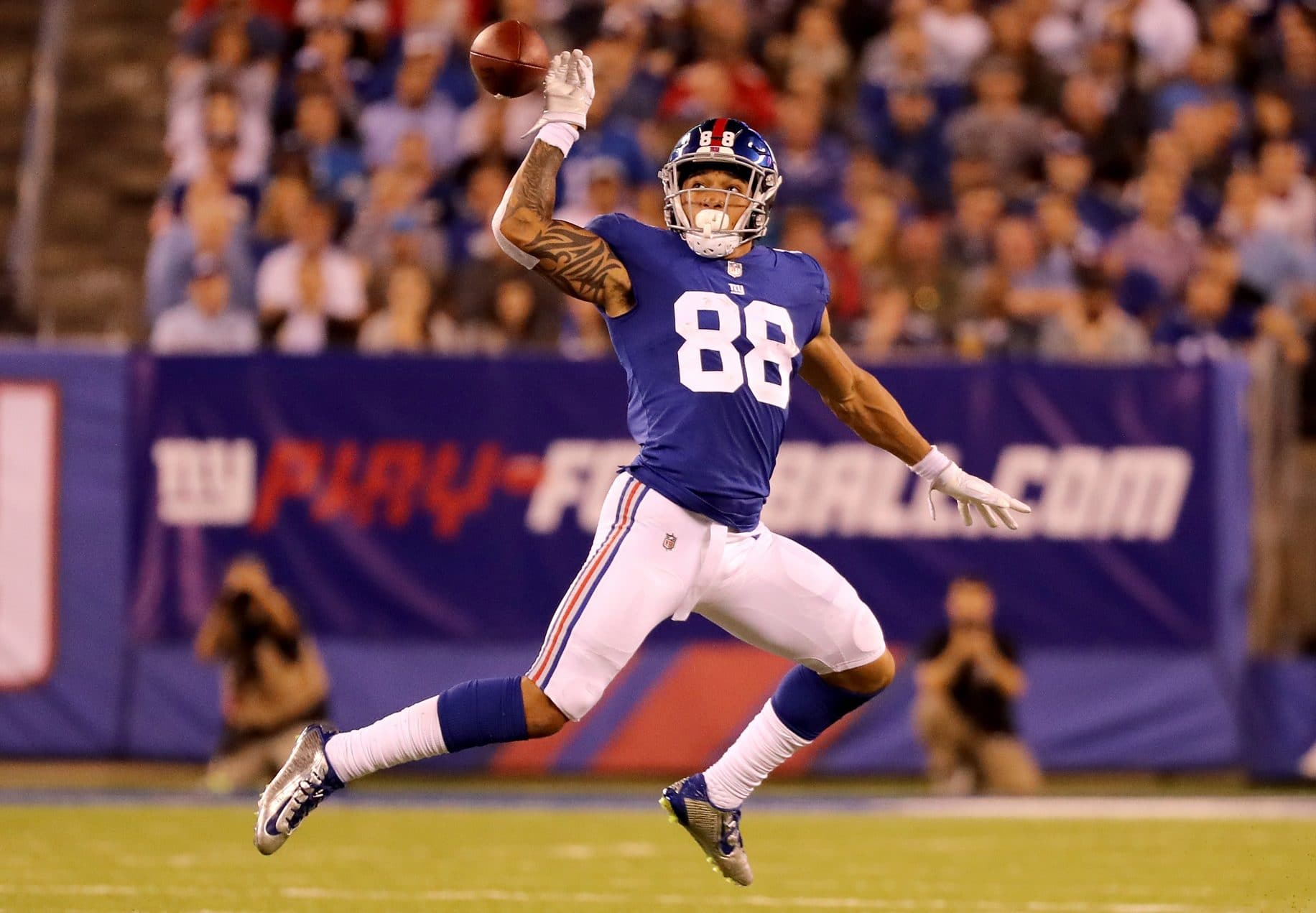 Tight Ends
Like the wide receivers, tight end is another group that will stay exactly the same for the Giants in 2018. Evan Engram had a monstrous rookie season and while many questioned the decision to draft him, it seems as if it was the right move. He should only improve with the return of the Giants star wideouts.
Rhett Ellison was quietly one of the team's better offensive players. He consistently caught passes as a check-down option for Eli and was a beast as a blocker. Ellison is the perfect complement to Engram.
Jerell Adams is just a depth player. He is nothing special, but the Giants need a third TE so he will stay on the roster.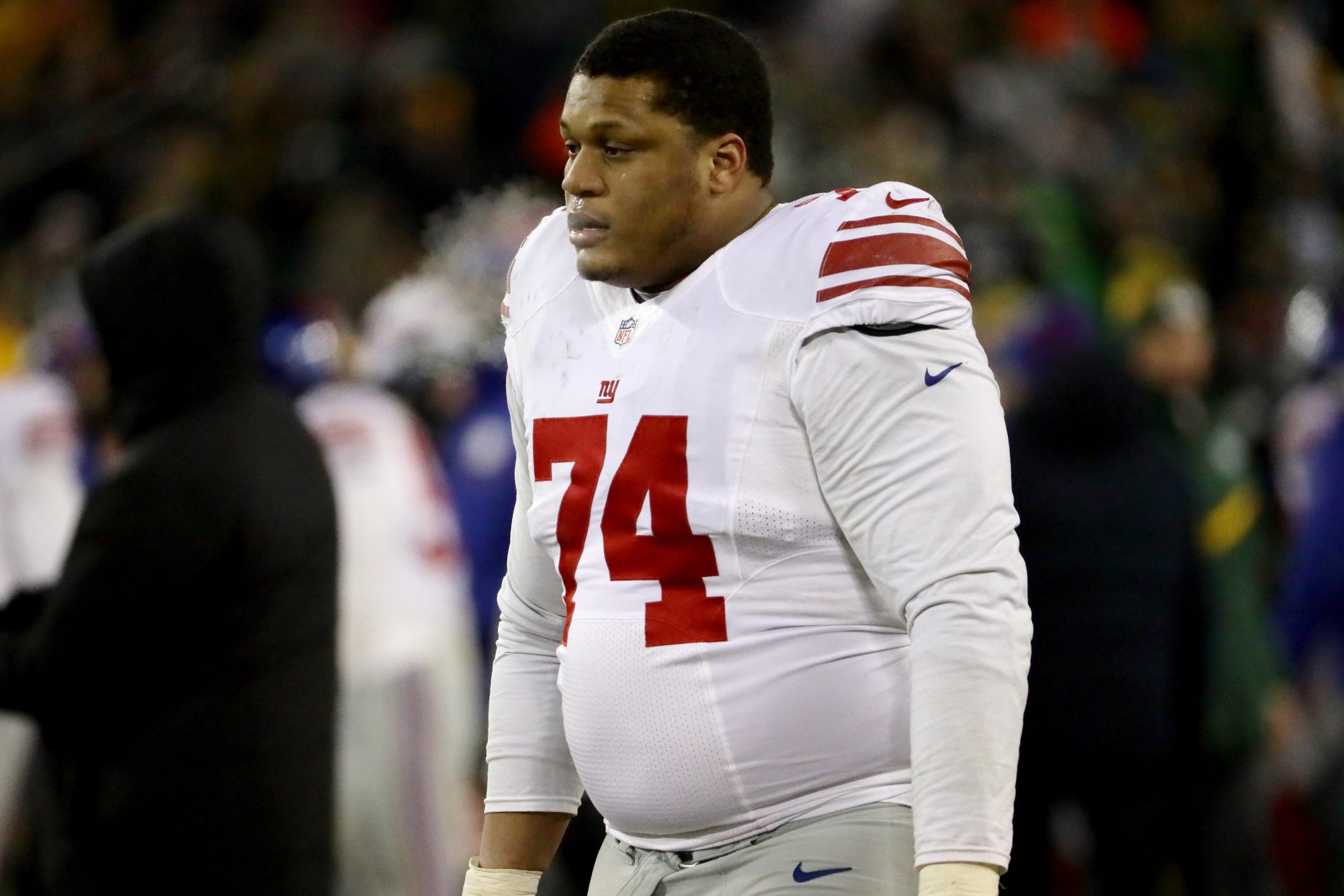 Tackles
Orlando Brown, RT (Round 2 out of Oklahoma)
Ereck Flowers, LT
*Will Beatty (FA signing, $750K-$1M Annual)
The Giants do not have the cap space to go out and make a splash for a tackle in free agency. They need to re-sign some of their own players in 2018 and 2019 that will take up the cap space. Therefore, the Giants must live with Ereck Flowers and build through the draft.
WalterFootball projects that Orlando Brown will go somewhere in the second or third round while other projections have him going in the first. Hopefully for the Giants, Brown falls to them in the early second round. The Oklahoma product had his ups and downs in college, but he has the talent to play at the next level if he brings the energy every week. He is projected as a RT or possible interior lineman. The Giants need tackle help more than anything and they will try to develop him as a tackle first.
Bringing Will Beatty back shouldn't cost the Giants much and they are in desperate need of depth. There are not many veteran free agent tackles out there, but they will need to sign someone. The best case is that Beatty has a great year and starts at LT. The worst case is he is just a depth signing for one year.
Chad Wheeler and Adam Bisnowaty return as depth players. Hopefully one of them can develop into a starter for the Giants.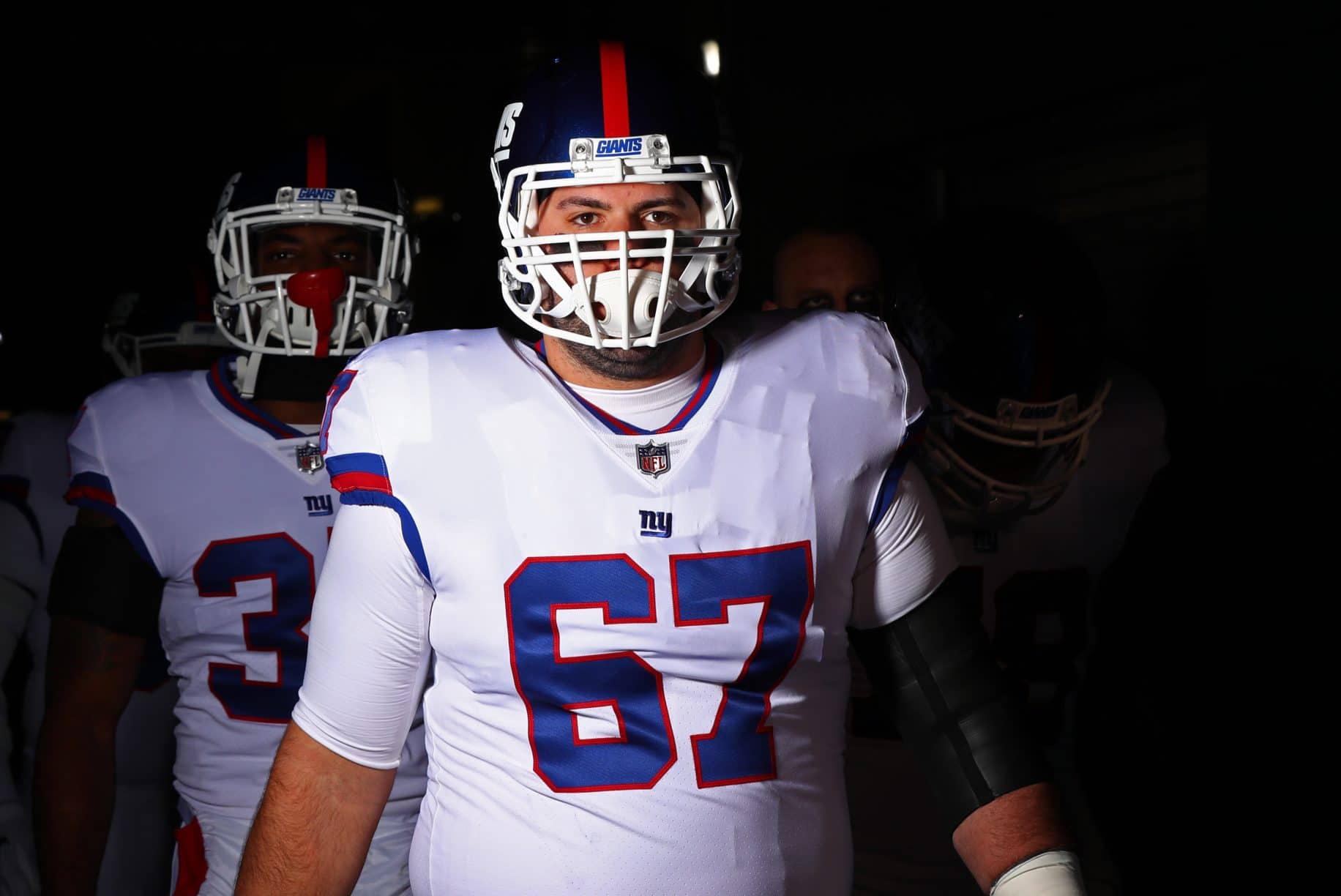 Guards and Centers
Justin Pugh, LG (Re-sign $8M-$9M Annual)
Weston Richburg, C (Re-sign, $7M-$8M Annual)
John Jerry, RG
Brett Jones, C/G (Re-sign $750K-$1M Annual)
Scott Quessenberry, G/C (Round 5 out of UCLA)
This is where the chunk of the Giants' money will be spent this offseason. Their two best linemen—Pugh and Richburg—will both be free agents and the Giants cannot afford to let them go as their line is already too weak. Injuries to both players in 2017 may have actually saved the Giants some money.
John Jerry quietly had a solid season for the Giants. He was given a 71.4 grade by Pro Football Focus. That grade ranked him as the 31st guard in the league, which is average. Jerry is far from a superstar, but he is a solid starter for the Giants.
Re-signing Brett Jones is a smart move for the Giants. He is in the same category as John Jerry. However, Jones can play both guard and center, which is valuable to any team.
The Giants continue to build the offensive line in the draft when they select UCLA's Scott Quessenberry in the fifth round. Quessenberry is another player who can play both the guard and center position. NFLDraftScout rated Quessenberry as the sixth-best center in the draft and projects him to fall between the fourth and fifth rounds. The UCLA product was named All-PAC 12 Conference First Team in 2016 and was named to the honorable mention team this past season.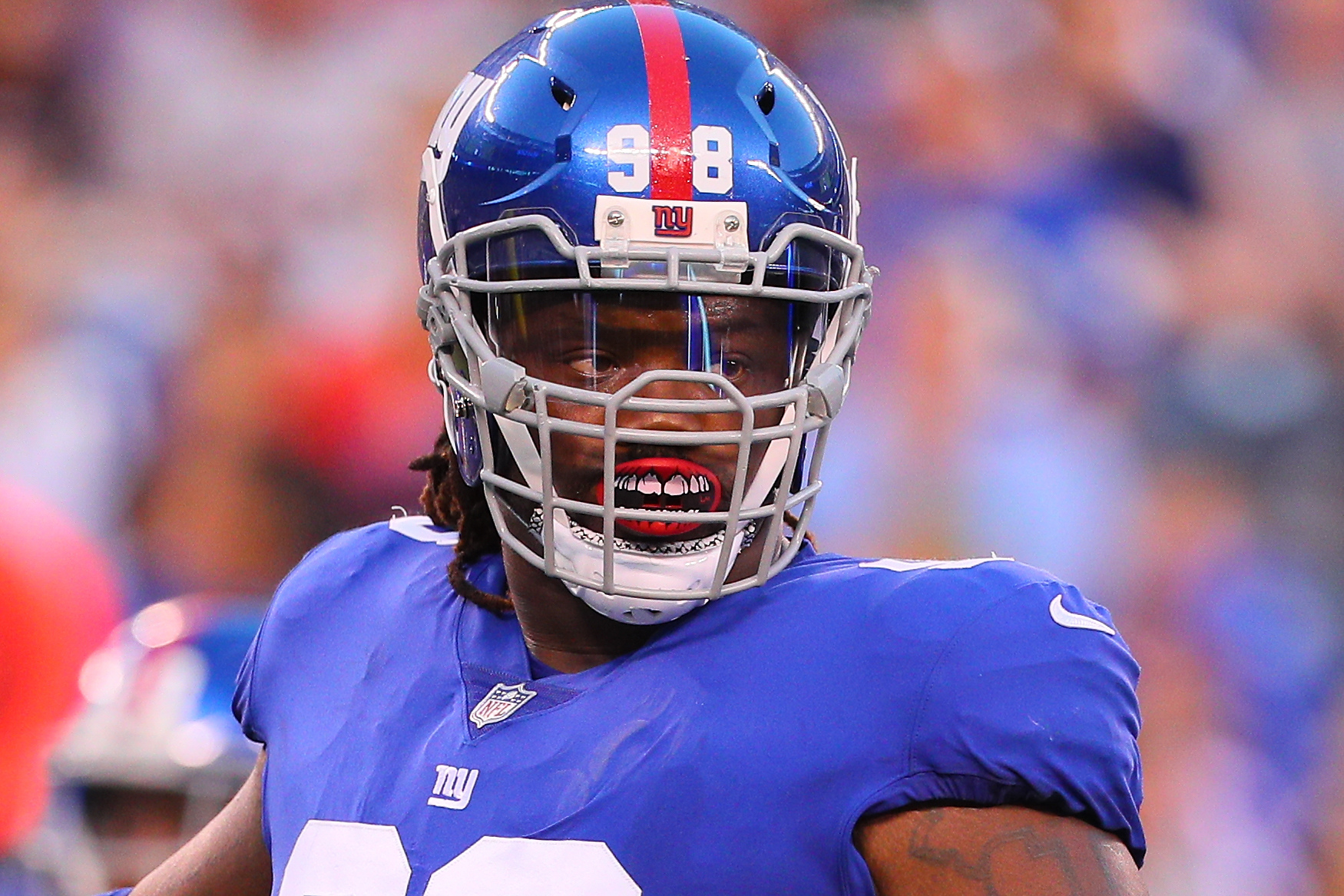 Defensive Tackles
Robert Thomas (Re-sign $500K-$750K Annual)
*Bruce Hector (Round 7 out of USF)*
Damon "Snacks" Harrison. The man is legit. Harrison is one of the best interior defensive lineman in the NFL. He has been snubbed from the Pro Bowl two seasons in a row, but 2018 is his year.
The Giants will lose Jay Bromley to free agency. They can afford to do so because of Dalvin Tomlinson, the 2017 draftee out of Alabama. Tomlinson and Bromley have the same body type and I expect Dalvin to take a step forward in 2018.
The Giants need some DT depth without breaking the bank. Re-signing Robert Thomas helps them do just that.
The stars are back. If the Giants do have their seventh-round pick in the upcoming draft they select DT Bruce Hector out of USF. WalterFootball projects Hector to be a late round pick or a possible undrafted free agent. Some scouts think Hector can be a value sleeper pick in the 2018 NFL Draft. The Giants do not have a true pass-rusher on the interior line and Hector is just that. He has compiled 11 sacks in his last two seasons at USF. The Giants should take a chance on the USF product in the seventh round if they keep their pick.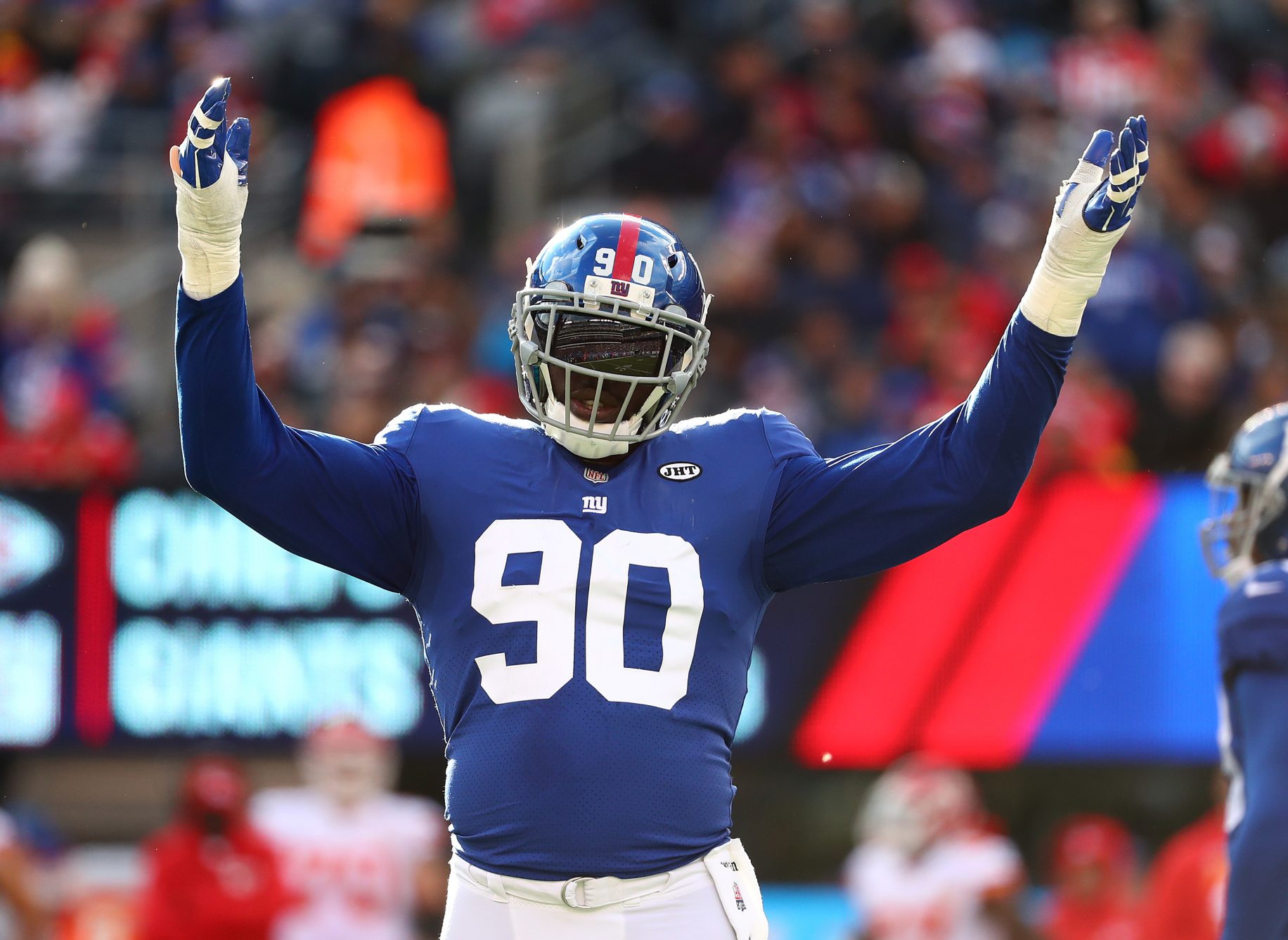 Defensive Ends
Olivier Vernon, RE
Kerry Wynn (Re-sign $750K-$1M Annual)
Olivier Vernon and Jason Pierre-Paul are supposed to be the heart and soul of the Giants defense. That was not the case last year as both players had down seasons. They both showed a lack of effort at times during the 2017 season, but that should change with a new coaching staff in 2018. Both players have the potential to be the best at their positions. The Giants need that kind of production out of their edge stars if they want to find success next year.
Kerry Wynn has been a very good backup and rotational player for the Giants over the last three seasons. He does not put up any flashy numbers, but he gets the job done. He rushes the quarterback when his name is called on. New York should be able to re-sign Wynn to a cheap contract.
Avery Moss is under contract and is purely a depth player. His name will be called upon when the Giants go with four pass-rushers, but that's about it.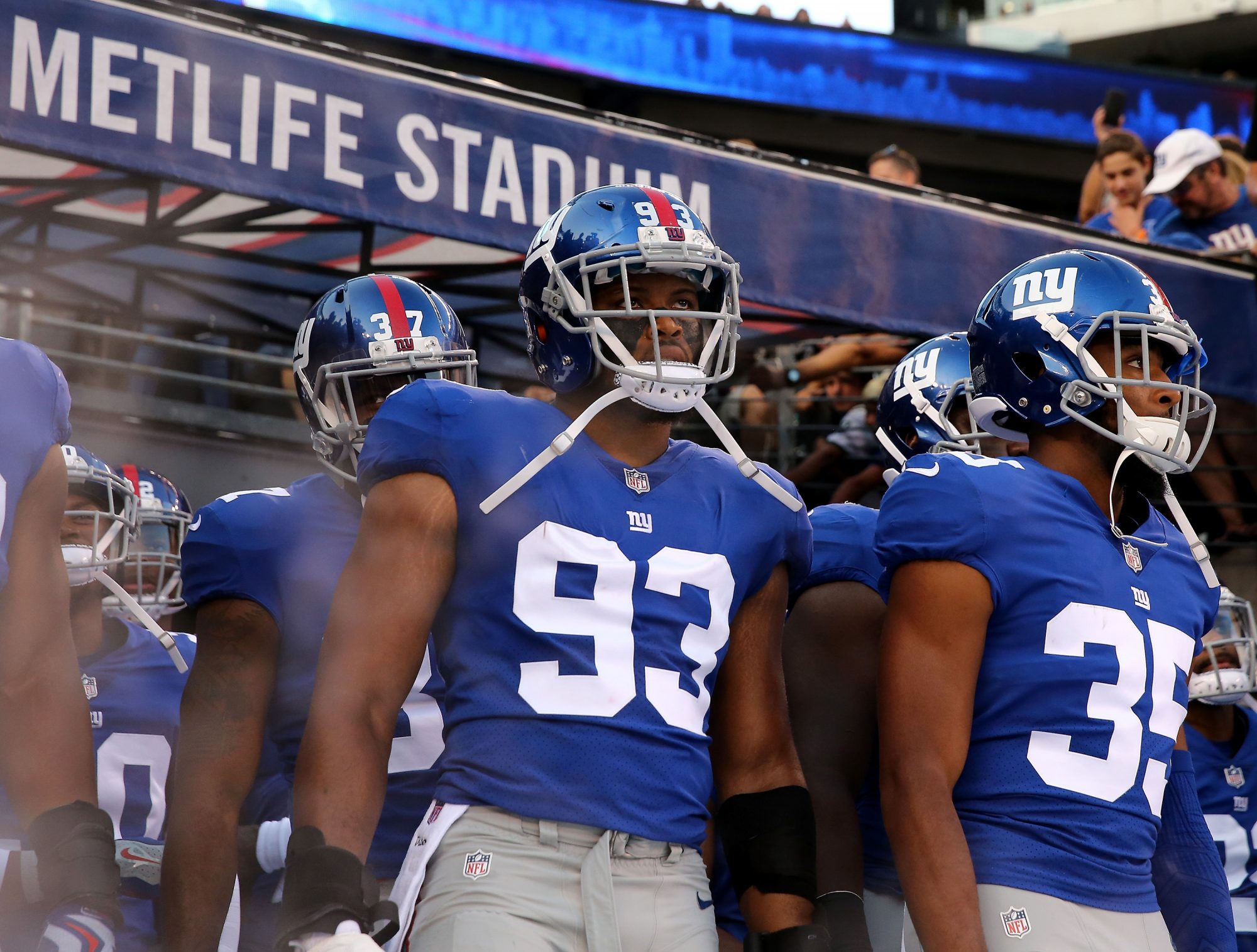 Middle Linebackers
Malik Jefferson (Round 4 out of Texas)
B.J. Goodson started off the season with a bang, recording an NFL-high 18 tackles in Week 1 against Dallas. However, it was downhill from there as Goodson was on and off the field due to injuries. If he can stay healthy in 2018, he might become the middle linebacker the Giants have been so desperately looking for.
If Goodson can't stay healthy in 2018, their fourth-round pick might become the MLB the team needs. Malik Jefferson has all the talent in the world, but his work ethic and love for football is often questioned. WalterFootball originally had Jefferson as a first to second round talent, but he has fallen to a second to third round talent. There is a feeling that Jefferson is going to continue to fall as scouts continue to question his desire to play. However, the talent is definitely there. If the coaching staff can turn around Jefferson's attitude, the Giants will have committed robbery by taking Jefferson in the fourth round.
Calvin Munson had a solid rookie season for the Giants. In 14 games with New York, Munson totaled 55 tackles, two sacks, and a forced fumble. His name wasn't brought up much, but he can be a nice piece for the G-Men moving forward.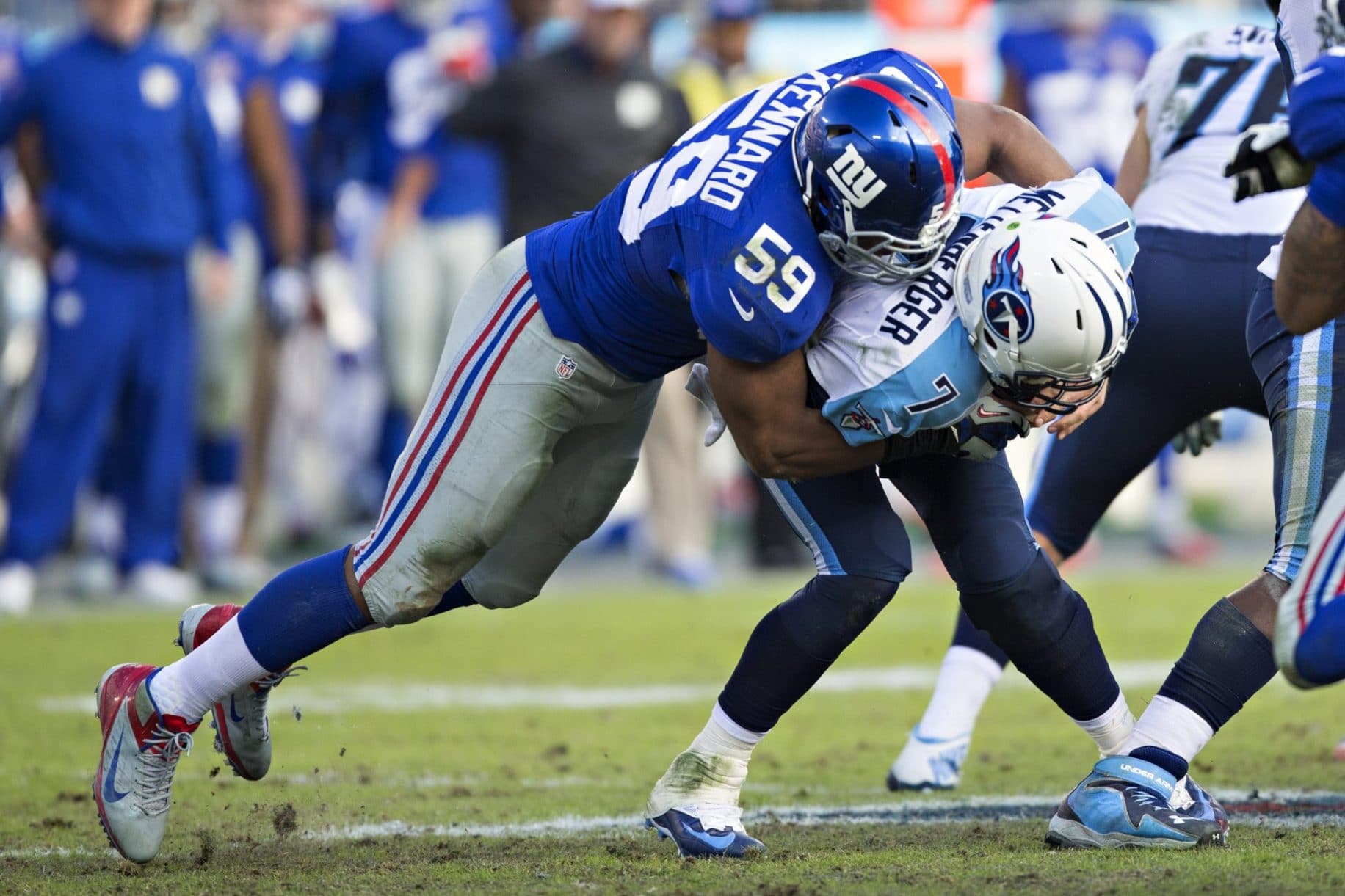 Outside Linebackers
Devon Kennard, LOLB (Re-sign $4M-$5M Annual)
Jonathan Casillas, ROLB (Re-sign $1M-$2M Annual)
Mark Herzlich (Re-sign $500K-650K Annual)
Outside linebacker is the position the Giants will need to add – or re-add – the most bodies to. They only have one player returning in Ray-Ray Armstrong, who was signed midseason by the team. He should stay on the roster as a backup OLB.
Devon Kennard and Jonathan Casillas should be re-signed by the Giants. As mentioned multiple times, the Giants do not have the money to spend big on free agents. Re-signing most of their players is most likely their best option. Kennard has had his ups and downs, but he has the potential to be a very good linebacker. He defends in coverage, rushes the passer, and is an average run stopper. He can continue in all three areas, but he has the room for growth.
In 2015 and 2016 you could have made the case that Casillas was the best linebacker for the Giants. In 2017, the injury bug got to him as well. The Giants should be able to re-sign Casillas for cheap due to his age and injuries last season.
Herzlich is nothing special, but he seems to be loved by the team. Herzlich did not play at all in 2017 due to injury, but he is a decent backup and solid special teams player.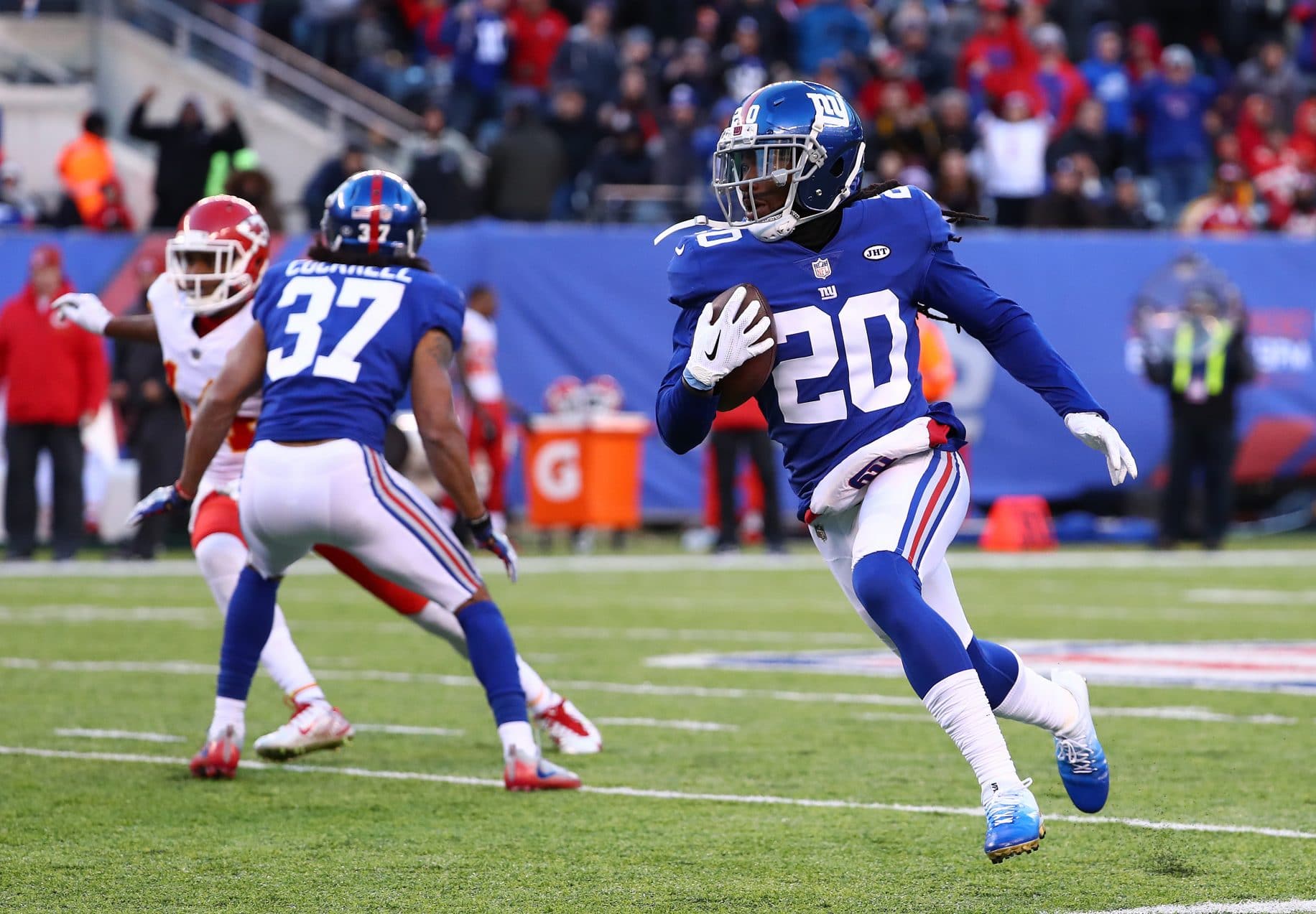 Cornerbacks
Darius Phillips (Round 6 out of Western Michigan)
Ross Cockrell (Re-sign $1M-$2M Annual)
The bright spot of the defense in 2016 was a nightmare in 2017. The Giants cornerbacks were torched game after game this past season. The sad part is that it wasn't due to the lack of talent. A team cannot go from one of the best pass defenses in the league to one of the worst with the same players because of lack of talent. It was due to injuries, laziness, and drama.
Jenkins and DRC were arguably the best cornerback duo in the NFL in 2016. Fast forward a year and it seemed like Jenkins didn't even want to be out there. DRC had an average season, but it was definitely a step back. Both players are in line for a possible restructuring of their contract due to their lack of production in 2017.
Eli Apple was an embarrassment this past season. He was horrible on the field and a headache off the field. Apple even took shots at his own teammates. However, Dave Gettleman has said that Apple has a clean slate, so we're keeping him around for 2018.
The Giants are thin at CB, therefore, drafting one in the later rounds would be a smart move. Cornerback is extremely deep in the upcoming draft and there will be a lot of talent in the late rounds. Darius Phillips has the potential to be a sleeper pick and the Giants should have the opportunity to take him in the sixth round. Phillips was the second best CB on Western Michigan's roster, but he still earned himself an invitation to the Senior Bowl. He has taken a back seat to teammate Sam Beal, which should cause Phillips to drop in the draft.
Ross Cockrell had a very nice end to the season for the Giants. The Giants need to bring him back as he is a very good backup CB and they need depth at the position.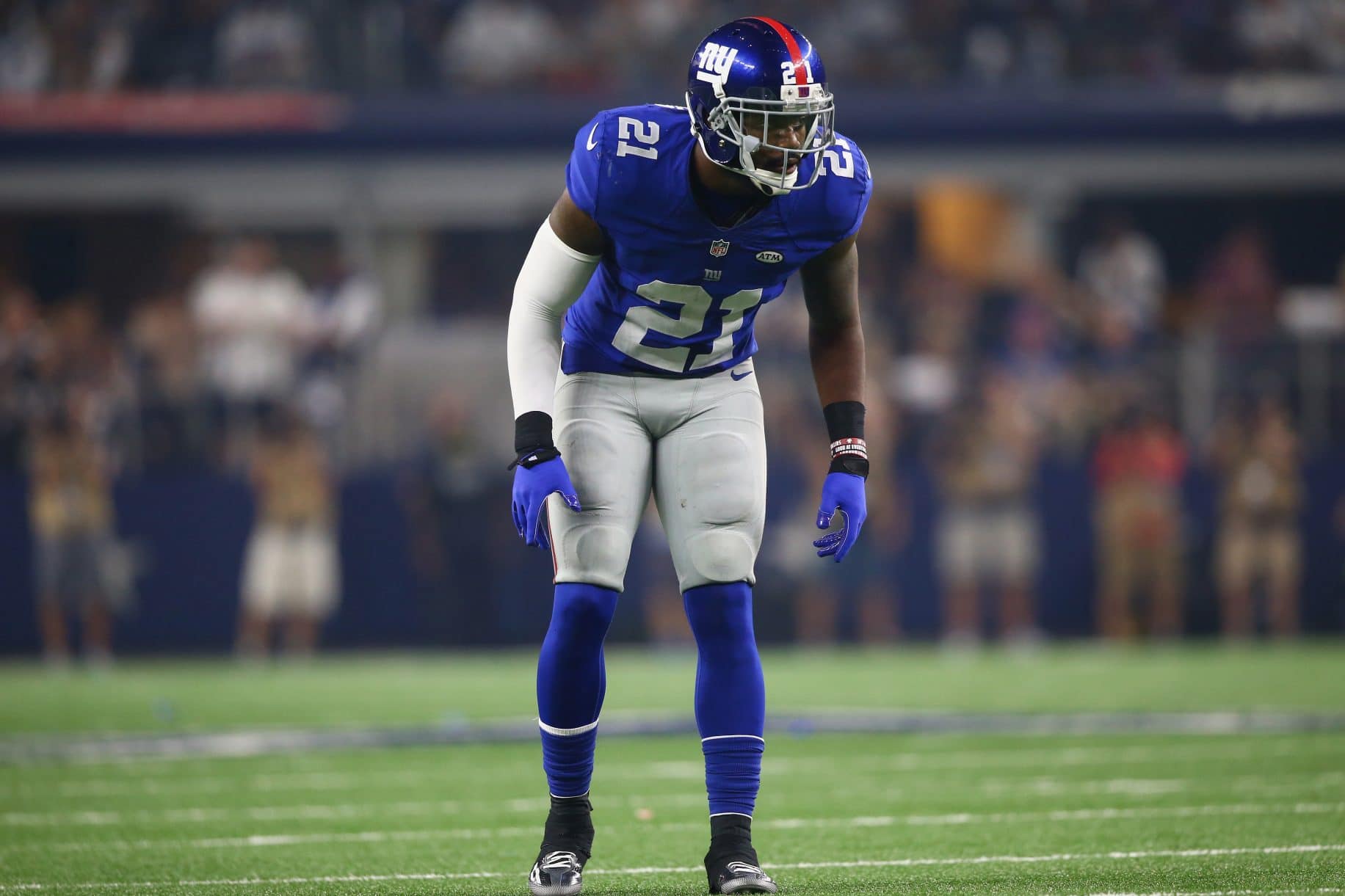 Safeties
Landon Collins, SS
Darian Thompson, FS
Nat Berhe (Re-sign $750K-$1M Annual)
Do I really need to talk about Landon Collins? The guy is an absolute stud and plays as hard as anyone in the league.
The safeties opposite of Collins can improve, but it isn't an immediate need. Therefore, they should stick with what they have and bring back Nat Berhe for depth. Darian Thompson is still young and he has the potential to improve his game on the other side of the field. Andrew Adams can play both SS and FS, which is why he is valuable to the team. However, his production can improve as well.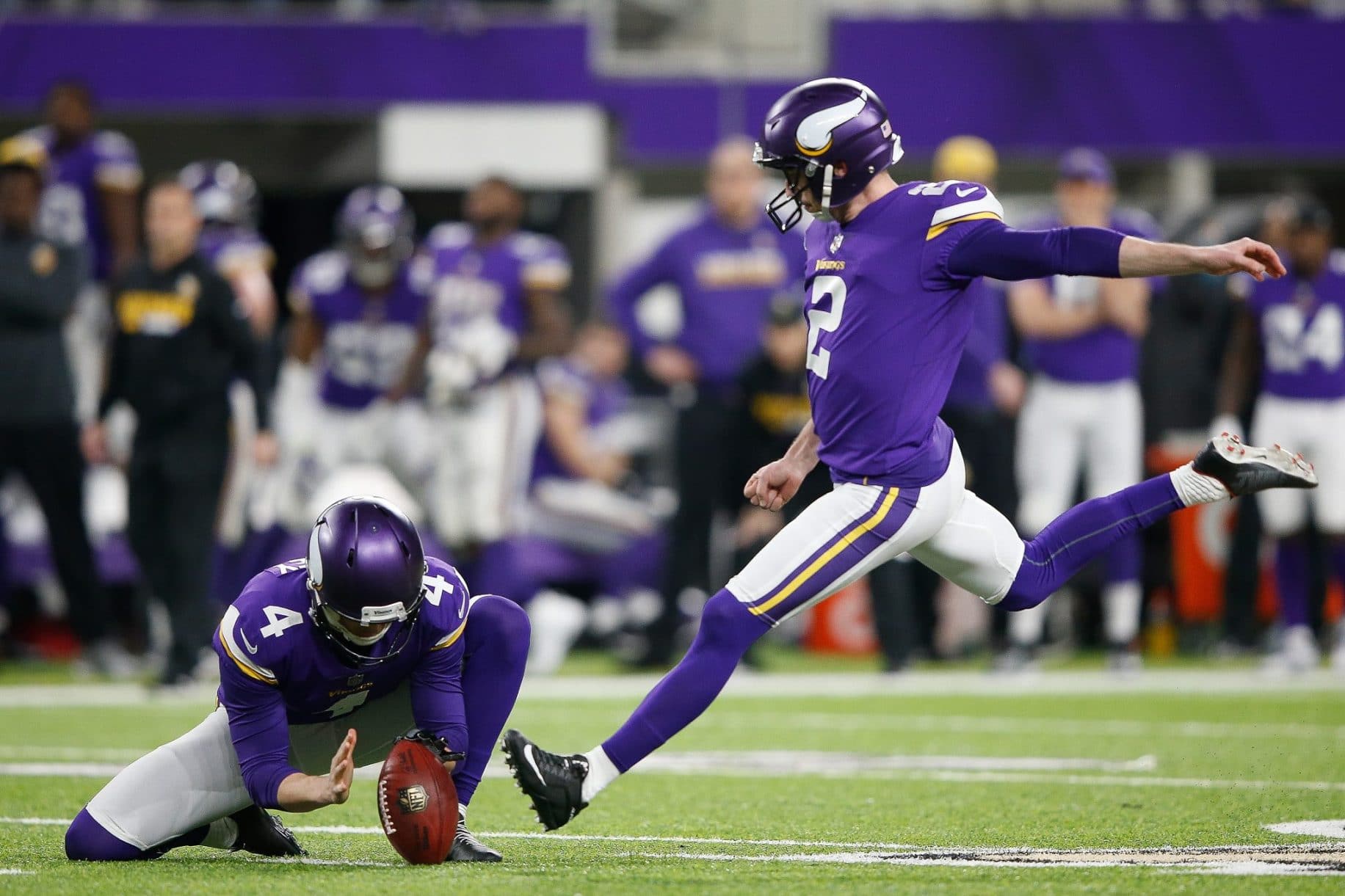 (Photo by Jamie Squire/Getty Images)
Special Teams
Kai Forbath, K (FA Signing $750K-$1M Annual)
Brad Wing, P
Zak DeOssie, LS
Aldrick Rosas stinks. There is no other way to put it. The Giants need to part ways with him this offseason and find a replacement. Kai Forbath has had an up and down career, but he is a veteran kicker that will come on the cheap. The Giants need to find someone and Forbath may be their best bang for buck option.
Brad Wing is Jekyll and Hyde. He'll amaze you with a punt inside the five that bounces straight up and is downed by the gunners. Next time he is out there Wing will botch one that goes about 20 yards. If Wing can be more consistent he could be a very good punter for the Giants.
Zak DeOssie. The man can never leave. DeOssie has been in the league 11 years and they have all been with the Giants. He was on the 2007 and 2011 Super Bowl teams, and he has only missed four games in his Giant career. DeOssie is a true New York Giant.
Roster at a Glance
QB: Manning, Darnold (R1), Webb
RB: Chubb (R3), Darkwa (RS), Gallman, Perkins
FB: Smith
WR: Beckham, Marshall, Shepard, Harris, Lewis, Rudolph
TE: Engram, Ellison, Adams
T: Flowers, Brown (R2), Beatty* (FA), Bisnowaty, Wheeler
G: Pugh (RS), Jerry, Quessenberry (R5)
C: Richburg (RS), Jones (RS)
DT: Harrison, Tomlinson, Thomas (RS), Hector* (R7)
DE: Vernon, Pierre-Paul, Wynn (RS), Moss
OLB: Kennard (RS), Casillas (RS), Armstrong, Herzlich (RS)
ILB: Goodson, Jefferson (R4), Munson
CB: Jenkins, Rodgers-Cromartie, Apple, Phillips (R6), Cockrell (RS)
S: Collins, Thompson, Adams, Berhe (RS)
ST: Forbath (FA), Wing, DeOssie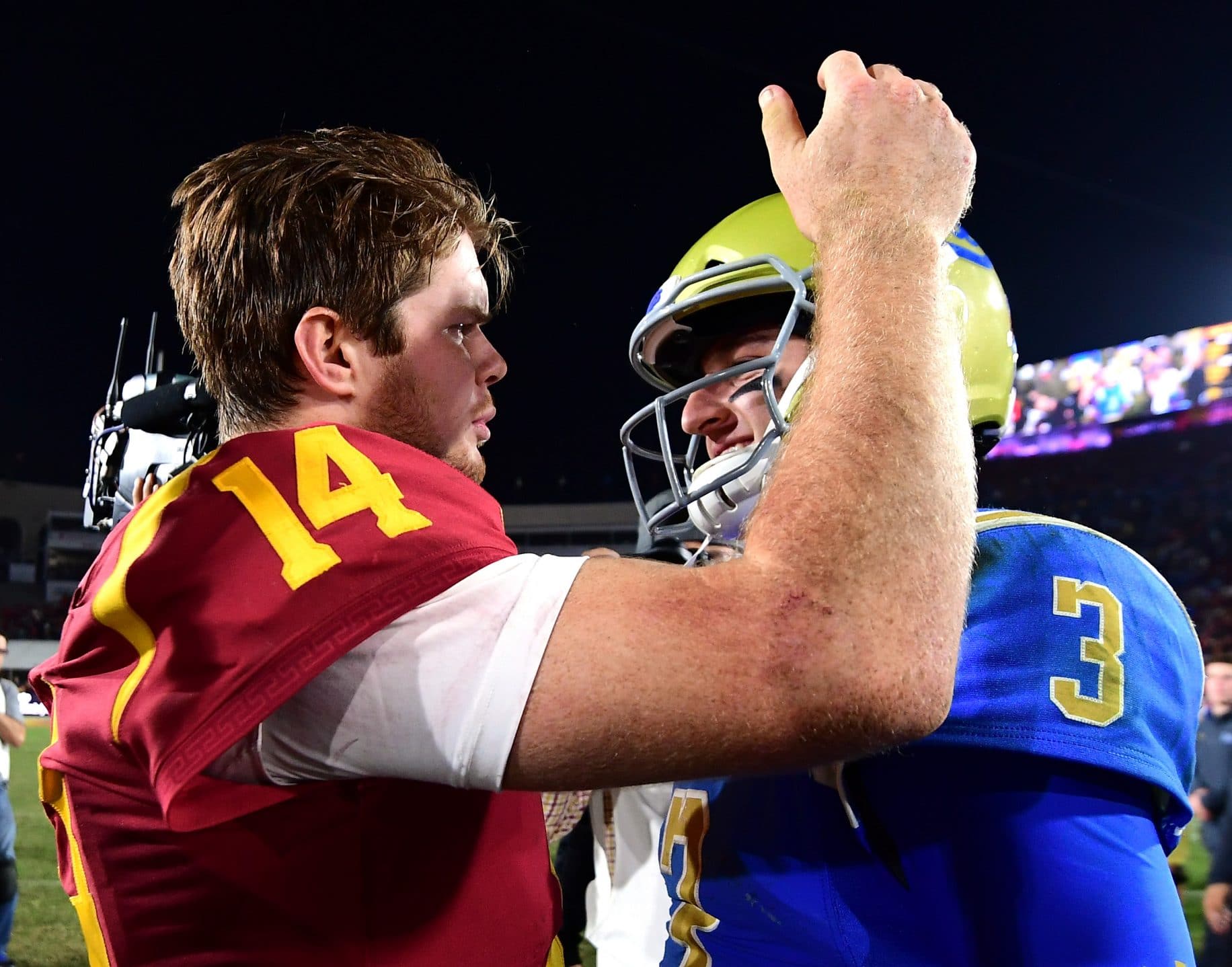 (Photo by Harry How/Getty Images)
Final Thoughts
The Giants must draft a quarterback with their first pick in the upcoming draft. That player should be either Sam Darnold or Josh Rosen. It all depends on who Cleveland takes. Either way, New York needs to begin to look toward a future without Eli Manning.
They just don't have the cap space to spend big in free agency, so they need to re-sign Pugh and Richburg. After the 2018 season, Landon Collins and Odell Beckham Jr. will need new contracts. There is almost no doubt in my mind all four of those players will be re-signed.
The key to the 2018 season is health. If the Giants can stay healthy they have a real chance at competing for a Super Bowl. The talent is there. They just need to all stay on the field.