Year after year, New York Jets general manager Mike Maccagnan continues to ignore the offensive line position as it pertains to premium picks via the NFL Draft. He'll immediately halt that trend if he wants to execute that slam dunk in 2018. 
I
t's a funny thing. Check that. It's actually so hilarious it equals the comedic stylings of one
Larry David
, especially when he brought the great Mel Brooks on for a special
The Producers
season of
Curb Your Enthusiasm
.
There's bound to be at least one "weak" positional group heading into every NFL Draft.
Granted, on the surface, it plays out as true. Never is the talent in the pool equal across all positions. Any idiot knows that. What firmly brings the punch-line is when franchises use the weak claim to its advantage and a year ago brought us such an example.
With Jerry Reese and his New York Giants needing an offensive lineman in the worst way, a tight end, Evan Engram, was selected with the 23rd overall pick out of Ole' Miss. Despite Eli Manning not having enough time to even say the words "Hail Mary" on a three-step drop, the Engram choice was rationalized by all, including fans, due to the unlucky and poor year it was for offensive line prospects.
Who was selected after Engram? Oh, I don't know, only Ryan Ramczyk (New Orleans Saints), Cam Robinson (Jacksonville Jaguars), Forrest Lamp (Los Angeles Chargers), Dion Dawkins (Buffalo Bills), Dan Feeney (Chargers), and Pat Elflein (Minnesota Vikings). Engram looks to be a player, no doubt, but winning escapes a collection of "players" if the heart (the O-line) isn't stout.
Lamp missed the entire season due to a torn ACL suffered in August, but he was the exception in this group. The other five youngsters were tremendous and the Giants could have snagged any of the five they desired. It was all rationalized by that common theme in Jints land: "The 2016 NFL Draft features a weak O-line class."
The New York Jets could have snagged three of the listed above (assuming Jamal Adams at No. 6 is still the correct choice). Instead of Marcus Maye in the second round, Dawkins, Feeney or Elflein could have been the choice. Pouring salt in the wound, with the sixth pick in the third round, Minnesota snagged their center gem in Elflein courtesy of a Jets draft slot (via trade).
Despite New York's offensive line woes in recent history, Maccagnan has been astonishing in his lack of care towards this group courtesy of the best talent producer in the game—the NFL Draft.
He never uses premium picks on offensive linemen.
Through three drafts, 22 selections and two No. 6 picks, Maccagnan has selected a grand total of two offensive linemen. Two. Both came at us in the form of a late-round flier (Jarvis Harrison, fifth round in 2015 out of Texas A&M, and Brandon Shell, fifth round in 2016 out of South Carolina).
| YEAR | ROUND 1 | ROUND 2 | ROUND 3 | ROUND 4 | ROUND 5 | ROUND 6 | ROUND 7 |
| --- | --- | --- | --- | --- | --- | --- | --- |
| 2016 | Jamal Adams | Marcus Maye | ArDarius Stewart | Chad Hansen | Jordan Leggett / Dylan Donahue | Elijah McGuire / Jeremy Clark / Derrick Jones | N/A |
| 2015 | Darron Lee | Christian Hackenberg | Jordan Jenkins | Juston Burris | Brandon Shell | N/A | Charone Peake |
| 2014 | Leonard Williams | Devin Smith | Lorenzo Mauldin | Bryce Petty | Jarvis Harrison | N/A | Deon Simon |
Making matters worse is what transpired previously.
Only 13 offensive linemen have been selected by the Jets from the years of 2000 through 2013. Aside from Vlad Ducasse—that bust of a second-rounder from the 2010 edition—only three of those 13 were collected from a premium (first, second or third round) slot. These three are named D'Brickashaw Ferguson and Nick Mangold in 2006 and Brian Winters in 2013.
Think about that. The OL makes up five starting positions of a total 22 on both sides and accounts for nearly half of the offense, yet the Jets are averaging less than one OL choice over the span of the last one-and-a-half decades.
This is why Kelvin Beachum, Brandon Shell, James Carpenter and Brian Winters are far from enough. It's the position that rarely busts—despite perceived "weakness" among the crop.
What happened when Eric Mangini came to town and took over with Mike Tannenbaum by his side? There was no messing around, no sexy moves. His very first order of business was to select the safe, dominant selections during that 2006 draft. He went with Brick and Nikky and the 2006 talentless Jets stunned the world. (The likes of Rex Ryan, Thomas Jones and the rest of the ground-and-pound crew still sit in a dark corner saying "thank you.")
Since that dominant core grew old, only patchwork's been accomplished.
Beachum is entering his second season with the Jets on a deal that'll cost the Jets a cap hit of $9.5 million in 2018. This is a guy who's now been thrown away by two teams.
First, the Pittsburgh Steelers—who know a thing or two about line play (employing two Pro Bowlers this season)—rid themselves of the kid, and then the Jacksonville Jaguars did the same. These are the very same Jags entering the divisional round of the playoffs with a much-improved and physical line. Granted, rookies Cam Robinson and Leonard Fournette have much to say about that, but if Beachum is that talented a left tackle, should his former team feel the sting at least a little?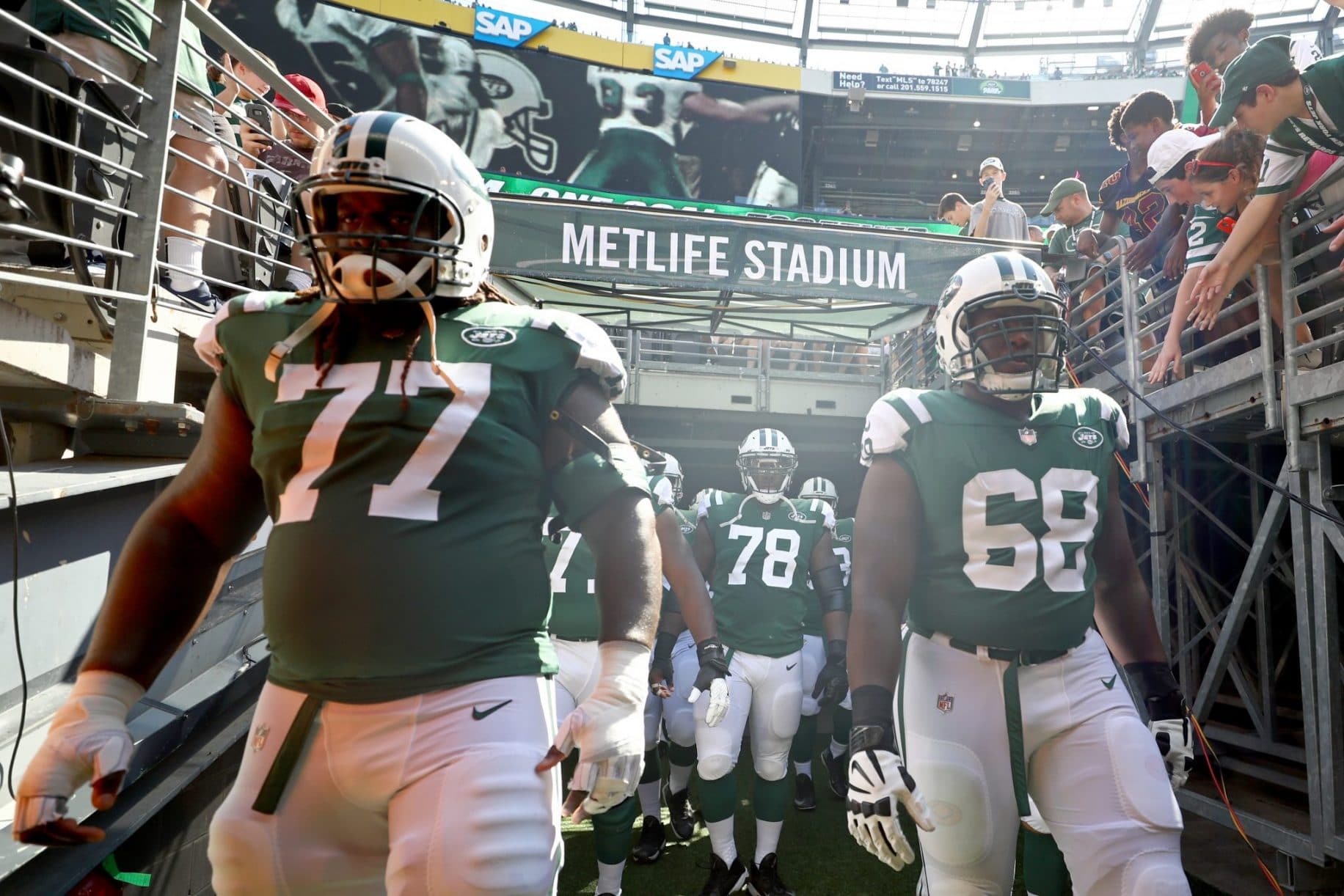 Shell is a young kid still looking to navigate through NFL life while Winters and Carpenter both represent as average. A year ago, Carpenter picked up rave reviews, but right there presents us the problem in a glaring nutshell: A left guard the caliber and current age of James Carpenter should never represent the team's best lineman. He needs to be the fourth or fifth best guy.
It doesn't matter who's in place. Competition, depth and, most importantly, true building blocks are always a necessity. As of right now, there are zero building blocks in the building. Shell could be one, but it's still too early. Winters still has time left in his career, but he should never be better than the fourth best out of a five-man unit.
Opportunity presents itself.
| PROSPECT | PROJECTED | POSITION | HEIGHT | WEIGHT | SCHOOL |
| --- | --- | --- | --- | --- | --- |
| Orlando Brown | Round 1 | Tackle | 6-8 | 360 | Oklahoma |
| Billy Price | Round 1 | Center | 6-4 | 315 | Ohio State |
| Connor Williams | Round 1 | Tackle | 6-6 | 290 | Texas |
| Brian O'Neill | Round 1-2 | Tackle | 6-6 | 305 | Pittsburgh |
| Braden Smith | Round 1-2 | Center | 6-6 | 303 | Auburn |
| Jamarco Jones | Round 2-3 | Tackle | 6-5 | 310 | Ohio State |
| Kolton Miller | Round 2-3 | Tackle | 6-8 | 310 | UCLA |
| Isaiah Wynn | Round 2-3 | Guard | 6-2 | 302 | Georgia |
| Will Hernandez | Round 2-4 | Guard | 6-3 | 330 | UTEP |
| Mason Cole | Round 3-4 | Center | 6-5 | 305 | Michigan |
| Frank Ragnow | Round 3-5 | Center | 6-5 | 315 | Arkansas |
| Bradley Bozeman | Round 3-5 | Center | 6-5 | 319 | Alabama |
The big boys won't show up on the list for the Jets absolutely should take advantage of the top-heavy quarterback class. So take away Notre Dame's Mike McGlinchey and Quenton Nelson, as those two plus another two or three will be gone by the time the draft comes around to the No. 6 slot in the second round.
But even if Orlando Brown, Billy Price and Connor Williams are gone too, there's still a bundle of building block offensive linemen.
Don't worry about attempting to fit a guy in. Although four of the five (without Wesley Johnson at center) seem to be locked into their respective starting spots, they shouldn't be.
There are no rules here. Beachum's $9.5 million shouldn't guarantee him a damn thing. Young Shell makes peanuts. Why not draft the next left tackle anchor for the next decade while kicking Beachum to the other side to compete with Shell? Depth and competition is the idea, especially among these grind-it-out type players who thrive to win a job when August rolls around.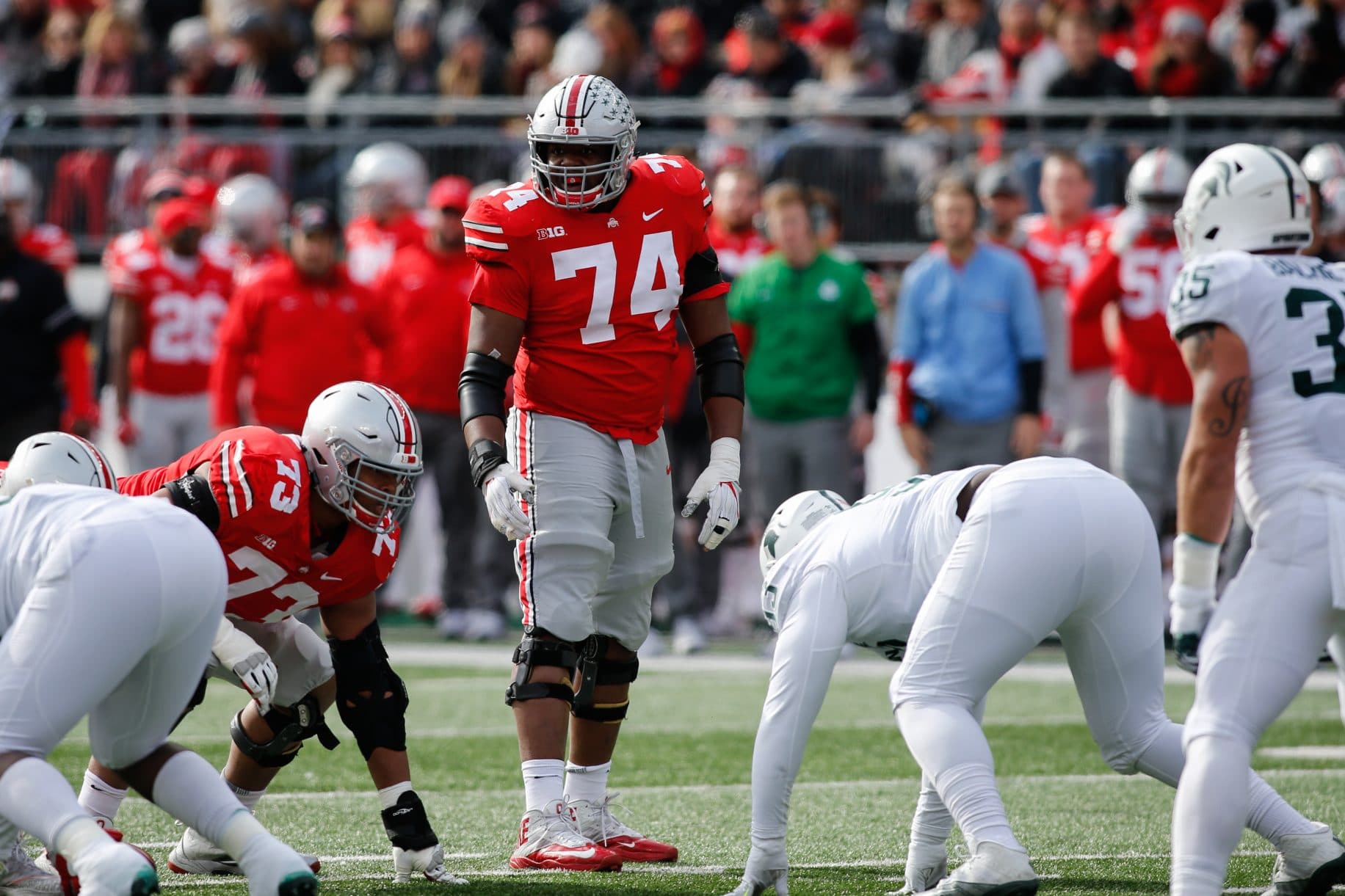 If this status-quo of Beachum, Shell, Winters and Carpenter holds true by Week 1 even with an upgrade at the center spot, it'll simply not be good enough. That average line would cap the maximum value for which this offense and (probable) young quarterback could fly.
Corner or edge rusher and even running back (for those who love calling out the playmaking name) could be selected with that 37th overall pick thanks to the Jets carrying around Seattle's 17th selection in the second round via the Sheldon Richardson trade, as that could be the perfect landing spot for a building block in front of Josh Allen or Baker Mayfield.
It's needed. It's necessary. History has proven it time and again. Half (5-of-11) of the offense simply cannot be ignored. A shiny new face to the franchise will hype up an entire fan base. Another weapon alongside Robby Anderson will excite the pants off those who green bleed.
But the cap on true development won't be set at its highest if the O-line isn't built first or at the very least the same rate as everything else. For nearly 100 hundred years, offensive football has always begun up front.
It'll be up to Mike Maccagnan and the suits in the New York Jets war room to get it done. It'll be up to Mikey Mac to shake those allergies. But make no mistake about it …
If the Jets don't select an offensive lineman with a premium pick in the 2018 NFL Draft (Rounds 1-3), this general manager won't allow himself to be saved.