Scapegoating will only get a team so far; for the Islanders to make the playoffs, they need to look in the mirror.
Oh, how the mighty have fallen. It was only a couple of weeks ago that the New York Islanders were the crème de la crème of the hockey world. Today, they are grasping at straws.
Naturally, when teams don't meet expectations, fans are quick to point fingers—at the defense, at the special teams, at the coach. It's as if the only way to rationalize failure is to find a scapegoat.
In the Islanders case, it's been multiple players and coaches that have taken the brunt of the blame.
Everyone—from Doug Weight to Jaroslav Hálak to Thomas Greiss—has been suspected of foul play. In other words, the Islanders have struggled as a result of individual failures. By taking away, say, Hálak or Greiss from the mix, things can be solved. Just like that.
If only things were that easy.
The problem with the Islanders right now is that there are multiple problems — too many to fully fix externally. Change needs to come from within, and it needs to happen collectively.
The numbers speak for themselves. With the season a little more than halfway over, the Islanders rank at the bottom of the league in every defensive category.
While it's been documented ad nauseum, the digits are too egregious not to discuss. With a 3.65 goals-against per game average and a .892 cumulative save percentage, New York ranks last in the league in the two most important defensive statistics. That is not the sign of a bad individual performance, but rather a glimpse into just how bad the defensive unit has actually been.
Granted, Garth Snow can and should make moves to add extra bodies on defense and in net. The collective has struggled, but at the end of the day, the collective is made up of individuals.
But that's missing the point: Snow has assembled a defense that is competent enough to get the job done. It's up to those individuals, the same ones that were just singled out for their struggles, to go out and execute. That just hasn't been happening.
Between Greiß and Hálak, the Islanders have more than $7.5 million tied up to their goalies this season. That's a whole lot of money going to a duo that has done a whole lot of nothing in 2017-2018.
Just two seasons ago, Greiß had a 2.36 goals-against average and .925 save percentage, which made him a deserving candidate for a contract extension. It paid off last year: Though it was a relatively 'down season' for the German netminder, he still finished 26-18-5 with a sub-2.70 GAA.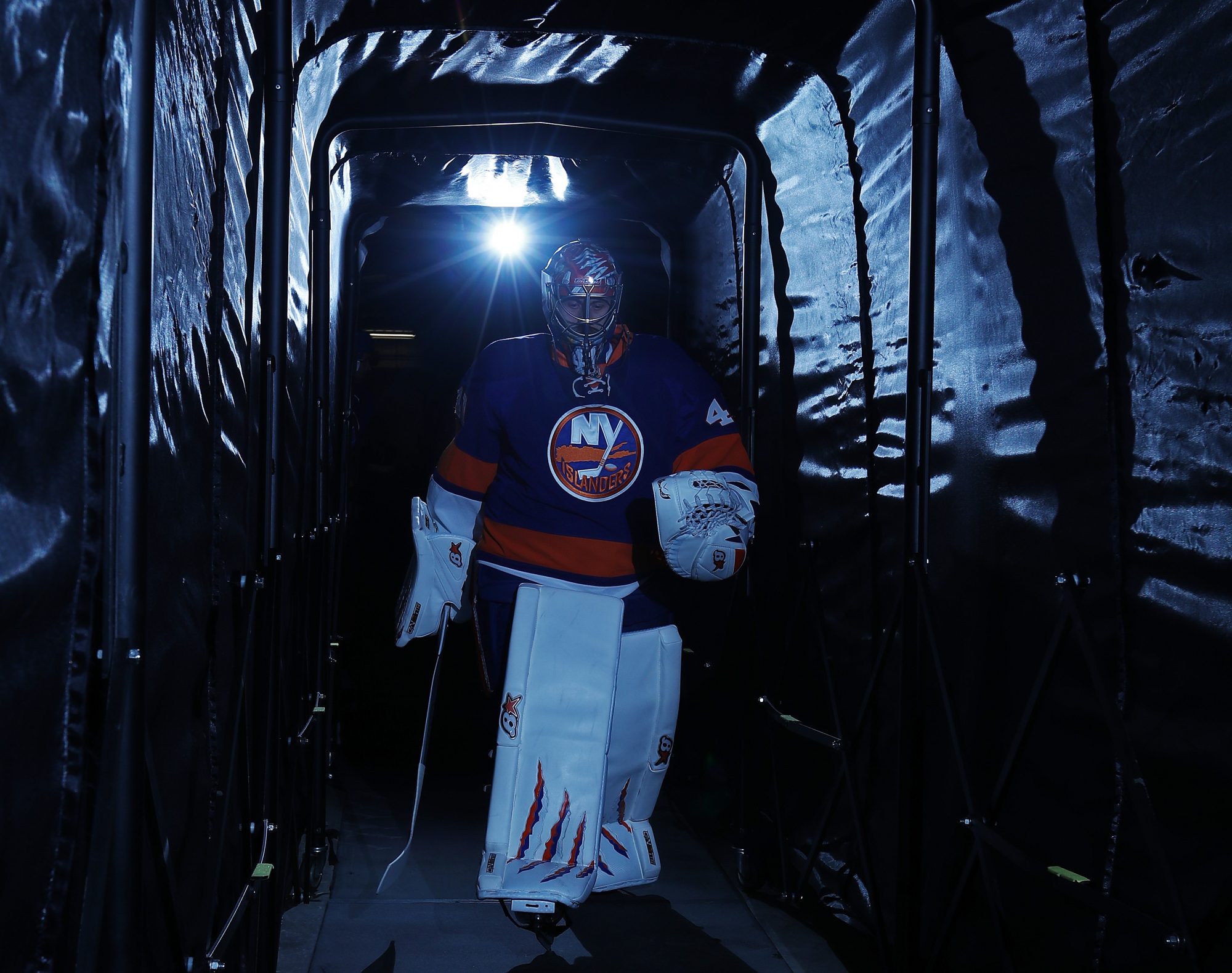 Throughout his career as both a starter and a backup, Greiß has proven his ability to produce. He's better than the on-ice product this season. So many Islanders are.
Take Hálak, the Czechoslovakian native. The 32-year-old netminder has a 3.24 goals-against average this season. It's the first time in his career that he has one over 2.90. For a guy who's paid to be a backstop, he's sure done a poor job of keeping pucks out of the net.
Both goalies have it in them to succeed. Time-and-time again, they have shown that they can make highlight-reel saves and single-handedly steal games. The problem is that just like the rest of the team, they haven't been doing so.
On defense, Nick Leddy is a Norris Trophy candidate and Johnny Boychuk is solid if unspectacular in the defensive zone. That first pairing has been effective. It's difficult to say the same about the other two.
After Calvin de Haan went down, Weight juggled a bunch of youngsters—Sebastian Aho, Ryan Pulock, Scott Mayfield and Adam Pelech—to mixed results. All four of these skaters have flashed their potential. But when it's come to playing as a coherent unit, it has been an unmitigated disaster. Between the failed zone-entries and inexcusable turnovers, things just haven't worked out.
Again, it's wrong to throw any one player under the bus, especially when so many players are struggling. But people are going to have to own up to their own mistakes and figure out how to play well enough in the defensive zone. The offense is there; next comes the defense.
Elliotte Friedman and others have reported that Snow has been busy working the phones these past couple of weeks. But the one-week break should give the Islanders time to reflect on what went wrong, and how to make sure things don't go wrong in the second half.
No single player is going to fix their problems. For the Islanders to right the ship, it's going to have to come from within.