As we move past another NFL season, it's time to take a look back and award New York Jets' players worthy of recognition. 
The New York Jets came into the season with little expectations. In fact, some predicted they would do what the Cleveland Browns just did and go 0-16.
Normally when a team goes 5-11 your disappointed, but let's be honest the Jets showed they weren't as bad as advertised.
Yes, not making the playoffs for seven straight years is torture. I mean its third-longest drought in the NFL. But the Jets have money to spend, they have young talent, so to be optimistic about the Jets is not crazy. Optimistic and the Jets usually don't go in the same sentence but there is light at the end of the tunnel.
With the season over, its that time of year to give out the team superlative awards. So without further ado here are the 2017 Jets Superlatives.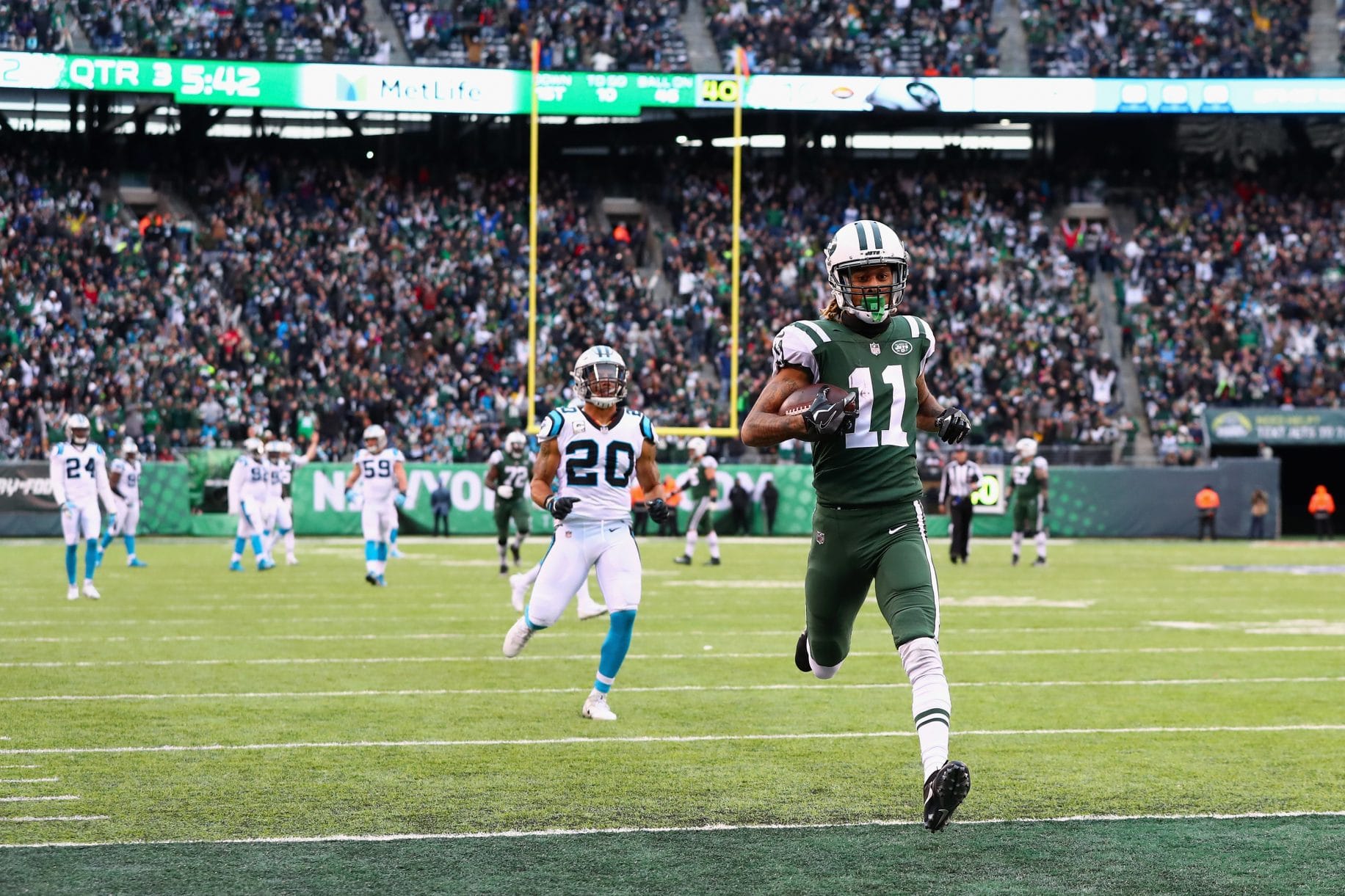 Offensive MVP: Robby Anderson
Robby Anderson second year in the league was a big one. He finished second on the team for receptions behind Jermaine Kearse with 63.
Anderson led the Jets in receiving yards with 941 yards and seven touchdowns. It looked like he was going to be a 1,000-yard receiver, but once Josh McCown went down he simply didn't have anyone to throw him the ball. He and Bryce Petty had a nice connection last year but this season, Petty couldn't find a connection with anyone.
Anderson scored a touchdown in five consecutive games this season, which was the longest streak this year. He has provided what the Jets have been lacking for years—a true home run threat.
Remember when the Jets drafted Devin Smith in the second round of the 2015 NFL Draft? He was supposed to be the biggest deep threat in the draft. We all know how this one turned out, but Anderson has filled this void and gives the Jets a real threat in the vertical passing game.
Anderson had a nice end to his rookie year and that carried over this season. He is someone that the opposing defense must keep an eye on or he will make a big play down the field.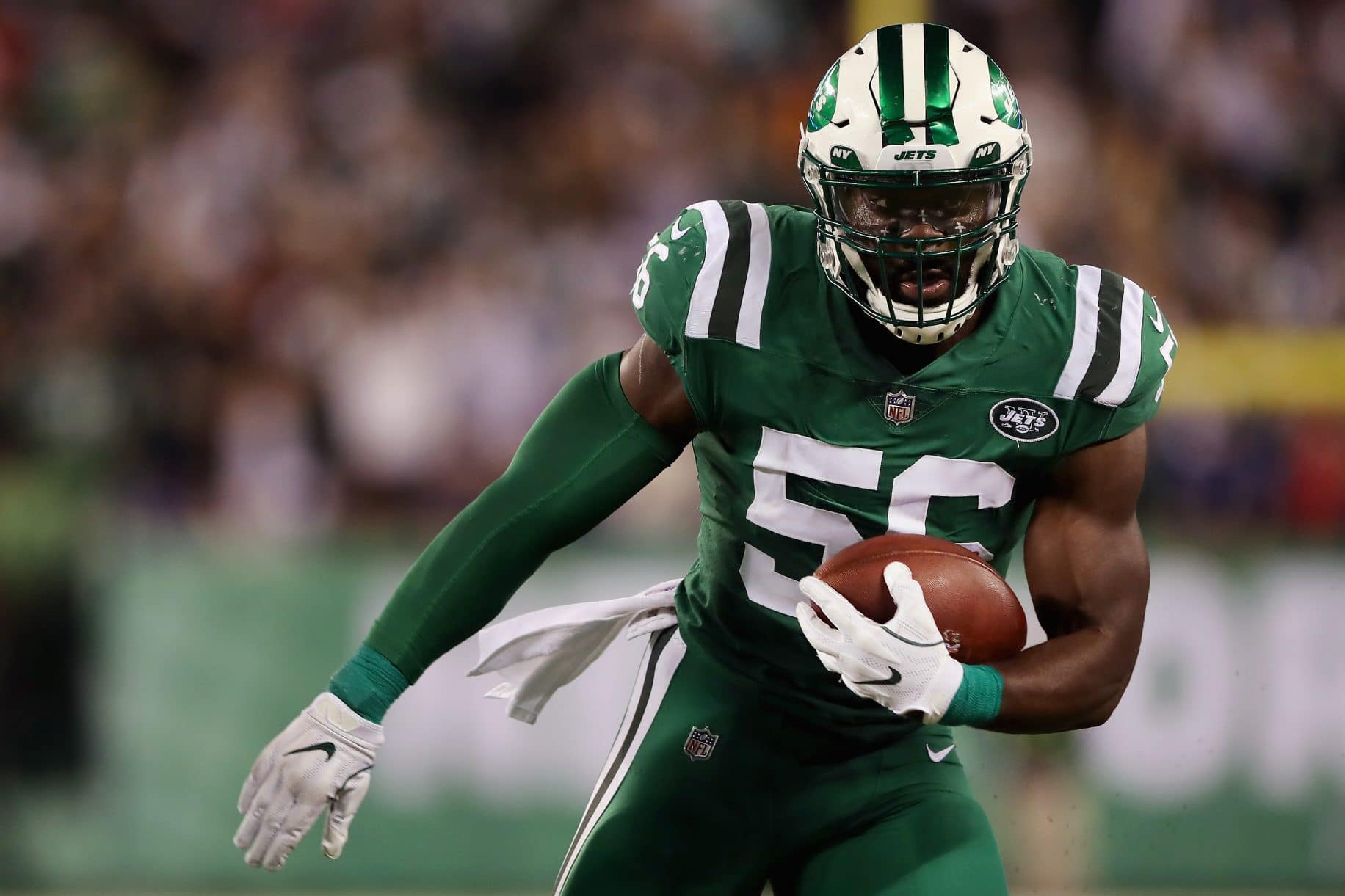 Defensive MVP: Demario Davis
The New York Jets drafted some nice young talent to be in their defense for a long time this past draft. Guys like Jamal Adams and Marcus Maye. These guys are probably going to win this award in the future. But another stud for the New York Jets defense is Demario Davis.
The Jets originally drafted Davis back in the third round of the 2012 draft. Last season he was with the Cleveland Browns and the Jets got him back this season by trading Calvin Pryor.
What a trade it was for the Jets. Pryor, a wasted first-round pick in 2014, was released by the Browns shortly after the trade. And Davis would go on to have a monster year for Gang Green.
Davis led the Jets by far for in solo tackles with 97. The next closest to him was Darron Lee with 67. Davis had a total of 135 tackles, which would include five sacks and nine tackles for a loss.
This guy was all over the field making plays for the Jets this season and belongs to remain a Jet. We had a great linebacker for many years in David Harris, but it's now Davis who should be leading our linebacker core.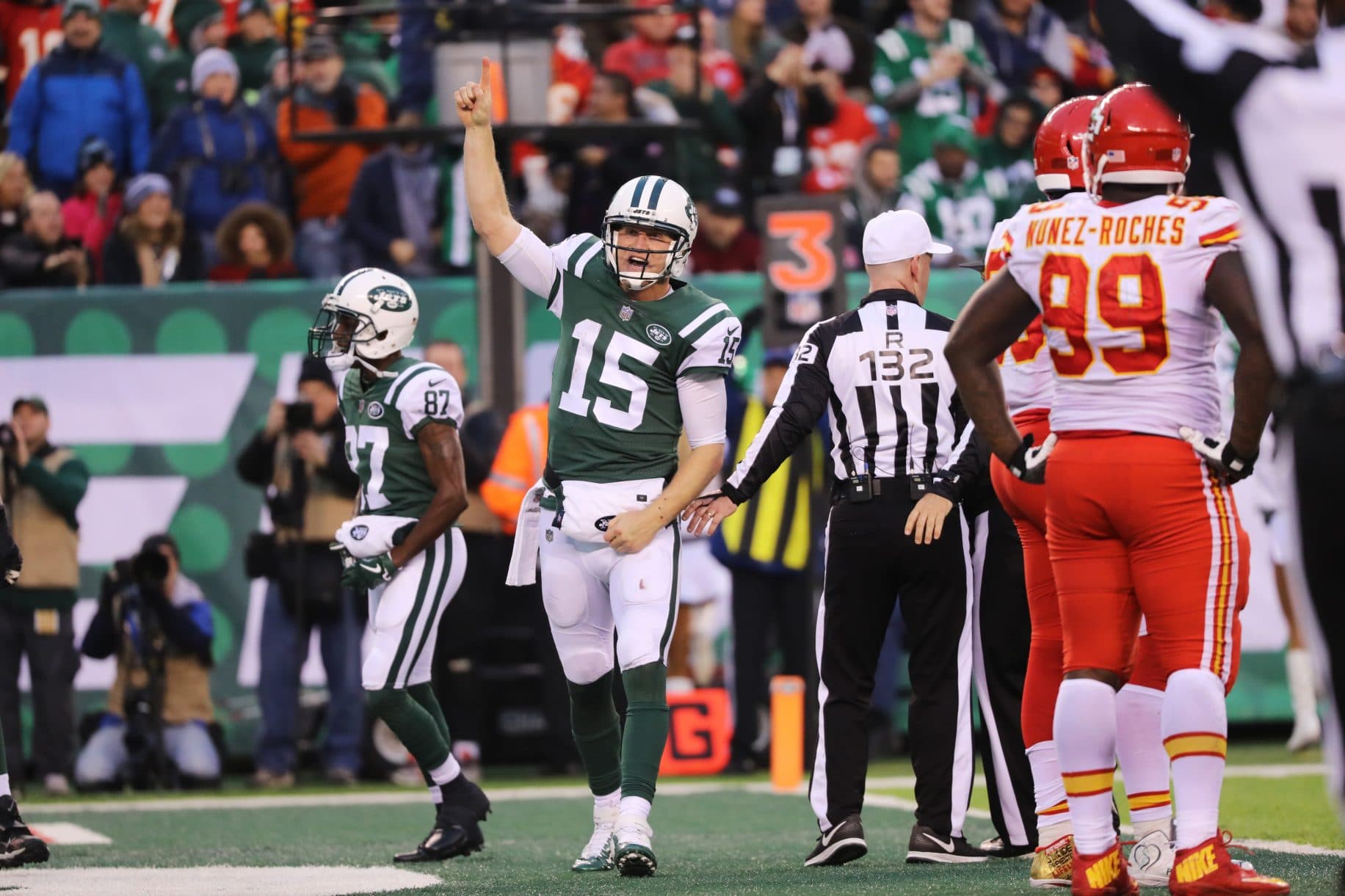 Biggest Surprise: Josh McCown
When the Jets signed Josh McCown many including myself felt like this was a joke. Not that he wasn't talented but his track record wasn't very impressive.
The 38-year-old showed he was more than serviceable. McCown threw for 2,926 yards and a touchdown, interception ratio of 18:9.
With McCown under center, the Jets seemed to be in each every game. They had a few close losses, which if some of those have gone the Jets way they might have snuck into playoffs.
With his strong play the question emerges, should the New York Jets bring McCown back? If they don't land a quarterback in free agency or through the draft, perhaps he is an option—either as a bridge for a rookie or as a veteran backup for a free agent.
Biggest Disappointment: Muhammad Wilkerson
This was a no-brainer to give this award to Muhammad Wilkerson. He truly could have been an all-time great Jet but instead, he's a major disappointment.
His performance on the field was atrocious. This guy is supposed to be a premier pass rusher, yet recorded just 3.5 sacks this season. That simply isn't good enough.
His attitude was worse than his performance. Wilkerson has missed team meetings or has been late to meetings time and time again over his career. Because of this coach, Todd Bowles benched him for the last three games.
The Jets traded Sheldon Richardson for being a problem in the locker room. They should look to trade Wilkerson. If there are no takers, they need to save $11 million and release him.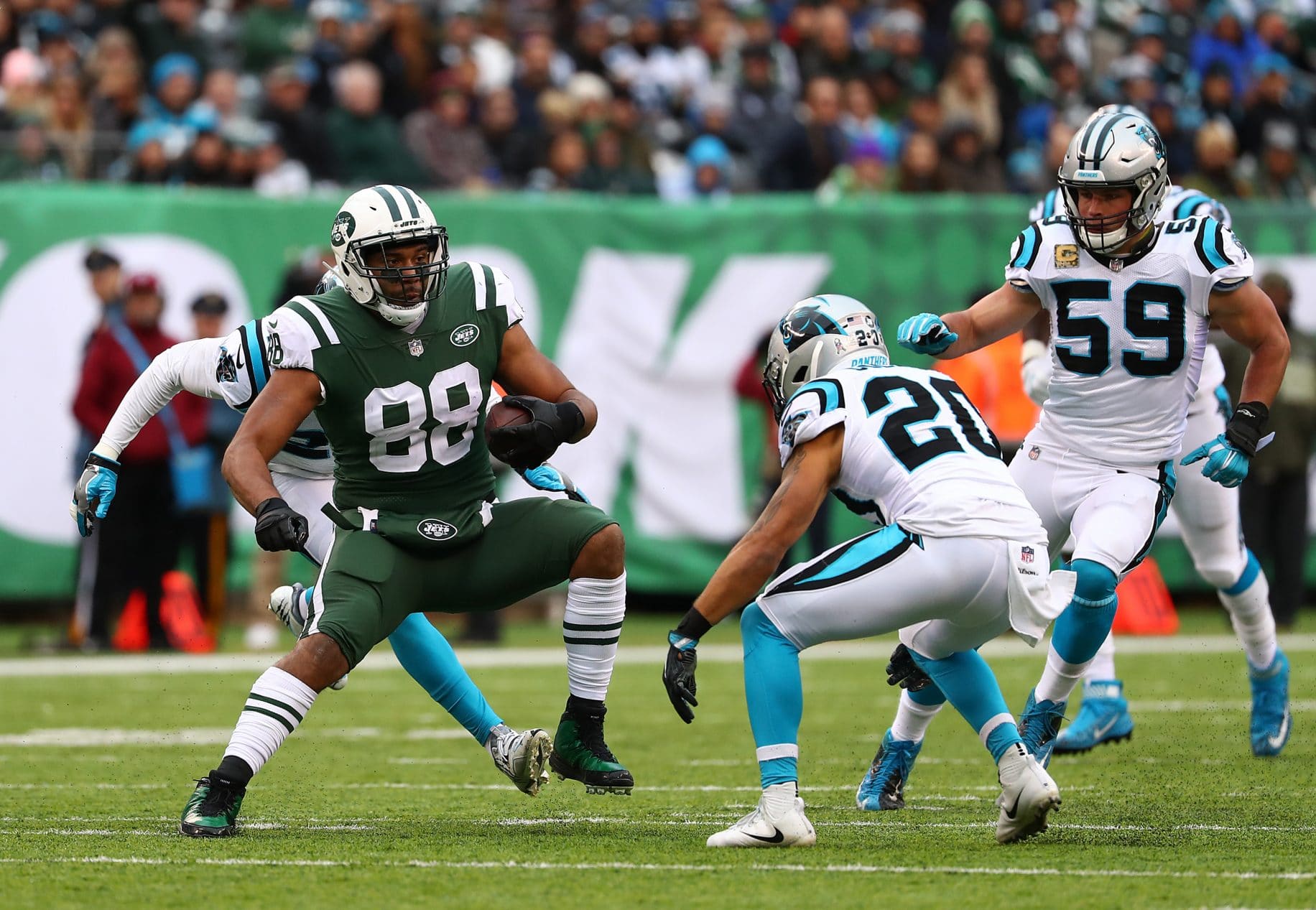 Mr. Must-Return: Austin-Seferian-Jenkins
A few players can be mentioned here like Davis or even McCown, but those guys already have an award so now it's time to give Austin-Seferian Jenkins some love.
He was the team's biggest tight-end threat in years, finishing the season with 50 receptions for 357 yards and three touchdowns. He should've had more touchdowns but the NFL likes to take those away from him.
Or against the Panthers his touchdown reception was ruled not a catch after review.
Austin Seferian-Jenkins has no clue watch a catch/touchdown is after this was overturned. pic.twitter.com/SC6m9Lb1oD

— AJ Turner (@atoj247) November 26, 2017
Towards the end of the year, his impact on the game dropped significantly. But again, with Petty playing quarterback, everyone in the passing game suffered.
If you have a quarterback that can throw the ball, he is a nice option. The Jets should absolutely bring him back. Otherwise, they are back in a situation where they don't have a tight end.
While the Jets missed the playoffs again in 2017, they did show some promise. They were in a position to win almost every game and lost some heartbreakers. That's because they just did not have the talent, not because of effort. With money to spend and the six pick of the draft, it shouldn't be much longer til the Jets are back in the hunt.