The Sacred Heart Pioneers hockey team will host Army Saturday night in the first college hockey game at the renovated Nassau Coliseum.
I
f the walls of the Nassau Coliseum could talk, it would tell the story of the many great players, coaches and artists who've splendidly performed in that building, particularly during the first 43 years before the arena closed for renovations. Most of those memories center around the storied history of the New York Islanders and four Stanley Cup Championships that are honored with large framed photos in the new barn's lower lobby.
While the Islanders returned to the Coliseum for a pre-season game this past September, there hasn't been a meaningful hockey game played there since game six of the Islanders' 2015 playoff series against the Washington Capitals. That changes on Saturday when Sacred Heart University hosts Army in the first college hockey game played at NYCB Live, home of the Nassau Veterans Memorial Coliseum.
"Our guys are very excited to play at Nassau (Coliseum)," said Sacred Heart Head Coach C.J. Marottolo. "It's an arena that carries a lot of history with it. To get down there and have the opportunity to play an opponent like West Point in a revered building, our guys are very excited about that opportunity."
Sacred Heart has a strong connection to Long Island and the Islanders. The school has a lot of students and alumni from Long Island and the Pioneers play their home games at Webster Bank Arena, the home of the Islanders' AHL affiliate the Bridgeport Sound Tigers. So when the school was presented with the opportunity to move one of their home games to Nassau Coliseum, they jumped at it.
"It just seemed like the right fit," said Marottolo, a native of North Haven, Connecticut. "Something to do to give our guys a different experience to play in an NHL arena not far from our home against a league opponent. We thought it would be pretty cool."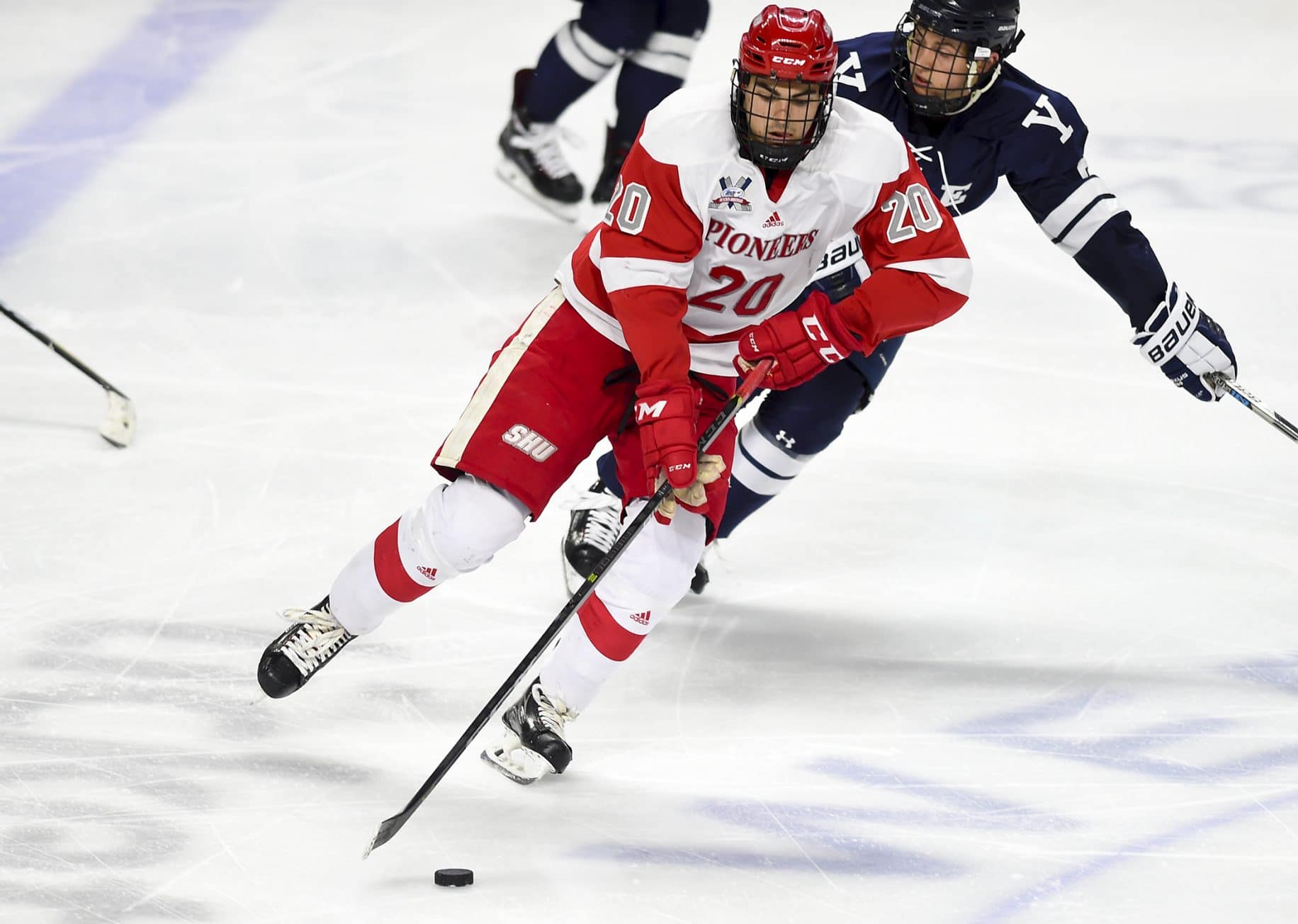 What will also be pretty cool, particularly for Marottolo, is that Sacred Heart will skate onto the ice and take their place at the home bench, the same spot where legends like Mike Bossy, Denis Potvin, Bryan Trottier and Bobby Nystrom would be when they were not on the ice. Behind the bench is where the late great Islanders Hall of Fame coach Al Arbour would stand and pace back and forth.
When Marottolo was on the coaching staff at Yale, he met former Bulldog star Randy Wood who would go on to play for Arbour and the Islanders. Marottolo took advantage of the opportunity to pick Wood's brain to see just what kind of coach and person Arbour was.
"You look at what he did and the way he handled himself and how he handled his players," said Marottolo, last season's Bauer Hockey Coach of the Year in the Atlantic Hockey Association. "(Wood) said he was an unbelievable teacher, was an unbelievable listener, and an unbelievable communicator. That always had an impact on me how one of the greatest coaches in the NHL treated his players. It will be an honor to stand where he stood."
As far as the game is concerned, it's a huge contest for both teams as they juggle for playoff seeding. Army is currently tied with RIT for 5th place in the Atlantic Hockey League with 14 points while Sacred Heart is in 11th place with 7 points. The top five teams in the conference get a first-round bye, but for Sacred Heart there is still time to move up the ladder.
"Every game is important," said Marottolo. "It's the beginning of the new year here. This is kind of like moving-month. Our league standings are so tight and there's so much parity that these two huge points on Saturday are massive."
The Pioneers have some talented players on their roster.
Their leading scorer is sophomore forward Vito Bavaro, a native of Sarasota, Florida. He has eleven goals and seven assists for eighteen points and has really emerged as a force this season.
"He's a big kid and extremely fast," said Marottolo of the former star for the Brooks School prep star in Massachusetts. "He can really shoot the puck."
Freshman forward Marc Johnstone, Bavaro's linemate, is second on the team with six goals and eleven assists for seventeen points. The Crawford, New Jersey native came to Sacred Heart from the Chicago Steel of the USHL junior hockey league.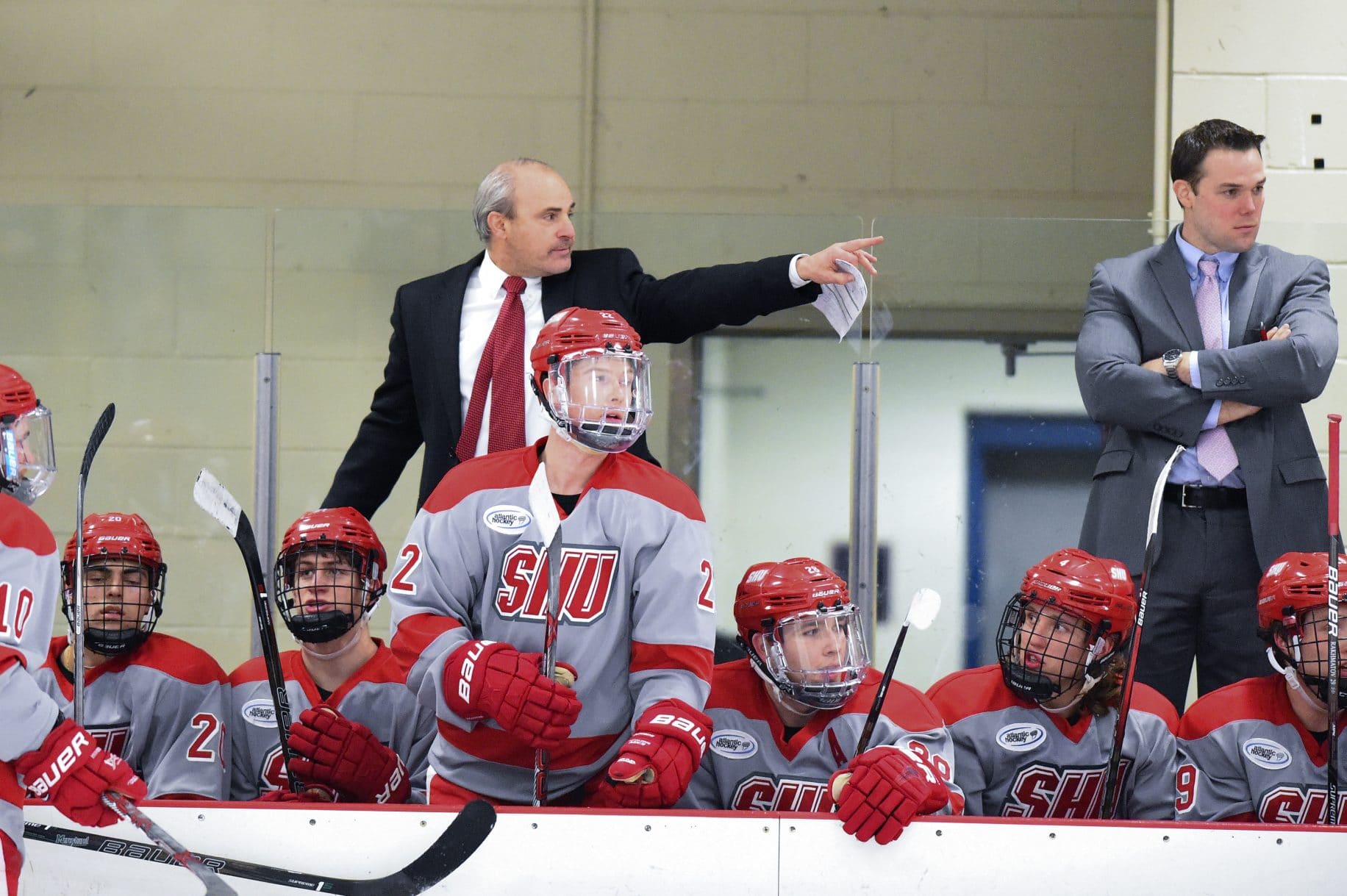 "He's really made a seamless transition into Division One hockey from junior hockey," said Marottolo.
Russian defenseman Ruslan Rakhmatov also joined the Pioneers after spending time with Chicago of the USHL. He plays what Marottolo calls "a hard game" and that presents a challenge for opposing teams.
"He's hard to play against," said Marottolo. "He can create offense from the back end. He's a great skater and he can really shoot it."
When Sacred Heart arrives at the Coliseum on Saturday, the Pioneers will make their way to their locker room although it won't be the same one that the Islanders used because that doesn't exist anymore. It was turned into a room where families of musicians and other performers congregate before a show. Along their route, the Pioneer players will come across reminders of great Coliseum memories including the glory years of the Islanders.
It won't be hard for Sacred Heart to get their juices flowing.
"They're all hockey fans and they know those great (Islanders) teams of the 80s," said Marottolo who played collegiately at Northeastern University. "Just to be able to be there … I know there's a lot of pictures on the walls with those 80's teams they had. I haven't talked to my team specifically about that. Once we enter down there, I'll think they'll feel the history."
The Islanders enjoyed a storied 43-year history at the old Nassau Coliseum. In a few years, they'll return to Long Island to play in a brand new arena at Belmont Park although it's possible they could return to the new Coliseum in the interim. But on Saturday night, Sacred Heart will play the role of the Islanders as the home team against Army at the old barn.
Saturday night hockey at the Nassau Coliseum was always something special. It's nice to have it back, even if it's only for one night.