With the New York Giants interviewing candidates for their next head coach, the man they should definitely hire is Patriots offensive coordinator Josh McDaniels.
As the New York Giants continue their search for a head coach, one of the more popular names as to who should run the ship is New England Patriots' offensive coordinator Josh McDaniels. Since the Patriots are off this week, he will interview for the position on Friday according to Ben Volin of the Boston Globe.
League source says Josh McDaniels will interview with the Bears and Giants on Friday for their head coaching jobs. He's in high demand

— Ben Volin (@BenVolin) January 2, 2018
McDaniels didn't interview for the position when it last opened in January 2016. However, two years later, he has become one of the big names that other teams want to hire, including the Indianapolis Colts and the Chicago Bears, according to Volin. Right now, he is the perfect fit for what Big Blue is looking for in a head coach.
After the Ben McAdoo experiment was a complete failure, the Giants need a coach that has prior experience in that position. McDaniels only went 11-17 in his two seasons as coach of the Denver Broncos and is known for drafting Tim Tebow in the first round back in 2010. With that being said, it is sometimes what you learn the first time around that helps in the second coaching stint.
It didn't go well for McDaniels in Denver, as evident by the record, and he also dealt Brandon Marshall during his tenure there along with Jay Cutler. At Super Bowl Media Day last year, McDaniels talked about some of what he learned while in Denver. Here is the quote courtesy of ESPN's Jeff Legwold:
"I think so much about this game, this business, is about people and trying to put together the right group of people and allow them to have their responsibilities, trust them to do their job and be a great resource for them and help them in any way that you can."
With the Giants having the second pick in the 2018 NFL Draft, they will be in the running to select one of the top college quarterbacks. If they go that route, McDaniels might be the perfect choice to help develop that player into a starter while Eli Manning stays for a season or two or have the rookie play right from the onset of the season.
True, a lot of people will look at McDaniels and question what he's really like when he's not coaching the talented Tom Brady like he has for 13 seasons in New England in some coaching role. In those years, he did play a part in developing Jimmy Garoppolo, who is now 7-0 in his NFL career, and he helped Jacoby Brissett win a game in a short week in September 2016.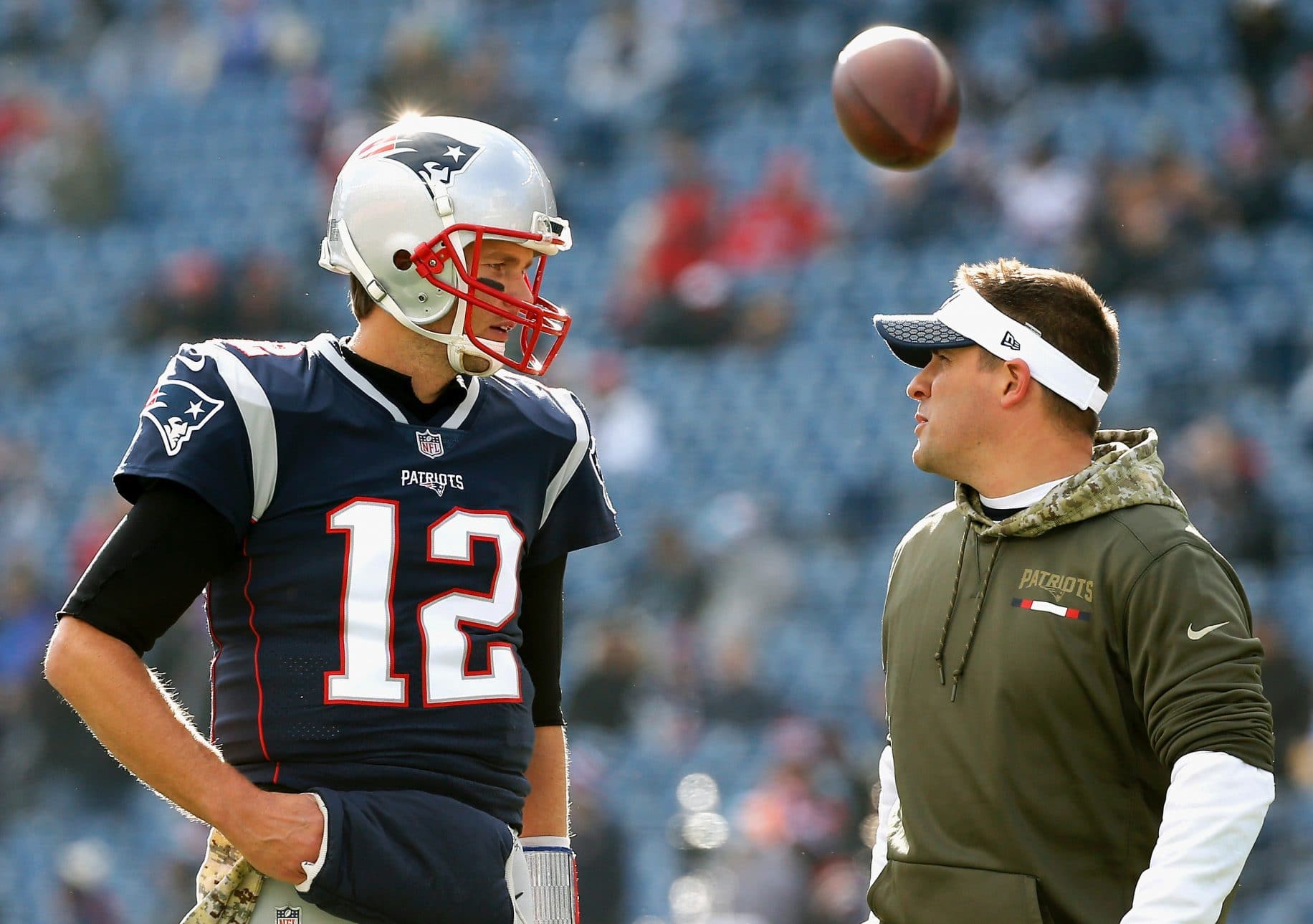 Now, McDaniels doesn't have the history with new general manager Dave Gettleman and that could play a factor in this search. Maybe he decides that he wants to go to a place where he could partner with his general manager, similar to what happened last year in San Francisco with Kyle Shanahan and John Lynch.
However, the other two places McDaniels will interview have fairly new GM's in place. Ryan Pace has been the GM for the Bears each of the last three seasons and Chris Ballard has only been the GM of the Colts for one season (2017).
While the Giants had their share of defensive issues this year, whether it be due to injuries or suspensions, the offense is still the biggest issue for the team. Some of that issue will be fixed with the return of Odell Beckham Jr. in 2018. However, New York has scored 20 or more points 13 times in the last two seasons and they've never scored 30 or more in that period of time.
One of the positives with McDaniels is that he is a great playcaller and can help bring more creativity to the Giants offense regardless of who is behind center. One play that always stands out to me on his track record is the AFC Divisional Playoff game in January 2015 against the Ravens. In that game, Julian Edelman threw the touchdown to Danny Amendola that helped spark the Patriots comeback en route to a Super Bowl.
In this year's coaching cycle, there's not really that slam-dunk candidate available. But, McDaniels should be at the top of their list and deserves a second chance. Someone will like give him the opportunity this year, so why not the Giants? He's been around a lot of winning and, right now, this franchise needs to know what winning feels like again after an embarrassing 2017.