Welcome to the New York Jets latest soon-to-be heated debate sure to turn into a complete obsession: Josh Allen or Baker Mayfield in the 2018 NFL Draft? 
Y
ou ready? I'm not. Actually, neither are you. There's just too much time in between this very moment and the date of Apr. 26, 2018, to actually be
ready
.
The New York Jets are slotted into the No. 6 hold of the NFL Draft, again, for the third time in four offseasons. First, the then first-time general manager Mike Maccagnan accepted the gracious gift of Leonard Williams. After a brief hiatus that saw a No. 20 pick (Darron Lee), Mikey Mac came back in 2017 to select Jamal Adams.
Even those who fall in the classification of "dim bulb in the woodshed" understand what's on the horizon this time around and no, it doesn't look like a defensive player will represent the big headline maker.
With four stud QB prospects sure to be drafted in the top 10 and the Jets salivating for their first bonafide franchise QB since Joe Namath played out his remaining green days with no knees, a monumental decision looms.
Josh Allen or Baker Mayfield?
The top six is interesting. Twice the Cleveland Browns will select and two other teams may not go QB based on their current situations.
Cleveland Browns
New York Giants
Indianapolis Colts
Cleveland Browns (via Texans)
Denver Broncos
New York Jets
Dave Gettelman has already made mention that Eli Manning his "his guy" and that he's still the answer at the position for the Giants. Whether that means New York will pass on one of the top two or not remains to be seen. Sam Darnold or Josh Rosen can still be selected and wait in the wings circa Aaron Rodgers-Brett Favre.
The Indianapolis Colts still have Andrew Luck. While he's damaged goods (in the minds of many), that contract is surefire No. 1 QB contract stuff. It'd be tough to draft a QB gem and keep Luck employed.
Then there are the Cleveland Browns, everybody's favorite punching boys who hold two top-five picks. Unless they decide to choose two quarterbacks in the top-five (which shouldn't be put past that organization), they represent the third non-QB selection in the top six.
As it stands right now, the Jets look to be guaranteed one of the top four studs:
Sam Darnold, USC
Josh Rosen, UCLA
Josh Allen, Wyoming
Baker Mayfield, Oklahoma
They could even snag the No. 3 guy on their specific board (based on how things shake out).
Josh Allen versus Baker Mayfield is the scenario that's presenting itself right now, leaving us the hot Jets topic of the moment soon-to-be an obsession over the course of the next four months.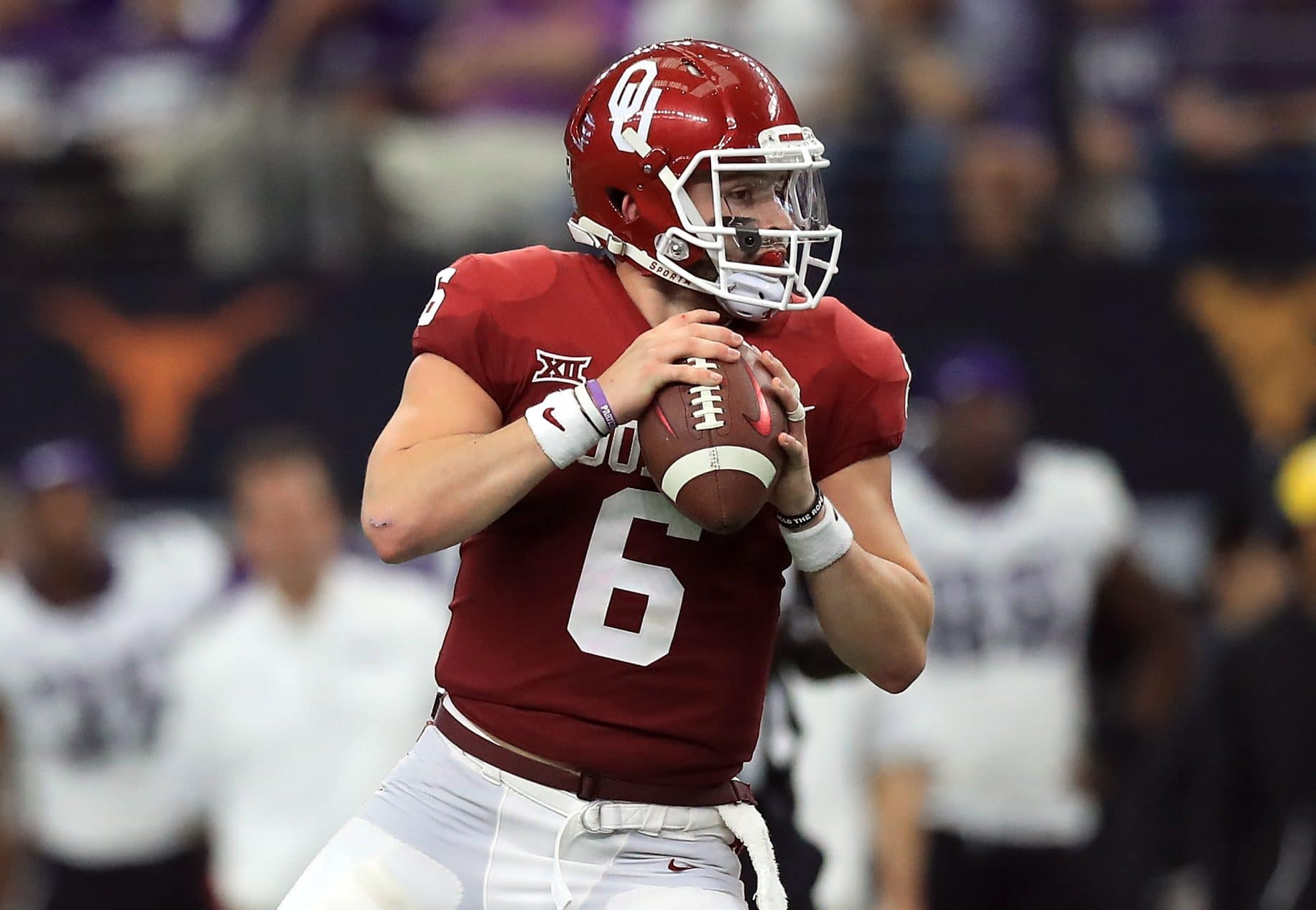 Baker Mayfield
Beginning first with the hot name, if Baker Mayfield is as good as he is arrogant, folks, we're looking at the next Johnny Unitas.
The 2016 Heisman Trophy award-winner literally used this season to springboard his draft stock from a nobody to a bonafide face of an NFL franchise. Last year, Mayfield was on no radars. Some even questioned whether he'd be a second-day draftee. Today, the man is the top QB in the pool (for some).
Overall, he's the most polarizing prospect in this draft. Some love him, some hate him, and it has nothing to do with his attitude.
At 6-feet tall (and that's probably generous), his size doesn't fit the mold. It's not that scouts and fans hate shorter players. It's that it's literally a tough chore to see through the mass-confusion of a hearty trench that consists of beasts on both the offensive and defensive line. Drew Brees and Russell Wilson best exemplify NFL signal-callers getting it done via short-statures. Wilson gets it done via his legs while Brees has an entire man (Sean Payton) and team (New Orleans Saints) creating the right monster lanes to throw through (which is why the Saints always place a premium on the interior of their OL).
Whoever drafts Mayfield may have to make some of the same concessions.
First of all, he can run and move. We know that. What we don't know is whether or not he can fully operate from the pocket and at this level, that's a necessity. Remember, Mayfield started his career at Texas Tech. That, coupled with his three seasons at Oklahoma means his entire collegiate career was played in the Big 12 under a spread offense, a system that rarely translates into success at the next level. Russell Wilson played in a pro offense at Wisconsin.
His senior season stats are sparkling (4,627 yards, 43 touchdowns, six interceptions). His junior season stats are as well. But collegiate stats, especially out of the spread offense usually create more harm than good. They're used to pump up hype while overrated draft value—in most cases.
Other than his size, his other attributes are sold. He possesses a strong arm, can move, deploys a solid sense for the pocket, and can throw on the run.
The area Mayfield falls short comes when wondering if he can literally make "every throw." His arm seems strong enough to get it done, but can he consistently get it done from the pocket with his size and spread offense brain?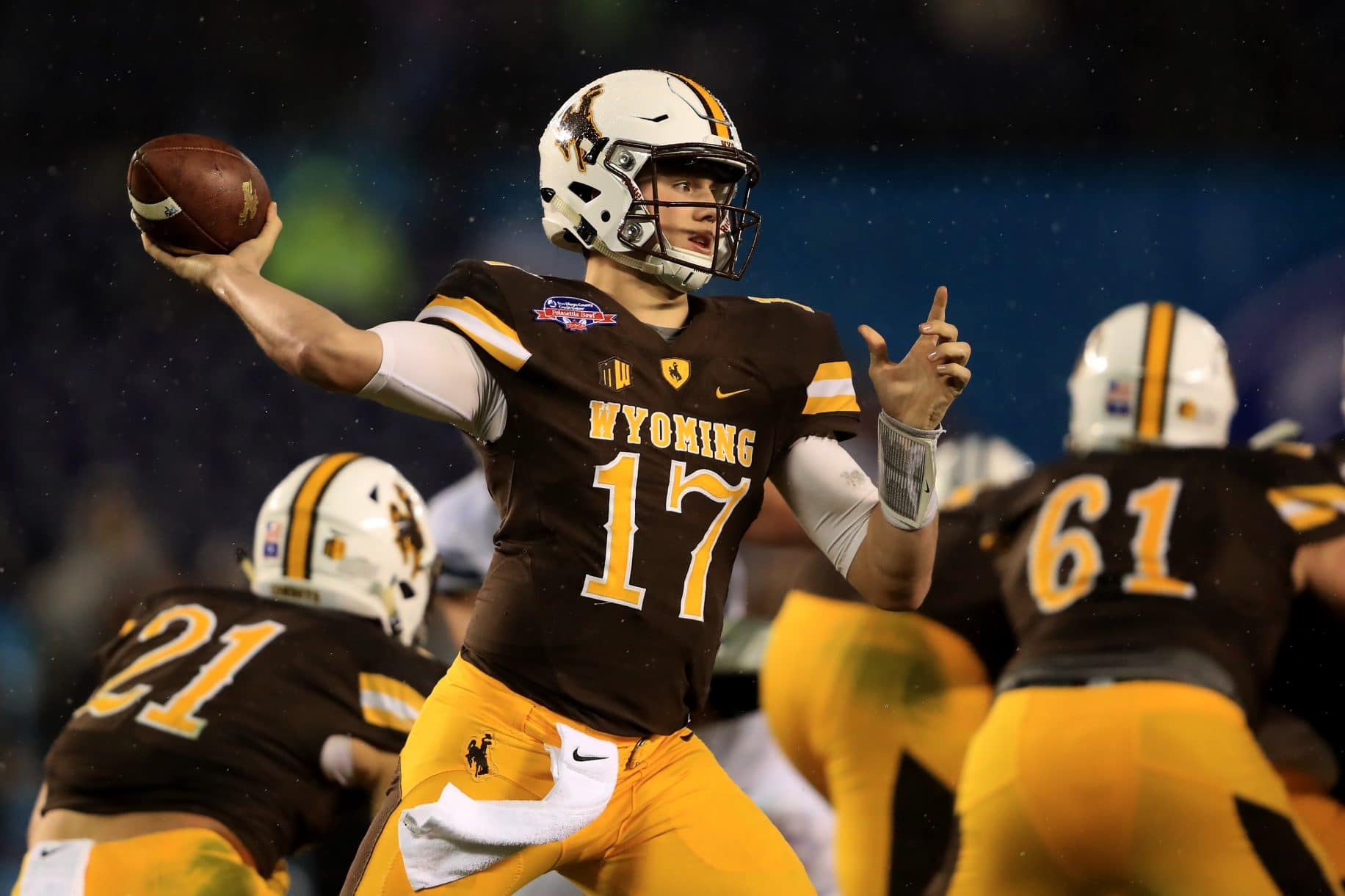 Josh Allen
If Mayfield is the bad boy underdog, Josh Allen is the golden-armed stud who possesses the best arm in the pool—perhaps the best arm in quite some time.
Think about what type of QBs usually succeed at the NFL level. Usually, it's the guy who's big and comes with the arm that can make every throw on the field. Will we run into a few Jay Cutlers and Jeff Georges at times? Of course. That'll never be avoided. But for the most part, the big strong-armed guy usually beats out the little unconventional guy whose best days usually come during the NCAA stage.
What did you think of Carson Wentz when he was coming out of North Dakota State? Probably, not much. You, like most of us, probably had no clue. Well, here comes another guy in the same mold.
Josh Allen is a beast at 6-foot-5 and 233 pounds. Not only can he make every throw, but he can move with the best of them. His pocket awareness is solid and his throw on the run ability is tremendous.
Take a quick look at Allen's 2017 stats as a junior: 1,812 yards, 16 touchdowns and six interceptions in 11 games. Not too solid, huh? Allen threw for 3,203 yards, 25 touchdowns and 15 interceptions in 2016.
Now take a glimpse at Wentz's senior year stats: 1,651, 17 touchdowns and four interceptions in seven games. Not much of a difference when compared to Allen. For the capper, Wentz played in the subdivision of Division one, the conference of the Missouri Valley. Allen's competition comes at true Division 1 in the Mountain West.
The only red-flag, and it's a biggie, for Allen comes when accuracy is discussed.
Forget his completion percentage. It's not important. What is important is his wildly inaccurate ways at times. Accuracy, decision-making and an overall brain for the NFL-level are the three most important attributes when scouting quarterbacks. Allen's accuracy is a huge question mark.
The Final Decision
The final decision between these two may be tough. The best decision may come in the form of a fortunate scenario that sees the Jets call out the name of Sam Darnold or Josh Rosen. But still, those two, like Mayfield and Allen, have a long way to go prior to the draft.
Put a gun to my head right now and Josh Allen is my guy of the two. Of the four, it's still Darnold.
A year ago at this very moment, Darnold was being discussed as a possible once-in-a-generation type talent. One good season instead of legendary (as he still put up 4K yards with a TD-INT ratio of 26-13) and suddenly, Darnold's stock has plummeted.
We're always way too invested in the moment in this game and considering that notion, Baker Mayfield's stock has risen way past the point of sane. What you have you done for me lately never translates to the NFL 100 percent of the time at the collegiate level.
Give me the prototypical guy who can not just operate from the pocket while making every throw but move a tremendous amount too. Give me the guy that passes the eye test on film.
Of the two QBs, give me Josh Allen. But again, nobody's quite yet ready to make that call. There's just too much time remaining.