After a year of emotional brutality, Sunday afternoon seemed like the perfect exit for Eli Manning. But the New York Giants icon isn't ready to call the 18-10 victory a finale.
If anyone could make a chant of Eli Manning about something other than Eli Manning…it'd be Eli Manning.
As MetLife Stadium commemorated the final seconds of the 2017 season by chanting their beloved quarterback's name on Sunday. It served as a perfect moment of redemption for Manning at the end of what was undoubtedly the most brutal season of his career. Forgotten was the unceremonious benching earlier this month, one that served as the coda to the Jerry Reese/Ben McAdoo regime. Likewise cast aside was the clamoring for rookie quarterback Davis Webb, who dressed for the first time in his NFL career.
Instead, Manning's name rose from the frozen faithful at MetLife, many of whom crowded above the tunnel leading to the Giants' locker room to salute the quarterback one last time.
In one last display of Manning's selflessness to round out 2017, however, Manning turned a conversation about a chant in his name into one extolling the praises of a team victory, an 18-10 win over the Washington Redskins, only the Giants' third of the terminated season.
"It felt good just to get the win. After a tough year and a lot of tough games, to get the win and with the situation, we've got a lot of new guys playing today," Manning said, "[We had some] receivers that I've been working with them for a few weeks, but they made some plays. "It wasn't the prettiest game I've ever had, but to get this win, feel good for [interim head coach Steve Spagnuolo], for all the coaches. It's not just been tough on players, this is tough on the coaches and the fans and everybody. So, it might not mean a whole lot when you look at it to get the third win, but it does mean something to the players."
So if that's the last we see of Eli Manning, that's the perfect, true blue note to go out on. It had all the key ingredients of a memorable Manning win: spreading the ball around, remaining calm and collected in times of adversity, defeating a divisional rival, and, yes, a little bit of help from the defense.
But if it's up to Manning, or new general manager Dave Gettleman ("at least for now"), yesterday wasn't a farewell, but merely the next chapter in a storybook written in blue ink.
"I don't want to go play football anywhere else," Manning declared. "This is where I want to play, this is my family, the New York Giants. So, hopefully, they feel the same way and we can make that workout."
Over the next few months, Manning is likely going to have to deal with questions concerning his future, questions on a decision he has nothing close to full control over. The Giants, even with their win yesterday, have "earned" the second overall pick in this spring's NFL Draft. With several intriguing quarterback prospects likely available, one of them flat out declaring that they'd prefer to play in New York over first overall selector Cleveland, the idea of taking [another] heir to Manning's throne is definitely in the cards.
Manning, who turns 37 on Wednesday, again remained true, reverting to an easy going persona when asked about the upcoming selection.
"We'll see," Manning said about the number two pick, clinched when the 4-12 Indianapolis Colts topped the Houston Texans. "Obviously, we've got a while until April, so we'll know a lot more by then."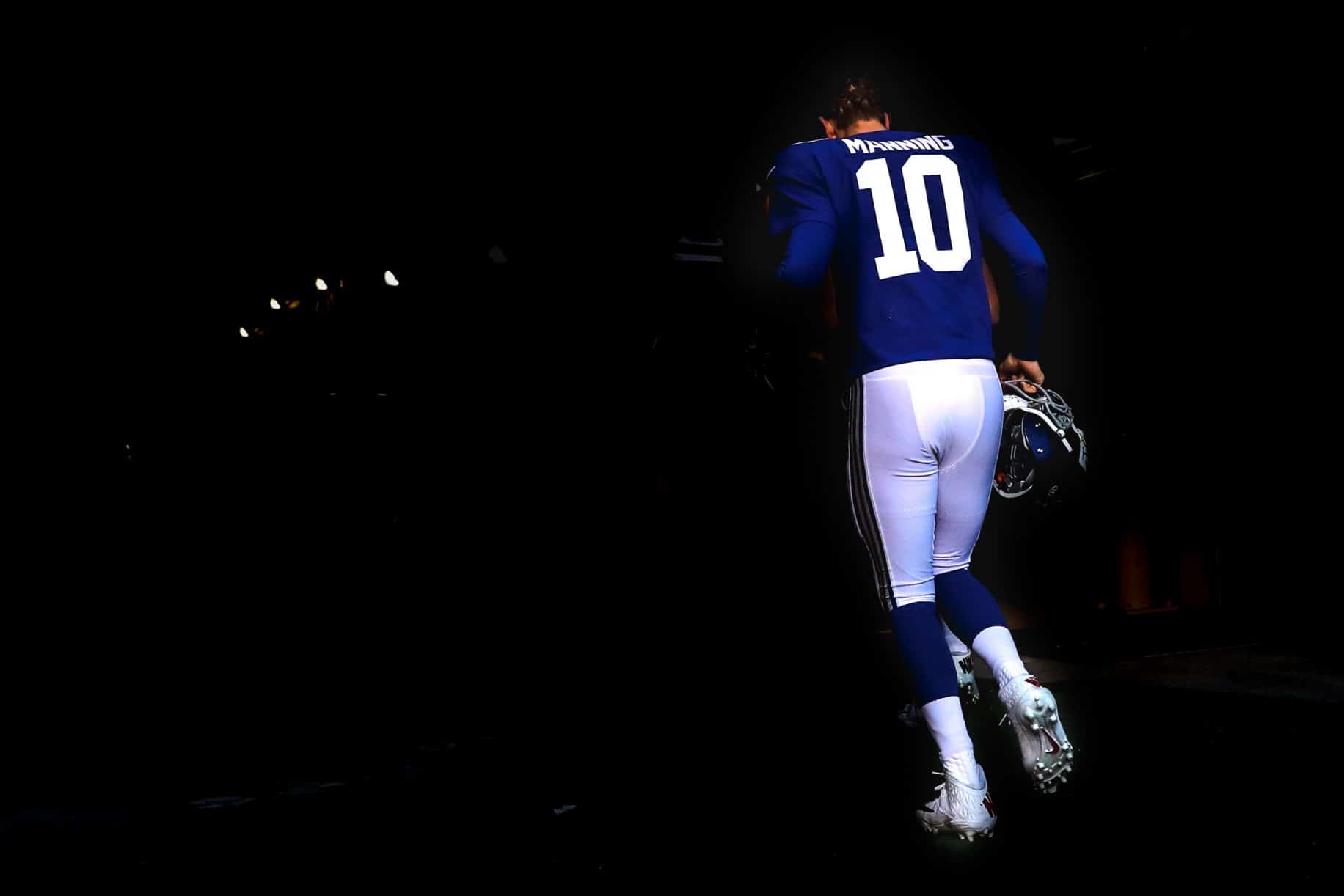 In a year where the Giants seemingly couldn't win a thing, it almost feels appropriate that the calendar wraps with a win. No one will be happier to change the year than Manning, whose 2017 was a true test of his never-panic, never-falter attitude.
Though Manning was not part of the multitude of Giants that ended up on injured reserve, the year was an emotional roller coaster for the New York icon. It began with dealing with the aftermath of his receivers' ill-fated trip to Miami, complete with the infamous photo on Trey Songz's boat. Manning handled the situation perfectly, jokingly criticizing his catchers' packing and lamenting he was not invited because they didn't want him to take his shirt off, but that didn't prevent a 38-13 shellacking in Green Bay in the Giants' first playoff trip since Super Bowl XLVI. On a personal level, Manning dealt with accusations of a memorabilia scam, charges he vehemently denied once the Giants' offseason activities began in the spring.
You know all about the season at this point, as Manning spent Sunday after Sunday running for his life behind a porous offensive line and throwing to receivers whose NFL experience remained in the single digits. Afterwards, he'd face the media and ask them to blame him, only lamenting he had to play better. December brought the end of The Streak, a 210-game magnum opus that spanned three United States Presidents, one brought upon by a desperate management group that thought Geno Smith, a thrower even the Jets lost patience with, gave them a better chance to win.
The brutality of this 3-13 disaster conjured the unthinkable in many Giants' fans minds: the idea of Eli Manning not in New Jersey, but in a new jersey. A jersey, more precisely, belonging to the Jaguars, Cardinals, or Bills was floated around, with more dire prognosticators even foreseeing temptation from rivals like the Jets and Redskins.
Sunday, however, was a different story.
It brought back Manning's signature smile, a sense of complacency, content at his postgame press conference, this time not accepting blame, but distributing praise, praise for his new receivers, praise for a makeshift coaching staff earning an elusive win, praise for fans that braved icy temperatures to witness the win. Interim head coach Steve Spagnuolo, one of those Manning distributed praise to, acknowledged the trials Manning endured in 2017 and made sure his appreciation to his quarterback was well known.
"He's a competitor. I believe he's got some football left, a lot of football in him," Spagnuolo said. "Competitors, they last in this league. They're all over the place, especially that position. And you need them."
Spagnuolo, a Giants legend in his own right despite dealing with an uncertain future, didn't leave the MetLife field until he got one last photo with Manning in his blue uniform.
"I did ask the camera guy, 'Can you get a picture when I hug Eli?' Because, you know, it's a memory," Spagnuolo declared. "We've both been through a lot and none more than him with this season, but he never changed. I value that in people that can stay that balanced through ups and downs. He's had the highest of highs and this was certainly very, very low, but he's a tremendous competitor and I appreciate him greatly."
Some would say Manning enters this offseason with uncertainty for the first time in his career. True to form, Manning shut down that notion in the most polite and selfless way possible.
"I always do that at the fans. My family was up there, so I'm usually waving at them and waving at the crowd that was here today, that was calling my name, or chanting, that were here supporting us," Manning said of his final salute. "So, you always appreciate the fans and especially the fans in a tough year and in this situation. Cold and not playing for much, to show up for this game and cheering the way they did and hanging in there, I appreciate that."
Gettleman has made it known changes are coming. Manning, at least for now, shouldn't be one of them.
Geoff Magliocchetti is on Twitter @GeoffMags5490