When all seemed lost for the New York Mets, Amed Rosario gave us hope. The young shortstop was a glimpse into the future and the future is bright. With that being said, it is unfair to let Rosario become the victim of high expectations in 2018. What are some ideal milestones for the sophomore to reach this coming year?
In a lost season, Amed Rosario provided us hope. A wave of injuries robbed the Mets of their chance to compete in 2017, but we were able to glimpse the future in the form of our young phenom shortstop.
Rosario has had eyes on him from the moment he signed with the New York Mets as an international free agent in July of 2012. Touted as a potential five-tool player, the Dominican Republic native has the chance to be a superstar in this league one day.
Despite debuting with mixed results in 2017, Rosario still flashed the immense potential to be the kind of player to anchor this franchise for the next decade. 2018 should be another step forward for the young shortstop, but I think it's important that we don't let Rosario become the victim of unreasonably high expectations during his sophomore campaign.
Realistically, what are the ideal milestones for Rosario to reach in 2018?
Rosario Steals 30 Bases
In 2016, the Mets were profoundly bad at swiping bases. They ranked 28th in the league with only 18. In 2017, they more than tripled the prior season's total, but still landed 27th in the major leagues. Jose Reyes led the club with 24 stolen bases and the next highest total was a tie between Juan Lagares and Amed Rosario at seven.
With Rosario as their full-time shortstop, the Amazins' should significantly improve in that category.
During his time in the minor leagues, Rosario has drawn many comparisons to Jose Reyes. After all, both hail from the same country and Reyes was the last phenom shortstop to come through the Mets' minor league track. Most importantly, both possess game-changing speed. Now a comparison to Reyes in the speed department is a tall order. Reyes was one of the most productive base stealers of the last decade, swiping an incredible 258 bases from 2005-08.
Baseball's approach to baserunning has evolved and Rosario's prowess on the base paths may not be on the level of Reyes but is impressive in his own right. He's stolen double-digit bases in each of his last three seasons in the minors, including 19 in only 94 games in Triple-A last season. Upon, joining the Mets last August, Rosario accumulated seven stolen bases in only 46 games. At that pace, it's not unreasonable to project Rosario reaching 30 over the course of a full season.
The last New York Met to reach the 30 stolen base threshold was Eric Young Jr. back in 2014. For Rosario to reach this milestone would signal an extra dimension to his game and an added layer of value. As long as Mickey Callaway gives him the green light in 2018, we should look forward to Rosario wreaking havoc on the base paths in the vein of how Jose Reyes once did.
Rosario Gets On-Base at a .360 or Higher Clip
"People who run ball clubs, they think in terms of buying players. Your goal shouldn't be to buy players, your goal should be to buy wins. And in order to buy wins, you need to buy runs." -Peter Brand (Jonah Hill) from Moneyball
Saber-metrics changed baseball. It redefined how we valued players and created infinite data mining and extrapolation possibilities. Ultimately, the core philosophy is simple and summarized by Peter Brand's discreet parking garage meeting with Billy Beane in the Moneyball. If you want to win baseball games, you need to score runs. How do you score runs? By getting on base.
Who won the World Series in 2017? The best team at getting on base in the regular season: the Houston Astros. Who won the World Series in 2016? The second-best team at getting on base in the regular season: the Chicago Cubs. In 2017, the Mets found themselves in the bottom half of the league in terms of getting on base. The ranked 18th in on-base percentage with an OBP of .320.
In his brief time with the Mets, Rosario posted a dismal .271 OBP. Given it was his first taste of MLB action, it's not something to get worked up over, but the ultimate key to his success is improving that number drastically.
The Dominican native is certainly capable of it. During his time with Triple-A Las Vegas in 2017, Rosario got on base at a .367 clip. Additionally, splitting his 2016 season between High-A St. Lucie and Double-A Binghamton, Rosario posted a .374 OBP. If Rosario is able to improve to an OBP of at least .360 then 2018 is a hands-down success.
A number that high would have landed Rosario as one of the top 61 best players at getting on base in 2017. If he were to go even further and land at an OBP of .380, then he would rank as one of the 19 best players in the league at getting on base. Ultimately, if the Mets want to give their top run producers a chance to maximize production, then it has to start with Rosario getting on base for them.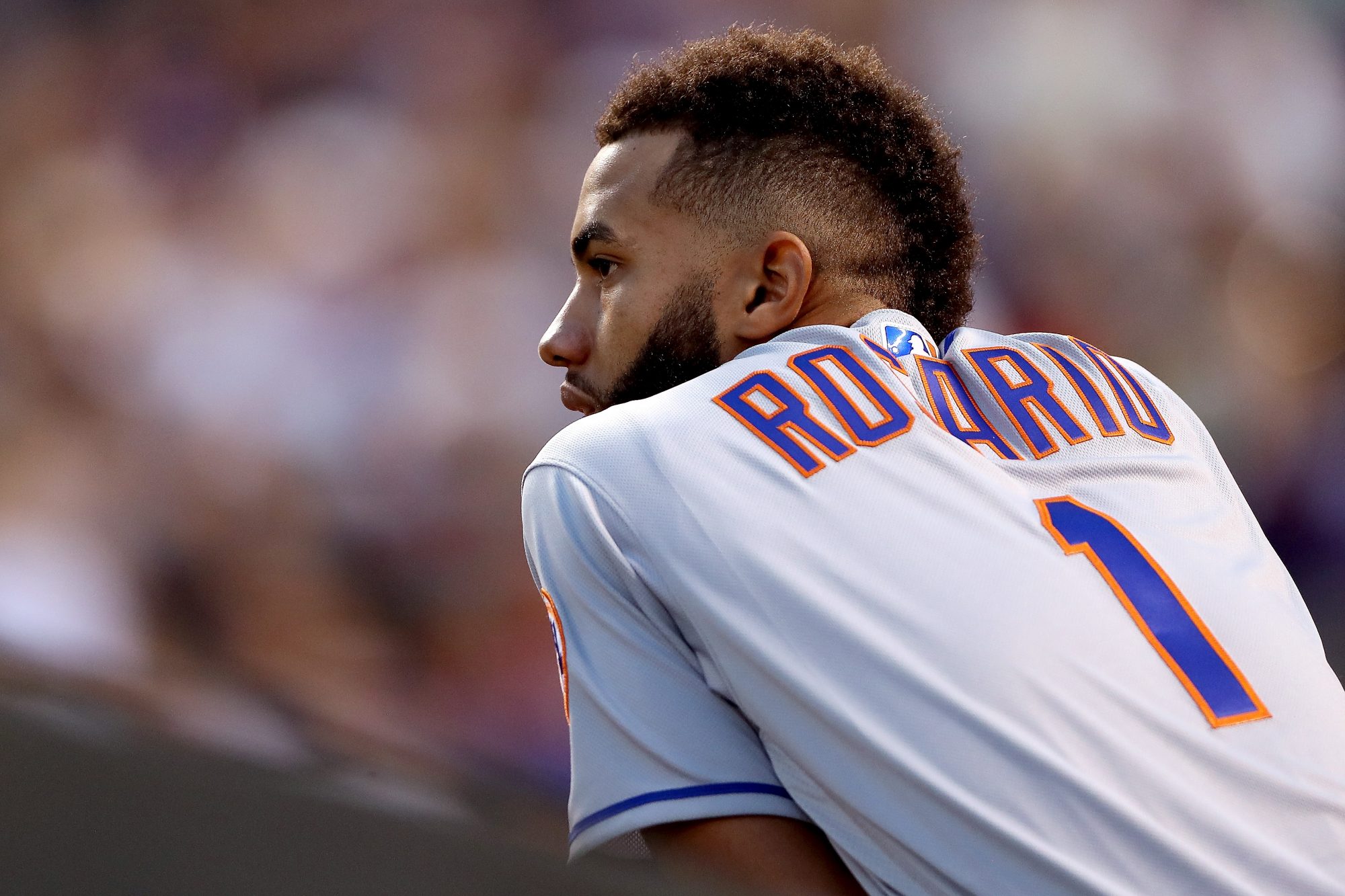 Rosario Launches 20 Home Runs
Unlike their abysmal stolen base total, the Mets were actually pretty good at hitting home runs in 2017. Good enough to be ranked fifth in the major leagues. The problem here is that Jay Bruce, Curtis Granderson, Lucas Duda, and Neil Walker are no longer on the roster. That's 75 home runs that need to be replaced right there. Obviously, the Amazins' can make up some of that with healthy seasons from Yoenis Cespedes and Michael Conforto. But if they hope to avoid a power outage, they need to find contributions from elsewhere.
In 165 major league at-bats, Rosario launched four home runs in 2017. Over a full season of playing time, that pace would project out to somewhere in the 12-15 home run range. As he gets stronger and adds muscle to his frame, I think it's safe to expect that number to improve given the right circumstances. Reaching 20 home runs in 2018 would be remarkable for Rosario and possibly signal an even higher ceiling. Most importantly, 20 dingers would go a long way in replenishing the power that this team lost to free agency and trades.
Rosario Wins a Gold Glove
The Mets were one of the worst defensive teams in baseball last season. The organization has long since abandoned any inkling of run prevention as a means of success. 2017 saw the Mets rank last in the major leagues in defensive runs saved.
One of the most exciting aspects of Rosario's game is his ability to play stellar defense at a premium position. Having that kind of anchor in your infield can go a long way in terms of ensuring long-term success.
When Rosario took over for Asdrubal Cabrera and Jose Reyes, we immediately saw results. Reyes and Cabrera combined for a -11 DRS, while Rosario posted a total of one. Thinking about a Gold Glove may be setting sights a little high, considering Brandon Crawford has won it three years in a row, but Rosario definitely has the potential to do so. The last New York Met to win a Gold Glove was Juan Lagares in 2014 and he did so out of relatively nowhere. Ultimately, the Mets are already a significantly better defensive team with Rosario manning short in 2018.