With John Mara and the powers that be introducing the very familiar Dave Gettleman as the newest general manager of the New York Giants, ESNY's very own Geoff Maglicchetti was on the scene. 
EAST RUTHERFORD, NJ–In his first press conference as New York Giants general manager, Dave Gettleman's promise to Big Blue fans almost resembled an action movie's tagline.
"My plan is to come in here every day and kick ass," Gettleman announced. "I'm going to keep doing it until they either take my key card or the Lord calls me home."
Thus officially concludes the Jerry Reese era here in New York, responsibilities now firmly entrenched to Gettleman. Prior to his four-season stint as general manager of the Carolina Panthers, Gettleman spent over a decade in the Giants personnel department. During his stay (1999-2012), the Giants earned three NFC championships, two of which were precursors to Super Bowl victories.
So much for "wholesale changes" that principal owner John Mara referred to in the press conference that dismissed former general manager Jerry Reese and head coach Ben McAdoo earlier this month.
With mixed reaction coming from the Giants faithful about bringing in a familiar face, Mara, perhaps indirectly responding to those concerned fans, explained why Gettleman is a necessary part of what's possibly the biggest facelift in New York's 93-year history.
"Given the state of our team at the moment and with all of the difficult and important decisions that we have facing us, we believed it was important to bring in somebody who had experience as a general manager, somebody with a proven track record," Mara announced before introducing Gettleman. "After conducting these interviews and doing our research and after much discussion, the three of us, myself, Steve Tisch and Ernie Accorsi – had a conviction that Dave was the right man for the job.
Save for a brief flub where he dropped his water bottle…a "fumble" as he referred to it…Gettleman did a fine job in his debut. In a calm New England accent, Gettleman, a Boston native, dropped several lines that should make fans of the 2-13 Giants ready to run through a brick wall.
"I've been hired to win and the only promise I can make is I'm going to do everything in my power to lead this organization back to where it belongs," Gettleman declared. "That's my goal. That's my intention. It's going to get done."
Gettleman was, understandably, somewhat mum when it came to immediate questions about specific Giants issues, including the 2018 statuses of Odell Beckham Jr. and Eli Apple, stating a desire to get all the facts before making official statements. That process would include a sit-down with Beckham, as Gettleman is seeking clarity on the infamous December 2015 clash with then-Panthers cornerback Josh Norman.
"I want to know why. I want you to break it down," he said. "I would want to sit down with Odell and say, 'Why?' The bottom line is shame on me if I have any preconceived notions about guys as people because there's no way on God's green earth. I don't know these guys. Shame on me if I do. Everybody is going to get a fair shake. Believe it."
The returning Gettleman was somewhat more concrete on the future of franchise staple Eli Manning.
"Eli has won a lot of games. He's a great competitor. He's very intelligent and he and I are going to talk and if what I saw (against) Philadelphia was not a mirage, and I don't believe it was, then we'll just keep moving," Gettleman said, referring to Manning's two performances against the 13-2 Eagles, tallying 800 yards and six touchdowns in those games.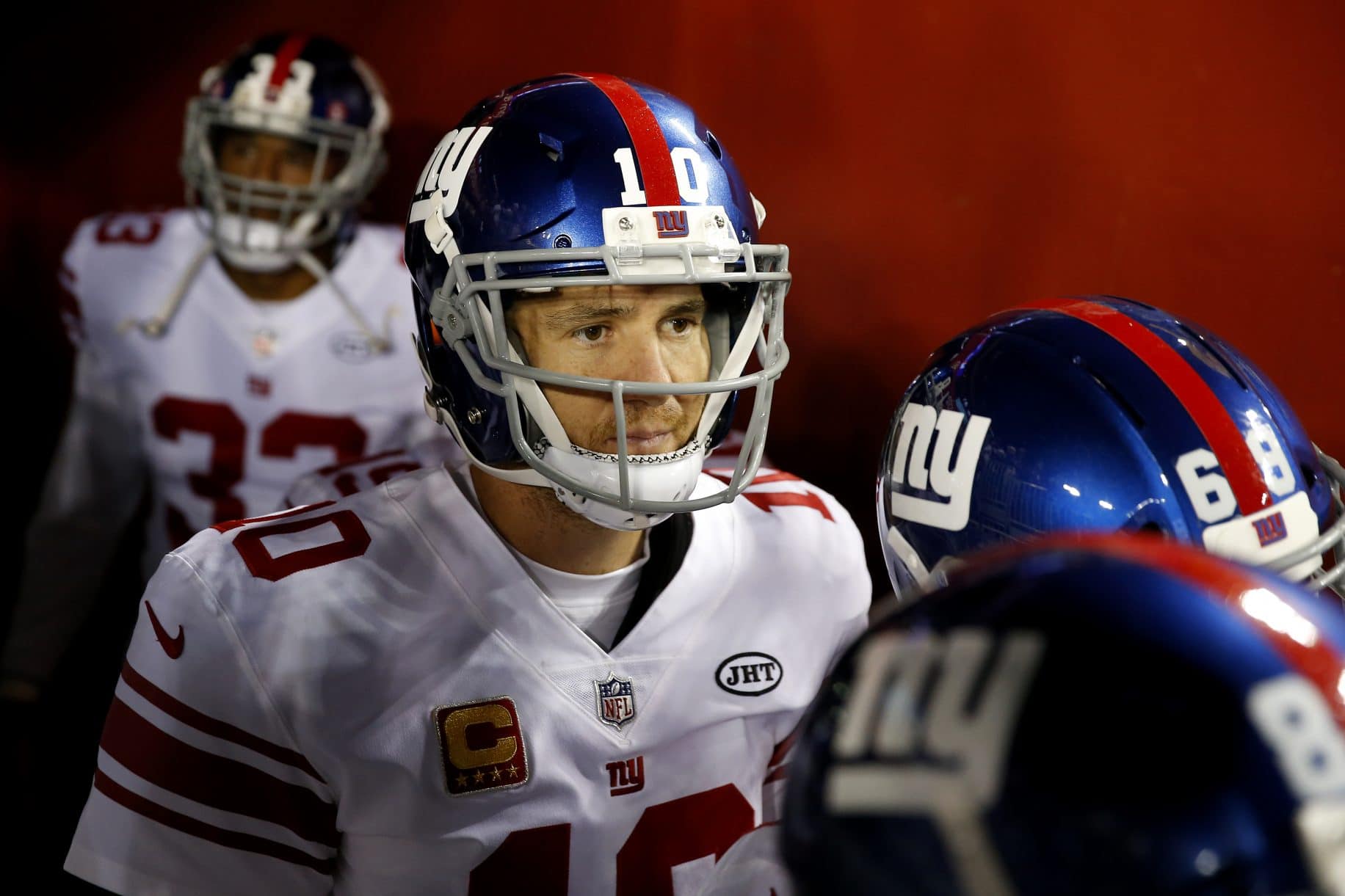 Asked if Manning will be the starting quarterback in 2018, Gettleman replied "as of now, yeah", but left the door open for the selection of a quarterback with the potential second overall pick of next spring's draft, citing a surplus of talent at another department, namely the defensive line, led to titles.
"I don't care what position it is. You can never have too many great players at one position. I mean, you think about us, we got (Michael) Strahan and Osi (Umenyiora) and we're drafting (Justin) Tuck and we're drafting (Mathias) Kiwanuka and people are looking at us like we have brain damage. You can never have too many great players at one position".
The point of the matter is, however, some fans have viewed Gettleman's hire as a retread, a Reese 2.0. While Gettleman had praise for the previous boss, he immediately made it clear that things were going to be different.
"We've got to fix the O-line, let's be honest. Let's not kid each other," Gettleman said before bringing back an old football term he helped popularize in Carolina. "I believe in the hog mollies. We've had some great groups here, had great groups everywhere I've been, and we're going to get back to that. They do allow you to compete."
No one, of course, holds parties when an offensive lineman joins the team. Their chances of getting the ball, other than on a fortuitous fumble, are often slim to none, and seeing their names in the box score are an anomaly. Yet, the Giants failure to address this group has been a spark that ignited this dumpster fire of a season.
Gettleman, while never truly putting a timetable on it, has promised this won't be the case in his tenure.
"You can't put a timeframe on anything, you really can't. I'm not going to sit up here and tell you I'm going to fix it in two years because John is going to run me out of the building," he said with a smirk. "We're going to work our fannies off and we're going to get it fixed."
Formerly the general manager of the Carolina Panthers, overseeing the best three year stretch in the history of the franchise, some fans don't believe that Gettleman's 43-26-1 mark in Charlotte was indicative of managing abilities. It's safe to say Norman, as well as running back DeAngelo Williams and receiver Steve Smith Sr. would concur, considering they did everything short of throw a parade when Gettleman and the Panthers parted ways in July.
The news of Gettleman's new job, however, was met only with positivity from his former players, one of the most positive receptions coming from one of his old hog mollies.
#NYGiants writers give their biggest takeaways from Dave Gettleman's press conference.

? » https://t.co/URyEj4FSOU pic.twitter.com/ydMXcX2Ygw

— New York Giants (@Giants) December 29, 2017
Listening to Gettleman made me want to suit up again! Love the attitude & the approach in getting back to #GiantsPride #Cheese&Crackas

— Shaun O'Hara (@ShaunOHara60) December 29, 2017
"It's funny, I got texts from Richie Seubert and Chris Snee and Osi," Gettleman said, speaking of players he got to know during his first East Rutherford stay. "Listen, those guys knew how to win. And it was special to be part of that and just to know that I have that kind of support from them is really meaningful."
An introductory press conference, of course, will never earn you wins. All it can do is provide the first impression and, in best cases, hope, the latter being somewhat of a currency among NFL fans. McAdoo's opener, remember, was best remembered for an oversized suit that became the subject of memes spread like wildfire on Twitter.
Gettleman, whose suit appeared perfectly tailored, hit all the right notes.
While he spouted quotes that fans will no doubt judge him for over the coming years, Gettleman has provided another spark, one that Giants fans hope ignite another fire … one that burns down the rest of the NFC.
"It's my responsibility to protect this franchise. That's my job. There's a variety of ways that I have to protect it," he said. "I learned that in Carolina. It's my job. I have no issue doing it. I'll make the tough decisions and I'll stand by them and we'll see what happens."
It's downright shocking for the Giants that it took until Dec. 29. But for perhaps the first time in 2017 … a Giants function actually featured a flawlessly executed game plan.
Geoff Magliocchetti is on Twitter @GeoffMags5490.