The New York Giants now have their general manager in Dave Gettleman, but how does that impact their search for a new head coach? 
The New York Giants have their man, hiring Dave Gettleman as the new general manager. The move came as little surprise, with Gettleman long rumored to be the front-runner for the job. The Giants can now focus their attention on landing a new head coach and making headlines for much more positive reasons.
Team co-owner John Mara likes to be heavily involved with football decisions and will likely consult with Gettleman and other members of Giants brass before making a decision. Black Monday is just around the corner and the coaching rumor mill is sure to heat up once the regular season ends. The Giants should have several fairly high profile candidates to consider heading into 2018.
Steve Wilks
Gettleman has obvious ties to Steve Wilks, who currently serves as Carolina's defensive coordinator and assistant head coach. The 48-year-old has overseen a defensive unit that has finished in the top ten in yards allowed in five of the last six seasons.
While the Giants have suffered several major injuries on the defensive side of the ball, they rank dead last in yards and 29th in points allowed. Gentleman's personnel combined with Wilks's defensive mindset could breed success for a defense that will get many injured veteran starters back next year in addition to picking high in each round of the draft.
Josh McDaniels
McDaniels has seen his name come up in coaching conversations almost every year since re-cementing himself as one of the league's best offensive coordinators. His youth (just 41 years old) and high energy could just be what the Giants need in the locker room after dealing with the rather vanilla Ben McAdoo for almost four years.
The main concerns about McDaniels are if he's learned from his initial failures in Denver and if he actually has any real interest in leaving New England. It's possible that he could be Bill Belichick's successor and may decline another franchise's advances. Still, the Giants could very well have interest in a bright young member of Belichick's coaching tree.
Matt Patricia
Similar to McDaniels, Patricia, is young (just 43), is a Belichick understudy, and is regarded as one of the better coordinators at his position.
Also similar to McDaniels, you might wonder if he has any legitimate interest in leaving an organization in which he's experienced overwhelming success. Of course, the Giants have every right to express interest should they see a match.
Steve Spagnuolo
Why not just go with the interim guy? The Giants love hiring people familiar with the organization and Spagnuolo is exactly that. There's no question he knows the city, the New York media and how important it is to be a model citizen with a storied franchise.
However, his first coaching stint with the Rams did not go well and he has yet to win a game since being promoted. He may be better off staying on as a defensive coordinator, but it's hard to rule out someone the Giants have previously shown great faith in.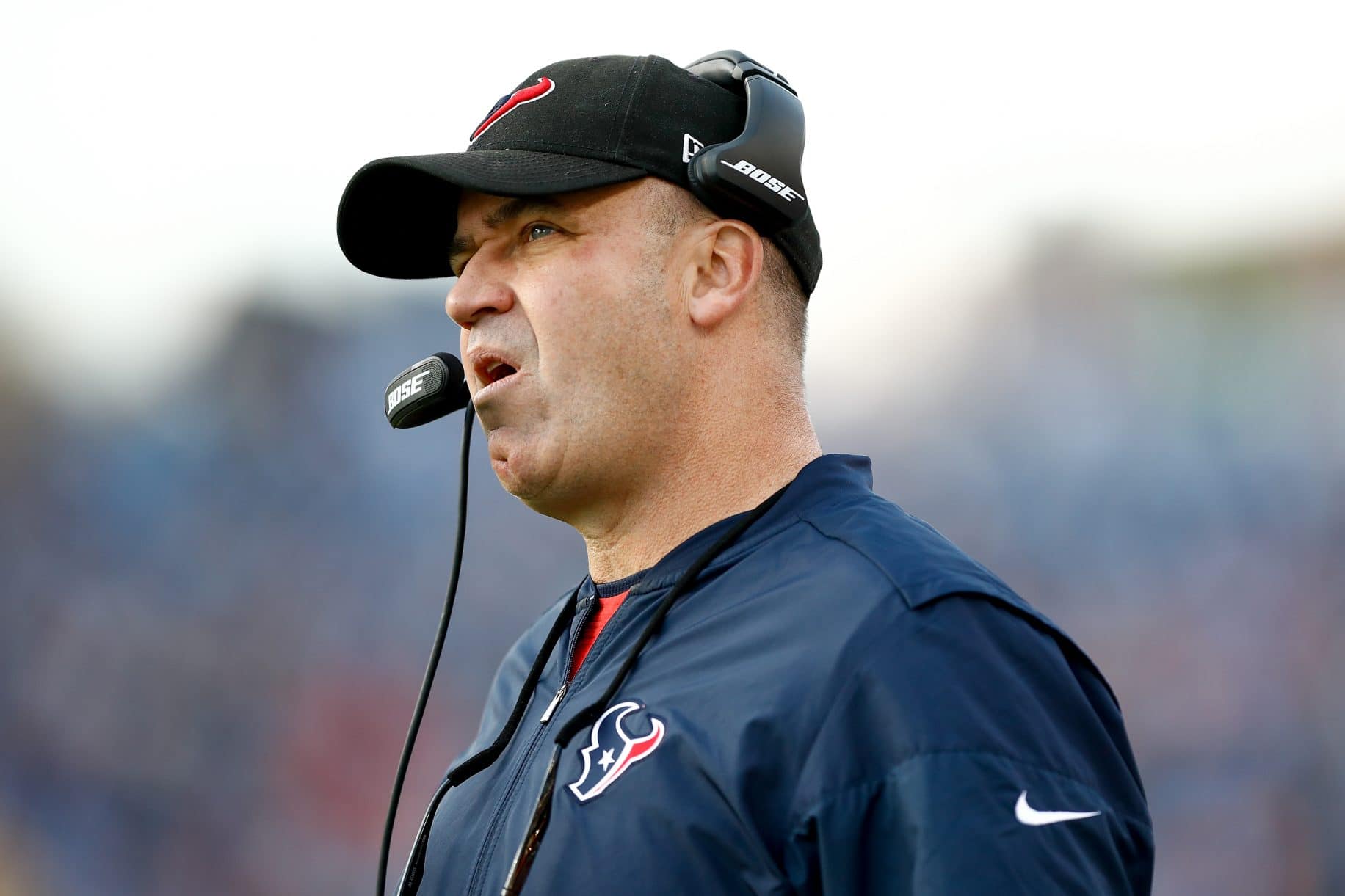 Bill O'Brien
O'Brien could be a coaching casualty on Black Monday after another disappointing season with Houston. Having lost his stud rookie quarterback Deshaun Watson and best overall playmaker in J.J. Watt, there's certainly a case for the Texans to retain him. However, Houston has never advanced farther than the AFC divisional round under O'Brien and could see that as reason for a separation.
He has an offensive background, having previously served as the quarterback's coach and offensive coordinator for the New England Patriots. That experience could be paramount for a team that likely will be grooming Eli Manning's successor.
Once Monday morning rolls around, the Giants should have a better idea of who their top targets will be.