Injuries in the NBA provide an s opportunity for those who need it most. With the Brooklyn Nets, Spencer Dinwiddie has taken advantage of that opportunity to the fullest.
The Brooklyn Nets set expectations low heading into the 2016-17 season, one in which some thought playoffs were possible. That's something they haven't done since 2013 when they were swept by the eventual NBA champions, the Miami Heat.
Instead of the playoffs, the Nets have suffered injury upon injury and currently sit as the 11th seed in the eastern conference. Don't get me wrong, this season has been their best in years, but has failed to live up to the hype.
Guards D'Angelo Russell and Jeremy Lin suffered injuries and are out for the foreseeable future. Lin will miss the entire season while Russell won't be back for weeks.
Short two starters, the Nets turned to Spencer Dinwiddie, who was playing for the Chicago Bulls G-League affiliate just a year ago. He's started 19 games this year and is thriving, to say the least.
A look at Dinwiddie's rise to starting guard and how it lays a difficult decision for the Nets.
---
Originally drafted 38th overall by the Detroit Pistons, the former Colorado University guard was traded after just 46 games. He spent most of his time in the G-League, averaging 4.4 points and 2.7 assists in appearances with the Pistons.
Traded to the Chicago Bulls, Dinwiddie was immediately assigned to their G-League affiliate, the Windy City Bulls. He was waived after just nine games and Brooklyn didn't hesitate to sign the guard.
Jeremy Lin's injury (last year) provided some starting time for the guard, and he finished the year with 18 appearances in the starting five. Dinwiddie averaged 7.3 points and 3.1 assists in 59 games with Brooklyn.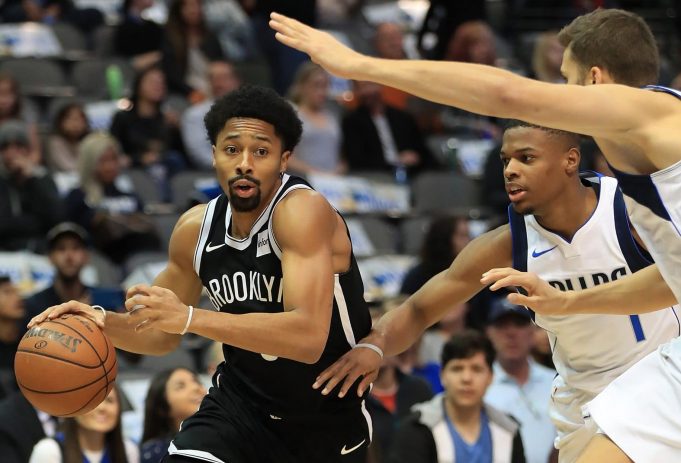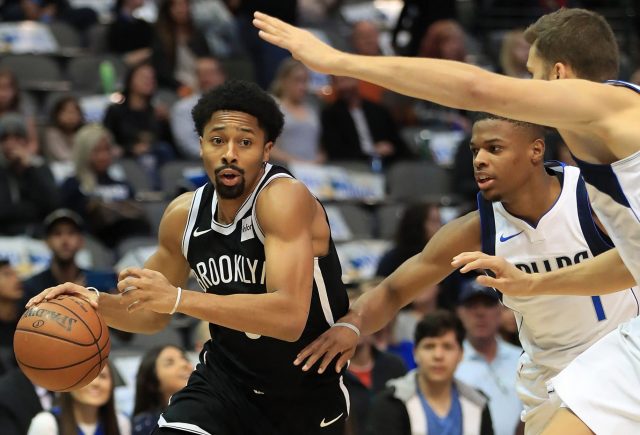 Then the 2017-18 season came and expectations for Dinwiddie were no higher than the previous year. With Russell and Lin the starting two, he was to serve as backup point. Even then, he was going to compete for his minutes with Isaiah Whitehead and Sean Kilpatrick.
In what was likely the best break he and the Brooklyn Nets could have received (no offense D-Lo), Russell sat a home game against the Cleveland Cavaliers. Dinwiddie was named starter and recorded a career-night.
He scored 22 points, dished six dimes, and grabbed five rebounds in a winning effort over the Cavaliers. Not to mention his go-ahead three-pointer to seal the game late in the fourth quarter.
The go ahead triple from @SDinwiddie_25 that secured the @BrooklynNets win! #WeGoHard pic.twitter.com/HRZrgPMoki

— NBA (@NBA) October 26, 2017
The Nets have surprised all season long, but for Dinwiddie, this was just the beginning. Russell's knee issues would persist and, eventually, rule him out for the foreseeable future.
It was just what Dinwiddie needed to put his talent on display and fully develop into the star he's becoming.
While the Nets haven't won as much as they'd like to (and injury is as easy a cop out as ever) this young guard is a big reason they've gotten to 12 wins without Russell. Sample size is tough with this guy, who will undoubtedly get better the more time he has.
Take the month of December for example in which Dinwiddie's started every game (10). He's averaging 12.8 points, 7.2 assists, and 4.1 rebounds. Brooklyn is 4-6 in that span.
Like every other player on roster, he's faced a little bit of inconsistency. Some games, he plays as a starting guard, someone the Nets could likely earn a first-round pick for down the road.
Friday night in a blow out win over the Wizards, Dinwiddie posted 15 points and four assists on 71 percent shooting. He led the Nets in scoring to start the second half, pouring in 14 points and four makes from downtown.
This win snapped the team's four-game losing streak and followed a disappointing home loss to the Sacramento Kings. Dinwiddie had 16 points and four assists that game, but shot 33 percent from the floor.
With nothing but time on his hands (Russell is still at least two weeks out), this guard has potential to earn himself a ticket into a permanent starting gig. Which is exactly why his performance is bittersweet for Nets fans and staff alike.
Jeremy Lin and D'Angelo Russell will still be the Nets' go-to starting guards when next season comes around. Dinwiddie's play is phenomenal, but it would take an even bigger leap to transcend household names like Russell and Lin.
Where does that leave this year's success story?
---
No one in the NBA this year has seen shorthanded success similar to the Nets guard.
When he arrived in Brooklyn just over a year ago, no one thought much of the deal.
Now, it could be one that serves as another stepping stone in the painfully slow journey back to winning basketball.