A month into the offseason has seen NYCFC gain some and lose some. Here's a recap of who's in and who's out? 
It's been just over a month since New York City Football Club's season ended in the Eastern Conference Semifinals. A 2-0 home win over Columbus was not enough to offset a 4-1 aggregate deficit, and the Boys in Blue were bounced at the third to last hurdle for the second consecutive year.
Since then, a lot of roster change has predictably unfolded. Between retirements and contract options not being picked up, the NYCFC squad looks markedly different now than it did a month ago. Let's check in and see what has happened to the team's roster over the past few weeks.
In:
Anton Tinnerholm:
NYCFC needed defensive reinforcements following the departure of several squad players, and Tinnerholm was signed to play that role. A Swedish right back, the 26-year-old has actually played UEFA Champions League football with Malmo, which suggests he has the pedigree to play in MLS. He has also been capped by the Swedish national team. Tinnerholm figures to, at the very least, compete for a starting spot.
Saad Abdul-Salaam:
Another right back brought in to provide squad depth, Abdul-Salaam is an MLS veteran who has played the last three seasons at Sporting Kansas City, playing in 22, 30, and 12 games respectively. He has racked up one goal and eight assists in MLS play and represents a solid depth option for the team moving forward. He was acquired in a trade for winger Khiry Shelton.
Brad Stuver:
A veteran keeper who has spent time with Columbus, but only has two MLS starts to his name. Will potentially compete with Thomas Rawls as the teams number two keeper behind Sean Johnson.
Out:
Andrea Pirlo:
The legendary Italian maestro retired from football following NYCFC's playoff departure. While Pirlo generated excitement, notoriety, and ticket sales for the club, he was not nearly as effective as he would have liked. Why?
Pirlo's position as a regista (deep lying playmaker) calls for him to sit deep, in front of a back four, and pick out long passes. Essentially, he dictates the tempo of the game from a deep-lying position. Pirlo is perhaps the best-known regista of the 21st century, but the smaller dimensions of Yankee Stadium nullified his best skill–the long pass. The fields in Europe are significantly bigger, and thus Pirlo had all the space in the world to pick out long passes. At Yankee Stadium, there was not nearly enough room–thus, he was at a disadvantage tactically in nearly every home game he played.
Pirlo clearly wasn't built for MLS, and while his presence will be missed off the field, he wasn't nearly as effective as anticipated on the field. NYCFC will be just fine without the Maestro.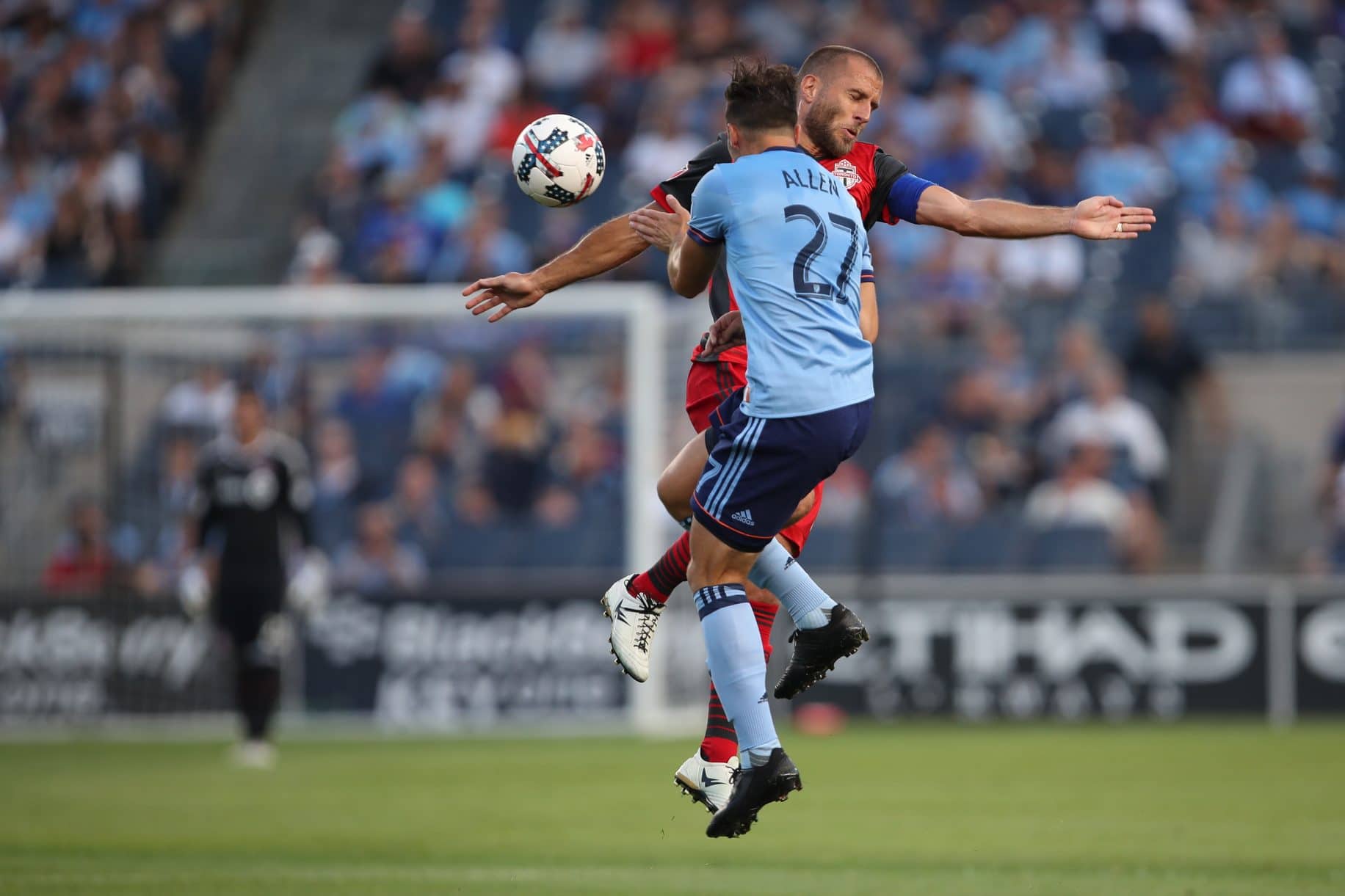 R.J. Allen:
The Old Bridge, New Jersey native was a solid utility player, capable of playing at both left back and right back. However, his influence on the team waned with the introduction of Ben Sweat, and he was no longer vital to the side. A sensible departure.
Frederic Brillant: The introduction of Alex Callens saw Brillant drop to a reserve defender, and while he started later in the season due to Maxime Chanot's injury, he was no longer an essential part of the side. He was traded to DC United for cash considerations.
Miguel Camargo:
A reserve midfielder that rarely saw the field, Camargo's absence will not be felt much.
Shannon Gomez: A rotation defender that spent the season on loan at Pittsburgh Riverhounds. Gomez is not a key departure by any means.
Eirik Johansen: Johansen, a massive keeper at 6'7", was not retained. He was demoted to second string this past offseason with the arrival of Sean Johnson.
Mikey Lopez: Lopez made 12 appearances for NYCFC as a backup midfielder. While his quality is replaceable, his release creates the need for midfield reinforcements.
Jefferson Mena:
See under Shannon Gomez.
Sean Okoli:
Okoli, a former NASL MVP, never quite panned out for NYCFC. He only scored once in 13 games. With his departure, NYCFC are now in need of a striker to back up superstar David Villa.
Khiry Shelton:
Perhaps the most surprising departure for NYCFC. Shelton, the former second overall pick in the MLS Draft (notably behind Orlando City star Cyle Larin), scored 6 times and added 10 assists in three seasons. However, the emergence of Jonathan Lewis suggested that Shelton may not have a consistent place in the squad, and he was flipped for Abdul-Salaam.
Shelton has plenty of talent and is very quick. He will have a chance to be a good squad player at Sporting Kansas City.
Andraz Struna:
Struna was a nice little utility defender for NYCFC in the second half, even scoring against Columbus in the second leg (albeit on a massive deflection). He is easily replaceable, however.
John Stertzer:
See under Miguel Camargo.
Ethan White:
White, along with Brillant, Allen, and Shelton, is a key departure. He was a terrific utility option, capable of playing either at center back or right back. He also had a plethora of MLS experience. He will almost certainly land on his feet.
What's Next?
NYCFC have shed a lot of dead weight, particularly in defense. While a starting back four (Ronald Mattarita, Maxime Chanot, Alex Callens, and Ben Sweat) is still intact ahead of keeper Sean Johnson, reinforcements are desperately needed.
Overall, the spine of the team remains, but depth is obviously an issue when nearly half the team is shed.
Additionally, NYCFC have a new spot open for a designated player. Towards the end of the season, Pirlo was barely even utilized, due to his poor fit in MLS. Thus, a more dynamic, exciting, youthful DP (think along the lines of Maxi Moralez rather than Pirlo or Frank Lampard) should be on the cards, which should excite NYCFC fans.
Overall, none of the team's key contributors were shed, and thus, the future remains bright for NYCFC.