The Brooklyn Nets have exceeded expectations this season. Rondae Hollis-Jefferson, who is playing at his highest level, is a big reason why.
It doesn't happen fast. True success in the NBA takes time. For both the Brooklyn Nets and Rondae Hollis-Jefferson, that statement rings more than true.
Originally selected with the 23rd pick of the 2015 NBA Draft, Rondae was acquired by the Brooklyn Nets from the Portland Trailblazers in exchange for Mason Plumlee and Pat Connaughton.
In two seasons considered pointless by the rest of the league (Brooklyn went 41-123) the young forward donned many hats for the Nets.
Right now, he's the focus for this ever-developing offense. Without point guards D'Angelo Russell and Jeremy Lin, Hollis-Jefferson has taken over as Brooklyn's best player.
He's averaging 14.7 points and 5.9 rebounds on an incredibly efficient 50 percent shooting from the field.
What's changed for the 22-year old? He told Nets Daily it has to do with his confidence, and the work he put in over the summer.
"I just feel like it's my whole confidence, man. The way I approach the game. The way I talk about it, the way I'm just, I'm in it. I feel like more so than last year, this summer I just put in a lot of work and I dedicated myself to it."
The confidence he speaks of is very apparent, in both his shot selection and movement throughout the paint.
Check this step-back jumper in the Nets recent win over the Oklahoma City Thunder.
The J doesnt just stand for Jefferson after this offseason. Rondae has worked very hard on improving his jumper since getting into the league. It went from abysmal to broken to not good to this. He's found his motion & is seeing success on jumpers this season pic.twitter.com/fjTKuQZWlN

— Nicholas LeTourneau (@nick_lt) December 9, 2017
Per NBA.com, Hollis-Jefferson has connected on 7-of-11 step-back jumpers this season, in comparison to his 7-of-17 from all of last year. In the total amount of jump shots, he's nearly eclipsed his 2016-17 season total (67 made last year, 53 made through today).
He's shooting better, and he's shooting more. Hard to ask for more from a player who's taken on full scoring responsibility in a young offense.
Now the longest tenured player for Brooklyn, Hollis-Jefferson is facing a crucial stretch for young players. His first two seasons have been often marked a bust, though likely preemptive. He broke his ankle early his rookie year, a critical point in anyone's career.
Working back from a broken ankle is no joke, and having to play catch up in year two makes things all the more difficult. Nonetheless, this kid's determination has shone through, and he's being rewarded on the court.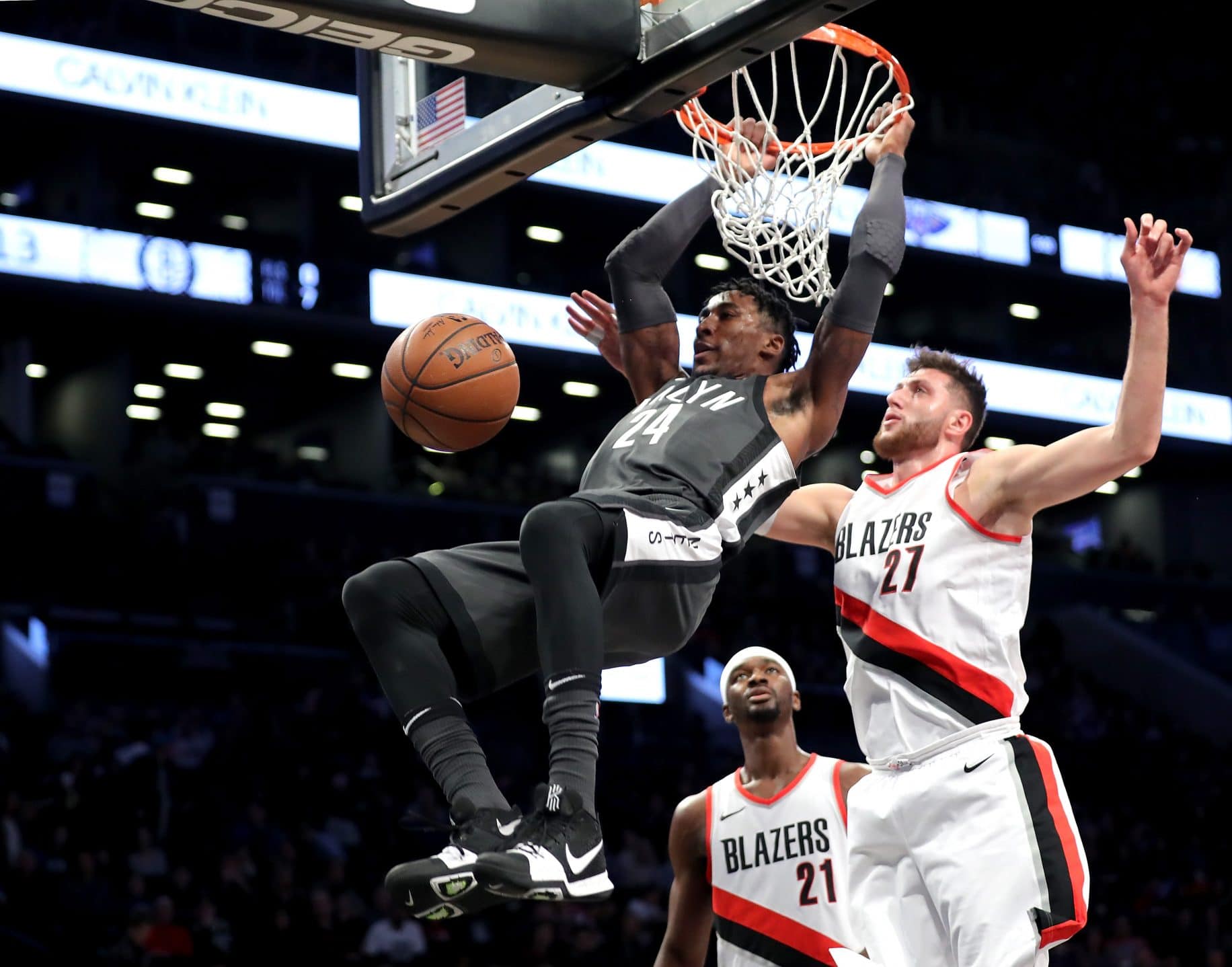 Just last week, Hollis-Jefferson broke his prior career-high in a loss to the New York Knicks. He scored 25 points on 10-of-16 shooting, and grabbed four steals along the way.
His consistency on both sides of the ball has made him fun to watch and hard to manage for opposing teams.
.@IAmCHAP24 is doing work on both ends of the floor! ? pic.twitter.com/Xy0qjswe8b

— Brooklyn Nets (@BrooklynNets) December 15, 2017
Not to mention his 6-foot-7 frame, which has come in handy when guarding more offensively skilled forwards like LeBron James and Carmelo Anthony.
With nearly an entire season to go, Hollis-Jefferson could be subject to a cluster of votes for the NBA's Most Improved Player. To date, he's improved in the following stats: points, blocks, rebounds, free throw percentage, three-point percentage, and overall field goal percentage.
That's only what's on paper. On the court he's a completely different player, and it's held the Brooklyn Nets' season above water. (As well as Spencer Dinwiddie's driving at the point guard position, but more on that later).
While point guard Russell is on the mend, and newcomer Jahlil Okafor finds his way, Hollis-Jefferson is preparing to take over as the Nets franchise face.
Winning basketball is a ways away for the Brooklyn Nets, but expect to see him leading the charge when it begins.
---
The league should be on notice, as this kid is here to play. A somewhat early dark horse for MIP has emerged as Brooklyn's MVP. Sit back, and enjoy the show.
Rondae and the Nets will look to continue their transcendence as they host the Indiana Pacers. Tip-off is Sunday at 6:00 p.m. ET.