The New York Giants can bounce back from a wild week with a victory against the Dallas Cowboys. Here's how they can do it.
Wild might an understatement to describe what's been going on with the Giants. Head coach Ben McAdoo and general manager Jerry Reese were fired, replaced by defensive coordinator Steve Spagnuolo and assistant general manager Kevin Abrams, respectively.
Spags wasted little time in giving quarterback Eli Manning his starting job back, making the decision to end his consecutive games-started streak in Week 13 look even more absurd.
Having Manning back under center will electrify the fans at MetLife stadium and give the team a boost as they look to play spoilers on Sunday and put a serious dent to the Dallas Cowboys (6-6) playoff hopes.
Still, if the Giants are going to pick up their first division win of the season, they must be solid in all three phases of the game.
Here are the keys to victory for Big Blue.
1. Stop the Cowboys rushing attack
The Cowboys running gamer got back on track last week as they rushed for 182 yards in their 38-14 win over the Washington Redskins. In their three previous games, which were all losses, the Cowboys averaged 99 yards on the ground.
The Giants are currently dead last in rushing defense, giving up 130 yards a game on the ground. It's imperative that the Giants front seven wins their one-on-one battles with the Cowboys' offensive linemen and contain Alfred Morris.
The Giants will need Damon Harrison to play his best game of the year. Stopping the run on first and second downs will force Dak Prescott to throw on third-and-long, a situation in which he's struggled this season.
2. Eli to Engram early and often
Evan Engram is coming off the best game of his young career as he hauled in seven receptions for 99 yards and a touchdown in Week 13. You know Manning is excited to be back out there with his teammates and wants to have a big game and get the win.
The Cowboys don't have anybody with the size or athleticism to cover Engram in single coverage. With Sterling Shepard back, the Cowboys won't be able to double Engram as much as they would like. Advantage, Giants.
Engram needs to see double-digit targets if they're going to win on Sunday.
3. Give the tackles help blocking DeMarcus Lawrence
Cowboys defensive end DeMarcus Lawrence leads the NFL with 13.5 sacks, and in their Week 1 matchup, he had 1.5 sacks. We all know the Giants tackles struggle against top-tier pass rushers. So on third downs, the Giants must give their offensive tackles help by having a running back or tight end stay in to help keep Lawrence off Eli.
4. Don't turn the ball over
With all of the injuries the Giants are dealing with, they won't come away with a win if they turn the ball over and squander scoring opportunities as they did last week against the Raiders. The offense and special teams unit must play mistake-free football and not turn the ball over.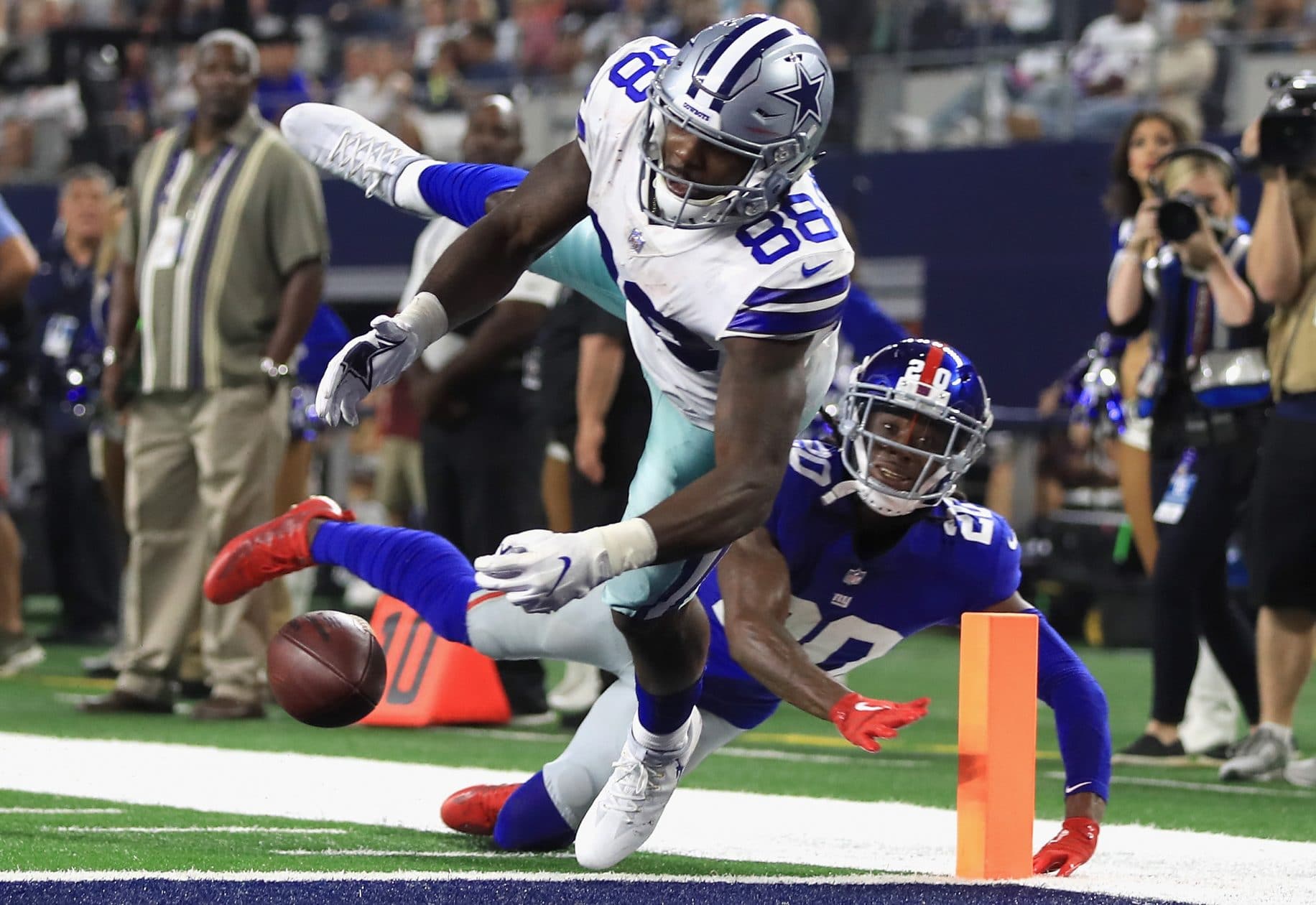 5. Get physical with Dez Bryant
The Giants have been able to shut down Dez Bryant in their last three meetings because Janoris Jenkins was able to frustrate Dallas' top receiver by playing physical. But the Giants will be without Jack Rabbit, as he was put on IR last week with season-ending ankle surgery.
That means cornerbacks Dominique Rodgers-Cromartie and Ross Cockrell must do what Jenkins did—get in Bryant's face (and head) early and often.
Prediction: Giants 20, Cowboys 17