It's judgment day in Brooklyn and the time has come for the New York Islanders to make a decision on the future of Michael Dal Colle.
It's judgment day in Brooklyn. John Tavares' contract is set to expire on Jul. 1, news has yet to break on the New York Islanders arena proposal at Belmont Park, and the time has come to make a decision on the future of Michael Dal Colle.
The 21-year old winger was drafted fifth overall in the 2014 NHL Entry Draft and had an NHL ETA for the 2017 season. Dal Colle is a full year behind and it doesn't seem to be getting any better in Bridgeport. What makes matters worse for Dal Colle is that players that should be under him on the depth chart have out-performed him in recent years.
Josh Ho-Sang, Mathew Barzal and Anthony Beauvillier were all drafted at lower overall spots than Dal Colle in their respective drafts, and MDC is the last to hit a sheet of NHL ice. In two full years in the AHL, he has accumulated 49 points in 93 games.
It wasn't until this year that Isles general manager Garth Snow finally has the tools to get a significant return for the winger that's beginning to be more and more of a bust. What Snow has this year that he hasn't had the last few, is an excessive amount of draft picks. Snow traded Travis Hamonic to the Calgary Flames in the summer of 2017 and got a plethora of high draft picks, including a first-round pick in the 2018 NHL Entry Draft.
With the Islanders in the position they are, Snow can utilize that pick to its full extent if he were to put together a serious package for an NHL player. Most logically, a package including a young player who needs a fresh start and a first-round pick tends to go to teams that have been lower in the standings. Here are the destinations Dal Colle, an extra first round pick and more can end up.
Vegas Golden Knights
Islanders receive: forward James Neal
Golden Knights receive: Dal Colle, forward Jason Chimera (if needed), Calgary's first-round pick (2018) and the Islanders second-round pick (2018)
Despite the fact that the Golden Knights have astounded people this year with their incredible play, it is hard to turn down two picks in the first two rounds for the franchise's second amateur draft. Despite how the playoffs end, the Islanders are currently on pace to finish ahead of the Flames making Calgary's pick more valuable.
In the event that doesn't happen, the Isles second rounder is thrown in so the Golden Knights pick earlier in the second round. Truth be told, Chimera is in there as a roster spot only if Vegas feels they need it but he can add leadership for a young team that needs to find who they are.
The issue is trying to pry anything away from Vegas, especially James Neal. The reason it could? The Isles and Golden Knights made an agreement/trade at the expansion draft showing that Snow and George McPhee can talk and get things done. Ultimately, Neal's contract is set to expire at the end of the 2018 season so he would be a rental and can return to Vegas if he so chooses.
What he brings to the Islanders for the rental period is a dynamic scoring threat that can perform on any line. He also adds valuable post-season experience to a team that is looking to take the next step.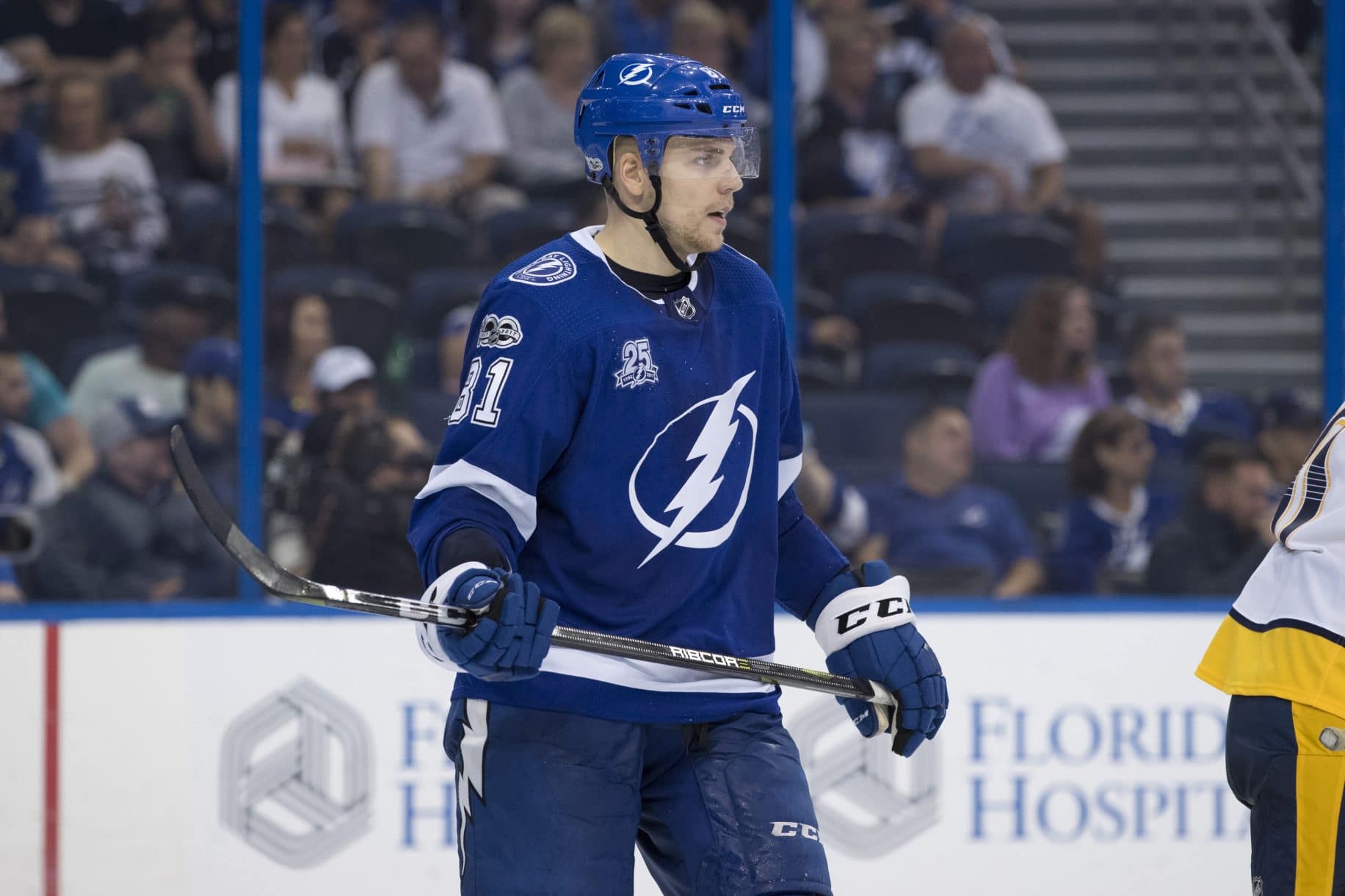 Tampa Bay Lightning
Islanders receive: defenseman Erik Cernak
Lightning receive: Michael Dal Colle
Cernak is a big defenseman that has a high hockey intelligence and can play at both ends of the rink. Since joining the Tampa Bay organization in a trade that sent Ben Bishop to Los Angeles, he has been playing in the AHL with the Syracuse Crunch and has four points in the 2018 season. After the acquisition of Mikhail Sergachev from the Canadiens, the Lightning have an excess in young right-handed defenseman. In return, they get Dal Colle who fills the winger spot Jonathon Drouin left open. Dal Colle can add playmaking opportunities to an already high octane offense. In addition, Cernak will be high on the Isles depth chart giving them options on what to do with the rest of the defenseman.
Arizona Coyotes
This is my favorite and while it may seem far-fetched, it completely depends on how the two GMs value the players in the trade.
Despite the fact the Coyotes would be giving up their best player, they would get a lot back, even if none of them add up to OEL individually. Dal Colle has shown flashes but hasn't officially taken that next step. Arizona can get him to buy into their system early and the winger can grow as a future leader for years to come. He can get work in with Dylan Strome who is a talented center but doesn't have many options of skilled wingers.
In Nelson and Mayfield, the Coyotes receive two players that would fill a role with the Arizona organization as young veterans with some playoff experience. Nelson is good for 20 goals a year even if he doesn't have an elite center when he plays wing. He can fill a top-6 role and see consistent, significant minutes; this is a few and far between occurrence in New York.
The first and second round picks provide two future players that the Coyotes choose themselves and can further their rebuild, perhaps significantly. The Islanders would receive one of the best, young offensive defenseman in the game where he could grow with the young D-core.
Regardless of where he ends up, Dal Colle's time as an Islander has an expiration date. The Arizona scenario seems most likely but would probably take place at or around the deadline. Other than that, Snow needs to package those picks obtained from Calgary in order to really reap the benefits of selling Hamonic when he did.