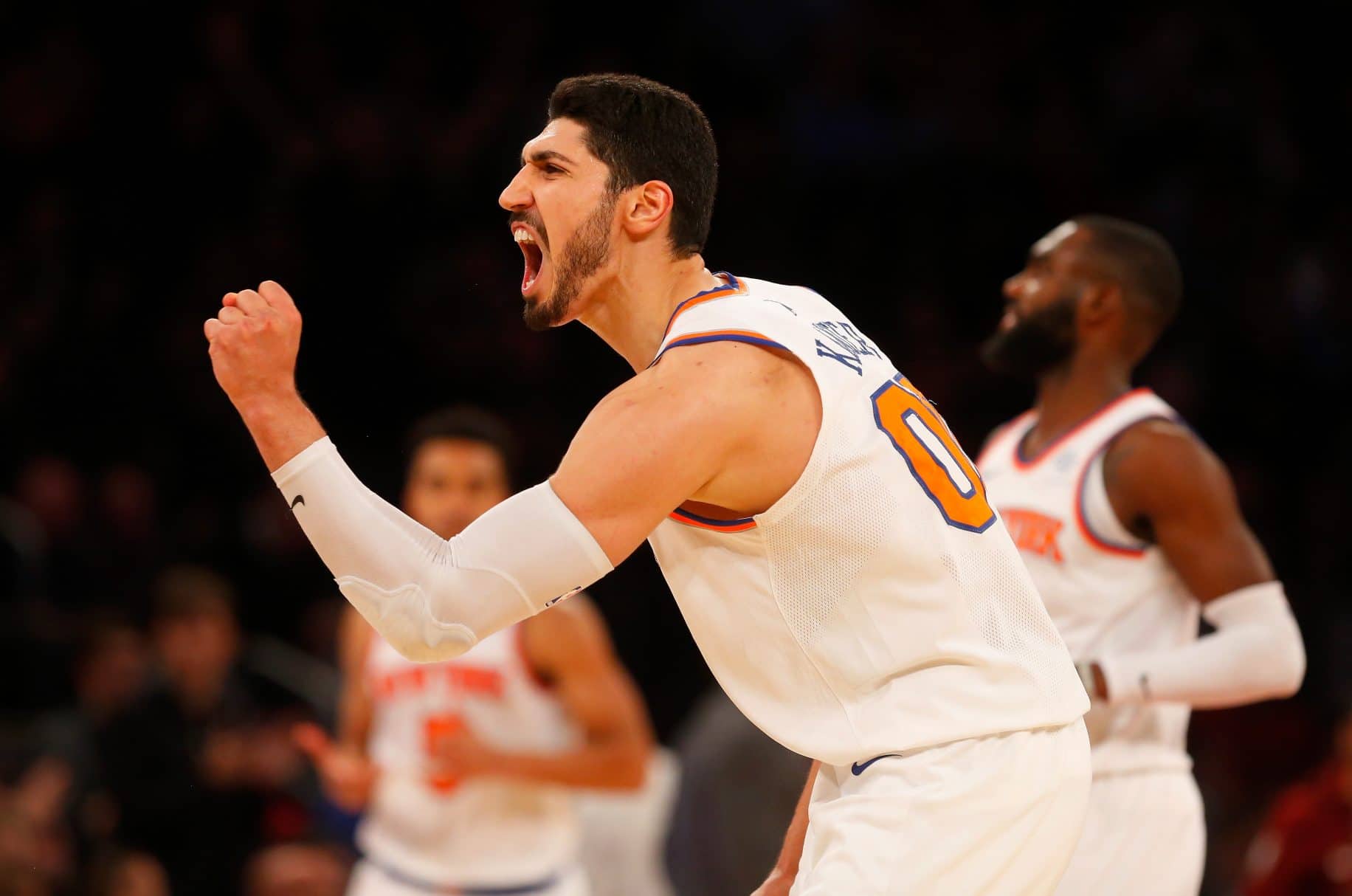 If Kristaps Porzingis is the stud, the most valuable player the New York Knicks employ, then Enes Kanter is the heart and soul.
"If you don't know, now you know."
Ten days ago, perhaps you didn't. Now you may. The bottom line is … you should now, at the very least.
Enes Kanter is, by far, the second best and most valuable player on your New York Knickerbockers basketball squad.
Three straight games missed due to a cranky back (back spasms, to be more specific). Three straight losses for the Knicks. Kristaps Porzingis also missed one of the three, but the void left by double-zero is now realized by more than the few who rewatch every game on film.
It cannot be explained by numbers, through advanced analytics. It's an impossible and fruitless venture. Kanter is more than numbers. He's the intangibles that go along with team chemistry and brotherhood. He's the glue that holds everything together on both ends.
If the Unicorn is the star, Kanter is the heart.
Last Friday in Atlanta, New York fell to one of the worst teams in the NBA by the final of 116-104. On Saturday night in Houston, without both Enes and Kristaps, a solid start turned into a home blowout. Finally, with KP back at the World's Most Famous Arena, the Knicks couldn't handle Portland Trail Blazers without their man in the middle.
Two days later, a resounding 115-86 victory over the Miami Heat ended a mini three-game losing streak. Why? Enes Kanter made his glorious return to the lineup.
Oh yeah … and Porzingis played just three minutes as the entire collection of the five boroughs prayed to the basketball gods while viewing a horrific ankle scene. All Kanter did was lead the way with 22 points on 7-of-9 from the floor to go along with 14 rebounds in just 25 minutes of action.
Not bad.
But like I already mentioned, forget stats. When it comes to a guy like this, statistics rarely matter. It's what places a guy like Kanter so carelessly near the bottom of the rankings while simultaneously elevating his stock in the eyes of the rough and tumble New York crowd.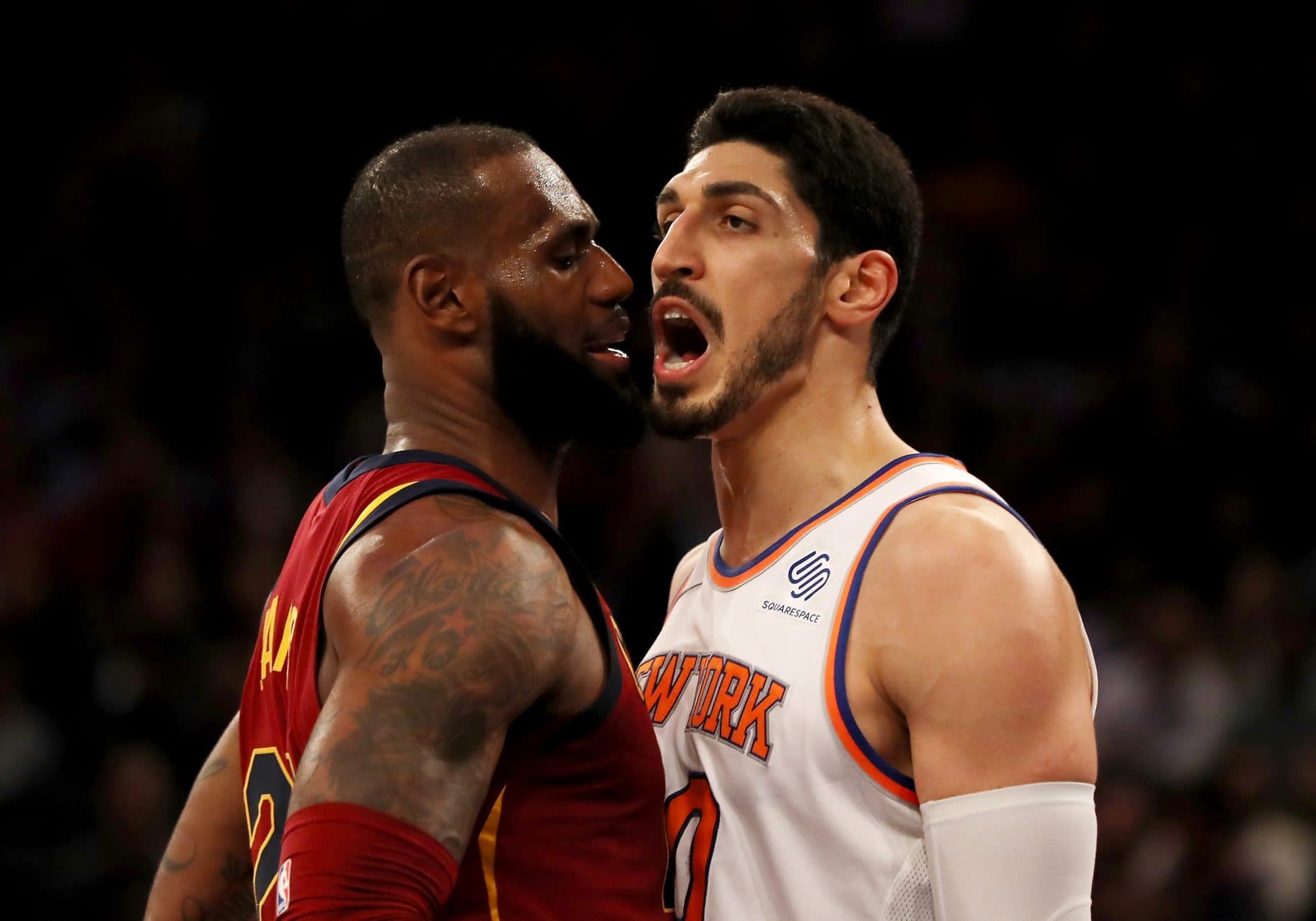 Kanter is an Elite Team Defender
Coming from the midwest, the tag on Enes Kanter was that he could play a little low-post and rebound, but his defense, especially his pick-and-roll defense, was poor.
New York is still trying to figure out how in the world this reputation came about.
While not an elite one-on-one defender, Kanter is an excellent team defender and handles himself properly on the pick-and-roll. He moves extremely well for a 7-footer.
In this instance, it's boring team defense. Twice Kanter was put to the test on the pick-and-roll and both times his awareness led the way:
Check out @Enes_Kanter. It's BORING team defense, but his overall AWARENESS leads to the man playing as an ELITE TEAM DEFENDER. Boring team defense WINS. #Knicks pic.twitter.com/EZCzfZKvLp

— Elite Sports NY (@EliteSportsNY) November 30, 2017
Even during straight-up help situations, Kanter's positioning and fundamental play are absurd:
Not once, TWICE the man shuts down drives from the opposition. The positioning is unreal. Beats them to the spot and goes straight up. So fundamentally sound. Enes Kanter. #Knicks. @Enes_Kanter pic.twitter.com/SGR0eeCMep

— Elite Sports NY (@EliteSportsNY) November 30, 2017
Watch this scenario in which he shuts down the Heat's OOB play from the baseline:
More Enes Kanter goodness. #Knicks pic.twitter.com/PHvUaV1nF7

— Elite Sports NY (@EliteSportsNY) December 1, 2017
He's a Beast of a Rebounder
If his defense is an unbelievable surprise, his rebounding his other-worldly.
Averaging 10.4 rebounds per game, 3.8 of which are of the offensive variety, Enes Kanter is a rebounding stud — the best glass man in Manhattan since Charles Oakley. (David Lee was solid, but nothing on this level.)
In the following clip, Kanter is ready as soon as he feels Tim Hardaway Jr. is going to let one go from the perimeter. He then showcases his keen nose for the ball — something that just cannot be taught:
Enes Kanter against the entire Heat team (minus one). Positioning, heart and a keen nose for the ball (as demonstrated here) are the three pieces for any rebounding monster. #Knicks pic.twitter.com/D77xjEMLn1

— Elite Sports NY (@EliteSportsNY) December 1, 2017
The next example is all about fundamentals and positioning:
This one is all about fundamentals and positioning. Enes Kanter. #Knicks pic.twitter.com/T5IL9nImEw

— Elite Sports NY (@EliteSportsNY) December 1, 2017
And yeah, He can Score too
After Kristaps Porzingis left the game just three minutes in, Kanter became one of the top options on the offensive end. He delivered.
When he's called upon in one-on-one situations, he always finds a way to get it done while shooting at a high percentage (something that does matter in the NBA). This beauty of an up-and-under out of the post in his return proves just that:
Last but not least, when called upon, Enes Kanter can abuse defenders on the low block. #Knicks pic.twitter.com/4AbjxWUkqx

— Elite Sports NY (@EliteSportsNY) December 1, 2017
Fire
Talent and basketball IQ alone land this guy as the Knicks second best and most valuable player. But it's his fire and grit that cements that place.
Look no further than his actions when LeBron James tried to intimidate a young rook:
BRAND NEW NEW YORK #KNICKS TEAM. That's all that needs to be said. Come on, LeBron. Standing over Frank Ntilikina like you own MSG. You don't. pic.twitter.com/SPCtU8QFx0

— Elite Sports NY (@EliteSportsNY) November 14, 2017
You just cannot categorize this player. His effort and heart lead to an exceptional culture. There's a buzz and a feeling when the man's in the lineup and it simply cannot be explained.
We just know it exists.
The film you just watched is from one half of basketball. Heat big-man Hassan Whiteside missed the game, making Kanter's job a lot easier, but this was just one half of action with no KP and a returning game with a less than 100 percent back.
The New York Knicks absolutely fleeced the Oklahoma City Thunder via the Carmelo Anthony deal and at this very moment, Enes Kanter is the better of the two.
Folks, it's reality. Continue watching the film. Through that, you'll find your answers.