Carmelo Anthony, a 33-year-old shooter who can't move, was used by the New York Knicks to fleece OKC for Enes Kanter and Doug McDermott.
One man wanted another man gone. One man was loyal to the city. Round and round we went with childlike tactics and social media silliness fit for seventh-period study hall at your nearest high school. Times remained constantly horrific until another man decided to fire one of the aforementioned men.
Until James Dolan swooped in and removed the guy everybody initially wanted, both Phil Jackson and Carmelo Anthony represented immovable objects of the NBA.
Credit Dolan, for once. Or, perhaps twice. First, he took the advice of the New York Knicks faithful by hiring the two-time Knick champ then removing himself totally from basketball operations. After it didn't work out (completely), he not only removed Jackson but Melo too — the lone ticket-seller prior to the amazing bust-out of young Kristaps Porzingis. It couldn't have been easy from a business perspective.
That's where the story begins.
The original man who wanted the other man gone, after initially re-signing him during the summer of 2014, was willing to rid himself of said man for literally nothing. I was fully onboard. Oftentimes in this crazy world of professional basketball, removing an overhyped name for nothing is a major (hidden) step forward.
I was wrong.
Once the unwanted man realized the original man was fired, he would gladly move on after understanding he won the battle. This meant trading Carmelo Anthony while the entire league knew he wanted to be moved.
Not an easy task. It's never an easy task to trade a name in the NBA and for a guy who holds very little value in comparison to his hefty salary and overall brand. Returns in this situation are as usually as questionable as some of Russell Westbrook's outfits. Moving on without much in return seemed like a pretty good deal to me.
Forget wrong. I was dead wrong.
What Steve Mills and Scott Perry did just a few weeks prior to the season is nothing less than sensational. When I was expecting the nice and tidy talentless expiring contracts to match Melo's salary, the Knicks received the great gifts of Enes Kanter and Doug McDermott.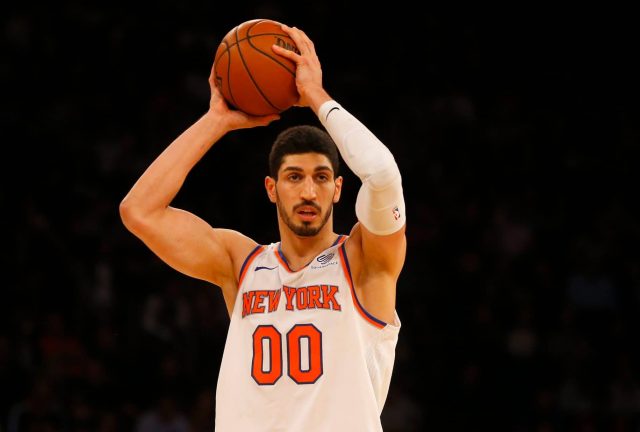 Enes Kanter
Kanter, first of all, is an extremely good basketball player at this level. Forget household names for a moment. What the 25-year-old Turkish 6-foot-11 center does on a nightly basis for the Knickerbockers is a dream come true.
He held the reputation as a below-average defender with offensive skills to match a large rebounding heart. He entered the league at the ripe age of 19 with Utah and although his third overall pick status guaranteed him a chance, it didn't develop into immediate success.
Kanter never fully entered his own until the 2014-15 season. Interestingly enough, it was the year he was shipped off to Oklahoma City in a three-way deal that sent Reggie Jackson to Detroit and Kendrick Perkins to Utah. That season — Kanter put up 18.7 points while snagging 11 rebounds a contest in 26 games for the Thunder. In the two years since his breakout stretch, Steven Adams took the starting role as Kanter filled an incredible frontcourt void off the bench.
That's what was so genius about the deal. Here's a highly-touted prospect who's gained valuable experience while never fully busting out for a few reasons at no fault of his own. Adams is simply that good and it limited the minutes of the Knicks newest center.
Through 12 games with the Knicks, the man has been Charles Oakley-esque. His current stat-line of 13.6 points and 10.6 rebounds per game while shooting a ridiculous .640 from the floor has provided a perfect complement to unicorns. He's a team player. He's gritty. He's tenacious. Most importantly, he doesn't mind playing second-fiddle to Kristaps Porzingis (much like the Oak-man did to Patrick Ewing).
The beautiful piece of it is that he has another year left on his deal — a $17.8M annual hit that could be argued as a mini-bargain.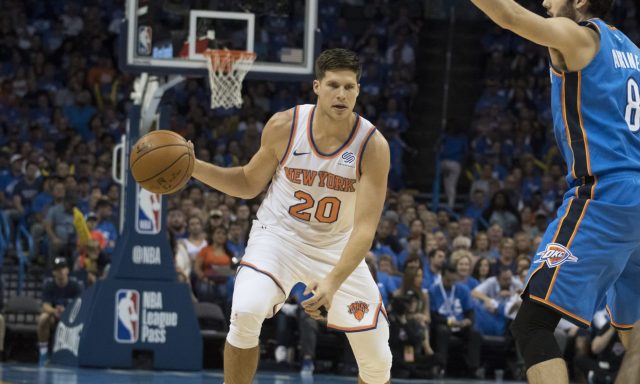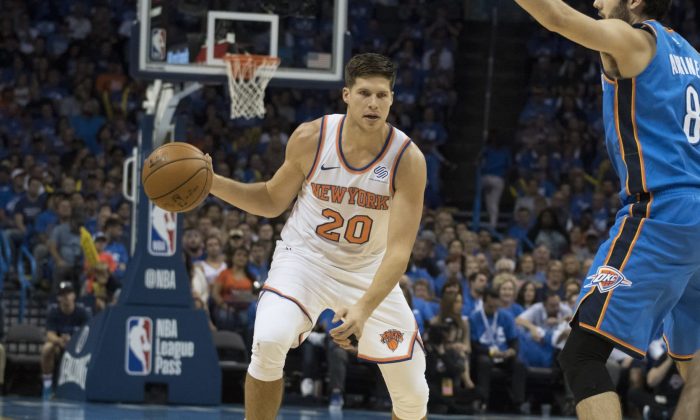 Doug McDermott
Then there's Doug McDermott, the other living piece of the McDermott deal (a 2018 second-round pick represents the third and final piece). Don't be fooled. Douggie McBuckets has talent.
Here's a kid who lives and breathes basketball. A gym rat, a coach's son who's so fundamentally sound opposing coach's drool over his below-average athletic body on film.
As the 11th overall pick in the 2014 NBA Draft to Chicago, McDermott, also 25, is now already playing on his third NBA team. He's just one of those guys who comes to the party equipped with all of the smarts and grittiness in the world while lacking the quickness of a prototypical NBA wing.
In 22.2 minutes a game, Douggie's averaging 8.7 points per game on a tidy .539 from the floor. Therefore, adding both Doug's and Enes's scoring and comparing it against what it was traded for, a landslide of a fleecing should alert the basketball authorities.
Kanter and McDermott, 2017-18:
Kanter: 9.5 shot attempts and 13.6 points per game on .640 from the floor
McDermott: 6.3 shot attempts and 8.7 points per game on .539 from the floor
Equals: 15.8 shot attempts and 22.3 points per game on .600 from the floor
Carmelo Anthony, 2016-17:
Melo: 18.8 shot attempts and 22.4 points per game on .433 from the floor
Do the math. From the OKC deal alone, the Knicks decreased three shot attempts per game while increasing floor percentage by a hall of fame number (+.167). The duo is also currently combining for over 22 points a night, a number that basically equals Melo's output from a season ago.
So what these two are doing equals Anthony's point output while shooting three fewer times at a much better clip from the floor? You kidding me? Plus, young KP has finally been able to take his rightful place as one of the game's top five players. His shot attempt number has skyrocketed from 14.9 to 21.5 seemingly overnight.
And don't think this Kanter dude can't play defense. One of the greater mysteries in New York City at the moment is how he gained the reputation as a below-average defensive player.
There are too many reasons to count why this trade was a fleecing for the ages.
Better overall team ball
Better flow offensively
Much better team defense
A seemingly greater team chemistry
Most won't agree simply based on the name value of "Melo" alone. They see or hear the name and think of the guy who once represented one of the greatest one-on-one ISO scorers in the history of basketball.
He's just not that guy anymore.
A hall of fame shooter he still is. A great 3-point shooter he still is. Other than those two qualities, Carmelo Anthony brings very little to the table these days.
Forget the superstar in the NBA. Unless your name is LeBron James, the big threes don't make it these days. Those Golden State Warriors aren't a big three. They're a collection of superstars who love to share the ball and fill roles (Draymond Green). Today's game is about ball movement and team play. These aren't the 90's or 2000's anymore. Other than those villains and Mr. James, big collections of name stars never make it.
Moreover, Carmelo Anthony teams never make it.
Kudos to the new basketball regime of the New York Knicks. They not only held out for a solid return for Melo, they fleeced another team while properly propping up their own once-in-a-generation unicorn talent while doing so.
We love your basketball attitude, Oklahoma City. Everything about it is just right. But you can gladly stay Melo. There's something special brewing over here in Manhattan.