The newest New York Knicks fan-favorite, Enes Kanter, has revived the nostalgia of Charles Oakley in many more ways than one.
One minute. One stand. One moment. One singular act of brotherhood.
That's all it took for Enes Kanter to embed his place into the hearts of fans everywhere.
BRAND NEW NEW YORK #KNICKS TEAM. That's all that needs to be said. Come on, LeBron. Standing over Frank Ntilikina like you own MSG. You don't. pic.twitter.com/SPCtU8QFx0

— Elite Sports NY (@EliteSportsNY) November 14, 2017
Enes Kanter is now my favorite basketball player

— pinchi boosted (@EdomQ2k) November 14, 2017
I think Enes Kanter just became my favorite #Knicks player… Back up @KingJames

— Paulo Henriques (@ph3379) November 14, 2017
Enes Kanter continues his case as my favorite Knicks player

— Dr. Trill (@PrinceTrilliam_) November 14, 2017
@Enes_Kanter Officially my favorite player in NY sports. Type of New York attitude and player we need! @nyknicks sign this man long term! #teamleader #family

— Scott K (@ScottS24kos) November 15, 2017
Gotta go get an @Enes_Kanter jersey now. Anyone who's got beef with the queen is going to be my favorite player

— Sean Devlin (@diamonds_devlin) November 14, 2017
Forget talent. Although it's something the new big man for the New York Knicks obviously comes equipped with, talent isn't the reason an entire city was put on notice.
In one fell swoop, the man not only stood up to the face of the NBA — the superpower who forever changed the game and the way studs take the easy was out back during the Summer of 2010 — he showcased every characteristic the New York City basketball fan holds true in oneself.
Enes Kanter brought us back to a simpler day, a happier day — a day that came with Charles Oakley, the very same man who Manhattan is reminded of when placing eyes on the Knickerbockers new big man.
The similarities are incredible.
Both Were Traded For
It was after the 1987-88 season that saw Rick Pitino's Knicks send 31-year-old Bill Cartwright to the Chicago Bulls for the Oak-man, via Sam Goldaper of the New York Times.
"I'm ecstatic," Pitino said. "We've acquired one of the top power forwards in the game of basketball. He has strength and youth."

"We've obtained one of the premier power forwards and rebounders in the N.B.A.," said Al Bianchi, the Knicks' general manager. "We have really solidified the power-forward position. I think we can walk away saying that the Knicks are happy and the Chicago Bulls filled their need for a center."
Oakley was only 25 at the time and was well worth the Knicks hard end of swapping a couple draft picks with Chicago. The acquisition really came to fruition when Pat Riley arrived on the scene.
Riley, as smart as it gets at the professional level, saw the hand he was dealt. He saw guys like Oakley, Patrick Ewing, Xavier McDaniel and eventually Anthony Mason and realized this wasn't Showtime. There was no Magic Johnson and with the NBA fully entrenched in the "roughhousing" era (thanks to a few Bad Boys), turning New York into a rough-and-tumble defensive squad was the only way to go.
He played the perfect complement to the big man aside him in Ewing.
Kanter, who was also traded for via the Oklahoma City Thunder, plays the perfect complement to his superstar big man, Kristaps Porzingis.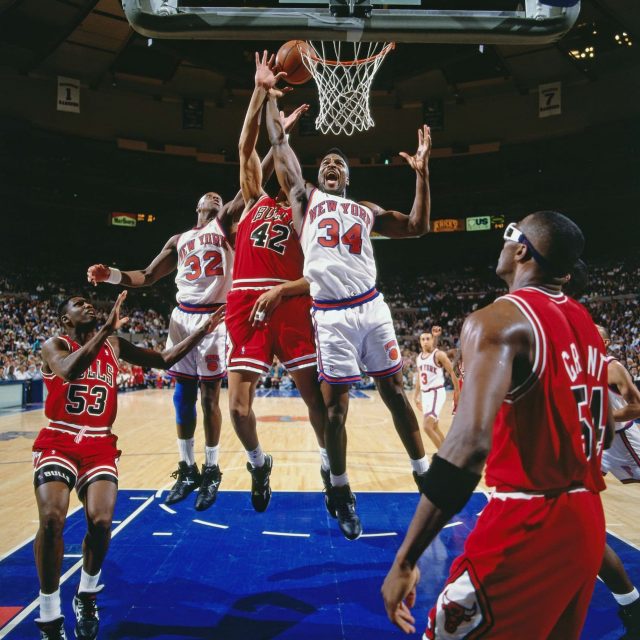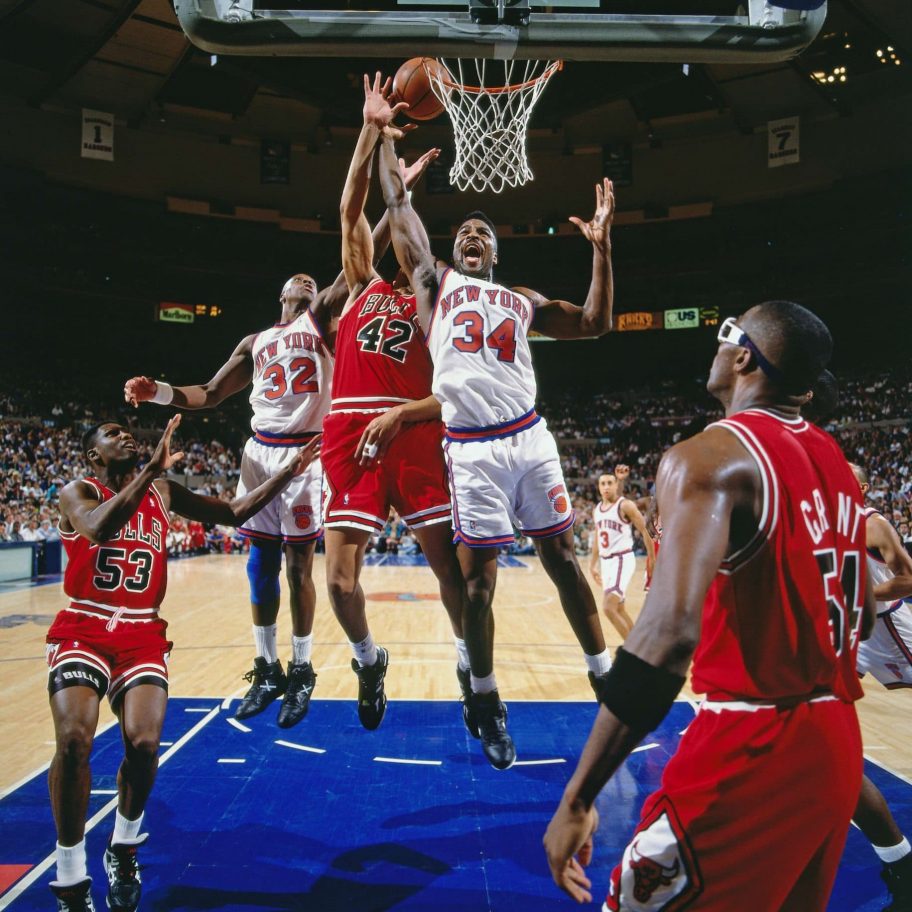 Both are Rebounding Machines
Oakley averaged 10 boards a game in 10 seasons with the Knicks. In his NBA All-Star season of 1993-94, he finished with 11.8 rebounds a night. Three years prior he went for 12.1.
Kanter comes in the same active glass mold. Through the young season with the Knicks Kanter is snagging 10.2 rebounds a game. This is critical due to KP's specific skill set — a 7-foot-3 athletic scorer who's better as the second rebounding option as well as the weak-side defender. This is only part of what makes Kanter the perfect complement to KP.
Two decades ago, Oakley complemented Ewing in much of the same way.
Both are the Heart, Soul, and Muscle of Each Squad
Kanter's action in defense of young Frank Ntilikina stamped him as the heart of the squad. There was no hesitation. There were no "half-way" actions. He simply saw what happened and ran to his teammate's aid.
Coupling the action were his responses after the fact. He made it clear nobody should mess with this guys — whether you're the king or the queen.
Enes Kanter on LeBron James' "King of New York" reference on Instagram: "We already have a king. It's Kristaps Porzingis."

— Ian Begley (@IanBegley) November 14, 2017
Oakley, while the same part, didn't quite play that heart and soul part the same way. He sort of did it in a more obvious fashion.
And yes, the Charles Barkley fight happened during the preseason.
The Differences
Oakley was a much better outside shooter than Kanter. The current big man can score and move more fluidly near the box than No. 34, but doesn't possess the same 18-footer than the Oak-man did.
Both are pretty solid passers. Oakley may have been a little better. Oakley's also the much better on-ball defender, but from everything we've seen thus far, Kanter's reputation of a horrid defender is terribly off. His overall awareness and team defense is excellent.
Final Thoughts
Both Enes Kanter and Charles Oakley were high draft selections (No. 3 and 9, respectively). Both were traded for. Both play second-fiddle to the bonafide big-man superstars who play alongside each man.
It seems both are the heart and soul in terms of fiery emotion leading to superb leadership.
It's still a young Big Apple career for Enes Kanter, but the early returns are loud and clear …
He's reminding us of a better time — one that saw brotherhood and fight on the basketball court every night.