The New York Islanders hold a 14-7-2 record, good for the third seed in the Metropolitan division and 30 points.
If I told you in September that by Thanksgiving Josh Bailey would have the team lead in points, what would you have said?
That's where the Islanders stand, though, as Bailey has continued his emergence from the 2016-17 campaign in full force. John Tavares is making good on his promise to deliver after an uncharacteristic season, and Mathew Barzal has been nothing short of Calder material.
With all of the variability that has gone on through the first 21 games, here are ESNY's standout players per position, for better or worse.
A Rejuvenated Offense
Following the coattails of a productive 2016-17, Josh Bailey is leading the pack for the Islanders in points contributing five goals and 26 points through 21 games this season. The first line of Anders Lee – John Tavares – Josh Bailey was reformed after experimenting with newcomer Jordan Eberle on Tavares' right.
It's not that Eberle was unproductive, he assisted the first five of Tavares' goals and is flourishing on the right side of Mathew Barzal, who has been no slouch in the Islanders' offense.
ESNY's standout Islanders forwards are as follows:
1. Josh Bailey
2. John Tavares
3. Mathew Barzal
4. Anders Lee
5. Jordan Eberle
The biggest surprise of the season has to be Barzal, his 23 points in 23 games puts him currently at the top of the race, right in the thick of competition with players like Clayton Keller and Brock Boeser.
Thus far, the season's biggest disappointment has been none other than the invisible man, Brock Nelson. Yes, I hear you loud and clear critics of Jason Chimera — but in regards to a forward the Islanders needed to take the next step this season, Nelson ran away with the cake.
With six goals and nine points through 23 games, he has to find his stride in the second-half of the season. To paraphrase former Islander Head Coach Jack Capuano, he needs to "pick his sh*t up."
However, with 83 goals scored — good for third overall in the NHL — and at third overall with 3.61 goals scored per game, the Islanders have no concerns at offense.
Anders Lee is silently scoring at a point-per-game average (23 points, 12 goals), John Tavares being John Tavares and Jordan Eberle heating up (nine goals, 17 points) and Nick Leddy being an overlooked candidate for the Norris (more on that later), there are no concerns in Islander Country for goal-production.
Offense: A
The Hole Hamonic Left
Along the blueline, a contest is being held between three defensemen whose total NHL experience doesn't even equate to 150 games.
Here's how their individual stats break down:
Adam Pelech – 19 games, 8 assists, +6
Scott Mayfield – 15 games, 2 goals, 4 assists, +2
Ryan Pulock – 11 games, 1 goal, 2 assists, -4
Thus far, Adam Pelech is running away with the opportunity for playing time. Each player has had their fair share of sharing the press box with observers, and interestingly enough the only game this season that featured all three candidates on defense was the Islanders' 4-3 shootout win over their rival New York Rangers.
For the believers in Corsi, it should also be noted that both Pelech and Pulock are clocking in at over 50% in Corsi-for, the metric that measures how often their team possesses the puck while a specific player is on the ice, with Mayfield at 49.5%.
In regards to Thomas Hickey and Dennis Seidenberg, Hickey has been the more favorable addition to the lineup. His Corsi numbers are the best of the infrequent defensemen with a 52.4% in Corsi for, and after a brief lapse of inconsistency he's back to his best self.
Nick Leddy has been tearing it up and is continually overlooked in the Norris conversation. At third overall in points by a defenseman (20) Leddy is making things interesting for himself and the race.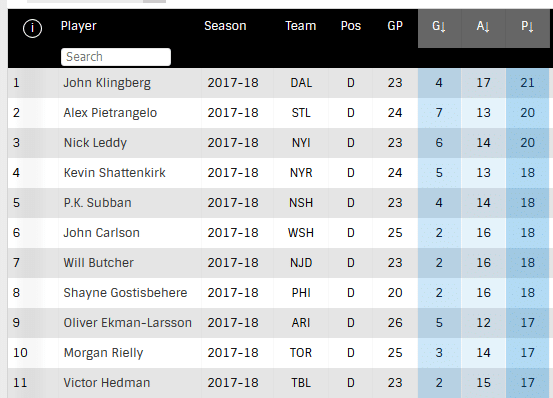 What fans need to bear in mind is as Leddy continues to grow into his role as the Islanders' go-to guy, he will settle in and feel more comfortable. Maybe he won't be a Norris contender come April, but at the very least he's more than capable of scoring at least 60 points.
The Islanders defense overall has been — in one word — inconsistent, and their 24th overall ranking in goals against and goals against per game is indicative of that. Their inability to keep pucks out of their own net will be a determining factor if this team sinks or swims in the race to the post-season — and beyond if they get there.
Defense: C-
The Goalies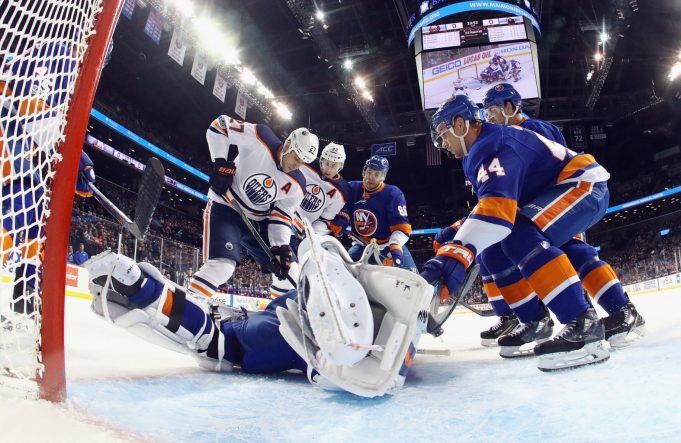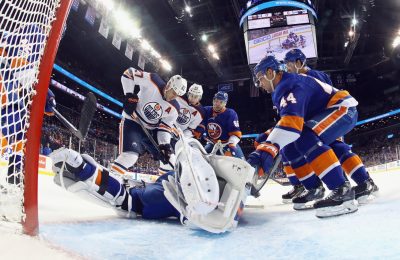 Speaking of keeping pucks out of nets, the Islanders netminders have been equally as effective in that as the defense — inconsistent.
The duo of Jaroslav Halak and Thomas Greiss still has plenty of potential to be a solid one-two punch. Jaroslav Halak earned a big win in the Islanders' 2-1 victory over the Ottawa Senators, and he needs to use that momentum to make the competition closer.
Breaking down the last five games for each goaltender reveals the following:
Both goalies' stats are nothing exemplary, however, the win count through the last five games tells the tale thus far in the season. With Halak winning six of his 12 starts, and Greiss having won eight of his 12, Weight will start to play favorites if the trend continues.
Goaltending: C
The Islanders overall are sitting pretty, two points outside of first place in the Metro and hanging in close with the teams likely to compete come April. According to SportClubStats, the Islanders currently have an 89.4% chance to make the playoffs. So long as everything continues to go accordingly, the Islanders are on pace to earn about 106 points.
With the competition heating up in a division where four points separate the top seed from the second wild card, every point is a treasure, and the Islanders are rich.