Eli Manning points the finger at no one but himself for the New York Giants' weekly offensive woes. It makes his final years all the harder to witness.
Perhaps much like our current political climate, New York Giants fans seem to be divided into two extreme factions in which there is no middle ground.
One side believes that Eli Manning, the Giants starting quarterback since George W. Bush's first presidential term, is fully to blame for the Giants' seemingly endless problems and needs to be eighty-sixed as soon as humanly possible. The other side believes that two Super Bowl rings and 210 consecutive starts make him immune to any form of criticism.
Manning is indeed a problem…but that doesn't make it any easier on the eyes.
Thursday's turkey of a ballgame against the Washington Redskins was a personal rock bottom for the long-time Giants signal-caller, who set season-lows in completion percentage (48 percent), passing yards (113), and passer rating (44.2). Fumbling has also become a major problem for Manning, as Thursday featured his eighth loose ball, now five short of his career high. In the end, his offense was responsible for zero points, as the New York scoring was accumulated through Aldrick Rosas' kicks and a Janoris Jenkins pick-six.
With the 20-10 loss, the Giants ensured they would end their year with a losing record for the fourth time in five years.
True to his selfless form, Manning faced the New York media and shouldered responsibility, vowing to come back harder next week.
"We can't afford to have missed throws on third downs," Manning said. "It's been a tough stretch most of the season. We're going to keep fighting. We fought hard today, we were right there in the game. We got to find a way to make plays in the fourth quarter and win some football games."
It's great to see Manning be a veteran leader, to see him point fingers only at himself and not throw anyone else in the organization under the bus. Unfortunately, it's become a fall televised Sunday staple, like The Walking Dead or Shameless. It's painful to see one of New York City's athletic heroes, a man whose name will go down in the same category as Derek Jeter or Brian Leetch, constantly apologize for causing his city and his legion of fans pain.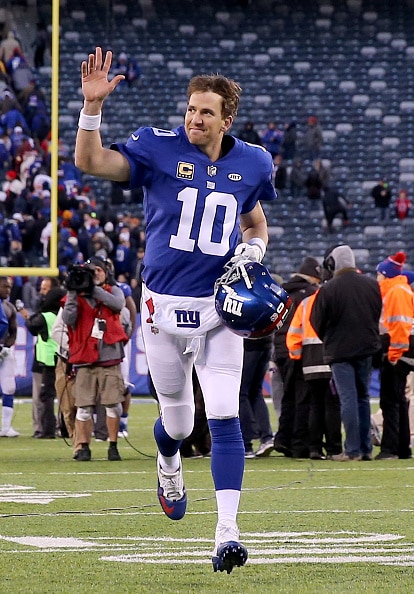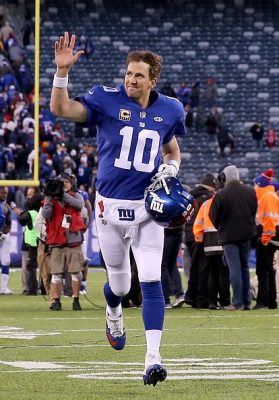 The thing is, however, it doesn't look like Eli's going anywhere.
The Giants' staff and management have made it clear by doing everything except saying the words that rookie Davis Webb isn't going to hit the field anytime soon. Inserting Geno Smith would be pretty much pointless. Manning himself, again in a selfless act, has stated that as long as he's healthy, he wants to be the one to potentially oversee the Giants out of this funk. He's going to keep on doing this whether you like it or not.
Which, at the same time, makes it acceptable to acknowledge he's a problem.
With a good amount of their roster stacked on injured reserve, it'd be a Herculean task for Tom Brady himself to score with this offense. He's not making it any easier for his young receivers, as signs of his age were clearly on display against the Redskins. In the latter stages of the second quarter, with the game still scoreless, Manning had a wide-open Shane Vereen on third down in the red zone, but an overthrow flew just out of Vereen's desperate grasp, forcing the Giants to settle for a Rosas field goal. It very well could've gone for a touchdown, as Vereen had daylight ahead.
"I got to hit Shane on that," Manning reflected. "I thought I had to throw it a little sooner than I wanted to. I tried to float it up there for him where could maybe adjust and get to it. But I just put a little too much on it. We got to get that one."
Part of Manning's struggles is also the fact that a beleaguered coaching staff, constantly playing from behind, is forcing Manning to will them back into games. Through Thursday's games, Manning is tied with Matthew Stafford for the most pass attempts in the league. The overwork comes despite the Giants establishing a legitimate run threat in Orleans Darkwa, perhaps the most consistent Giants back since Ahmad Bradshaw departed in 2012. The desperation has forced Manning into poor decisions and turnovers, only angering an impatient Giants fan base further.
Could it be age catching up to Manning? It's quite possible. Father Time struck down his brother Peyton in Denver, although Peyton got to depart with a Super Bowl, a solid price to pay for the worst statistical season at 38. The difference is that a Giants Super Bowl, a real possibility when the season kicked off in September, seems like a pipe dream at best with what little time Eli has left.
Manning's swan song, which is closer than any Giant fan wants to admit, should be a tribute and testimony to his longevity and legacy, a legacy that has featured numerous comebacks and key victories. Now, however, it has been defined by dreary stat lines and the ever-present "Manning Face" memes that Eagles, Cowboys, and Redskins fans spread like wildfire.
Part of fanhood is accepting that your heroes aren't what they used to be while appreciating what they've done in the past. That's exactly how Giants fans need to treat the remainder of the 2017 season, one that still somehow lasts five more weeks. Whether it's sheer stubbornness or the theory that Webb truly isn't ready, Manning is going to wait this 2017 season out. It's in his nature, and it's probably not going to be pretty.
But, having said that, the inevitability doesn't make it any easier to bear.
Geoff Magliocchetti is on Twitter @GeoffMags5490