After being labeled a liability for the New York Giants over the last two seasons, left tackle Ereck Flowers appears to have turned a corner.
The New York Giants' offensive line hasn't been a stellar bunch in quite some time, the last two seasons especially. With inconsistent, unreliable play up front, the Giants' offense has been unable to thrive and succeed with Eli Manning's days as a star quarterback coming to an end. But the team's most discussed and controversial lineman, Ereck Flowers, is beginning to come into his own.
Flowers, the Giants' 2015 first-round pick, has endured an underwhelming tenure as the team's left tackle. In his rookie campaign (2015), the Giants saw some good and bad things with Flowers, but the overall consensus was that he would improve in the years to come, though, they were left disappointed.
Getting pushed around by quicker defensive ends, Flowers was unable to keep Manning's blind side in check. Failing to stay low and hold his ground, he was an immense liability for Big Blue in his sophomore season; he continued to struggle in the beginning of the 2017 season. Flowers struggles to block the run and has always been an inconsistent pass blocker, but he appears to have turned a corner in the team's last several games.
While his struggles against the run bleed on, Flowers is becoming adept at protecting Manning on passing downs. Forcing defensive ends to the outside and providing his quarterback with time to operate, Flowers, as well as the Giants' line as a whole, are granting their offense an appropriate and legitimate amount of time to wreak havoc. In fact, according to Pro Football Focus' Ryan Smith, Flowers has not allowed a sack since the Giants' Week 2 affair with the Detroit Lions on Monday Night Football.
Ereck Flowers hasn't allowed a sack since Week 2

318 pass blocking snaps – 2nd longest active streak in that span among OTs in NFL

— Ryan Smith (@PFF_Smith) November 19, 2017
Flowers has also not allowed a single pressure in the team's last two games versus the San Francisco 49ers and, most recently, the Kansas City Chiefs.
Giants LT Ereck Flowers has not surrendered a single pressure in 2 games

77 pass blocking snaps, 0 pressures

Only OT in the NFL to do that in Weeks 10 & 11

— Ryan Smith (@PFF_Smith) November 22, 2017
Going into this year, the Giants' most glaring weakness was its O-Line. After doing little to address the liability in both free agency and the NFL Draft, management, general manager Jerry Reese in particular, was under fire. And while that line is still under the microscope of many, the team's most important lineman, Flowers, has shown improvement to the point where he's not a detrimental liability for Mike Sullivan's offense.
With right guard Justin Pugh and center Weston Richburg — who are viewed as the team's two best linemen — missing time up front, Manning appeared bound to be running for his life on every passing down. And playing without his two most prominent outside targets in Odell Beckham Jr. and Brandon Marshall, as well as, at times, Sterling Shepard, only worsened those conditions. But the most unlikely of events has and is transpiring.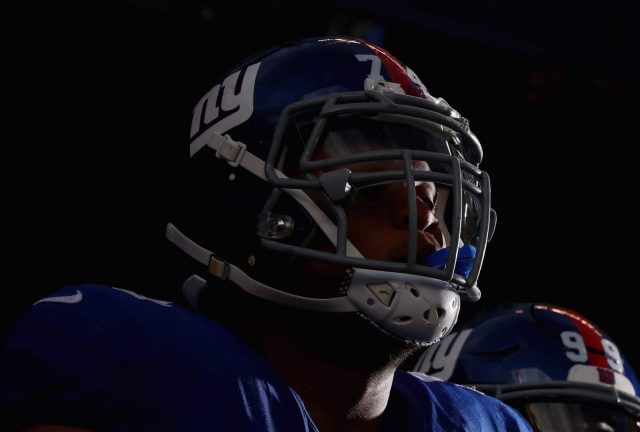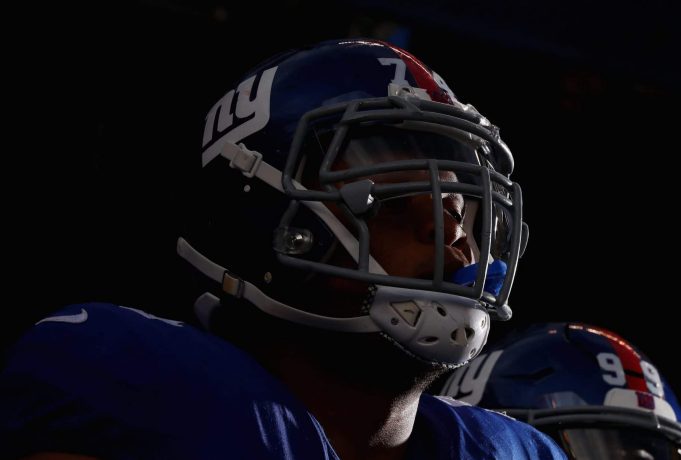 This O-Line is showing up, providing Manning and the Giants' offense with the chance to make things happen. While their offense is still not a potent force, as a result of the limited weapons at their disposal via injury, having an improved Flowers on the left side is a major sigh of relief.
The former number nine pick has still not played up to expectations at left tackle, but with the NFL world down on the third-year lineman, he essentially has nothing to lose. Going into this year and even during it, Flowers has been viewed as a lost cause for the Giants. But now that he's holding his own and preventing opposing defenses' from getting to Manning at will, Flowers is posing a respectable threat at left tackle.
This Giants' offensive line has a long ways to go before they can be viewed as a top-tier unit, but with Flowers showing drastic signs of improvement, they've taken a massive first step forward towards reaching, or, at the very least, becoming an established bunch.