Once considered an afterthought, Doug McDermott has become an important and impactful addition to the New York Knicks.
When the New York Knicks netted Doug McDermott in return for Carmelo Anthony, the forward was viewed as a trade filler in a package that included center Enes Kanter. With the Knicks looking to rid themselves of Anthony, they were willing to take back any pieces that wouldn't hurt their long-term cap space. McDermott, going into the final year of his rookie deal, fit that bill. However, in addition to keeping them financially flexible, he has been an impactful and crucial part of the team's competitive 9-7 start.
The 25-year old McDermott came into the 2017-18 season with a lot to play for. After spending two and a half years with the Chicago Bulls and being traded to the Oklahoma City Thunder at last year's trade deadline — where he took on a limited role — McDermott was unable to blossom or evolve his game; 16 games into this season, McDermott has found a home and a niche that works to his skill set.
While he's not manning a starting role, McDermott has come off the bench and produced. While 8.4 points per game doesn't wow anybody, it's his efficiency that stands out.
Shooting a career-high from both the field (47.7%) and beyond the arc (44.9%), McDermott has been an outside and reliable shooting threat for head coach Jeff Hornacek and the Knicks. In addition to sticking the outside jumper, though, he has also finished off fastbreaks and forced the issue at the rim when the outside jumper's not there.
The other aspect of McDermott's play that has been impressive is his defense. Over the duration of his career, McDermott has been classified as a below average, unreliable defender. This year, though, he has held his own on that end of the floor. Forcing double teams and playing tight, contested on-ball defense, McDermott has been a respectable presence on the defensive end. He's still not stellar, but McDermott has seen an increase in his production defensively — making him a more well-rounded product for the Knicks to work with.
The driving force of this Knicks' team is its youth. With Kristaps Porzingis (22) — the team's focal point –, Tim Hardaway Jr. (25), Frank Ntilikina (19), Kanter (25) and McDermott (25) all in place, Hornacek has a core of young players who like to run up and down the court.
Going into this year, McDermott's potential role and future with the Knicks was unknown. Based on the Knicks possessing a very deep frontline, it was unclear where Hornacek would find minutes for the Creighton product.
McDermott has been an efficient, productive spark off the bench. He's come into the game, stuck the three-pointer, finished off fastbreaks and has been a respectable defender; there's nothing more the Knicks could ask from him.
If and when he continues to play at this level, the question will, of course, become whether the Knicks should re-sign him in the summer?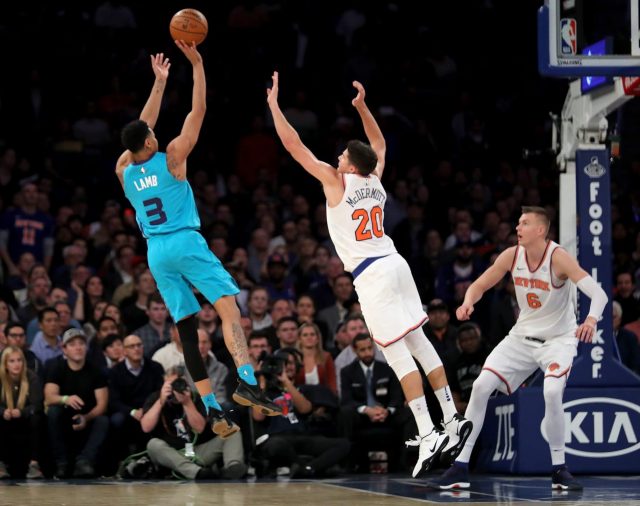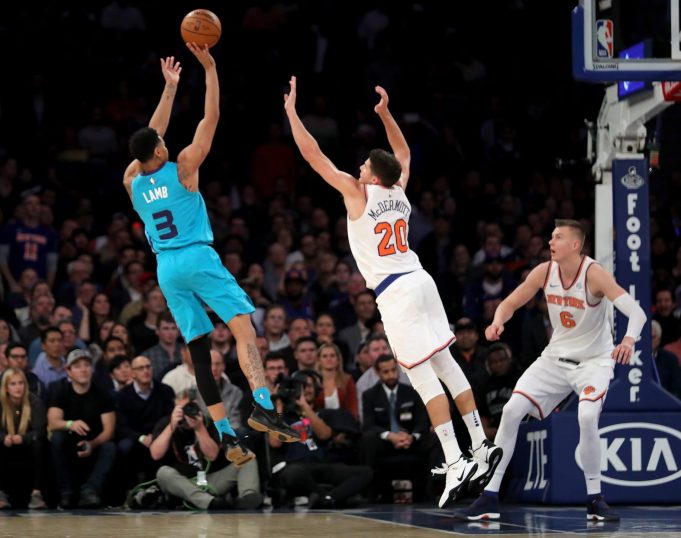 Hitting restricted free agency after this season, the Knicks will have to determine whether or not McDermott can be a building block for their up and coming squad — which is a simple answer.
NBA free agency has become an absurd spending spree. Players get paid an insane amount of money per year as a result of the constantly increasing salary cap. And in this growing market, forwards and/or "3-and-D" players tend to get paid well. While he hasn't played at an elite level defensively, McDermott is beginning to fall into that "three and d" category, meaning he may very well cost an eight-figure amount per year to retain.
However, while the money they may have to fork over can be hard to fathom, McDermott has proven his worth and appears to have found a home in New York. He comes off the bench, plays crucial minutes, produces and has become a glue guy for this team, alongside center Kyle O'Quinn (27) — who fiercely competes on both ends.
McDermott may cost a lot to keep, but the production and impact he has made speak for itself. He has found a home and a role that suits him best in the Big Apple.