Clarence Gaines, the New York Knicks' vice president of player personnel, is the "odd duck" behind the team's recent draft picks.
Phil Jackson's tenure as a Knicks front-office executive ended on the wrong foot. The "Zen Master," three years removed from coaching the fabled Los Angeles Lakers, tried to salvage another organization — this time with unflattering results. His stint in New York was characterized by public relations wars and toxic relationships. It was time for him to move on.
So he did. He wished Knicks fans and "the Knicks organization all the best — today and always." And that was it. Phil Jackson left the Big Apple without any playoff appearances — or fanfare, for that matter.
But while Jackson left the organization with a number of bad contracts (i.e. Joakim Noah's four-year, $72 million pact), he also bequeathed them with something hopeful: his top advisor, Clarence Gaines.
See, Jackson made a lot of poor decisions, and his vision of a triangle offense was outdated and absurd. But the one thing he did right was in the draft. Between Kristaps Porziņģis, Willy Hernangómez, and now, Frank Ntilikina, Jackson might have actually given the Knicks the building blocks that they need in order to have success down the road.
Gaines, a 59-year-old front-office guru who won six NBA Championships as a Chicago Bulls scout, was at least partially responsible for all three picks. What is the common denominator between them? For one, they are all European athletes. But perhaps more importantly, at least for our discussion, is that all three picks were unconventional. Nobody — not the scouts, not the Big Apple media, and certainly not the fans — could have predicted that the Knicks would have targeted these three players. And yet they did.
Jackson inherited very few draft picks because the Knicks have the unfortunate tendency to trade away future value for mediocre "now players." So his first selection came in April 2015, in a class headlined by Jahlil Okafor and Karl-Anthony Towns. The Knicks, despite their best efforts to tank, ended up with the fourth pick. They could have gone with a polished prospect, like Kentucky's Willie Cauley-Stein or Duke's Justise Winslow.
Instead, they decided on a lanky 19-year-old kid from Liepaja, Latvia, one who was "a ways away," as a scout put it to Sports Illustrated. This kid, a 7-foot-3 monster, would end up defying all expectations, and become one of the best players in the NBA. Today, his initials, "KP," are synonymous throughout New York with success.
This might not have happened if not for Gaines' lobbying efforts. "His argument for Kristaps Porziņģis convinced me to make that out-of-the-box choice,'' Jackson later told the New York Post's Marc Berman. Gaines reportedly described Porziņģis as a "once-in-a-lifetime" prospect, and told his colleagues that the Knicks needed to draft him.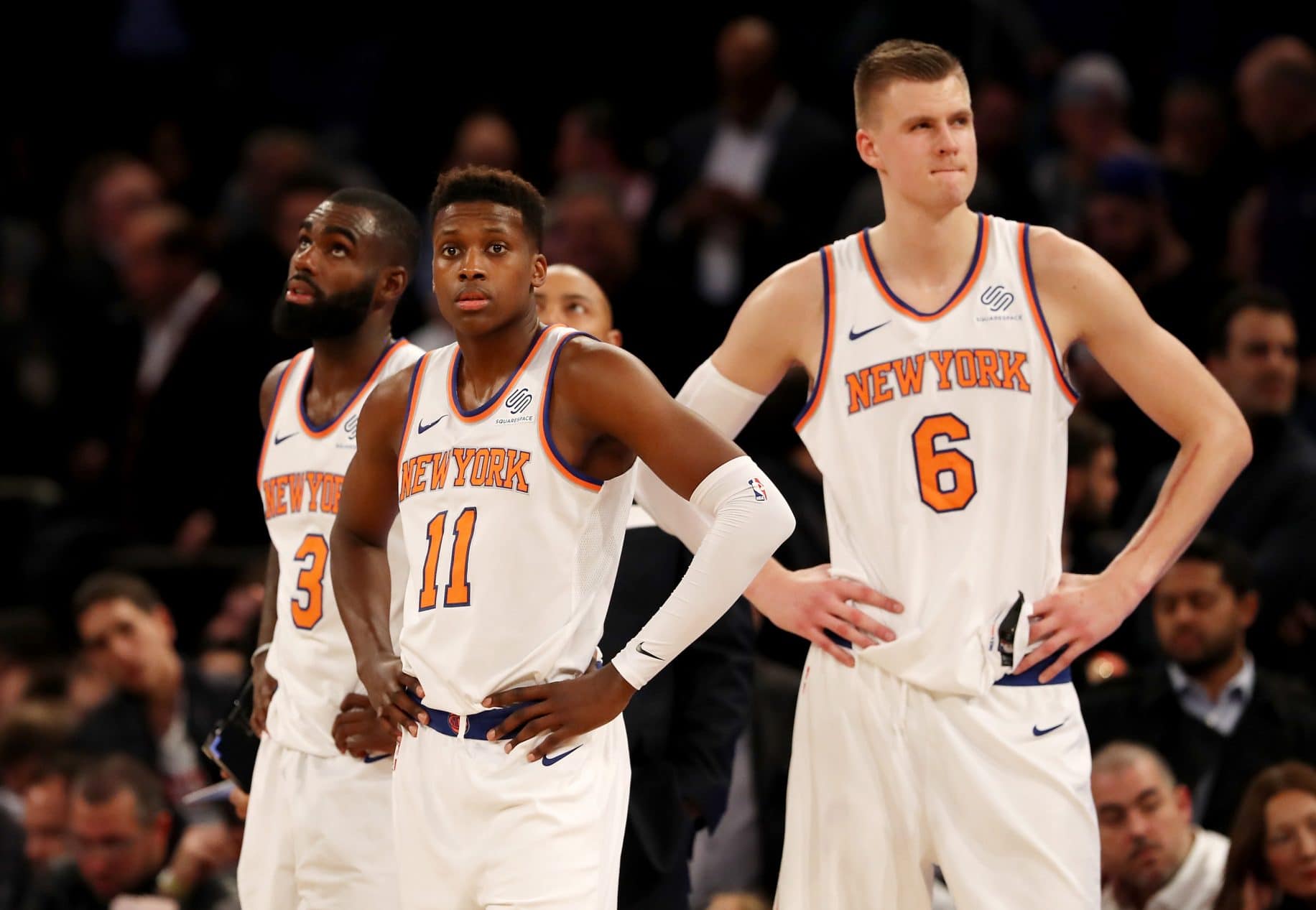 He didn't stop there. In that same draft, with the 35th pick, the Knicks selected Hernangómez (the pick originally belonged to Philadelphia, but the Knicks acquired his rights), another unknown from the top Spanish league. New York stashed him away for a few years, but during his rookie season (2016-17), Hernangómez was one of the most impressive newcomers in all of basketball.
Fast forward to 2017, when the Knicks owned the eighth-overall pick and were faced with a number of intriguing point guard prospects. Again, a player like Dennis Smith Jr. or Malik Monk would have been the conventional choice. Instead, after fierce lobbying efforts on Gaines' part, the Knicks settled on Ntilikina, a 19-year-old from Ixelles, Belgium who had been playing in France at the time. Gaines was "hot and heavy" on the European, according to Berman.
So the Knicks went all-in on Ntilikina, and if the first few weeks of the 2017 NBA season serve as any indication, it was the right move. With a 7-foot wingspan, Ntilikina is tops in the league in steals per-36 minutes and has played shutdown defense. He is emerging as a floor general and offensive leader and has already notched a number of clutch late-game buckets.
He is just the latest example of a successful Gaines pick.
Gaines has earned the reputation of an "odd duck," as one scout put it to Berman in May. "Call him different," said Jazz vice president of player personnel Walter Perrin. "He has his own style."
Gaines was a protégé of the late Jerry Krause, the Bulls' general manager when they won six NBA titles. He learned from "The Sleuth" the importance of "sitting away from people and keeping to" himself, said Perrin. "Jerry didn't want his people talking to anybody. It gives them an opportunity to concentrate on what they're there for."
Jackson hired Gaines to be his right-hand man, tasked with overseeing the Knicks' drafts and providing input when needed. He was Jackson's sole front office hire, and Krause is a big reason why. "Krause had such an eye for talent, a sense for gifted people," wrote Jackson biographer Ronald Lazenby, per Berman. "Clarence gained plenty by working for Krause. Lots of people can watch a game but they don't see, don't study and don't have the insane work ethic it takes to do all the research like Clarence."
In addition to the Porziņģis, Hernangómez and Ntilikina selections, Gaines also lobbied to sign D-League guard Langston Galloway, an undrafted rookie who would become the team's best player in the 2014-15 season. Jackson may have had an unflattering track record as team president, but his crowning achievement may have been hiring Clarence Gaines to a front office role. The Knicks should reap the fruits of his labor for years to come.