The Brooklyn Nets have lost Jeremy Lin permanently, and D'Angelo Russell temporarily. Can they still pull out a win over the fire hot Celtics?
Injuries have taken a toll in Brooklyn, and to a team that needed no other reason to fail. After recording the NBA's worst record last season (20-62), the Nets were preparing to bounce back.
The first four games they did. Brooklyn went 2-2 to start the year, led by newcomer guard D'Angelo Russell. Despite losing starting point guard Jeremy Lin to a ruptured patella tendon in the season opener.
The following nine games wouldn't go in Brooklyn's favor, 2-7 in that span. To make things worse, Russell is preparing to miss the second and likely third to fourth games of his career with the Nets.
Brooklyn Nets guard D'Angelo Russell is likely to miss several games with a left knee injury, league sources tell ESPN. He will undergo further evaluation. He was hurt in loss to Jazz on Saturday night.

— Adrian Wojnarowski (@wojespn) November 12, 2017
Can they survive? Tonight they will take on the flaming hot Boston Celtics, after going 2-3 on their first road trip of the season. Don't let this injury bug fool you, the Nets have as good a chance as ever to beat the Celtics. My gut's telling me they will.
Kyrie Irving has put on an performance of MVP caliber after losing star forward Gordon Hayward the first game of the year. He's averaging 20.3 points, 5.2 assists, and 1.9 steals through 13 games.
Last Friday, in a home game against the Charlotte Hornets, Irving suffered a minor facial fracture courtesy of teammate Aron Baynes. He missed the following game against Toronto, and if he plays tonight (listed as questionable), it will be through a fitted mask.
It won't be the first time he's played through a mask, and not the first in New York either. In 2012 Irving notched a then-career-high 41 points over the Knicks while wearing a black fitted mask.
Why is it then, Brooklyn should have any hopes of pulling this out?
A couple reasons.
Last Time Russell Sat Out…
the Nets earned a big win at home over the Cleveland Cavaliers. No one expected Brooklyn to come out on top that night without Russell, and they stomped expectations.
Backup point guard Spencer Dinwiddie led the offense on a smooth routing of the Cavaliers, 112-107. Obviously, the 12-2 Celtics are better than the 6-7 Cavaliers, but for the Nets to beat LeBron James? C'mon.
---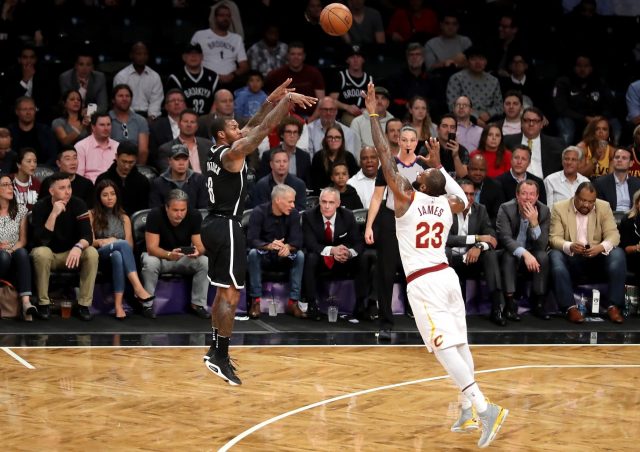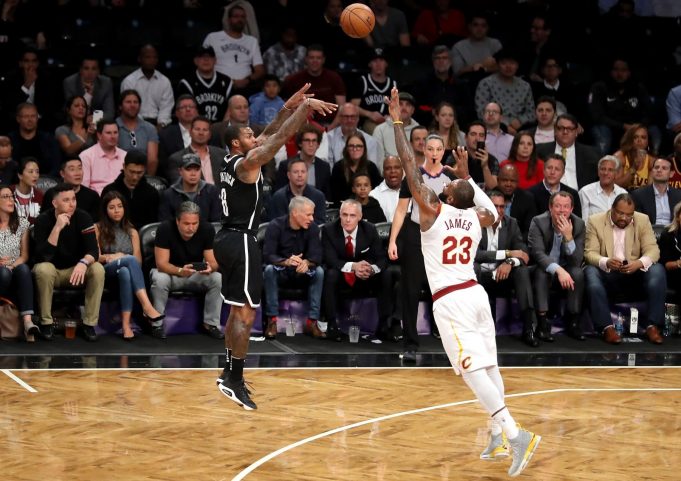 ---
Playing to Their Weaknesses
The Boston Celtics have two outright flaws (in comparison to being really good at everything else). They don't convert well at either the three-point line (35.7 percent) or the free throw stripe (76.9 percent).
Now, the Nets defense is atrocious, one of the worst in the league. Asking them to contain Kyrie Irving, is like asking 5-9 Isaiah Thomas to guard 6-11 DeMarcus Cousins (yes, even with the hip injury).
Yet if this team can funnel their energy into pushing the Celtics' offense out to the perimeter, and taking those smart fouls, we could see a good fight later this evening.
Offensive Free for All
Without Russell taking charge of this offense, it will either be Spencer Dinwiddie or reserve guard Sean Kilpatrick running the show. Instead of funneling 25+ points through the normal starting guard, the Nets will be forced to change things up.
Forward Rondae Hollis-Jefferson and center Trevor Booker should be the primary scorers against Boston, who's giving up nearly 43 points in the paint to opponents.
The return of rookie Jarrett Allen could boost the offense as well. He's been listed as questionable for tonight's game.
Forcing big bodies down low to score in the post will give Brooklyn their best chance at outscoring the Celtics.
Confidence Killed the Cat
Well, something like that. This Boston team is on a roll, and very excited, as they should be. They've won 12 straight, and two without Irving. Nonetheless, all good things must come to an end.
Look at the Golden State Warriors' record setting 24-game win streak in 2016. That's a better team than these Celtics (though we'll soon find out), and they lost to the Milwaukee Bucks. (Before peak Giannis.)
It doesn't have to be tonight, but the win streak will come to an end. So why not against Brooklyn? A team coming off a disappointing road trip with literally nothing to lose.
There is no reason they should win this game, which is exactly why they might.
---
No one's saying this is an easy task for the Brooklyn Nets, now 5-8.
Yet if they can pull this big win off without their leader, this team can set the tone, and truly prove that they're on the road to better days.