The most agonizing aspect to the thought of Carmelo Anthony in a Knicks uniform revolves around a great negative for Kristaps Porzingis.
M
uch like an excited dog in the street out front playing with his 12-year-old master, there 
Kristaps Porzingis
is — navigating through life as a youngster in the
National Basketball Association
.
He's rabid. He's overwhelmed with excitement, fetching the ball or whatever toy is involved at all costs. It's a joyous occasion as witnessing the smile on his master's face is priceless.
At this stage, the dog would go head first for the ball with an oncoming Mack truck traveling through his master's picturesque suburb town. Fun, dedication, joy — the dog hadn't yet stopped to fully understand the consequences of what this Mack truck represents.
Kristaps Porzingis, folks, is that dog.
Earlier this week, he revealed his wish to have Carmelo Anthony remain in a New York Knicks uniform, via Shaun Powell of NBA.com.
"He's an All-Star, an incredible player and I've learned so much from him," Porzingis told NBA.com. "There's still so much for me to learn from him. I would love to have him around and keep playing alongside him. But it is what it is. It's a business. If it ends, well … I don't know, it's out of my hands. I'm really thankful for these couple of years I've been with him, just seeing how he works during the summer. It proves he wants to win and he wants to be great. I'm sure he'll make the right decision for himself."
Hopefully, KP is simply showcasing his uber public relation smarts in this instance.
He's yet to experience an Association world without Melo.
KP doesn't even know. This world can be a magnificent version. It can mean the difference between a possible hall of fame career or one of those "maybe" individuals. It can mean experiencing the "KP era in New York" as opposed to KP as just one of the guys in New York.
It can mean the difference between KP's full potential and his continued halt in progression at this big boy stage of basketball.
It started on draft night, a little over two years ago. Upon the drafting of KP — while every Knicks fan was unraveling at the seams due to the selection — reports of Melo's unhappiness with the pick surfaced quickly, via Stephen A. Smith of ESPN.
"I [was] talking to my sources last night. All they said was, he's furious, he's livid. He feels completely hoodwinked and betrayed by Phil Jackson," Smith said on SiriusXM Mad Dog Sports Radio. "He feels like he was lied to, like he was sold a bill of goods. And he's willing to concede that he wanted his money. But he didn't know it was going to be like this. He didn't know it was going to be this bad. And he can't believe that his second season under the Phil Jackson regime, he has to look forward to it being worse than even last year was."
He feels completely "hoodwinked and betrayed" by Phil Jackson.
It's one thing for fans and regular folk to feel this way and voice displeasure. But for the leader of the team to do so is so wrong on so many levels.
Say what you want about Stephen A. Smith, but his record speaks for itself. He's usually been right about all of the top NBA news. He was first to get the LeBron James "decision" among many other offseason rumblings.
Nevertheless, despite Melo's unhappiness, there was no heat between he and KP. Porzingis quickly proved himself and all was well. Then this duo showcased what they could do on the court together. More specifically, what they couldn't do on the court together.
You'd think with a guy like Melo and a burgeoning young star like Porzingis, a bright future was visible on the horizon. You'd think this duo should be enough to compete for at least an eighth seed in the terribly weak eastern conference.
If you thought that, you'd be wrong.
A 31-51 record followed a 30-52 record. How is this possible?
Naturally, there have been many scapegoats. Phil Jackson has been blamed tremendously, a fair criticism no matter where you stand in terms of the level of culpability over the course of his Knicks regime. Derek Fisher was a scapegoat, and an early one to boot. Most recently, Derrick Rose was put atop others as the big time villain in Knick land.
But I ask you this: If Carmelo Anthony is still that excellent an NBA star, shouldn't he be able to at least compete with the horrid eastern conference with the talent he was equipped with this past season?
Kristaps Porzingis
Derrick Rose
No. In no world is this roster championship caliber. That's easy to spot. But we're not talking about chips here. We're simply asking for a .500 record or close to it.
The Indiana Pacers finished as the seventh seed with a 42-40 record. Obviously, Paul George is that superstar. But what else do they truly possess? Is their personnel that much better than what the Knicks were equipped with?
Surely, it's a better roster overall, but it's not head and shoulders more desirable than New York's.
What about the 43-39 Atlanta Hawks or the 41-41 Chicago Bulls? Are those rosters that much better than the Knicks from a season ago?
Atlanta:
Chicago:
Again, both squads are more talented than the Knicks, but it's not this landslide Melo apologists like to force the narrative as.
But forget team success for a moment. Let's dive into KP's development. Many believe Melo's presence takes pressure off the young Latvian. They believe his scoring allows KP to be that secondary option he needs to be at this very moment.
The only folks who spew that notion are those who just don't understand the game.
These Knicks don't win. What pressure? This team can lose with Melo or without Melo. He makes no legitimate difference at this stage in the game. So what pressure are we speaking about?
What's important is opportunity.
Amazingly, despite his increase in age and horrid field goal percentage (which is constantly overlooked and apologized for), Melo's shots per game haven't declined. A season ago, Melo finished an inexcusable 10th in the league with 18.8 shots taken per contest. During KP's rookie season, he finished eighth with 18.2.
He finished with pathetic percentages from the field each season, .433 and .434, respectively.
Meanwhile, young Porzingis took only 14.9 shots a contest a season ago and 12.3 during his rookie campaign. His rookie campaign number was more excusable as he did, indeed, hit a rookie wall the team wasn't prepared for. Last year, though, his possible and probable development forward was put in neutral partly thanks to Melo's selfishness with the ball.
Carmelo Anthony has no idea how to think team over individual.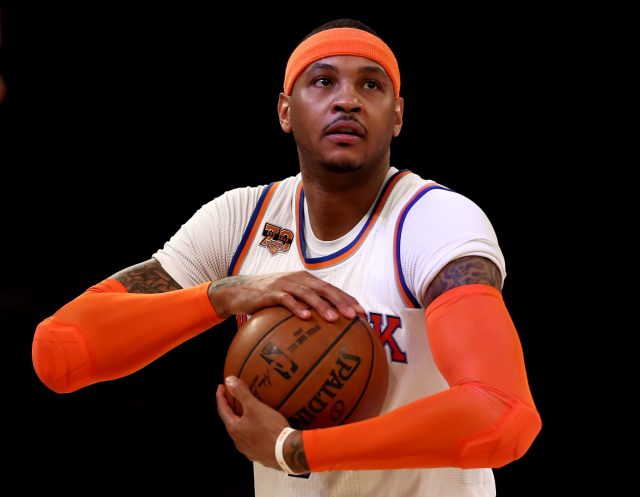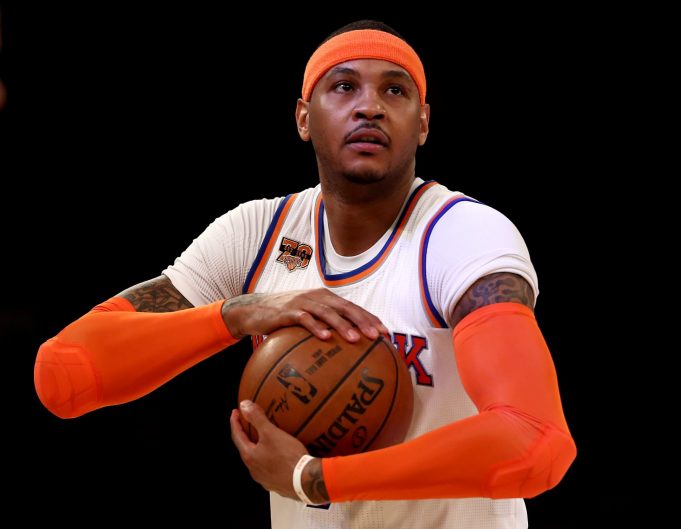 At one point in his hall of fame career, he represented one of the most dangerous one-on-one scorers in the history of basketball. But he does very little else well and has never played well with others, Porzingis included, despite his warm words for the 33-year-old scorer on bad knees.
Remember, for how great he is with the media while representing that coach's dream at such a tender age, Kristaps Porzingis is that dog running wild in the street. He just doesn't understand. He cannot be blamed.
Hate Phil Jackson all you want. He deserved to be fired for such a terrible mistake that was re-signing Melo among other missteps such as forcing a system upon his coaches and players. But he was right in one aspect as the building burned to the ground …
Melo is no good for Porzingis.
KP, immediately, needs his system, his players surrounding him. He needs the right personnel grouping surrounding his young body in an attempt to see if he can be that generational talent the Knicks need to create the next era of Knickerbockers basketball.
Melo's presence doesn't do that. In fact, Melo's presence hinders that.
How can any starting five win with Melo and KP side-by-side defensively as the power forward and center or small forward and power forward? It's downright impossible. Defensively, it's a disaster. Melo is entirely too slow at the three to keep up with 95 percent of the threes in the league and if Melo is playing the four (which is his natural position these days), he and KP in the front court is dangerous offensively, but a disaster on the defensive end of the floor.
This cannot be argued and a simple basketball idea. The two don't fit together.
As bad as Jackson was in certain aspects was as irresponsible and immature as KP was when he skipped the exit interview and went missing in action. Now, he's back. He's proclaiming that New York his new home and that he hopes Melo stays.
Some Knicks heads believe the club should keep Melo, as a proper return won't come.
I ask those folks this, "What do you expect in return for a 33-year-old shooter who's under .435 from the field and equipped with two bad knees and doesn't want to play the four, his natural position these days?"
Ridding themselves of Melo for nothing in return is a win for this organization. It allows the team to turn the page and properly build around the possible next generation player.
What the dog (KP) needs at this very moment is proper parental guidance. Both the 12-year-old and his pet need that father figure to tell them that playing ball is great, but the backyard makes more sense. The backyard represents a safe zone that'll allow both parties to spread their wings to the fullest.
Experience it before you wish for the status-quo to continue.
Experience life without Melo, young Porzingis. It may be the best thing that's ever happened to you, your city of New York and your basketball club named the Knickerbockers.
Hate Phil Jackson all you want, but don't think for one moment he didn't bring in the guy who could change everything for the franchise in a league that's built around superstars. The only thing we need now as that "parent" who's going to do the right things and see it through, without Melo, a detriment whether he attempts to blend in or not.