What in the world are fans of the New York Knicks celebrating in the ousting of president Phil Jackson? The evil is still firmly entrenched.
I
f we provided Steven Spielberg a blank sheet of paper, he couldn't even think of a more dramatic and sickening narrative than what's surrounding these
New York Knicks
. With all of his genius wording and character conjuring, Spielberg would have to defer to real life.
Just think about what's happened over the last three-plus years …
The only thing the greatest basketball fans in the world wanted was for owner Jim Dolan to hire a bonafide basketball man and get the hell out of the way. When Phil Jackson was inked during the later stages of the 2013-14 NBA season, that's exactly what Dolan did and we applauded the guaranteed birth of a new day.
Not only did it not work out, it caught fire in a blaze that'd impress Spielberg's most talented stunt coordinators.
Now we wait for the next leader to take the helm at Madison Square Garden. An interesting thing is happening while we wait. Dolan is once again calling the shots. The very same Dolan who allowed Isiah Thomas to not only orchestrate a horrid roster, but ruin the team's future. The very same musician (Dolan) who couldn't get along with the lovable Charles Oakley. The very same Dolan who brought Isiah back to the Garden (New York Liberty) when, thanks to his ineptness and off-the-court dealings in real court, has no business being anywhere near the Mecca.
Too many individuals are celebrating the Jackson ouster like it's the end of all ills at the Mecca. This is the incredible story for today. While Phil's tenure was, for the most part, a mess, there's nothing to celebrate in his dismissal.
Evil still resides within MSG's walls and celebratory ceiling (if you can see it through the Chase Bridge).
Prior to Phil, these Knicks weren't in great shape. There was a hefty sum of money on the books and very little to compliment Carmelo Anthony. In order to own a future, Jackson did the appropriate thing by cleaning house with not only dollars, but knuckleheads (see J.R. Smith and Iman Shumpert). He, of course, took flak for Smith and Shump winning a title, but hey, they were playing with LeBron James. Let's calm down.
He then drafted the right guy in Kristaps Porzingis. He did so while knowing full well the entire basketball world would rip him apart.
What hurt Phil during his three-plus year reign at the Garden isn't appropriately pointed out by the media. The is the most frustrating part of today's story.
Many will scream about Phil calling out Melo in public, that it actually hurt Melo's trade value. If you believe that, you're just lost. These are NBA executives we're dealing with. You think they'd be less inclined to trade for Anthony just because Phil called him out? In addition, just because the entire world knows Phil wants to rid himself of Melo, do you believe that somehow tweaks Melo's trade value?
Since he signed his "a little less than max extension" near the beginning of Jackson's reign, Melo has held all of the cards. He has a no-trade and controls everything. In calling him out, Jackson was, essentially, either challenging him to meet the call or pissing him off to an extent that will make him want to get out of town.
When Jackson criticized him, I was really looking forward to Melo becoming furious and showing his boss that he is worth it all. I was looking forward to Anthony taking out his anger on the court while dominating the opponent. Instead of answering the call, Melo decided to take the silly route and start a silent social media war with his boss.
The areas for which Jackson truly failed is as follows:
Forcing a system, the Triangle, onto his head coach and players. A guy like Jeff Hornacek has no shot when Jackson is stopping practices and forcing Kurt Rambis to roam the bench.
Not fully adapting to the small-ball ways of the NBA.
Re-signing Anthony in the first place.
Many also complained that Jackson was unable to "attract big free agents to New York." While this is true, no big free agents have wanted to come to this organization … ever, even prior to Phil. What if the reason lies elsewhere, perhaps with Melo or Dolan?
But it doesn't matter. Once he re-signed Melo, he and Melo both entered into a mutual agreement as partners. To blame the entire soured relationship on Jackson would be short sided. Yet, for some strange reason, Jackson takes the lump sum of the blame.
Melo is a guy who's never found himself in complete harmony wherever he roams. Just look at the record including his first action forcing himself to the Knicks which, according to many reports, ended the reign of the best general manager the Knicks had in decades (Donnie Walsh):
It doesn't just stop there.
Charley Rosen, Jackson's longtime confidant, wrote in a column Wednesday that Anthony's "private complaining'' led Porzingis to "become disrespectful to several members of the coaching staff.''
Sources close to Marc Berman of the New York Post revealed that Anthony also ripped into Porzingis for publicly endorsing the triangle.
"We're starting to learn it now the way we should and we should have been playing from the beginning of the season," Porzingis said then. "So we're a little behind. Hopefully, I don't know when, we can start using it properly and making some impact playing it. I like the triangle. My whole first season, we played nothing but the triangle so I know it pretty well.''
According to Berman's source, Anthony was furious to read Porzingis' positive sentiments on an offense he disdains.
"Melo really chewed him out, lit into him,'' the source said.
How can the leader, the Knicks leader take it upon himself to take this course of action when his team needed leadership during these desperate times. Instead of looking to win games, he decided to rebel against authority.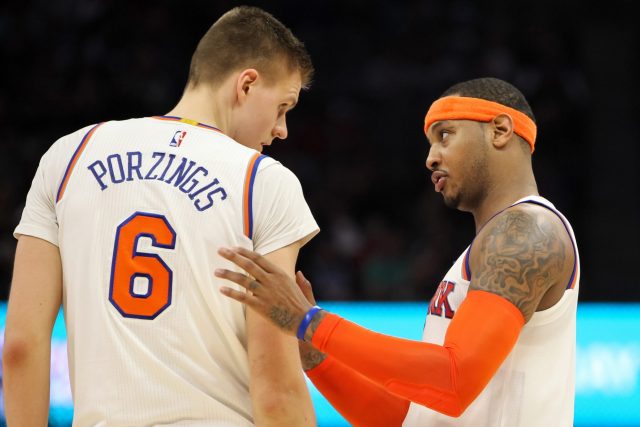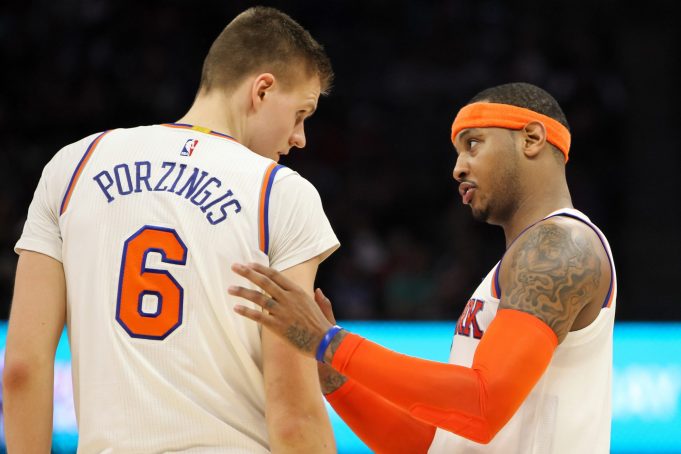 Listen, nobody likes the triangle, but that doesn't mean it couldn't have been effective. It absolutely can work if the right talent and leadership is involved.
With Melo employed, however, there's no chance.
On Thursday, one of the very best in the business, Howard Beck of Bleacher Report, offered up a sane and logical take on the Phil Jackson situation. He successfully reveals why his era in New York wasn't a total dumpster fire.
So, yes, there's reason for hope, though admittedly hope is a dangerous drug around here.

For all the oddities and flare-ups of the last few years, the situation today is not nearly as bad as it was in 2005, or 2008, or even 2014. By Knicks standards, that's worth celebrating.
And it's amazingly true. While so many Knickerbockers fans act like all of the evil has left the Garden, the rest of the NBA continues to gain an advantage on the team who hasn't won a chip since '73.
We're celebrating … what, exactly? The fact that James Dolan is once again running the ship? We're celebrating the idea that Carmelo Anthony might stay, resulting in more mediocrity?
Jackson, for all of his faults, stripped the team down to its core and brought in a franchise player who's suddenly acting like a child (skipping exit interviews, liking social media posts). He's acting like the very same child who wears No. 7 and matches Jax's childish social media tactics. What if Frank Ntilikina turns out to be the real deal? What if the Knicks take the $20-plus million available to them this summer and turn it into another star, perfectly blending with KP, Willy Hernangomez, Ntilikina and the rest of the youth?
Suddenly, the Jackson era won't look as bad.
We were all afraid because Phil starting talking about trading Porzingis and reports surfaced that the Knicks were interested in re-signing D-Rose. So Dolan swept in and took action and, for the first time in his life, save the day in the eyes of so many. 
How do we know Phil was actually going to do those things? You know this guy. He loves to tweak people and get the media going. The noise about trading KP could have simply been a wake-up call for him to get with the program. Perhaps the Knicks intentionally leaked the D-Rose interest in hopes to force Melo to take a trade rather than a buyout.
We simply don't know. Instead of Dolan continuing to stay out of it like he preached from day one, he ended it.
Don't think Jackson started with a clean slate. He was brought into a tricky situation and only compounded it by, quite literally, extending it.
Anthony and Dolan are a successful business tandem. Dolan overruled Walsh in 2011 and executed the trade that Walsh didn't want. He now fired Jackson, while it appears, siding with Anthony. While reports still circulate that Melo is on the trade block, I, for one, am not holding my breath. The Knicks organization and fans, for that matter, are extremely confused on how valuable Carmelo Anthony is right now. At 32-years-old on bad knees acting as a one-dimensional player who shoots under .450 from the floor, there isn't much value. Nobody wants to trade for a guy carrying that type of price tag.
The Knicks organization and fans, for that matter, are extremely confused on how valuable Carmelo Anthony is right now. At 32-years-old on bad knees acting as a one-dimensional player who shoots under .450 from the floor, there isn't much value. Nobody wants to trade for a guy carrying that type of price tag.
On WFAN on Thursday, Frank Isola of the New York Daily News backed up this sentiment by saying to Joe Benigno and Evan Roberts:
"This is where Knicks fans are confused. Melo has no value."
It seems to me, despite the triangle and his missteps in not keeping up with today's small-ball ways, Phil Jackson did a halfway decent job here in three years.
When you look around, you see a franchise player, many solid pieces, all draft picks in tow and plenty of financial stability from a salary cap perspective. That sounds like a pretty bright future to me. This is all on the condition that they rid themselves of the other major problem: Carmelo Anthony.
It's time to reel in a new leader and start building around The Unicorn.