The Brooklyn Nets start to the 2017-2018 season has seen ups and downs. A recap of what's disappointed, and what's positively surprised.
A
fter recording the NBA's worst record in the 2016-2017 season, expectations for this year's Brooklyn Nets were at an all time high.
General Manager Sean Marks acquired young star D'Angelo Russell, and some seasoned veteran wings in DeMarre Carroll and Allen Crabbe. With a healthy Jeremy Lin, and per the Nets point guard, playoffs were the ultimate goal.
Only 13 games into the year, that is starting to look less and less like a possibility.
There's good and there's bad, things we'll be revisiting all season.
A look at some narratives shaping up for the young Nets, after a shaky start to the new year.
Bad: The East Isn't as "Weak" as Predicted
In what was considered a pivotal summer for multiple franchises, several NBA All-Star caliber players made a move from Eastern to Western teams, and not so much vice-versa.
Among them: Jimmy Butler, Paul George, Paul Millsap, and Carmelo Anthony. All four of them having been named to the Eastern All-Star team a collective 21 times. The West has become even more of a super power, and the East a playground for LeBron James and Giannis Antetokounmpo.
In that, hope surfaced for the Brooklyn Nets chances at berthing the playoffs. The summer trade additions made this team sound like a promising candidate for the toss-up 8th seed. No one could have predicted what has become of the "weakened" East.
Through 13 games, the top 9 teams have records above .500. Both Boston and Detroit have secured put some strong wins under their belt, and even the New York Knicks are fun to watch.
The Brooklyn Nets? They're 5-8 in that span, and currently the 13th seed in the conference. Sitting only above two lottery pick teams in Atlanta and Chicago. Not choice.
Good: Carroll is Not a Salary Dump
The Toronto Raptors sent what they thought was an injured veteran, well past his prime, with both a first and second-round pick to the Brooklyn Nets in exchange for center Justin Hamilton.
He was never considered to be on track for a roster spot, and was later waived.
Thus became the narrative salary dump. The Raptors walked out of the trade with nothing more than cap space and one less first round pick. To them, it seemed a fair transaction. So far, they couldn't have been more wrong.
? Passing ? On ? Point pic.twitter.com/IA23CnIxYa

— Brooklyn Nets (@BrooklynNets) November 7, 2017
DeMarre Carroll has been a top three talent for the Nets in their lowly start to the year. He's posting averages of  13.6 points (career-high), 6.9 rebounds (career-high), and 1.4 steals per game.
Among forwards in the NBA, he ranks 18th in rebounds per game.
Carroll has been a consistent scorer late for Brooklyn and extremely versatile in the post. He's switched to the four on multiple occasions to make things easier for the shorthanded Nets
.@DeMarreCarroll1 (13 pts) joins D-Lo as the only Nets to score in double figures in each of the team's 1st 4 games this season! #WeGoHard pic.twitter.com/OhqNrZ8z2p

— Brooklyn Nets (@BrooklynNets) October 25, 2017
To think they packaged him with a first-round pick, just continues a poor narrative for the Raptors as a franchise. Don't get me wrong, Carroll isn't going to get them past LeBron.
But that doesn't mean you throw a first-round pick to the Nets to get him off the payroll.
Bad: Allen Crabbe is Inconsistent
Brooklyn signed Crabbe to a four-year/$75-million offer sheet in the summer of 2016. It was matched by Portland, who traded him after one year on that deal to Brooklyn. In return, the Nets sent Andrew Nicholson who again, was waived at the end of the trade.
This trade may be the sole salary dump of three trades labeled as such. Timofey Mozgov is on a hefty $16 million a year, but Crabbe's deal is the fifth highest in franchise history.
In his first year with Brooklyn, he's averaging 10.6 points on 38 percent shooting. That's not ideal by any means.
25 points coming from 50% shooting from both behind the 3 point line and the field

It was a season high night in points for @allencrabbe pic.twitter.com/hPsPms2udO

— Brooklyn Nets (@BrooklynNets) November 4, 2017
That performance against the Lakers was his best of the games played thus far, and it came from an appearance off the bench. Ironically enough, Crabbe was excited for the move to Brooklyn in that he could prove that he's a starting caliber player.
In his previous years with Portland, the guard was a renown sharpshooter. He averaged 44 percent (!!!) from behind-the-arc last year, second in the league. Now, he's shooting 35 percent, which is closer to the league average. That's also on a career-high 5.5 attempts per game.
For now at least, as he continues to struggle with consistency, he should remain on the bench. Playing with that second unit will keep him versatile on offense, where he's hurting the most. Until he can post back-to-back games with some efficient scoring, he'll hurt this team apart of the starting lineup.
---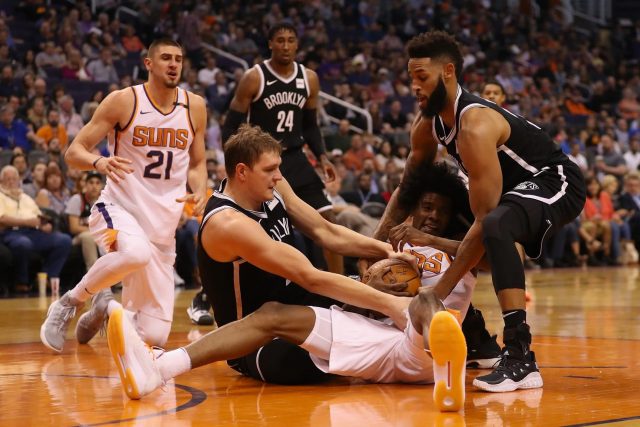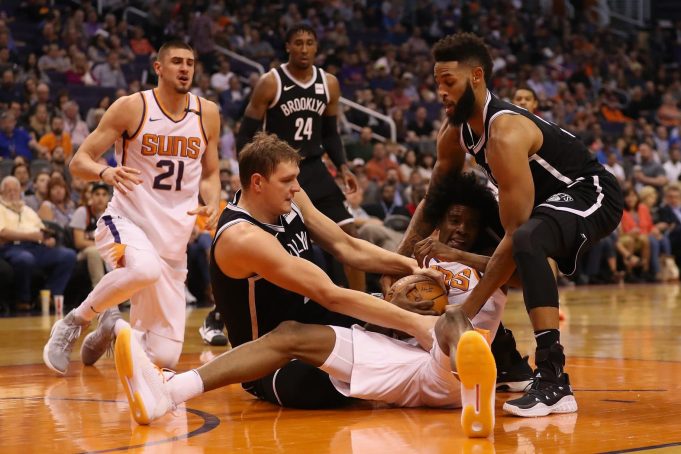 ---
Ugly: Defense is Nowhere Near Standard
Though the Brooklyn Nets rank 3rd in the league in points per game, their defense is atrocious. It's really a matter of presence in the post, and their big men have staggered in and out of games with health issues.
On average, Brooklyn gives up 48.2 points in the paint per game. That ranks them 25th in the league. Big men have been the biggest issue for the Nets, as five opposing centers have recorded 30+ points against them.
A list below, courtesy of Anthony Puccio from Nets Daily.
Six players have scored 30+ points on the Nets this season. Five of the six are bigs.

– N. Vucevic (41 points)
– A. Gordon (41 points)
– K. Porzingis (30 points)
– B. Lopez (34 points)
– N. Jokic (41 points)

— Anthony Puccio (@APOOCH) November 8, 2017
That's not accounting for the 21 given up to Jusuf Nurkic of Portland, or the 24 scored by Derrick Favors of Utah. Brooklyn is really struggling in the low post, as they didn't fully prepare at the center position ahead of the year.
After drafting rookie Jarrett Allen and receiving Mozgov as a part of the Russell deal, their options at center were limited. They have to play both, as one is getting paid $16-million a year and the other they'd like to keep around and develop.
Aside from those two, Trevor Booker and Rondae Hollis-Jefferson help put out the defensive fires in the front court. Hollis-Jefferson being the clear cut Nets DPOY, averaging one block per game.
Brooklyn's opponents score an average of 114.5 points per night. Defense like that isn't going to get this team where they want to be.
They've held two teams to under 100 points, and both nights came out with a win. The Nets have to drastically improve their defense before they can begin climbing the NBA's lowest ranks.
Good and Bad: Russell is Everything We Were Promised
After having a rough go at being a team leader in Los Angeles, many fans second guessed D'Angelo Russell's capability to benefit this team. Just one month into the season, he has; in nearly every way.
The young guard has been on a scoring tear, averaging a career-high 20.9 points per game. That ranks Russell 3rd among point guards, and 21st overall. He's not doing it sloppily either, shooting 46 percent from the field.
D'Angelo Russell leads @BrooklynNets to road win with 23 points, 8 assists and 6 rebounds! pic.twitter.com/nookL7NbR6

— NBA (@NBA) November 7, 2017
He's been especially good in the fourth quarter, where he's averaging 6.8 points per game.
Big time play tonight by our very own @Dloading ❄️ pic.twitter.com/oDsmtB9Z4a

— Brooklyn Nets (@BrooklynNets) November 11, 2017
His passing game has seen some growth, likely due to his overall maturity boost after the trade to Brooklyn. 5.7 assists per game is a career-high for Russell, and he's recorded 7+ in at least 5 of his 12 games played. (That puts him in the league's top 20 as well.)
The nutmeg seen 'round the ?. Russell's vision is excellent & his chemistry with Mozgov is great. DLo is a highlight reel waiting to happen pic.twitter.com/W8oKTEkAdz

— Nicholas LeTourneau (@nick_lt) October 25, 2017
Unfortunately, Russell's rise to a B-tier player has become one of the Nets' biggest flaws. In last night's loss to the Utah Jazz, he left the game in the fourth with a knee injury. The minutes remaining proved fatal for Brooklyn, who were outscored 24-10 in that span.
It's worth mentioning backup Spencer Dinwiddie wasn't available either, who's done a great job of pushing this offense in Russell's absence. But without Russell, the Nets energy just isn't the same.
This young and upcoming guard, on a campaign for the NBA's Most Improved Player award, is everything Brooklyn hoped he would be. Turnovers are a slight issue, but we'll cut him some slack for now.
While he's playing at this caliber, Russell can do no wrong for the Nets; only continue to push this team to a higher level.
---
It's a little early to make any judgement call permanent, so we'll revisit these narratives down the road. For now, the evidence is more than apparent through 12 games.
While the Nets aren't as good as they'd like to be, fans still must appreciate how good they've become.
In an exciting year to be a Brooklyn Nets fan, seats on the bandwagon are still open for the time being.
Until then, sit back, relax, and watch D'Angelo Russell put on a damn good show.