Ranking the greatest New York Islanders of all-time is like ranking your children: Someone's going to get their feelings hurt in the end.
Trying to rank the greatest New York Islanders of all-time was… difficult.
Originally, this was going to be a top 10. But that quickly proved impossible. There are just too many players deserving of inclusion. So we doubled it.
Over the past 45 years, 542 players have laced up a pair of skates as Islanders. From Keith Acton to Harry Zolnierczyk, it's a long list.
Spoiler alert: Neither Acton nor Zolnierczyk cracked the top 20. But a bunch of Hall of Famers did. And then some.
These rankings are based on a number of different criteria. A player's production, obviously, plays a big part. Numbers count. But so does their legacy.
Enough with the setup. Let's put the biscuit in the basket, shall we?
Five Who Just Missed the Cut:
Now, for those who did make the cut.
Flatley was one of those guys who should have spent his entire career as an Islander but played out his final NHL season in the worst sweater possible—the one belonging to the Rangers.
Still, that doesn't detract from his Isles' legacy. A guy who would do the dirty work in the corners and along the boards, Flatley served as team captain for five seasons.
The original Islander, Harris was the first overall selection in the 1972 NHL Draft. He formed the "Long Island Lighting Company" line along with Clark Gillies and Bryan Trottier, which was ultimately broken up by some guy named Bossy.
A six-time 20-goal scorer with the Isles, he missed out on the dynasty. Harris was part of the package the Islanders traded to Los Angeles for Butch Goring in the 1979-80 season.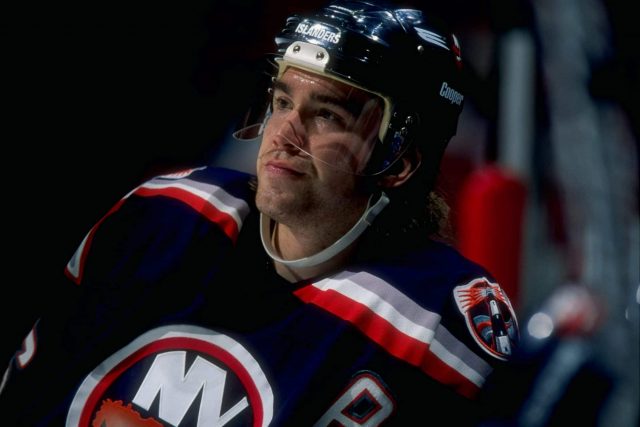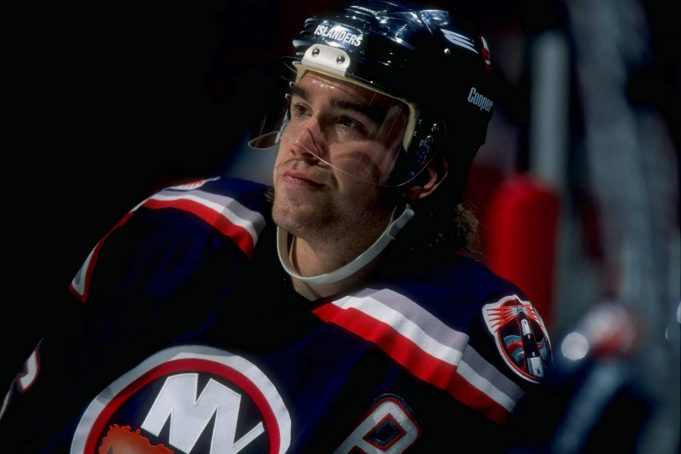 Palffy might have been weird—there was the celebratory kiss he shared with Travis Green after a goal against the New Jersey Devils—but damn could he score. Like this first-period hat trick against the original Winnipeg Jets in 1996.
A three-time 40-goal scorer with the Isles, Palffy averaged a point per game—311 (168 goals, 163 assists) in 311 games. He was traded to the Los Angeles Kings in 1999.
Any conversation about the most underrated players in Islanders history has to include Jonsson. If he played on better teams than those that he-who-shall-not-be-named put together, the steady Swede would have gotten far more recognition than he did.
Jonsson did everything well but nothing truly spectacular. He was just a solid, all-around defenseman who quickly became a subdued leader on the team. The eighth captain in team history in 1998, wearing the "C" for a season-and-a-half, Jonsson was inducted into the Isles' Hall of Fame in 2012.
Persson only spent nine years in the NHL—all with the Islanders—but what a nine years they were. He holds the team record for most points by a rookie defenseman (56 in 1977-78), and his 50 assists that season remain the NHL record for rookie defensemen.
A superb puck-handler and passer whose hockey IQ was off the charts, he and Dave Langevin formed one of the best second defensive pairings of their era.
The Isles' fifth pick in the 1972 NHL Expansion Draft (ninth overall), Westfall was the first captain in team history. A two-time 20-goal scorer in Uniondale, he was a gritty, blue-collar player who won the Masterson Trophy in the 1976-77 season.
After retiring in '79, he'd spend the next 19 years alongside Jiggs McDonald as the team's color analyst on what used to be SportsChannel (Channel 3 on those old, brown, push-button cable boxes).
Overshadowed by his more talented teammates, Bourne was a key supporting piece for the dynasty. Clutch, gritty and as fast as anyone on skates, it was Bourne who led the Isles with 28 points (eight goals, 20 assists), on their run to a fourth consecutive Cup.
How fast was he? Check out his goal against the New York Rangers in Game 5 of the 1983 Patrick Division finals.
The only player to win an Olympic Gold Medal and a Stanley Cup championship in the same year, I'm not going to try and articulate the kind of player Morrow was. Wayne Coffey of the New York Daily News did it as well as anyone back in Feb. 2015.
Not even 24 hours earlier, as the Islanders were beating the Predators, fans in Nassau Coliseum spotted Morrow and started chanting his name, then "U-S-A, U-S-A." Morrow smiled. He didn't make a big deal out of it, because he doesn't make a big deal of anything. He just keeps to his kind, steadygoing self and does his job, turns being low-key into an art form. Morrow was the same way as a hockey player, a 6-4, 210-pound back-line behemoth who was as flashy as a cinder block, and about as easy to get around.
He's been the team's director of pro scouting since 1993.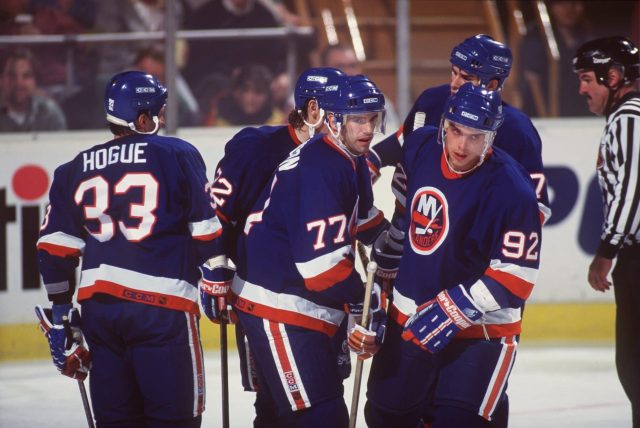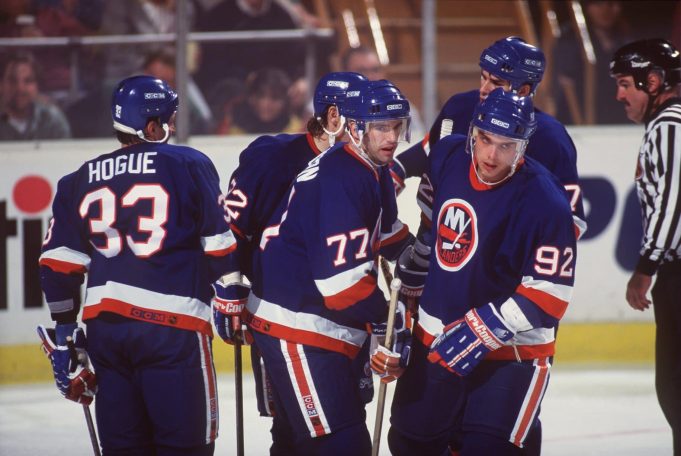 For fans like me, who lived through the dynasty years but were a bit too young to appreciate them, the 1992-93 Isles hold a special place in our hearts. Turgeon is a major reason for that.
There wasn't much that "Sneaky Pete" couldn't do. He was electrifying, a threat to score—or set his teammates up for a goal—whenever he was on the ice.
His 132 points in 1992-93 (58 goals, 74 assists) is the third-highest single-season point total in team history. Two guys named Bossy and Trottier fill out the rest of the top 10.
He was on the receiving end of one of the most cowardly cheap shots in sports history, courtesy of Washington's Dale Hunter. Incompetent ownership and the "brilliance" of then-general manager Don Maloney ended his stay on the Island far too soon.
Sutter wasn't an offensive juggernaut like Turgeon, though he did put up 610 points (287 goals, 323 assists) in 694 games with the Isles. But he was a heck of a leader, taking over as captain after No. 5 retired.
The two-time Cup winner was also a dynamic defender, often called upon to shut down the opposition's top line. In an era when it was almost required for a team to have a Sutter on the roster, the Isles arguably had the best of the bunch.
A generation of fans only knows Goring as "Butchie," the analyst on the team's television broadcasts. But another generation knows him as "the missing piece" and the guy with the ugliest helmet ever seen.
In what remains the pinnacle of pre-trade deadline deals, the Isles traded Billy Harris and Dave Lewis to the Los Angeles Kings in 1980 for Goring.
His speedy, scrappy style of play was ultimately what put the Islanders over the top and began the dynasty. Goring won the Conn Smythe Award winner in 1981 after scoring 20 points (10 goals, 10 assists) en route to the team's second cup,
Before La La Land was an award-winning film, it could be found on Long Island. For eight years, LaFontaine dazzled fans with his vision, an ability to see plays before they happened.
He scored 13 goals in his first 15 games, an 18-year-old fresh off a nine-point showing in the Winter Olympics for the United States. A six-time 30-goal scorer with the Isles, he averaged more than a point-per-game (566 in 530 games) before being traded to Buffalo before the 1991-92 season.
None of his points with the Isles were bigger than this one, though.
Tonelli is often overlooked when it comes to the Islanders dynasty, but make no mistake about it: Without him, there is no dynasty. Yeah, I said it.
Who fought off a check at the blueline and fed Nystrom for the overtime goal that won the Isles their first Stanley Cup? Tonelli. Who fed Nystrom to tie that game and send it to OT in the first place? Tonelli. Who put the puck on Wayne Merrick's stick to win the second Cup? You know who.
An accomplished goal scorer in his own right, Tonelli finished his Isles career with 544 points (206 goals, 338 assists) in 594 games.
No matter how many points Tavares winds up scoring, it's going to be nearly impossible for him to crack the top five without a Stanley Cup. That said, there's nothing wrong with sitting behind five Hall of Famers on this list.
Tavares has done more with less than possibly anyone else in franchise history. He's already cracked the Isles' top 10 in a number of statistical categories, including goals (247, seventh), assists (308, ninth) and points (555, seventh).
The coolest guy in the room with the killer mustache and flowing locks, Nystrom scored the biggest goal in franchise history.
"Mr. Islander" signed his first contract in the Coliseum parking lot, where he could often be found after games. He's been a mainstay on the Island ever since. As most Isles fans know, the team hands out an annual leadership award named after him.
"Whenever we'd leave a game as a kid, we'd go into the parking lot, one person would see Bobby Nystrom, and before you knew it, a mob of people was all trying to get his autograph," his son, Eric, told Michael Russo of the Star Tribune in 2011. "He embraces that. He's so loyal to the people that have been so loyal to him."
The first thing most think of when it comes to Gillies is the fights. Legendary bouts with some of the toughest players to ever lace up a pair of skates—guys like Dave Schultz, Terry O'Reilly, Ed Hospodar and Dave "Tiger" Williams.
But physical play wasn't what Gillies was all about.
"People want me to run around the ice hitting everything that moves," he told the New York Times' George Vecsey back in 1982. "But that's not me. If a teammate needs me, I'm there and the guys know it, and the opposition knows it. When it counts, I'm there, but I don't run all over looking to show how big or tough I am. The other teams know I can fight if I have to, but I would rather just play hockey."
For all his physicality, Gillies never accumulated 100 penalty minutes in a season. He did, however, rattle off six 30-goal campaigns, finishing his 12-year Islanders career with 663 points (304 goals, 359 assists) in 872 games.
The greatest goalie in franchise history—it's not even close—Smith was a different breed. He let everyone know that the crease was his and wasn't afraid to whack someone in the shins with his stick if they got too close. That includes the "Great One," Wayne Gretzky.
Many considered him to be the dirtiest player in the league, but Isles fans couldn't have loved him more. During the 1983 Stanley Cup Finals, the Edmonton Journal ran a photo of Smith, riddled with bullet holes and the tagline "Public Enemy No. 1."
The first goalie in NHL history to score a goal, Smitty's 88 playoff wins are tied with Ed Belfour for the fourth-most all-time.
When it comes to who the best pound-for-pound two-way center in NHL history is, we're usually left with three choices: Bobby Clarke, Steve Yzerman, and Trottier. While he might be behind Clarke defensively and wasn't the scorer Stevie Y was, Trotts is tops.
The franchise leader in multiple categories, including games played (1,123), assists (853), points (1,353) and plus/minus (plus-470), Trottier was a skilled goal-scorer himself. I was at the Coliseum when he scored his 500th career goal against Calgary on Feb. 13, 1990.
Only once did I hear the old barn as loud for an Isles game: Shawn Bates' penalty shot against Toronto in the 2001-02 playoffs.
When the only thing your arch-rivals can chant about your team is that you suck — nearly 30 years after you retired — you know you were a hell of a player.
You know what else says that? Being the anchor—and captain—of four Stanley Cup championship teams, winning three Norris Trophies and breaking Bobby Orr's record for most goals by a defenseman.
Potvin finished his career averaging nearly a point per game, with 1,052 (310 goals, 742 assists) in 1,060 games.
As if there was any other choice. Bossy was a generational talent and, arguably, the most gifted goal-scorer the NHL has ever seen.
His career numbers—573 goals, 553 assists, 1,126 points in 752 games—speak for themselves. Bossy is the only player in NHL history to put together nine consecutive 50-goal seasons. Then there's his "50 in 50," which is way cooler than ESPN's "30 in 30."
The only other player to accomplish the feat? The legendary Maurice "Rocket" Richard, whose name adorns the trophy the NHL Board of Governors has presented to the league's top goal scorer since the 1998-99 season.
But Bossy's most impressive achievement might be what he did in the playoffs. Over 129 career playoff games, he put up 160 points—85 goals and 75 assists. During the Isles' four Cup-winning years, he scored 111 points (61 G, 50 A) in 72 games. That works out to an insane 1.54 points per game.
Had his back not betrayed him and forced him to retire at the age of 30, there's no telling just how gaudy his numbers would have been.