Joakim Noah's return to the New York Knicks shouldn't disrupt team chemistry and/or success.
The New York Knicks have impressed many with their gritty play, and fourth quarter comebacks. At 6-5, they have surpassed many people's expectations, but the looming return of center Joakim Noah is portrayed, by some, as an obstacle in their efforts of playing at that level for an extended period of time.
However, when you consider his skill set and the role he may man, Noah's return should not alter or negatively affect the Knicks in any way, shape, or form.
---
---
Last year, the Knicks inked Noah on a hefty four-year, $72 million deal and it didn't go as expected. After enduring injuries, but most notably, being assessed a 20-game suspension for the use of a banned substance, Noah's first year with the Knicks came to an end rather quickly. Noah served the first eight games of that suspension last season and has sat out the first 11 games this season. After the Knicks' Saturday night affair with the Sacramento Kings, he will be eligible to return.
Unfortunately for the Knicks, even when he did play, Noah was unable to be the potent force in the middle that they signed up for.
Averaging a career-low 0.8 blocks per game and playing suspect post defense, Noah was mediocre, at best, for the Knicks on that end of the floor. On the other hand, he reeled in 8.8 rebounds in just 22.1 minutes a night.
The biggest criticism that comes Noah's way for his 2016-17 play was his limited offensive output. Averaging just five points per contest, Noah didn't provide the Knicks with a spark plug on the offensive end, though, when did he ever provide such an impact?
Over the duration of his career, Noah has always been classified as a player adept and one that takes pride in his defensive play. In the nine years he spent with the Chicago Bulls, before coming to play for his hometown Knicks, Noah was portrayed as one of the best defensive centers and passing big men in the association; he played swarming on-ball defense, was a rim protector and won Defensive Player of the Year in 2014. He even averaged a team-high 5.3 assists in 2014 when point guard Derrick Rose went down for the year with a right knee injury.
But even when Noah was the go-to man or more of a focal point in Chicago's offense — with Rose out –, his highest point per game total in a single season was 12.6. Fast forward to 2017 and Noah is a different player yes, but why is that with Carmelo Anthony, Kristaps Porzingis, Brandon Jennings and even Rose — who was acquired by the Knicks right before Noah inked the four-year deal with them — in front of him, Noah gets heat for not being more of an offensive threat?
Relying on him to be such a force is asking him to be something he has never been, that being an immense scoring threat.
Noah's inaugural season with the Knicks was disappointing because of his limited defensive impact. The Knicks gave him $72 million to be a defensive backbone and Noah simply didn't answer the call. One year later, the world thinks nothing of his potential impact on the Knicks.
After a lackluster first year, many fans and critics feel Noah's most productive days are behind him; there are no expectations on the veteran. He can just go out and play his game, though, considering the hungry and energetic player Noah prides himself on being, the center will most certainly come out of the gates firing and playing hard — making the notion of his return negatively affecting the Knicks odd.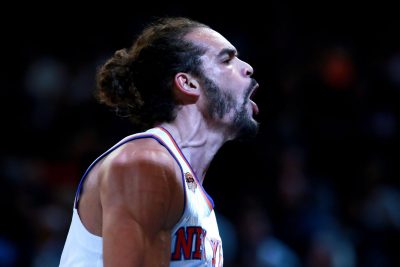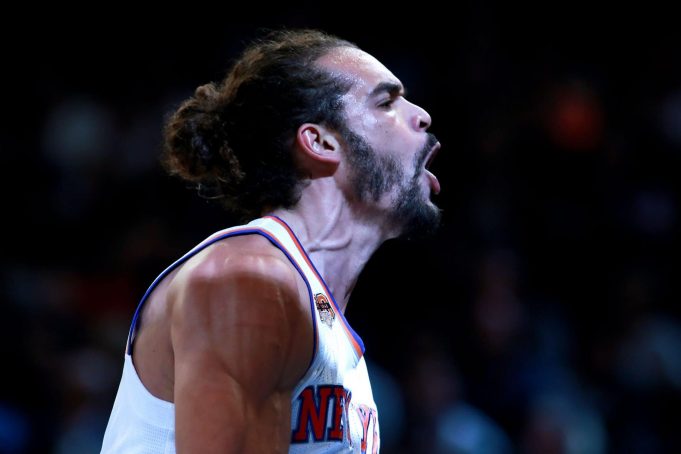 First off, the Knicks appear content with the way things have gone at the center position; Enes Kanter has been a post-up presence and is hitting the boards on both ends. Averaging a double-double, Kanter has been a welcomed addition to the Knicks' frontline. Kyle O'Quinn has also played well.
O'Quinn, a gritty two-way player, has finished in the paint, blocked shots, and played tight, contested defense. His impact on both ends has been an incredibly valuable asset off the bench. The presence of Kanter and O'Quinn already puts Noah, at best, third in the depth chart at center. And he could be even lower depending on if Willy Hernangomez can begin to showcase a willingness to be great on the defensive end.
The Knicks are 6-5 and playing exciting basketball, offensively especially. They're moving the ball, finding the open man, finishing in the paint and draining the long ball as a result of their unselfish play. Defensively, they have, as a whole, been inconsistent. Currently in the bottom half of the league in points surrendered (106.7) per game and allowing opponents to shoot 37.6 percent from beyond the arc — ninth worst in the NBA — the Knicks have been unable to consistently limit opponent's offensive output. Couldn't a healthy and hungry Noah assist those efforts?
Noah has a lot to play for and has always been a competitive player; he's going to do everything he has to in order to rekindle that dominance on the defensive end. His potential role is unclear, but considering how the Knicks are moving the ball at ease, Noah's unselfish mentality should gel nicely. And defensively, he could provide a spark plug and boast to a team struggling on that end of the floor.
Garnering minutes will be a challenge for Noah, but no matter what role he takes on, it won't, nor should it, hurt the Knicks' status quo.