Kristaps Porzingis' New York Knicks are playing an exciting brand of ball. So exciting that the Patrick Ewing 1994 squad comes to mind.
Blasphemy? Yup. Probably. I mean, there's really no legitimate reason to fight that notion. When comparing a 6-4 team to an entire era, blasphemy and words closely tied will be flung around the room.
But let's have a little fun, shall we?
Your 2017 New York Knickerbockers are now 6-4 on the young season. Led by Kristaps Porzingis, the Mecca has finally transformed into the arena of old, the Madison Square Garden of yesteryear. Hustle, grit, relentlessness, talent — it's all part of the equation of winning. Better yet, it's all characteristics of a hoops squad a rough and tumble New York City falls in love with.
Queue the music:
That's right: your young Knicks are reminding us of an entire era we fully didn't appreciate at the time yet now yearn for on an hourly basis.
More specifically, the 1994 New York Knicks.
The eras are complete mismatches. During the decade of the 1990's, Michael Jordan was faced with not only elbows to the chest on a jumper but with his head coming undone while driving the lane. The '94 eastern conference champs would be labeled as an "offensive juggernaut" when scoring 90 points.
It was a rough and tough era led by Patrick Ewing and Pat Riley understanding his personnel. There was no second superstar. Charles Oakley, Anthony Mason and John Starks were good. None were great. Riley saw this and the current attitude of the NBA and capitalized.
Meanwhile, 23 years later, the NBA is stuck in a Charmin' soft league full of team basketball that wows the senses. But yet again, here are the Knicks with Kristaps Porzingis and no other superstar full capitalizing on the league's flow. Through these first 10 games, a wave of team ball, excellent defensive effort, hustle and fundamental play has charged an entire city.
The capper comes when looking at what each player specifically does (or did) for his team. Comparing these guys to the squad of 23 seasons ago isn't anything to laugh at.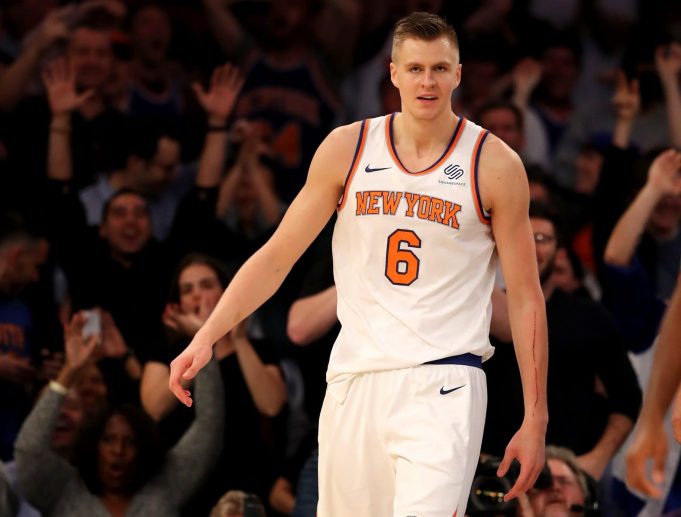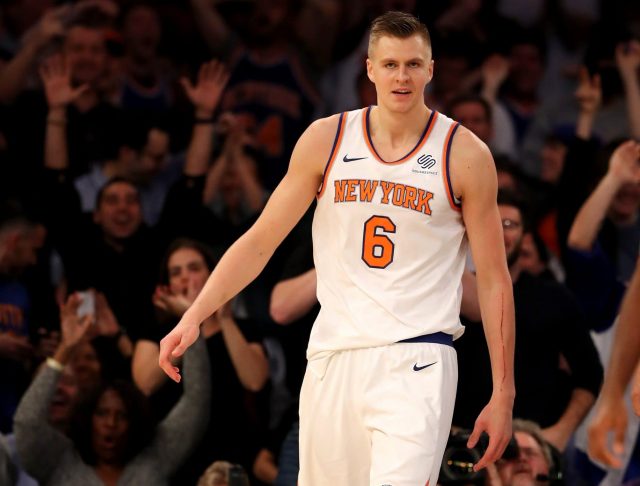 Kristaps Porzingis as Patrick Ewing
This is the obvious one. Both top dogs. Both leaders of the squad. Both big guys who use a solid cast of characters around them to get it done.
Yes, things are different. And yes, both games are different when it comes to these two studs. Ewing is a hall of fame player who dominated the low block. The Knicks literally ran their offense around him. It was a box offense that would feature Ewing down low with Oakley on the weakside and shooters along the perimeter.
Meanwhile, with Porzingis, much more can be done. Jeff Hornacek knows this.
You can throw it down to KP just like the '94 team did with Ewing, but you can do so much more with the new aged 7-foot-3 beast such as pick and roll, pick and pop, high post, or even have the monster come off a wing screen for a catch and shoot. (That last one is not even fair, by the way.)
Anyway, they're more similar than you think. Both guys can shoot the ball from the perimeter. Ewing never shot the three-pointer, but then again, two decades ago in the Association was a completely different world. He could could consistently knock 'em down from 18 feet out.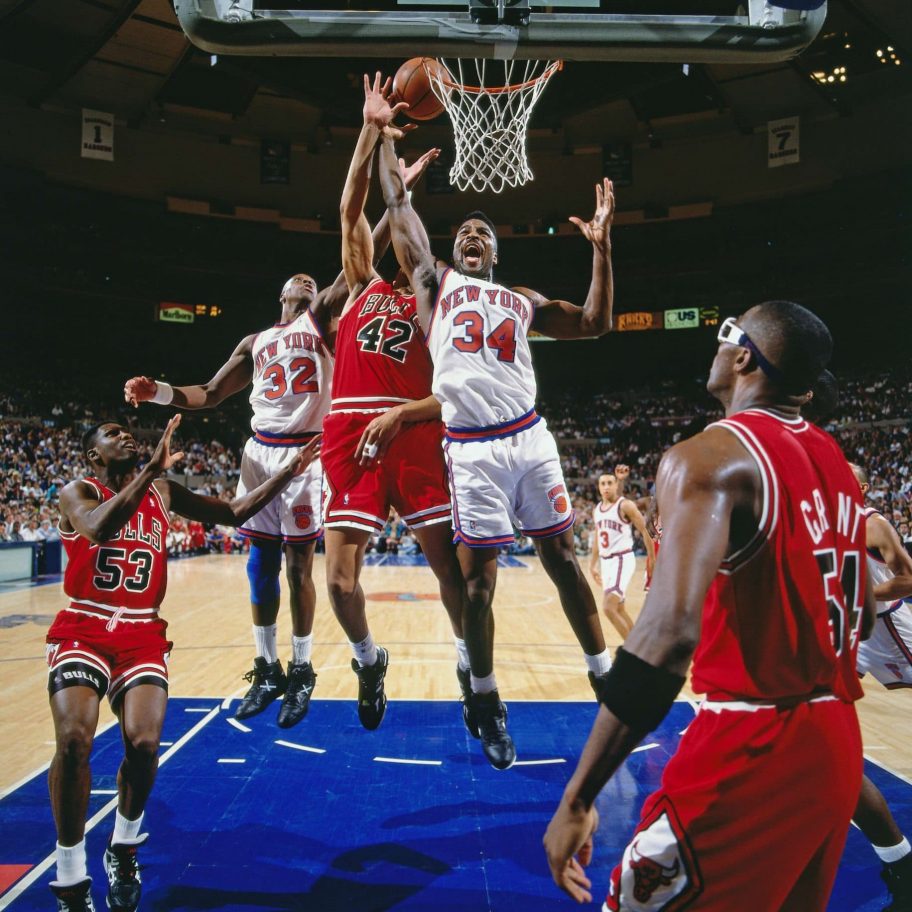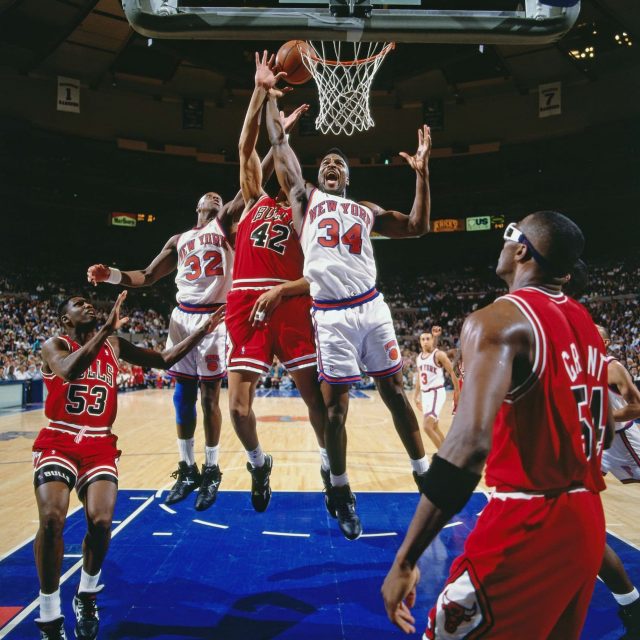 The rebound machines, Enes Kanter and Charles Oakley. The positions are a little off (center and power forward), but that's only because matching up KP with Ewing is a must.
Through 10 games as a Knick, Kanter's averaging a cool 11.3 rebounds a game. Though he was always solid in Oklahoma City, playing behind Stephen Adams kept him a bit limited. He's also averaging an incredible 4.4 offensive boards a contest.
Free Oakley. Nowadays, that's the phrase. During the 90's, Oakley roamed as free as can be while averaging 10 boards a game in 10 seasons in New York.
Interestingly enough, both of these rebounding monsters were traded for. New York grabbed Kanter from OKC after they did the same thing with Oakley and the city of Chicago.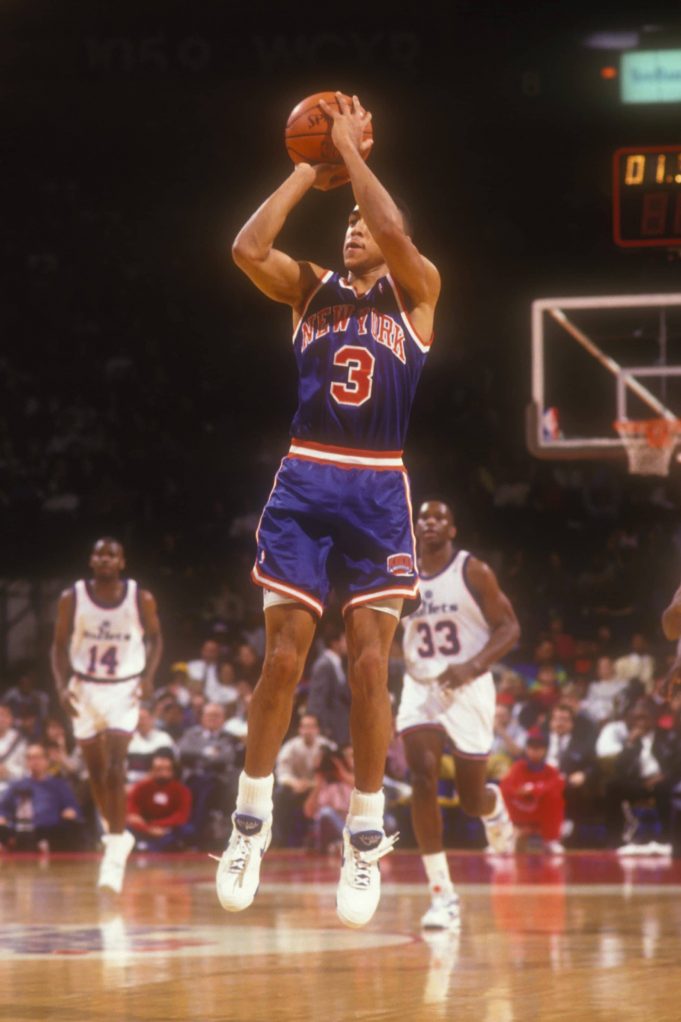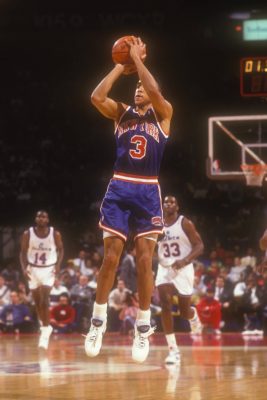 There's a huge gap with these two and it's called defense. John Starks remains one of the most rugged defensive players in Knicks history while Tim Hardaway Jr. continues to remain lost on that end of the floor.
Aside from that, let the comparison begin.
Both wear No. 3 and both can shoot the ball. Both are also the second scoring option behind their big-man leader.
The greatest Knicks team to ever come away empty-handed in terms of the Larry O'Brien Trophy was the 1992-93 Knicks who captured 60 regular season victories. The point guard of that squad was Doc Rivers.
Just 19 games into the 1993-94 season, Doc went down via injury and a new point guard was desperately needed. A few weeks later, the Knicks traded for Dallas Mavericks veteran point guard Derek Harper. He was 32-years of age at the time of the traded and ran an efficient offense while remaining tough on defense.
Jarrett Jack is almost a carbon-copy of Harper.
Jack is 33 and is also running an extremely efficient point guard on both ends of the floor. Harper was the better shooter of the two, but both are rugged floor generals who set the tempo for each squad. The tempo in '94 with Harper was half-court set and defense. With Jack, it's push-it-up-the-floor quickly and defense.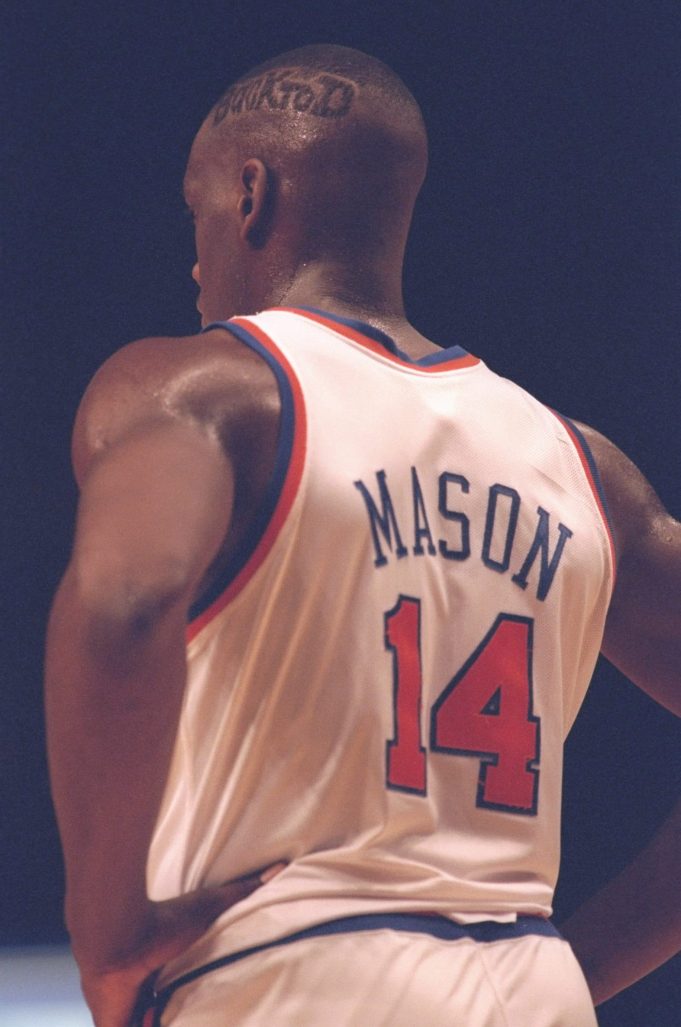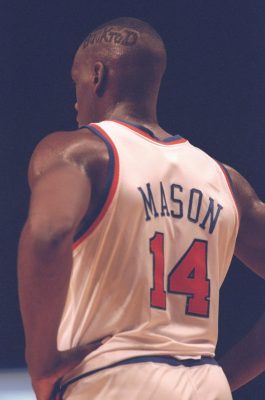 I guarantee that when the diehard Knicks fan started reading this article, he or she wondered when fan-favorite Anthony Mason would pop up.
Here is his, and who he's matched up with is a dream.
Both Kyle O'Quinn and Anthony Mason come off the bench in electric fashion. Both rebound the ball well and kickstart energy with their play. Both can actually handle the ball and pass it a little bit as well. That last part is really what puts these two together.
In '94, Charles Smith started at the small forward spot. He was at all forward at 6-foot-10 who would never dare dream of starting at the three in today's game. As the third overall pick in the 1988 NBA Draft, Smith could never truly fulfill his promise.
But potential aside, these two bodies match up.
Lance Thomas is another forward who doesn't quite fit as a guard yet can play the win, just like Smith.
Honestly, there isn't much of a comparison here. Both Frank Ntilikina and Greg Anthony can play defense. That and the fact that both are backup point guards are about it.
Frank is a tall, lanky version while Anthony is a shorter, quicker version who was drafted out of UNLV as a pure playmaker.
The top shooters off the bench for each squad are Josh McDermott and Hubert Davis. Both can literally shoot the lights out from a wing position. McDermott is a little taller.
The interesting part about both of these guys is that their college careers were also extremely fruitful, especially McDermott's.
Strictly due to the idea that Joakim Noah can come off the bench late during blowout games. On a contrasting note, one's a big-time fan favorite (Herb Williams) while the other is anything but (Joakim Noah).
Anthony Bonner was that ninth or 10th guy on the team who could come in for Riley and do a little bit of everything. Michael Beasley is by far the better scorer while Bonner is the tougher rebounder.
For right now, they match up in body type and position on the roster.
Last but not least, Courtney Lee just doesn't have a match. We've run out of players.
Some may try to put Lee up as Starks considering the defensive end of the floor, but Hardaway is a better fit for the man who completed "The Dunk." The only possible player Lee could pair with is Rolando Blackman, but he just didn't play enough. In fact, the rotation for the 1994 Knicks was so short it's now incredible to think about. Only three players would get off the bench during most games (Mason, Davis, Anthony).