Eli Manning is not exempt from the Giants' many problems. But with each loss, it gets harder to watch the New York icon go through this.
In Groundhog Day-esque fashion, Eli Manning's recent Sunday afternoons seem to take place in an infinite, repetitive loop. Lately, Manning always seems to be setting—or breaking—some sort of record or career milestone, causing the NFL archives to be constantly updated as he moves his name up the all-time passing record lists. His latest milestone allowed him to join one of the NFL's most exclusive clubs, becoming the seventh in league history (and second Manning brother) to throw for at least 50,000 yards. That landmark, and countless others, solidifies the Hall of Fame case for Manning—as if that needed any help.
After setting those milestones, however, he's also continuously appearing before the masses to accept the blame for the latest New York Giants loss. This past Sunday was no exception, as Manning again remorsefully took the podium after another Giants loss, a 51-17 shellacking at the hands of the Los Angeles Rams, the worst Giants margin of defeat at MetLife Stadium since the new facility opened in 2010.
"Offensively, we've got to do a better job protecting the football," Manning said in defeat. "We can't give a team short field position and make it easy on them and tough on our defense."
Manning's constant mantra this season has been variations of the phrase "I have to play better," and to say he could have played better on Sunday afternoon would be an understatement. He posted generally respectable numbers (20-for-36, 220 yards, 2 TD's), but two key turnovers, including a fumble on the first drive of the game, fueled the Giants misery. More troubling, however, was a series of overthrows that Manning had to wide open receivers, particularly a deep ball to newly healthy Sterling Shepard in the second quarter. Manning also overshot an open Tavarres King, who caught Manning's first touchdown, on the final drive in the first half, one that ended on a missed Aldrick Rosas field goal, and the Giants down 27-10.
True to form, Manning shouldered the blame.
"I got to hit Shep on the post I've got a one-on-one on the post route, I've got to hit those. I've got to make better throws," Manning said. "With Tavarres, it's more of a scramble, [I was] kind of late just trying to put it over the safety, maybe a shot for him to get it or nobody. Obviously, [I] just overshot it a little bit."
If anything, Sunday proved that Manning is part of the Giants' list of problems that span from East Rutherford to Manhattan. There's no denying that a legion of Big Blue fans need to understand that two Super Bowl rings don't exempt a quarterback from criticism.
But no one can deny, not even cackling fans of Dallas and Philadelphia that must be relishing this ghastly stretch of football, that Eli Manning does not deserve this.
Halloween's trade deadline has come and gone, so the dream of Manning being the quarterback savior to "everything but a quarterback" contenders like Jacksonville or Denver is dead. The prime reason for that is even if serious discussions were made of dealing Manning, the long time Giants signal-caller, armed with a no-trade clause, wouldn't allow it.
"I can still play at a high level and can get this offense going and do better than what we're doing," Manning said a week before the deadline on October 24. "I got to play better. So, I'm going to worry about my job, going out there and playing at a high level."
The sad part is that, while he is one of the problems and has fully owned up to his role in this New York disaster, he has clearly shown he still has plenty left in the tank. Manning is still at a level where at least a dozen teams in the league would love to have him (if only for the continuity and durability alone), and opponents still acknowledge the impact he can have on a game.
"[The Giants] still have Eli Manning. That's all you really need to win," Broncos linebacker Von Miller said prior to the teams' October 15 showdown. "Eli Manning can bust the game open at any given time."
Manning has given a lot to this organization, and to this area. To watch him go through this season is torture. A consummate professional, Manning, who has dealt with a lot of inconsistency and silliness to go along with the Super Bowl wins, has never pointed the finger at anyone. No form of complaint, at least publicly, has escaped his lips since he became a New York Giant. Every meaningful snap of Giants football since 2004 has been taken by Manning. He has seen and obviously taken an extremely active role in this organization rising from the feast or famine years of the early 2000's, making Giants football must-see television once again.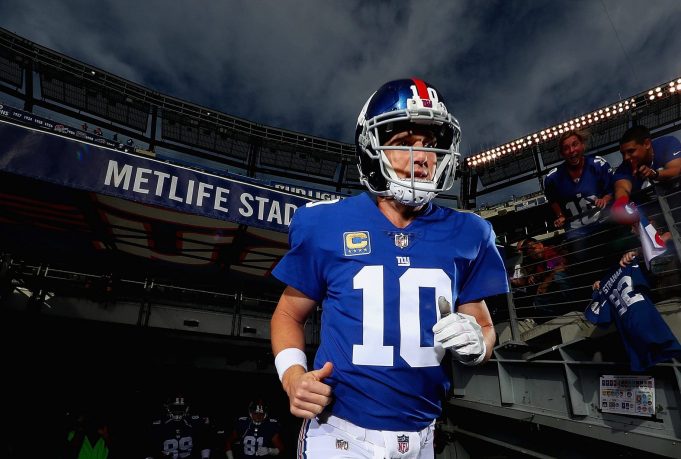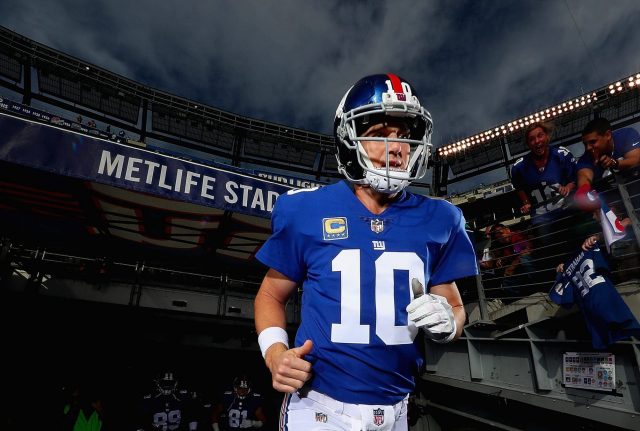 This hard-to-please city has embraced him, whether for his contributions on the field or off of it. Manning's open, charming personality, offering respect for teammate and opponent alike, the tongue-in-cheek silliness that landed him guest spots on Saturday Night Live and The Simpsons and starring roles in countless DirecTV commercials has made the punishment he's been forced to endure this season, even the self-inflicted mistakes, all the more hard to watch.
Nonetheless, if the Giants are going to somehow try to make something out of this lost season, Manning made it clear yesterday that he wants to be the one to lead the Giants out of it.
"I want to be out there," Manning insisted. "I want to keep playing with my teammates and keep working."
The dedication, so typical of Manning, isn't surprising in the slightest. Unfortunately, it's in everyone's best interests to, at least this season, move on.
Manning has been the Giants' quarterback since George W. Bush's presidential term…his first term. When Manning made his first start, National Treasure was the number one film in America. The idea of someone other than Manning under center for the Giants is unfathomable. It's The Office without Steve Carrell, or a Jurassic Park film without the T-Rex. But for all parties involved, including Manning himself, to pull the plug on 2017.
In another hard-to-fathom situation, Manning, 36, is nearing the end of his career. He's on the clock as is. We did briefly get a glimpse of what a Manning-less Giants offense would look like against the Rams, as Geno Smith entered the game on the Giants' final possession. Yes, it was ugly…Smith didn't connect on two passes and was under constant pressure…but why subject Manning to that in the very end? Why waste whatever prime Manning has left playing out the stretch against a winless San Francisco team, or against playoff contenders like Dallas, Philadelphia, and Kansas City, matchups that may already be over weeks before they kick off?
For his own personal safety, as well as possibly the team's future, benching could be beneficial. Head coach Ben McAdoo even hinted at changes coming during his own postgame statements on Sunday.
"We'll take a look and see if there's any players that we can give reps to that have a chance to be a part of our future," McAdoo said of the Giants' future plans. "That includes everybody."
The rest of this season should be dedicated instead to Davis Webb, the Giants highest selection of a quarterback since that spring 2004 day they swapped first round draft picks with the Chargers. Yes, with the Chiefs, Redskins (twice), Raiders, Cowboys, Eagles, and Cardinals all on the docket, and all in the thick of playoff contention, it would be a complete trial by fire for the third-round pick that hasn't even dressed for a game yet this season. Starting Webb would also end Manning's ridiculous consecutive games started streak, currently at 207 regular season games, one short of the streak his brother Peyton set with Indianapolis from 1998-2011.
But in a season, where literally everything has gone wrong for the Giants, wouldn't the end of Manning's stranglehold on the quarterback spot in New York simply be the perfect bookend to this dreadful season?
New York sports has seen its legends depart in less than ideal fashion. Mark Messier spent his 40's on Rangers teams that failed to sniff the playoffs. Joe Namath, struggling with inconsistency and injuries, was unceremoniously released by the Jets and spent his final year with the Rams.
Eli Manning's twilight years should be a celebration of what he's done with the Giants, not a countdown to his replacement's first start. Admitting defeat in 2017 would be a good start to ensuring the former in the future.
Geoff Magliocchetti is on Twitter @GeoffMags5490