In what has been one of the worst seasons in New York Giants' history, rookie tight end Evan Engram continues to shine brightly.
Sunday afternoon, the New York Giants, as a whole, were outplayed in every way, shape, and form. Being embarrassing on their home turf by the Los Angeles Rams, 51-17, the Giants displayed an inability to compete on both ends of the ball. But the one player who was and continues to be a lone bright spot for the Giants is Evan Engram.
At 1-7, the Giants' season is essentially over. Barring a heroic eight-game winning streak to crack the NFC playoffs, Ben McAdoo's crew is bound to avoid meaningful January football for the fifth time in six years. To make matters worse, the Giants are struggling and limping through the 2017 season without two of their most electric offensive weapons — Odell Beckham Jr. and Brandon Marshall. Both receiver's absences have made life challenging for Eli Manning and company.
Failing to score more than 16 points since the two wideouts endured season-ending ankle injuries, the Giants have failed to pose any sort of threat offensively, in the air especially. Throwing for just 462 yards in their past three contests, the Giants' passing attack has been, quite frankly, nonexistent. However, Engram has been the one player to answer the call and show up in their downfield efforts.
Going into New York's Sunday afternoon affair with the Rams, Engram totaled 30 receptions for 342 yards and three touchdowns. His most active performance came in the Giants' Week 4 loss to the Tampa Bay Buccaneers, where he reeled in 11 passes for 62 yards. Engram's most efficient showing was in the Giants' Week 6 win in Denver, where he finished the night with five catches for 82 yards and a touchdown. Sunday afternoon, he continued being that go-to option for Big Blue.
Finishing the day with four receptions for 70 yards, including a 10-yard touchdown, Engram was, at the very least, a bright spot for the Giants, in what was a humiliating 34-point loss at home.
While a tight end, the rookie Engram tends to roll out in the slot more often than not. While he is a respectable and underrated blocker, the void created by Beckham, Marshall and even Dwayne Harris — who also suffered a season-ending ankle injury — have led to Engram taking on a bigger role in Manning and the Giants' passing efforts.
In their last three games, Engram has made 15 catches for 212 yards and three touchdowns.
It's been an ugly first half for the Giants. Their defense has been amongst the worst in the league — they surrendered the 10th most yards in the NFL going into Week 9 — special teams have been shaky, the running game has come and gone, their once portrayed stellar passing game has been, at best, mediocre and the team's offensive line has been an inconsistent, unreliable bunch; those set of circumstances put together spell disaster and that's just what this Giants' team has been in 2017. But it doesn't mean every single facet of this team has underachieved.
Engram has shown up, held his own, and made a very good showing for himself to the Giants. He's been their most consistent receiving presence, has blocked well for a player viewed as being just a passing threat and earned Manning's trust in the process.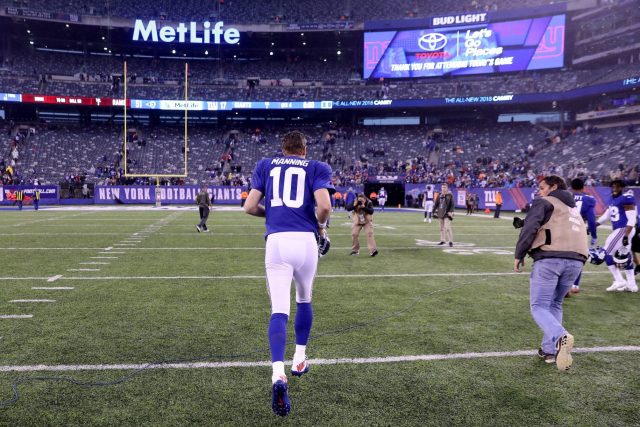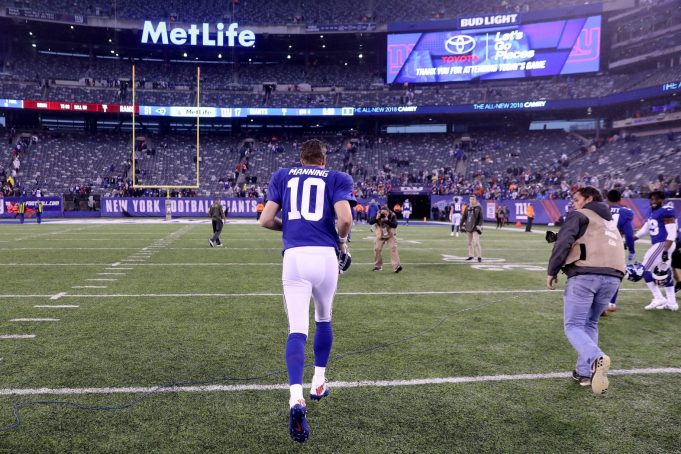 In the midst of the Giants' struggles, the biggest weakness and most discussed facet of their team has been their O-Line. It hasn't been just Ereck Flowers, or just Bobby Hart, its been a collective struggle. They've endured key injuries such as center Weston Richburg getting placed on the injured reserve (IR) and guard Justin Pugh missing Sunday afternoon's contest with a back injury, but even with their presence, the Giants' O-Line has been unable to consistently provide Manning and the offense an appropriate amount of time to operate — though Manning has not been spectacular himself.
Drafting an offensive lineman in the first round maybe could've helped this team up front, but would it have benefited the Giants to the extent where their offensive woes would be solved? The Giants are a 1-7 team for a number of reasons, not just one. This team's O-Line has been dreadful, but reaching for an offensive lineman at 23 — which is where the Giants selected — such as Cam Robinson or Ryan Ramczyk would've only done so much and surely wouldn't have put them in the playoff race.
Engram has produced for the Giants before and after the offensive injuries the team underwent in Week 5 and beyond. Tight end may not have been their most pressing need in the draft, after signing Vikings' tight end Rhett Ellison to a four-year deal and having Will Tye in place, but imagine this Giants' offense without Engram right now?
Engram has been Manning's number one target over the past month and he will likely continue to assume that role for the remainder of the year. The rookie tight end has shown up, produced and been a lone bright spot in a remarkably disappointing year for Big Blue.