On Friday night, the New York Knicks bounced back from their Wednesday night blowout versus the Houston Rockets. Defeating head coach Jeff Hornacek's former team — the Phoenix Suns — 120-107, the Knicks' offense continued to flourish; their ability to do so is and has been greatly influenced by the play of big men Kristaps Porzingis and Enes Kanter.
This season, Porzingis has assumed the role as being the go-man for this Knicks' team. Friday night, he continued to prosper as the team's focal point.
Finishing the night with 37 points, Porzingis put forth his sixth 30+ point performance; the Knicks have won in four of those heroic efforts by the Zinger. Going into the night, Porzingis was averaging 27.9 points per game on 46.8 percent shooting —  both career highs.
The biggest difference in Porzingis' game has been his ability to thrive in the post, while also creating his own shot — which he struggled to do last season. Those recently added skill sets, put together with his perimeter game and ability to pose a shot-blocking threat, have helped Porzingis play at an NBA All-Star level; it has also allowed him to take control of Hornacek's offense. Porzingis' sidekick, Kanter, has also been impressive.
Friday night, Kanter totaled 16 points and three assists, while reeling in a game-high 15 rebounds. Going into the Knicks' contest with Phoenix, Kanter was averaging 13.3 points and 9.9 rebounds in just under 24 minutes a night.
All year long, Kanter has been a presence on the offensive end. Ranging from his ability to stick mid-range jumpers, to playing in the post and even finishing in the paint, the Turkish big man has been a welcomed addition to the Knicks' frontline. Another intriguing facet of Kanter's game has been his ability to hit the boards on that end of the floor.
Finishing Friday night with six offensive rebounds, roughly two above his yearly average, Kanter continues to be an asset on the boards. His ability to do so is helpful for Porzingis, who, while not bad, does not hit the boards at will; going into Friday night, the 7-foot-3 Latvian was posting 7.9 rebounds per game and 7.3 for his carer.
Porzingis and Kanter are utter opposites of one another. On one hand, there's Porzingis, who can play out on the perimeter, force the issue at the rim and has become a resilient force on the defensive end. However, he hasn't been a consistent post-up threat — though he has been significantly better eight games into this season.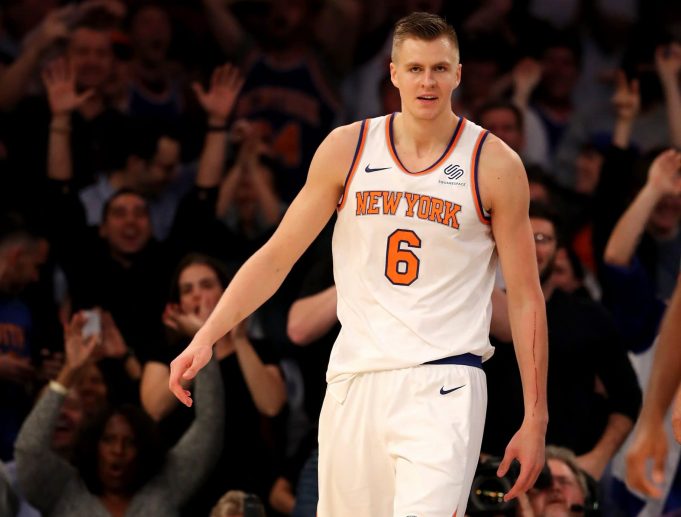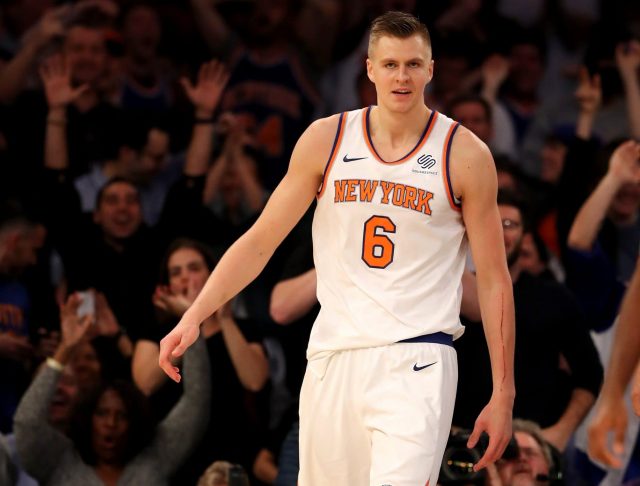 On the other hand, there's Kanter, who is an established post player and hits the boards at will. However, he does not possess a reliable outside game and is not a sound defender.
Despite being complete opposites, Porzingis and Kanter are a great fit alongside one another because they make up for each other's flaws. Kanter hits the boards on both ends and is an established low-post scorer. Porzingis plays out on the perimeter, which spreads the floor, and makes up for Kanter's defensive flaws — lack of shot blocking and below average post defense.
But the two of them, collectively, have propelled this team's offensive attack. They've combined for nearly half the Knicks' points per game, given their ability to play out on the perimeter (Porzingis) and play in the post (Kanter).
Eight games in, the Knicks are 4-4 and not many would've predicted they would get out to such a start. Overcoming the likes of LeBron James and the Cleveland Cavaliers, as well as the Denver Nuggets, the Knicks have strung together some impressive victories in the first two weeks of the NBA season.
The big man duo of Porzingis and Kanter has powered the Knicks' offensive attack; work the ball in the paint and good things happen for these Knicks.