Kristaps Porzingis is beginning to play like the superstar player the New York Knicks have always aspired for him to become.
The New York Knicks handed the keys to the franchise to Kristaps Porzingis this summer. We all knew it.
Shipping Carmelo Anthony off to the Oklahoma City Thunder, the Knicks made it clear that they want to build a promising product around Porzingis. Six games into the season, he has answered the call and is beginning to look like the franchise player the Knicks have always aspired for him to become.
The Knicks got off on the wrong foot two weeks ago. Dropping their first three games — one by a gradual overtaking, another by blowing a 21-point lead and the other by being flat out dominated — the new-look, rebuilding Knicks were playing like a team with no identity, or one that could hold their own on the defensive end. Surrendering just under 109 points per game versus the Detroit Pistons, Boston Celtics and Thunder, they were failing to execute the gameplan defensively. However, the one constant in the midst of those struggles was Porzingis' impact on both ends of the floor.
Staying on his feet in one-on-one sets — which he struggled to do last season — and still posing a shot-blocking presence in the paint — 1.7 blocks per game — Porzingis has played with more consistency and produced on the defensive end. Offensively, he's been just as, if not more, spectacular.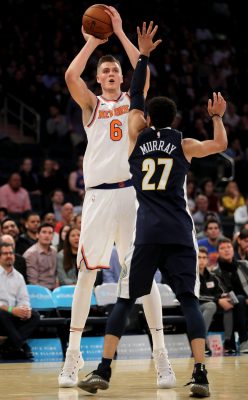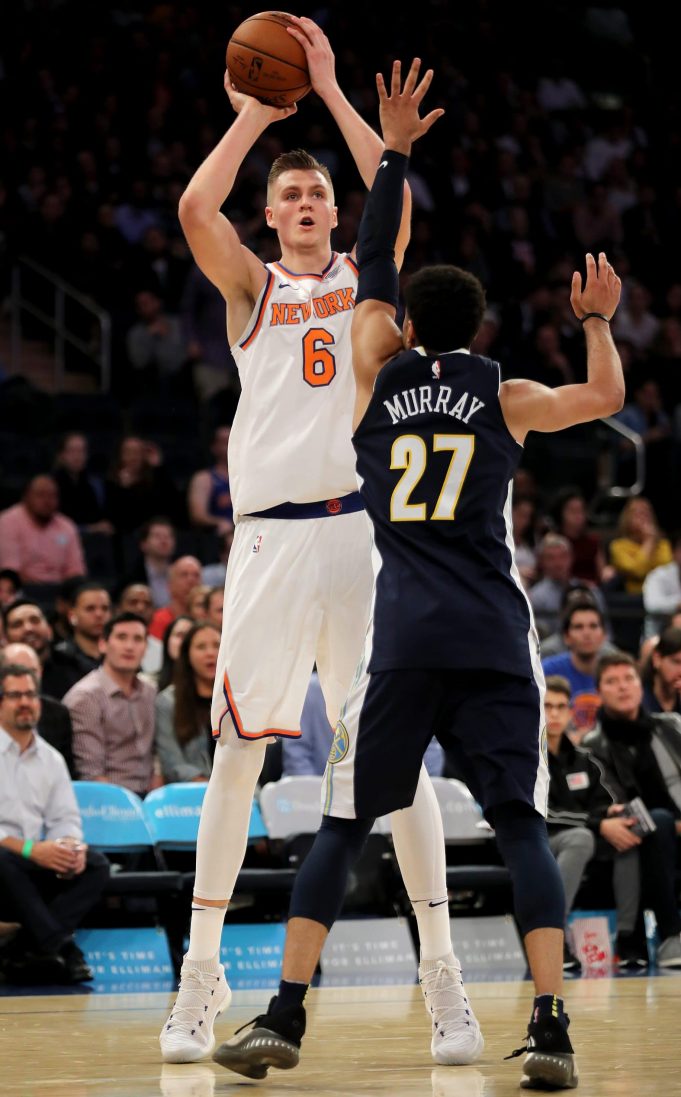 For the year, Porzingis is averaging an astonishing 29.3 points per game on a career-best 47.8 percent shooting. He's also shooting a career-high 36.4 percent from beyond the arc. The other impressive facet of his game, which he struggled in last season, is his post game.
Over the course of his rookie and sophomore seasons, Porzingis has always been an outside shooting threat, as well as a player capable of forcing the issue at the rim, but was never a legitimate post-up presence; this year, he has been just that and then some.
Six games in, Porzingis looks bigger and stronger — features that allow a big man to have his way in the post. Whether it's come against Paul Millsap, LeBron James or Anthony, Porzingis has posted up and produced.
He's been granted the ball in the low post, taken two, three hard dribbles, turned around and drained a fadeaway jumper or went for a contested layup — and finished.
Porzingis is a physical specimen. At 7-foot-3, he can simply do things other bigs cannot. For someone of his stature to be able to play out on the perimeter and above the rim alone is remarkable. Imagine if his recently added post game becomes a reliable one? If it becomes a potent part of his offensive arsenal, Porzingis may be on the verge of becoming one of the most well-rounded players in the association.
Porzingis' two biggest flaws offensively were his inability to consistently create his own shot and play in the post. Well, this year he has played in the post and, as the focal point of Hornacek's offense, averaged just under 30 points a game; he's cleared up or, at the very least, improved his weaknesses.
Ever since the day he was drafted, Phil Jackson and now the duo of Steve Mills and Scott Perry have envisioned Porzingis becoming the face of the Knicks and taking over the NBA world. With Anthony now out the door, there's no playmaking, ball dominant scorer in the way of Porzingis' growth as a scorer. But last season, many had doubts about Porzingis based on his struggles to get open as the center of attention — which was a glaring flaw in his game. Now he is having no issue with creating space and being the go-to man.
Porzingis has been more aggressive on the offensive end, whether that be posting up or finding innovative ways to score. His defensive game is beginning to come into its own too.
Porzingis has always been a shot-blocking threat, but now he is staying on his feet and not being blown by at ease, given his height and long arms.
Six games are six games and the Knicks are just 3-3. But Porzingis has not shied away from being the go-to man in the city that never sleeps. Aspirations always were and will continue to be high on the 22-year old big man, however, he is beginning to look and play like the superstar player this franchise has dreamed for him to one day become.
As the year progresses, Porzingis may very well get that All-Star game nod and, who knows, maybe he can propel the Knicks to a playoff berth. Given the way he's playing, anything is possible.