On this edition of the New York Jets Fly By, we calmly explain why the Jimmy Garoppolo trade to San Fran means nothing to green and white.
Who is going to be the New York Jets franchise quarterback?
Sam Darnold? The USC stud who fits every prototype an NFL personnel-decision maker looks for at the position? Josh Rosen? The runner-up in that same category? Baker Mayfield? The kid from the midwest who's challenging Penn State's Shaquon Barkley for the Heisman Trophy?
It's all anybody and everybody wants to discuss these days. It's almost as if these Jets people don't even realize there's a season at large.
Queue the ultra madness on Monday. The New England Patriots traded Jimmy Garoppolo to the San Francisco 49ers for a second-round draft choice, most likely the No. 33 or 34 selection in the 2018 NFL Draft.
Now that Jimmy G has filled that San Fran QB void, those Jets QB seekers have gone wild.
It's interesting, though. Not much has really changed.
The only thing that's changed is the 49ers now don't need a quarterback. Does it mean the Jets will have a better shot of landing a franchise guy in the draft? Hell no.
What if San Fran trades the pick? What if Darnold decides to stay at USC another year? Nobody knows anything and speculating this early in the season is a fruitless venture.
The other part comes when thinking about Kirk Cousins. The 49ers were a rumored suitor for the impending Washington Redskins free agent QB. Now that the Bay Area squad is set, Cousins will be looking for another home.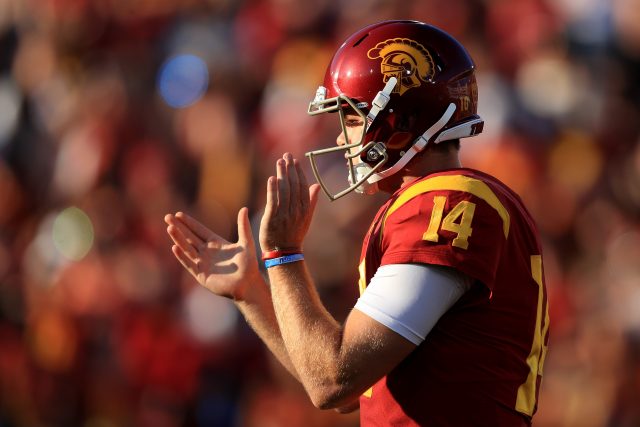 Again, though, let's stop the madness. We just completely Week 8 of a season that sees the New York Jets sitting with a record of 3-5 after so many of these same so-called "experts" penciled in a winless season en route to Sucking for Sam.
On to Buffalo. Or at least, on to the swap at East Rutherford as Buffalo comes to visit for a little Thursday Night Football action.
Other Jets News, Stories:
Does your #JetsOLantern top this one? ?

Snapchat ➡️ officialnyjets #Jets stencils ➡️ https://t.co/tobUth80oU pic.twitter.com/jOTGkHUUfY

— New York Jets (@nyjets) October 30, 2017
Through the lens…and through the rain.

WK8 photos ? https://t.co/aSgYIFchKv pic.twitter.com/Epk3vgSXwd

— New York Jets (@nyjets) October 31, 2017
Download @nyjets Media Information for the Week Nine Game vs. Buffalo: https://t.co/nDSZQMt35q #Jets #BUFvsNYJ pic.twitter.com/telIz0nYH1

— NYJ Communications (@NYJetsPR) October 30, 2017
FB Lawrence Thomas (concussion) has been ruled out for #TNF.

Complete #Jets Monday practice report for #BUFvsNYJ ⬇️ pic.twitter.com/TYI8ihipsP

— New York Jets (@nyjets) October 30, 2017