Long Island native and face-off specialist Brendan Fowler is pumped up after being traded to his hometown New York Lizards.
Knowing that he was going to retire from Major League Lacrosse after the 2017 season, New York Lizards face-off specialist Greg 'The Beast" Gurenlian wanted to make sure that his team was in good hands going forward. So he kept pushing for General Manager/Head Coach Joe Spallina to pursue a trade with the Charlotte Hounds to acquire Long Island native, Brendan Fowler. Since Gurenlian is the greatest face-off specialist in MLL history, you would think that Spallina would listen to him.
He did.
On October 12th, Spallina sent midfielder Jacob Richard and a 2018 2nd round collegiate draft pick to Charlotte to bring the Wantagh native back home to Long Island. Credit "The Beast" with an assist in getting this done.
"Finally!," said Gurenlian. "I've been telling Joe to do this for a while. I thought it would make perfect sense. Brendan had told me many times that he would love to come back to Long Island at some point once I'm retired. I was pretty pumped when it happened. "
And so was Fowler.
The former Chaminade High School star is coming home to play for his hometown team and the opportunity to do his thing in front of so many familiar faces.
"I was really excited," said Fowler. "Growing up a Long Island kid, I always thought to myself that the best place to play would be New York. My family will be around to come watch me play and it's one of the best teams."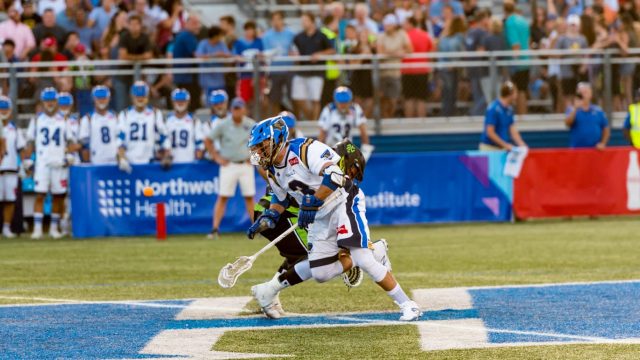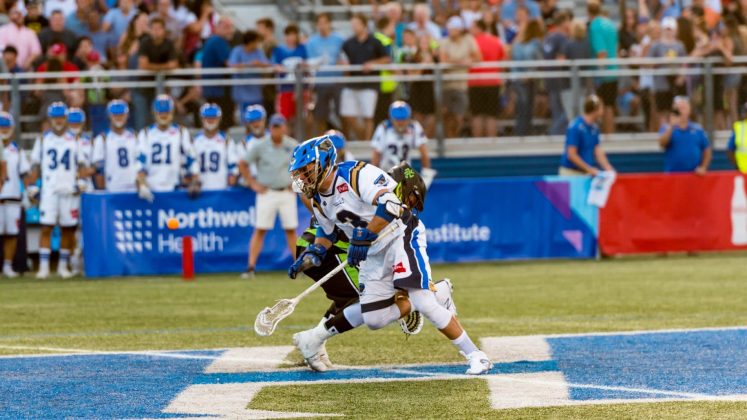 He's right about that as the Lizards have a star-studded lineup that features the likes of Paul Rabil, Rob Pannell, Joe Walters, and goalie Drew Adams. They are a team that is capable of winning an MLL title like that they've done three times in franchise history, but Gurenlian's retirement left a gaping hole in the lineup.
"Getting Brendan Fowler is tremendous for us," said Spallina. "Brendan is one of the top guys in the sport. He is a relentless worker, a great teammate and someone whose game has grown considerably every year."
Fowler is certainly going to help the Lizards both on and off the field. On the field, he's a talented player that will contribute greatly to a team with championship aspirations. Off the field, Fowler, like many of the other Lizards players, will be visible in the community for appearances and clinics. Speaking of being visible, Fowler is a Long Islander and he'll help fill some seats at Hofstra Univesity's Stuart Stadium with friends and family.
To steal a line from Bon Jovi, "Who says you can't go home?"
"We are very excited to add Brendan to the team and give him the chance to play in front of his hometown," said Lizards Chief Executive Officer Jeffrey Rudnick. "Greg created an unbelievable legacy for himself and the face-off position. We look forward to Brendan starting his own legacy here with the Lizards."
Fowler is a two-time MLL All-Star and last season he won 171 out of 346 face-offs for Charlotte. He was a star player at Duke University where he was a two-time NCAA Champion. Fowler won 61% of his face-offs in college and now he'll be looked upon to fill that role with the Lizards.
Now on a team that is loaded with star players, Fowler is determined to add another championship to his resume, only this time it would be with a team that he rooted for growing up on Long Island.
"Winning an MLL championship is the reason why all of us are in this," said Fowler. With the roster and the talent on it, it puts us in a position to be in the hunt for that. To play on Long Island with the guys on that roster and with the history of the organization, it's really exciting and a great thing to be a part of."
Brendan Fowler: Wow, I just got traded to New York https://t.co/eRbzfYY5XF

— Jason Velez (@JasonVelezNYL) October 31, 2017
What's also pretty cool is the way that this all came about with Gurenlian pushing the organization hard to go after Fowler. "The Beast" spoke and the organization listened.
"That's a huge compliment and definitely an honor," said Fowler. "When I first got traded, I told my parents and then I gave (Greg) a call and he couldn't have been more excited. It means a lot to me. Obviously, he thinks pretty highly of me and I'd like to keep his spot in New York as one of the top in the league."
"The Beast" has known Brendan for a while and knew that one of his protégés would be a great fit for the Lizards. The fact that Gurenlian went to bat for him is something special because of the friendship and what the retired star has meant to the sport.
"It's really exciting," said Fowler. "Greg has been a friend and he's been a mentor to me. We're different players. We do some things similar and some different. I just like to be the best version of myself."
And Fowler won't have to replace Gurenlian all by himself because another talented face-off specialist was already on the roster. Jon Garino filled in for "The Beast" this past season and won 10 of 17 face-offs so he will team with Fowler for a tremendous combination at the face-off position.
"I think that between Brendan and Garino, it's a great one-two punch," said Gurenlian. "I think people are forgetting about Garino. He came in and did a good job when he gave me rests over the summer. I think he's a very capable face-off guy in MLL."
And now Fowler is set to join Garino for what will be a very interesting situation for the 2018 season. For eight seasons, Lizards fans were accustomed to #32 running onto the field for face-offs and Greg Gurenlian won them most of the time including 251 out of 417 times in 2017. But Fowler is no slouch himself when it comes to winning faceoffs and he's hoping to make this a seamless transition.
"The success that (Gurenlian has) had in New York … if I can have the same amount of success I would be quite happy," said Fowler.
So will Greg Gurenlian, the fans, and the Lizards organization. Welcome home, Brendan! No pressure!