Twenty-seventeen was awful, but 2018 may be better. Here's a glimpse of where the New York Mets stand on the diamond entering next season.
After a dismal and disappointing 2017 campaign, I think we can all agree that 2018 cannot come fast enough. Anyone who suffered through the Mets' trials and tribulations of last season yearns for the fresh start that 2018 brings.
The offseason is off to the right start after the Mets named Mickey Callaway their 21st manager and announced plans to purchase the Syracuse Chiefs to become their new Triple-A affiliate starting in 2019.
Still, this club has a long way to go to ensure being competitive. Based on where we stand now, here's a glimpse at the stock of each position on the diamond.
Catcher: Stock Down
I think we can all agree that 2017 signaled the official end of the Travis d'Arnaud experiment. That doesn't mean that he won't open 2018 as the starter behind the plate, but it certainly feels like the Mets would entertain an upgrade at the position if one were to become available to them.
Between his inconsistency with the bat, inability to throw out runners, and penchant to land on the disabled list, d'Arnaud simply cannot be trusted. Maybe Kevin Plawecki will rise to his potential and take control of the job, but even with his limited hot streak during 2017, he is still a relative unknown. For now, I think we should all expect more of the same as the best case scenario for Mets catchers in 2018.
First Base: Stock Down
Yes, Dominic Smith at first indicates the future is now and the potential for him to succeed outweighs any other options the Mets may have. But is 167 at-bats of Smith really enough to convince us that he will outperform the 2017 version of Lucas Duda? As highly touted of a prospect as Smith was, he struggled at the plate and was a bit of a letdown defensively. At least Duda brought definitive power to the table, something that hangs heavy over the future tenure of Smith.
I think that the career trajectory of Michael Conforto has taught us all that it takes a full year of ABs under your belt before a young player can make the leap to a solid starter. Players who do it from day one, like Cody Bellinger, are the obvious exceptions to the rule, but I think it's a better bet to count on Smith's breakout occurring in 2019.
Second Base/Third Base: Stock Down
Since we're in the early stages of the offseason (I mean the World Series hasn't even concluded yet), it's hard to project what both the hot corner and second will look like in 2018. I chose to consolidate these two categories based on the fact that the usual suspects in this equation can slot into either role.
The bad news is that we're looking at the potential departures of Jose Reyes and Asdrubal Cabrera, another failed recovery attempt by David Wright, and the prospect of actually having to use Matt Reynolds and Gavin Cecchini as everyday players. The good news is that since things can't get any worse, the stock will almost certainly be on the rise when I write the follow up to this column in a few months.
The Reyes/Cabrera situation is tricky right now. Reyes is marred by an early-season slump, suspect defense at third, and an impending raise. The Mets have a team option on Cabrera, but at $8.5 million, that money may be better spent elsewhere. It's too early to say whether the Mets will be inclined to return either one of these veterans.
There is hope in the Wright situation after his latest procedure, but conventional wisdom advises us to think otherwise. Even in the best case scenario where Wright returns for 100 or so games, can he be relied on to play third? Will a healthy Wright dictate a move to first?
A silver lining in a relatively bad situation is the bat of Wilmer Flores. Flores should provide a respectable level of production in a full-time role. Unfortunately, his defense has never come around the way his bat has and while he could be a serviceable option at third, he's better suited for second.
It's a shame T.J. Rivera suffered that elbow injury resulting in Tommy John surgery. This could have spelled a great opportunity for him to see 400-plus at-bats.
My closing thought is that if we have to entertain the thought of Gavin Cecchini or Matt Reynolds in a full-time role, then the Mets are in trouble.
Shortstop: Stock Up
His time in the majors may have been brief, but Amed Rosario has shown us that he is an exciting, electric player that can anchor this franchise for years to come. His early returns at the plate didn't blow anyone away, but they were encouraging to say the least and are indicative that he is kind of player that I mentioned before: the exception to the rule.
Rosario can break out at any moment and be the player we all expect him to be. Plus, being a stellar defender at a premium position already equals an upgrade in 2018. After suffering through Asdrubal Cabrera laboring at short for most of the year, followed by a version of Jose Reyes who noticeably lost a step, we can look forward to some impressive, run-saving action at short this upcoming season.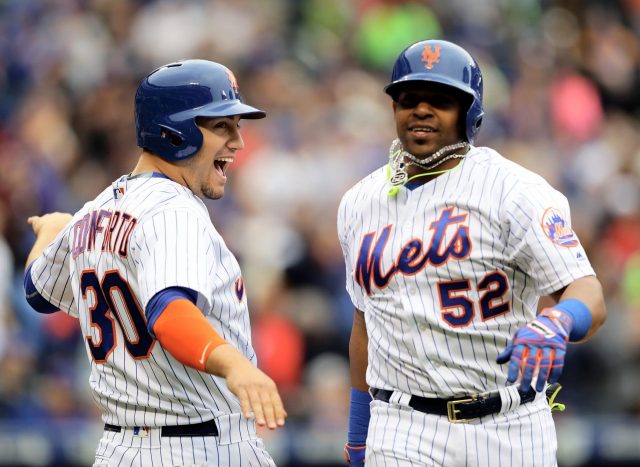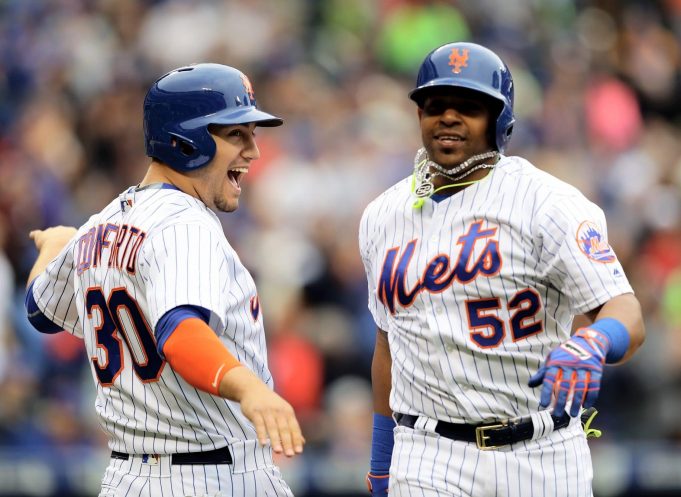 Outfield: Stock Down
The injury to Conforto really threw a wrench in the outfield situation. His breakout 2017 and possibly even better follow-up campaign would have been a nice transition in the wake of the departure of Jay Bruce. It remains to be seen if the Mets will go after Bruce in free agency, but for now, let's assume they don't. Conforto underwent successful surgery to repair the posterior capsule tear he sustained in August and is expected to make a full recovery with a stable shoulder joint. However, he will not resume baseball activities until at least six months following the procedure, so it's a fool's errand to expect him to be ready by Opening Day.
Brandon Nimmo becomes the de facto starter in right field in the wake of Conforto's absence and while Nimmo became a more disciplined hitter in 2017, it would be naive to think that the former first-rounder could reach Conforto levels of production in 2018.
Yoenis Cespedes battled through recurring leg injuries all of last season. This resulted in multiple DL trips and eventually being shut down for the season. To avoid a repeat in 2018, Cespedes vowed to alter his offseason training program to move away from the bulky body type he exhibited last year and focus more on flexibility by way of things like yoga. I'd need a taste of this before I'm willing to buy in, but it sounds like a good idea on paper. If he can get a handle on his chronic leg issues and stay off the disabled list, Cespedes can be one of the most dangerous hitters in the National League. An MVP candidate even. So on that front, we will have to wait and see.
Last on the list is Juan Lagares, who as of today would slot in as the team's starting center fielder. We're all itching for Lagares to regain his 2014 form, a season where we saw him post moderate production at the plate and land his first Gold Glove Award. He's regressed significantly on both ends since then, some of which can be attributed to injury. But Lagares showed signs of life in 2017 and that may be an indication that a return to his old self may be in the near future. Like Cespedes, it comes down to whether Lagares can stay healthy and record 400-plus at-bats in 2018. However, for now, the outfield situation doesn't look as promising as it did a year ago.
Keep an eye out for the next Mets' stock watch, which will focus on the pitching staff and is coming soon.